"The Last Effect" by Richard F. Yates (Holy Fool)

Stand on your own head for a change! [TMBG]
xxxxxxxxxxxxx
17 Aug. 2023
xxxxxxxxxxxxx
About a week ago, I finished a strange piece that started as a drawing on paper but became a moody, digital piece that made me feel uneasy. (The piece has since sold for almost no money, but it DID sell... I listed the piece on 15 Aug. 2023 on Objkt.com at 2:05 P.M. for one tezos, and it sold six minutes later. Perhaps it was a wee bit underpriced, BUT that one sale will help me mint and list at least five or six more works of "art." I'm cool with that.)
Anyway, after creating this image: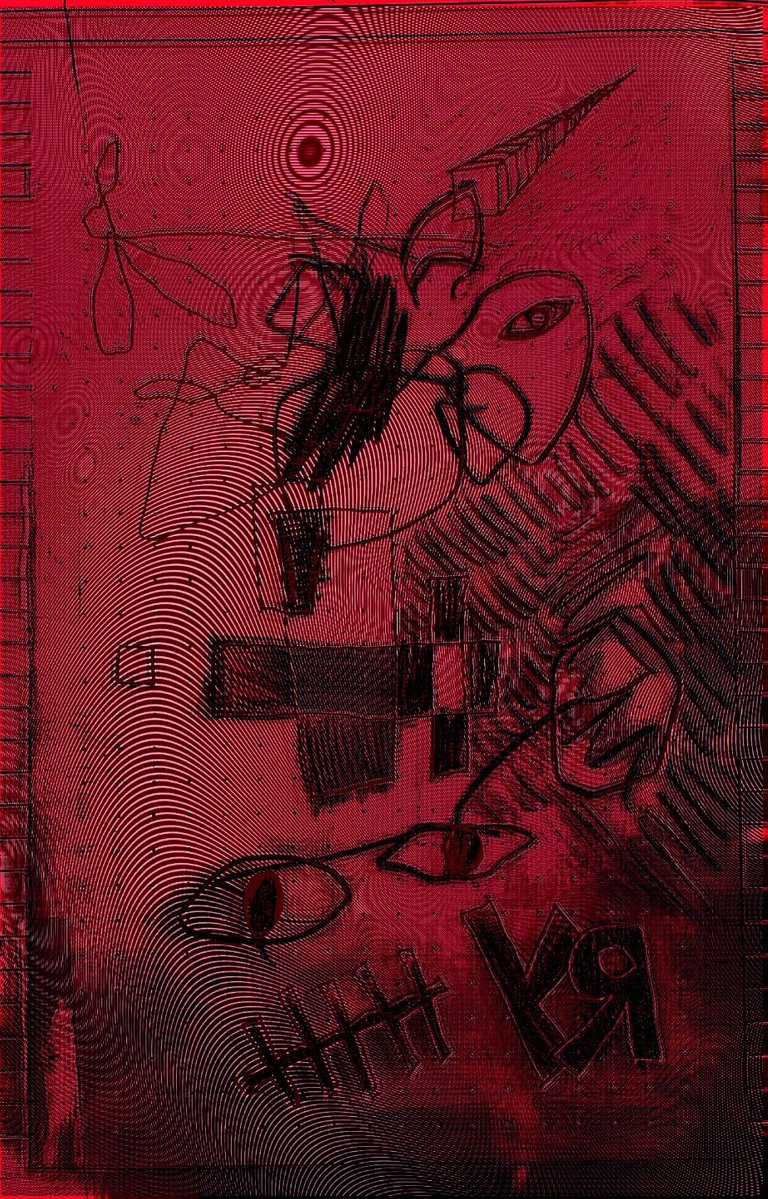 I sent that image (and two others) to a friend of mine, Mr. O'Brien, for his feedback. The other two pieces are immaterial, but I did receive THIS response from Mr. O. in an email:
+++++++++++++
"GOV879291DX5503218-A"
GOV879291DX5503218-A, aka "Leo," was the world's first supercomputer. Deemed Top Secret by the NSA, Leo occupied an underground warehouse in the form of 4-ton computer units, packed together tightly. Of course, that was only the first room. Leo's string of warehouse-sized rooms tunneled from Backcrack, Arkansas to Nostrilflambe, Pennsylvania. Each computer unit hummed and whirred, processing information and passing it to the next unit. Every room required an NSA agent or military official with level dandelion clearance or higher. This amounted to 47,210 persons stationed in the tunnel during Leo's operation.
But today was the day. After 10 years in the making, the cumulative formulation made its way through the last warehouse units and the federal brass could not have been more excited. The very last unit, "Big Red," featured the final calculations on-screen: block infinity, fencemouth Joe, diagrams de tetrise, and other complicated processes.
It was Big Red where the highest brass would assemble, and each had adorned their dress uniforms and taken a plethora of military jets to Pennsylvania for the final calculation.
With hundreds now gathered in front of Big Red, they watched with uncomfortable anxiousness. Four-point-seven million tons of hardware, countless man hours, and a price tag of $87 billion (in today's money, that would be infinity gozillion). It all came down to this.
Big Red began to slow and a slot on the front began to dispense a printed paper. When it was finished, six hours later, it was done. All the observers, hats in hand, leaned forward to catch a glimpse of a decade of the government's work. The technician took the paper and suddenly held it high in front of the crowd. On a paper the size of a 7-11 receipt, there was an image, a full 300 bytes in a miniscule thumbnail, of Marilyn Monroe standing over a subway grate in a skirt.
Dead silence in the crowd. And then, the room erupted in deafening cheers and hollers. There was not a dry eye in the tunnel that day. They had witnessed the birth of porn."
+++++++++++++
When I stopped laughing, several days later, I sent this message to Mr. O.:
"Ha! Love it!!! BUT!!!!! That information is classified ABOVE AND BEYOND TOP SECRET, and the only way you could have accessed it is, obviously, with psychic super-powers. I'd leave this dimension ASAP, cuz the gov'mnt don't take too kindly to psychic spies releasing their most hidden information!!! Thanks for sharing!
---Agent Yates, MP"
+++++++++++++
To this note, Mr. O. returned THIS:
"This is definitely Richard Sean O'Brien and not a government official. I thank you for your kind words. Remember when our friendship began in childhood and/or as workplace associates in that factory and/or carnival? Then certainly you must trust me, Richard Sean O'Brien, when I tell you that I will be unavailable for a week and/or five years and I certainly don't have any interesting psychic skills which I did not reveal to four interrogators. I will obviously not be at Guantanamo Bay getting waterboarded, so there is no need for concern.
If you have any questions re: this matter which is not a matter at all and just Richard Sean O'Brien conversing with you, Richard and/or Yates, just think about contacting the NSA and they will arrive at your house and/or condo forthwith.
Cheers. As always, here is to paying federal taxes and never questioning the wisdom of NSA spending.
RSO"
+++++++++++++
And that's the moral of the story! No piece of art is ever DONE - just abandoned... (For now...)
xxxxxxxxxxxxx
In other news, I attempted to spend time OUT of my room... It went as well as one might expect: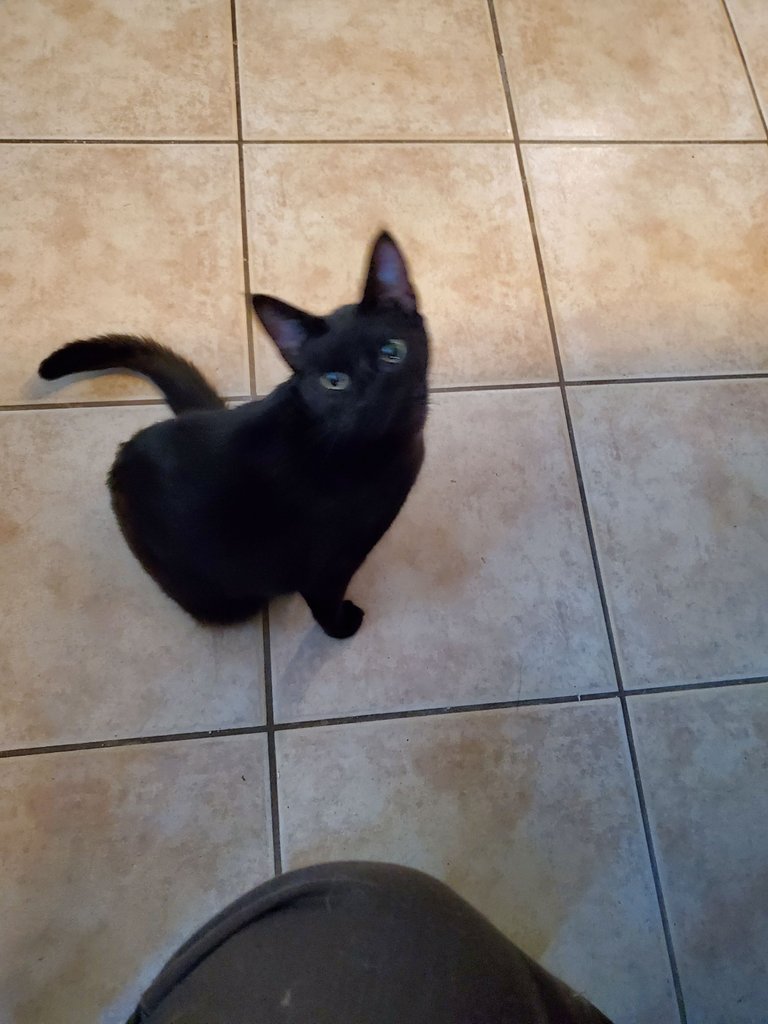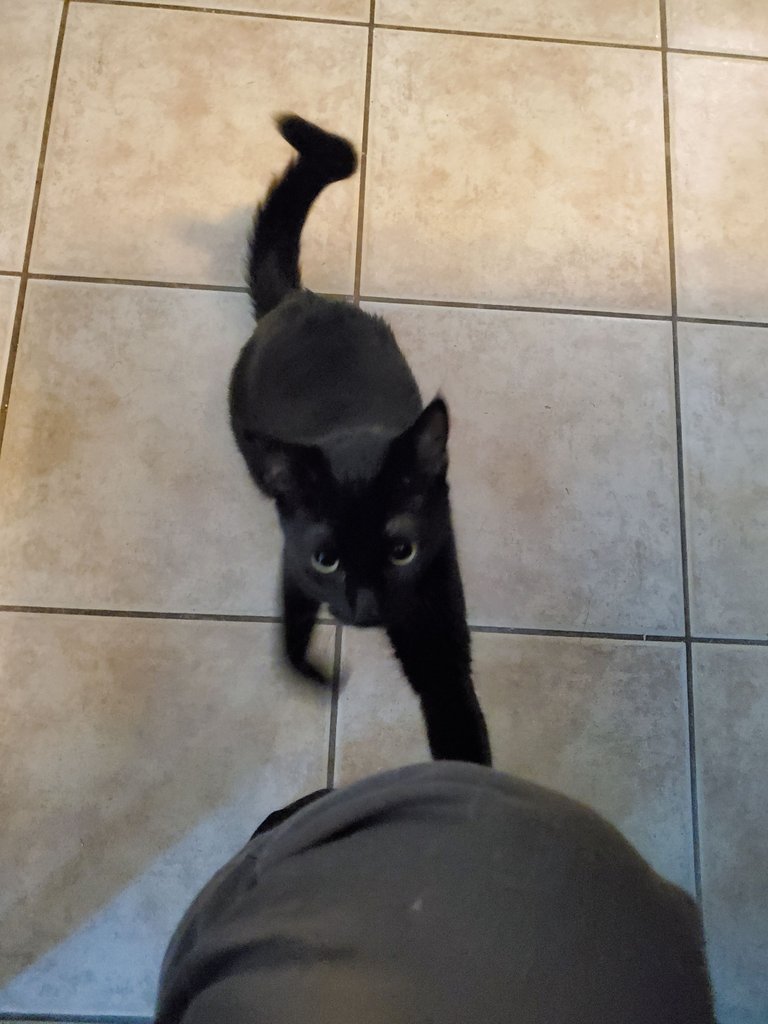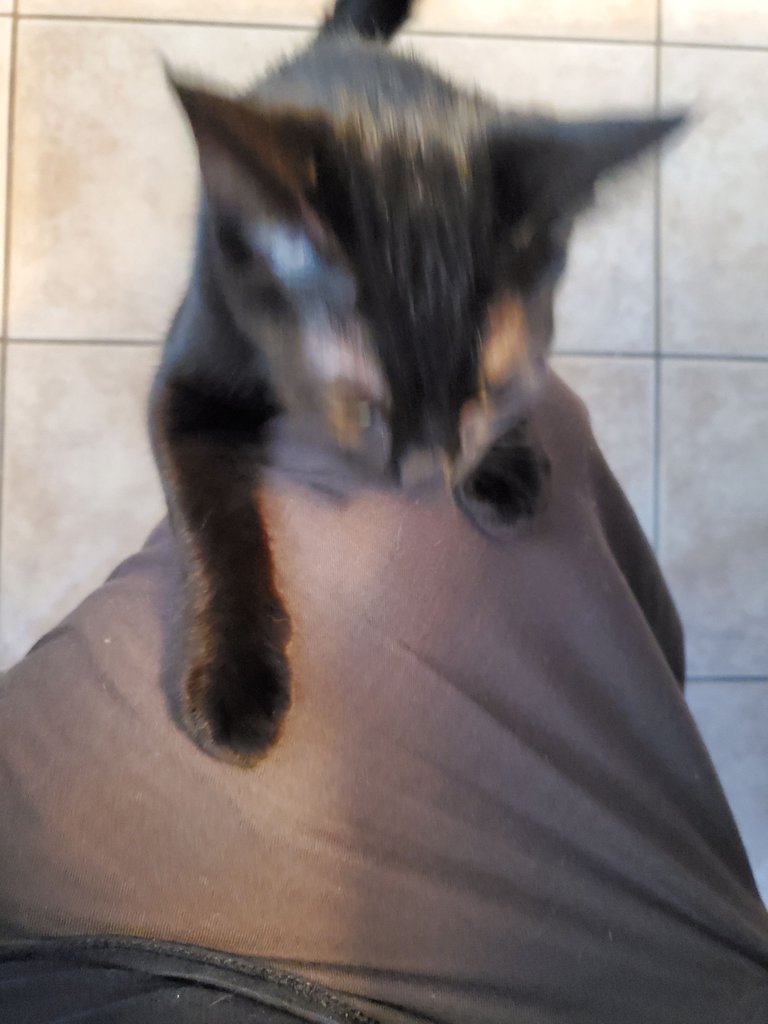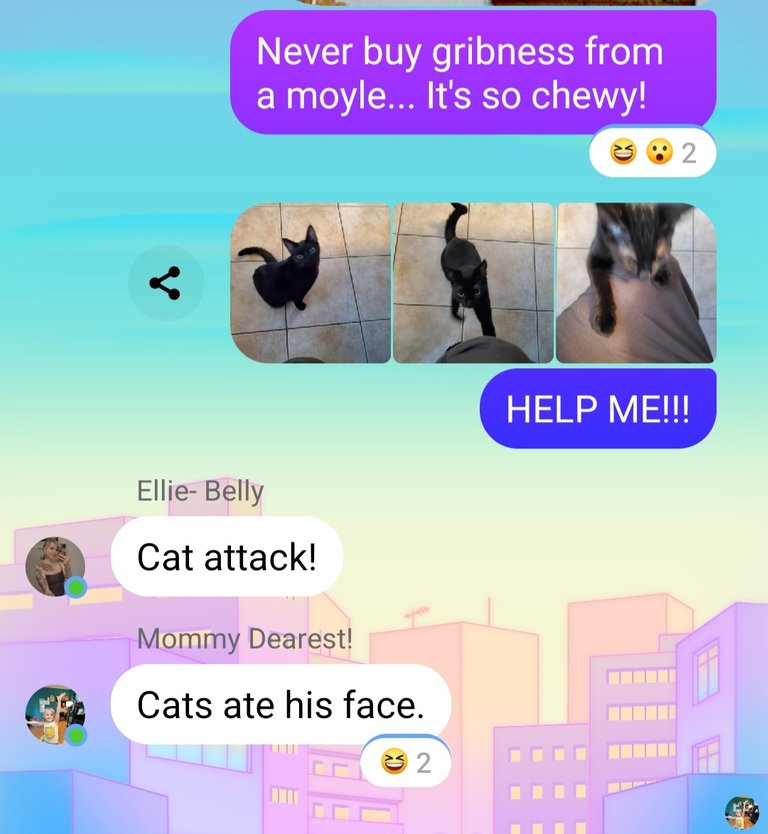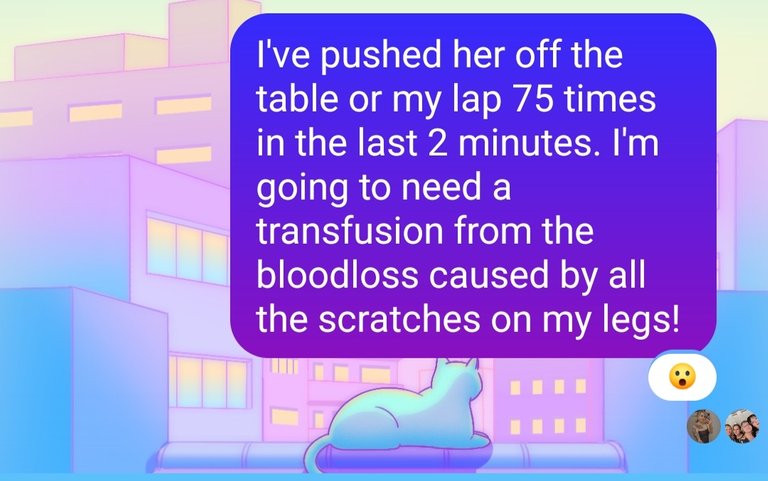 [I also posted these images on my Bluesky page, but that's not even a PUBLIC site yet! Jeeze... How horrible and elitist of me. Here's my profile page, if you have access: https://bsky.app/profile/richardfyates.bsky.social
If you DON'T have access to Bluesky, yet, I do have some access codes. Let me know if you're in the mood to give the place a look...]
Lucy, the black cat pictured above, isn't a bad cat, but she is RAMBUNCTIOUS and NON-STOP. If an artist or writer is trying to get WORK done, it requires concentration. For some reason, I'm particularly sensitive to cattus-interruptus, and those little, sharp claws tend to get under my skin... So...yeah!
xxxxxxxxxxxxx
[Posted to Typed.art]:
Maybe I HAVE done what I've always bad the urge to do, but maybe I've done it in an unconventional way.
Maybe, in book after book, notebook after notebook, journal after journal, zine after zine, cartoon after cartoon, blog after blog, website after website, podcast after podcast, art piece after art piece... Maybe (perhaps - quite likely, actually) I HAVE been telling stories all along. For 50 years, I've made shit up and written / drawn / typed / told / and given my stories to whomever I could interest in experiencing them... (Scattered though the individual story strands may be.) It's like folk-tales, told and retold, changed with each iteration, modified and mutated and melanged... (Only I seem to be the sole folk in this particular culture... No. That's not true. I have had friends and colleagues who helped me spin yarns and tell tales. Many, many, many tales!
All people have to do is find them! I (and my co-conspirators) have made a fractured, occult, distributed, epic, story-web and thrown it over the whole world, like a lovely funerary gauze or shroud, perhaps! And the silken mesh has undoubtedly settled in some dark and dusty places. Wear thick gloves while searching. I suspect there will be spiders...
---Richard F. Yates (Holy Fool)
xxxxxxxxxxxxx
"Ready for a nap!" by Richard F. Yates (Holy Fool)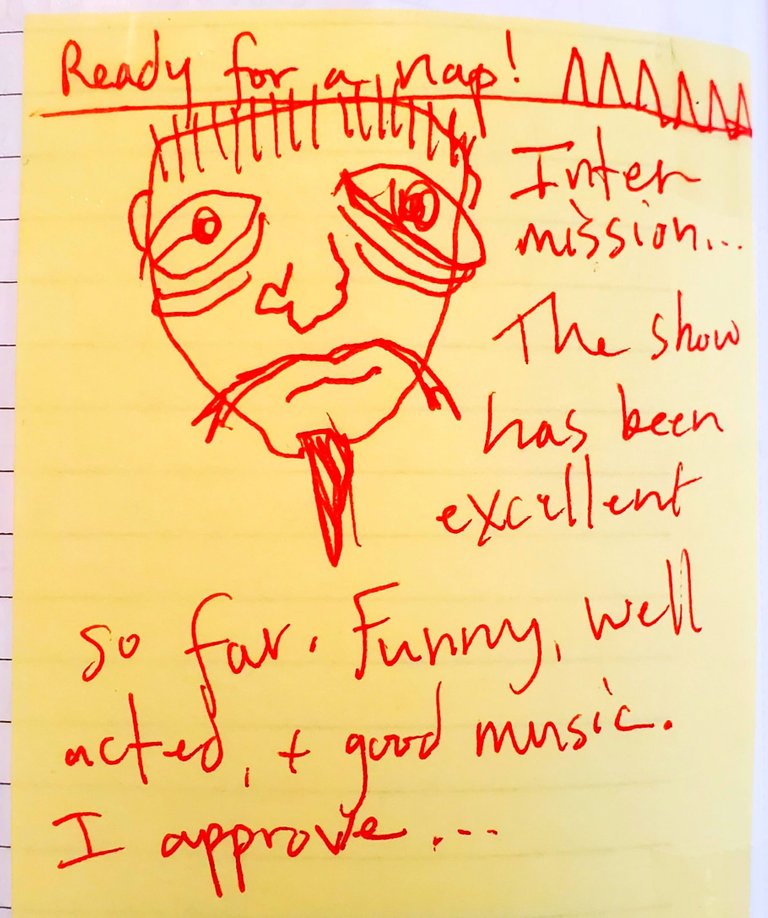 [Red pen on paper with digital embellishments and color tweaking.] Pretty straight forward. It's a note that I wrote to myself, but now YOU, the "audience," can see behind the scenes! (Scary?) ---Richard F. Yates (Holy Fool)
https://objkt.com/asset/KT1F94smAkoLSgNT7PLaxYj7Ba1SKqXfGjsY/568
xxxxxxxxxxxxx
18 Aug. 2023
xxxxxxxxxxxxx
Here's some weirdness that I wrote today. It's mostly a playlist of weird music, but it also includes a fair amount of autobiographical musing. Might be funny to some people...
https://peakd.com/writing/@richardfyates/dongle-is-a-stupid-word-by-richard-f-yates-holy-fool
xxxxxxxxxxxxx
20 Aug. 2023
xxxxxxxxxxxxx
I took yesterday off from computering... I am my own boss, and I'm usually a hard-ass, but I was (perhaps still am) psychologically zooked-out... Will I ever get back up to SNUFF again??? Perhaps. We will need to keep a watchful eye on me to see if I'm still in distress over the next couple 'o days...
xxxxxxxxxxxxx
"Monster Drawn Over the Word Slave" by Richard F. Yates (Holy Fool)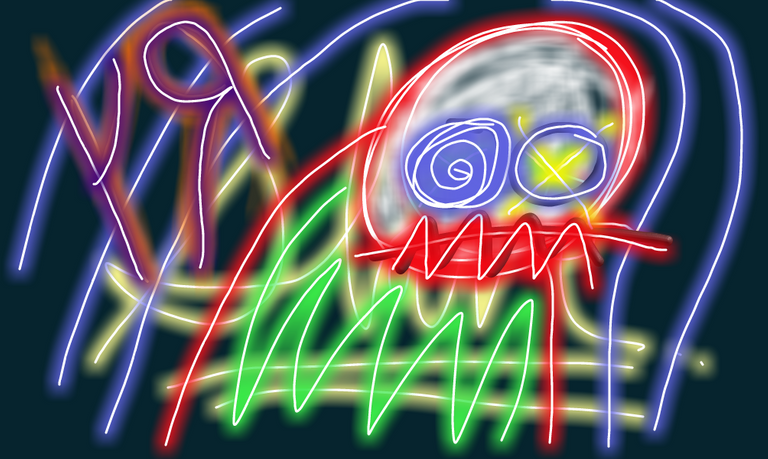 [Digital drawing created in a free app on a first gen Kindle Fire!] Created in in 2013 and probably inspired by the late, great, Prince... ---Richard F. Yates (Holy Fool)
https://objkt.com/asset/KT1F94smAkoLSgNT7PLaxYj7Ba1SKqXfGjsY/569
xxxxxxxxxxxxx
"Happy as a Robot (Grey)" by Richard F. Yates (Holy Fool)
[Stolen image, digitally nightmare-a-fied and moshed and manipulated.] How happy, I might ask you, IS a robot??? ---Richard F. Yates (Holy Fool)
https://nftshowroom.com/gallery/richardfyates_back-to-primitivity_happy-as-a-robot-grey-by-rfy
xxxxxxxxxxxxx
"Slightly Unhinged" by Richard F. Yates (Holy Fool)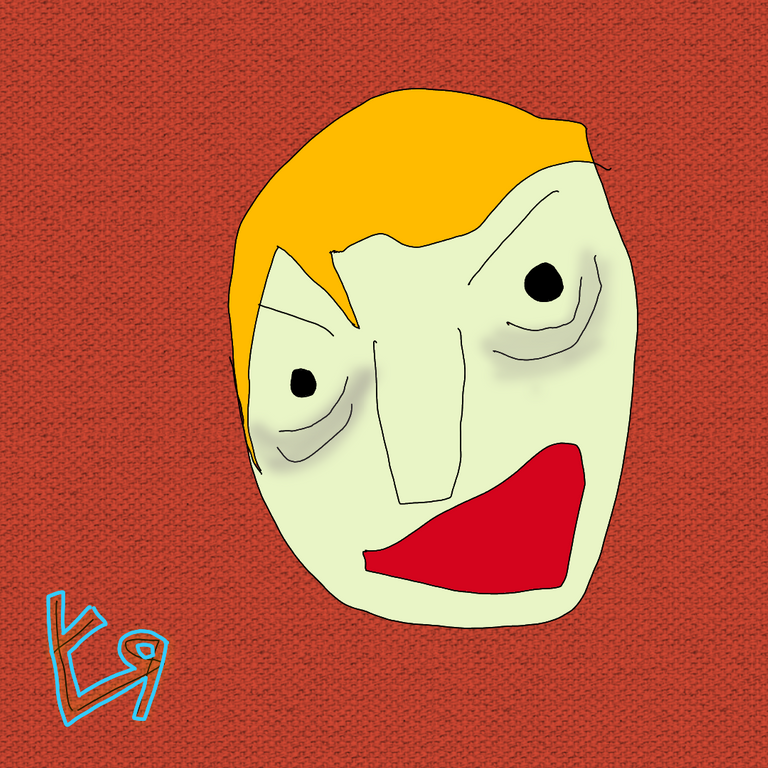 [Digital drawing created in a no-longer-supported, free app on my phone.] Angry cartoon character, at his wit's end, about ready to chew someone's head off! (Notice, however, that HIS body is completely gone! Where did it go??? Maybe that's why he's angry?) ---Richard F. Yates (Holy Fool)
https://objkt.com/asset/KT1F94smAkoLSgNT7PLaxYj7Ba1SKqXfGjsY/570
xxxxxxxxxxxxx
22 Aug. 2023
xxxxxxxxxxxxx
[Posted to Typed.art, PART ONE]:
Here is PART ONE of an old thing I wrote (and probably shared on some blog, I'm guessing FEARTHEBUNNYHEADSQUAD, way back then.) Regardless, I wrote it. I find it interesting. I'm sharing it again. (And most folks who know me NOW didn't know me then and probably haven't ever seen this before!)
Audio Adventures in the Backyard!
Ok, humans, what's the point of this post? (You shouldn't be asking. I don't need a point.) The point, that I don't need to have, is that we (the BUNNYHEADSQUAD) like to "Party All the Time," and since venues ain't that easy to come by in a small town, we often use the BUNNYHEADBUNKER as our base of operations. In addition to throwing down Jim Morrison style, we also like music (and annoying the neighbors.) When you combine all these not-too-disparate elements, you get a group of people who tend to shake the airwaves in their backyard whenever the opportunity (sunshine ain't that common in the Northwestern USA in the spring) presents itself. Below, we will chronicle the musical components of two different BUNNYHEADSHINDIGS.
I know what you're thinking (and I don't mind, really,) who CARES what music you played at your little backyard party? We do. They were our parties, and we had fun at them. In addition, the curious might be inspired to hunt down a track or two on this list, allowing the music that we love to be further spread into the culture at large. (Our ultimate goal is the conversation of the "culture at large" to our beliefs and opinions, at which time we will convert to new beliefs and begin the process all over.)
For the sake of clarification, there are two primary DJs for the BUNNYHEADSQUAD: MC Spoiler (aka, Elise Yates---age 13) and the Supreme Bunny Warlord (aka, Richard F. Yates---age 39). Their tastes are fairly similar, but the extreme age difference does put a certain FLUX into their choices.
Of the two playlists we are about to share, the events surrounding them were extremely different. The first was in celebration of the 18th birthday of BUNNYHEADSQUAD member, Killa Masta Fruit (aka, Frankie Yates.) The event was based on a particular theme (80's music, although we cheated a bit), heavily attended, and took place in weather that fluxuated from mildly pleasant to DUMPING rain (but luckily we had rented a tent so we weren't electrocuted!) The next event was very sparsely attended, had no theme, and was on a pleasant day (which, unfortunately, led to some not-so-pleasant sunburns!) The music choices, it should be noted, are definitely going to be different when a broad range of people are present, who may have extremely varied musical tastes, than from a slim gathering of people who are really just lounging about enjoying a nice day in the sun!
Let's wrap up the chit-chat and get to the hoo-hah, shall we?
FRANKIE'S PARTY (28 May 2011)
--The Human League – "(Keep Feeling) Fascination"
--The Specials – "Message to You Rudy (Dreadsquad Remix)"
--Beastie Boys – "Make Some Noise"
--Devo – "Freedom of Choice (Hoska & Osheen Last Minute Remix)"
--The Stone Roses – "Fools Gold (Tall Paul Remix)"
--The Clash vs Grandmaster Flash – "Message from Brixton (Mash-Up)"
--Skrillex – "Ruffneck Bass"
--Def Leppard – "Photograph"
--Tears for Fears – "Everybody Want to Rule the World"
--Weird Al Yankovic – "Dare to be Stupid"
--The Police – "Roxanne"
--Malcolm McLaren vs Van Halen – "The Double Dutch Jump (MadMixMustang Mash-Up)"
--Deee-Lite – "Groove is in the Heart"
--Twisted Sister – "I Wanna Rock"
--Eddie Murphy – "Boogie in Your Butt"
--Blondie – "The Tide is High"
--Salt-N-Pepa – "Push It"
--Yeah Yeah Yeahs & A-Trak vs Salt-N-Pepa – "Roll It (DJ Lobsterdust Mash-Up)"
--AC/DC – "Who Made Who"
--Frankie Goes to Hollywood – "Relax"
--Lady GaGa vs Madonna vs David Guetta feat. Kelly Roland vs Hans Zimmer – "Born to Express Love (Robin Skouteris Mash-Up)"
--Wham! – "Wake Me Up Before You Go-Go"
--Beastie Boys – "Fight for Your Right"
--Toni Basil – "Mickey"
--Prince & The Revolution – "Let's Go Crazy"
--A Flock of Seagulls – "I Ran (So Far Away)"
--Rick Astley – "Never Gonna Give You Up"
--Dexy's Midnight Runners – "Come on Eileen"
--Herbie Hancock – "Rockit"
--Michael Jackson – "Billie Jean"
--Madonna – "Crazy for You"
--Joan Jett & The Blackhearts – "I Love Rock and Roll"
--Weird Al Yankovic – "I Love Rocky Road"
--Quiet Riot – "Cum on Feel the Noize"
--Rick Springfield – "Jessie's Girl"
--Information Society – "What's on Your Mind (Pure Energy)"
--Suicidal Tendencies – "Institutionalized"
--The Dead Milkmen – "Punk Rock Girl"
--Motley Crue – "Girls Girls Girls"
--Def Leppard – "Pour Some Sugar on Me"
--Twisted Sister – "We're Not Gonna Take It"
--Gap Band – "You Dropped a Bomb on Me (12" Version)"
--Sir Mix-A-Lot – "Baby Got Back"
--House of Pain – "Jump Around"
--DJ Jazzy Jeff & The Fresh Prince – "Parents Just Don't Understand"
--KISS – "I was Made for Lovin' You"
--Motley Crue – "Shout at the Devil"
--Man 2 Man – "Male Stripper"
--Poison – "Talk Dirty to Me"
--Beastie Boys – "Shake Your Rump"
--Billy Idol – "Rebel Yell"
--Faith No More – "We Care a Lot"
--Cyndi Lauper – "The Goonies 'R' Good Enough (Single Version)"
--Europe – "The Final Countdown"
--David Bowie – "Changes"
--S-Express – "Theme from S-Express (Original Extended 12" Mix)"
--Newcleus – "Jam on It"
--Gang of Four – "To Hell with Poverty (Go Home Productions Remix)"
--The Waitresses – "Square Pegs"
--Stereo MC's – "Elevate My Mind"
--Soft Cell – "Sex Dwarf (Razormaid! Mix)"
--Me First & The Gimme Gimmes – "Nothing Compares 2 U"
--Atari Teenage Riot – "Blood in My Eyes"
--Shock and Awe – "Another Girl Another Planet"
--We Do Kung Fu! – "All Guns Blazing"
--Headless Kamikaze – "La Crise vs La Macroeconomie"
--Cyndi Lauper – "Girls Just Want to Have Fun"
--T. Rex vs Shiny Toy Guns – "Get It on at Le Disko (The Illuminoids Mash-Up)"
--Nitzer Ebb – "Join in the Chant"
--LMFAO feat. Lauren & Goon Rock – "Party Rock Anthem"
--Crystal Castles – "Vanished"
--Run D.M.C. – "It's Tricky"
--Tame Impala – "Lucidity (Pilooski Remix)"
--The Smiths – "Girlfriend in a Coma"
--X – "We're Desperate (Live Version from The Decline of Western Civilization)"
-----done!
xxxxxxxxxxxxx
[Also posted to Typed.art, PART TWO]:
BACKYARD AUDIO ADVENTURE (5 June 2011)
[A note, here: This bit is transcribed from a journal, as was the last playlist, but with this one I began interjecting text between songs. You'll probably be a bit confused, but that's ok. Just go with it.]
--Altered Images – "I Could be Happy (Razormaid! Mix)"
--The Rolling Stones – "Too Much Blood (Debonairs Too Much Dub)"
--Empire of the Sun – "We are the People (Kotchy Remix)"
--Information Society – "Running (Claderone Leather Mix)"
--April March – "Chick Habit"
--Don Diablo feat. Dragonette – "Animale (Datsik Dubstep Remix)"
--Waldorf – "You're My Disco (Original Disco Mix)"
--The Idle Race – "Sitting in My Tree"
--Bassnectar – "Here We Go"
--The Cure – "Shiver and Shake"
--Dan Black feat. KiD CuDi – "Symphonies"
--Dev & The Cataracs – "Bass Down Low"
--Black Eyed Peas – "Just Can't Get Enough (No Big Deal Remix)"
--Avril Lavigne – "What the Hell (Acoustic Version)"
--Owl City vs Green Day – "Green City Case (Mighty Mike Mash-Up)"
--Run D.M.C. – "It's Like That (Justin Baule 2011 Edit)"
I wrote [the] paragraph with the stars next to it ([below]) before I wrote this one. I hadn't decided yet that I would just interrupt my playlist with writing, then add the songs I (or Ellie) play(s) to the page as I go.
Speaking of GOING, I've got to take the [name of company deleted] DJ equipment back to Scott in about 30 minutes.
--Lady GaGa – "Born this Way"
When I get home, I gotta shower!
[irrelevant comment removed]
Frankie went to the Mark Morris [high school—not her school] prom last night, came home, showered, and left to go work on a cardboard boat for the 4th of July event at the lake.
--Black Eyed Peas – "Boom Boom Pow"
ZOOM----->
--Enrique Iglesias feat. Pitbull – "I Like It"
--Simon & Garfunkel – "Cecilia (DJ Silent Partner Bootleg)"
--Metro Station – "Shake It"
--The Dead Milkmen – "Punk Rock Girl"
--Tilly and the Wall – "Blood Flower"
--Ram Jam – "Black Betty"
--Audio Bullys feat. Nancy Sinatra – "Shot You Down"
--Wyclef Jean feat. Stan, Kyle, Cartman, and Kenny – "Bubblegoose"
--A Flock of Seagulls – "I Ran (So Far Away)"
--Ke$ha – "Blow"
--Goldfinger – "Rio"
--Willow Smith – "21st Century Girl (Jump Smokers Radio Edit)"
--Lips Inc. – "Funky Town"
--Skrillex – "Ruffneck Bass"
--Run D.M.C. – "It's Tricky (Remix)"
--Rick Springfield – "Jessie's Girl"
--Rye Rye – "Witch Doctor"
--Billy Idol – "White Wedding (Razormaid! Mix)"
--Lil Jon – "Get Low (Wax Motif n Hugga Thugg Remix)"
--MGMT – "Kids"
--Generation X – "Kiss Me Deadly"
--Crystal Castles feat. Robert Smith – "I'm Not in Love"
Shooby Dooby!!
***[This section is marked by "stars" in the journal.]
Lazy, backyard day. Mariah's reading. I played some music, but Ellie's taken over at this point. Speakers are all cat-scratched, tears in the carpet covering. Jerk cats.
TIME TRAVEL is impossible, EXCEPT it's NOT.
See. I just did it again.
--The Killers – "Spaceman (The Knocks Remix)"
--Book of Love – "Witchcraft"
--Florrie – "Call 911 (Fred Falke Remix)"
--Social Distortion – "Ball and Chain"
-----DUN
Alright, who's been smoking Sea Monkeys, again?!?!
---Richard F. Yates (Holy Fool)
xxxxxxxxxxxxx
Yes. It's an important question: Who HAS been smoking SEA MONKEYS again???
---Richard F. Yates (Holy Fool)
---
---