"'Dongle' is a Stupid Word" by Richard F. Yates (Holy Fool)
18 Aug. 2023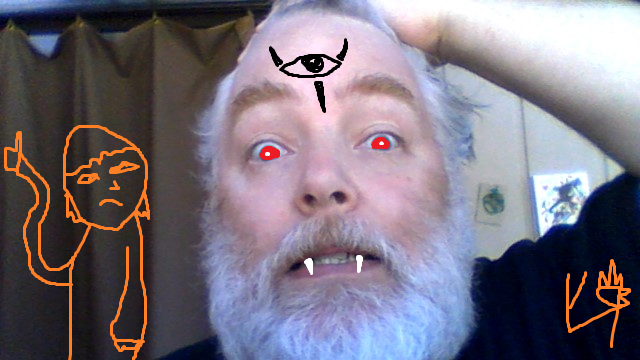 Sitting in the backyard. Super nice day out. Not too hot. I'm under a tent to stay out of direct sunlight. Nice breeze.
The laptop is plugged into an orange extension cord (the battery on this computer hasn't held a charge for years), and I'm set to do some WORK (away from any cats. The three outside hats...I mean cats...that live here are all inside! FREEDOM!!!)
Several things to do to get this afternoon underway: Need to set up my Blu-tooth speaker (I use an Ultimate Ears Megaboom 3 for most outside listening) and my MP3 player for tunes, then pick some tunes; need to decide what my priority is for today (postcard site? sharing my own artwork? just messing around with music all day...); I need to take a couple swigs of my iced coffee; and then I need to get to VERK! [Pronounced ike "KRAFTWERK."] (I'll probably need some Kraftwerk in my playlist!)
Hello, little jumping spider! Whenever I set up on the picnic table in the backyard, I always get visited by the little jumping spiders. They're incredibly curious little beasties, and in particularly, they seem to love crawling on my speaker, once the tunes start issuing forth...
Okay. Let's get this party STARTED! [Pause for action in REAL WORLD...]
xxxxxxxxxxxxx
My laptop is so old that it didn't come with a blu-tooth transmitter installed. I had to buy a little blu-tooth antena dongle (I hate that word, by the way..."dongle." It's almost as bad as "blog." Yuck...) just to be able to communicate with portable speakers and such!!! (I THINK the machine is 7 and a half years old. We got it in a February, which is a bit of useless trivia that I have no explanation for why I believe is true... My memory is FRAGMENTED at best...) So... Blu-tooth thingy: NOW ACTIVATED and hooked to my speaker thing! Progress...
xxxxxxxxxxxxx
23 song playlist: approx. 1 hour 55 minutes. (Will be played on random!)
---1. Kraftwelt - "Deranged (Uberzone Mix)"

---2. Kraftwerk - "Dentaku"

---3. The Drum Club - "Sound System"

---4. Single Bullet Theory - "Keep It Tight"

---5. Carter the Unstoppable Sex Machine - "Lenny and Terence"

---7. Mephisto Walz - "In the Room That Love Exists"

---8. Up Above the World - "Straight Up Caffeine"

---9. Single Cell Orchestra - "Transmit Liberation"

---10. Soft Cell - "Memorabillia '91"

---11. Moev - "Crucity Me (12")"

---12. Chris and Cosey - "Tantalize"

---13. Bill Pritchard - "Black Souls Under White Skies"

---14. Black Machine - "How Gee (Original Sax Mix)"

---15. Frankie Knuckles - "Your Love"

---16. Rancid - "Crane Fist"

---17. Just Plain Bill - "100 Miles"

---18. Wolfmother - "New Moon Rising (YACHT Remix)"

---19. Roger Nusic - "Can I Come in and See You"

---20. The Freshmaka - "Are U Happy?"

---21. Fang - "Fun with Acid"

---22. The Jon Spencer Blues Explosion - "The Midnight Creep"

---23. Butthole Surfers - "Hey"

xxxxxxxxxxxxxx
Maybe I'll attempt to find YoooTooob links for the tracks above before I post this. (If I do that, you may see links above for each song. If I don't, then...)
I left my phone in the house. How am I supposed to take pictures of myself working if I don't have my phone? Does this laptop camera work???
Yep. I now have an image, which I wil stick at the top of this mess! NOW, it's time to get to WORK!
xxxxxxxxxxxxx
Nope... Time has run out! The grandkid is coming home cuz she got bored hanging with her parents. I'm down to just a few minutes to post this!
Thanks for stopping by!!!
---Richard F. Yates (Holy Fool)
P.S. - Update: I don't know what's going on!!!
---
---