Predicted eCash will fly high ..?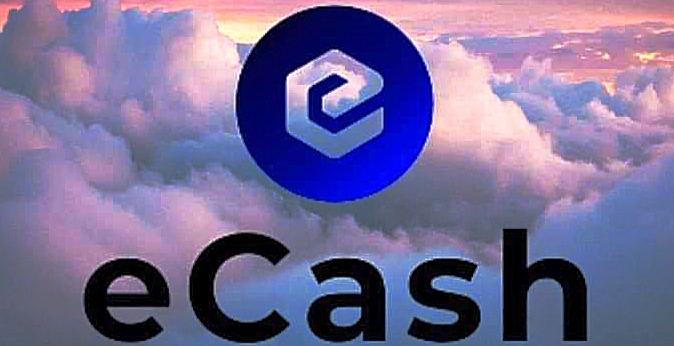 Predicted eCash will fly high ..?
eChas or XEC is currently being discussed a lot in the digital currency world, the presence of eChas is predicted to achieve success in the future.
In this post I will discuss eCash which is said to be a fork of Bitcoin Cash or also called the great-grandson of Bitcoin, if you may say so. So what's interesting about this eCash?. Is it worth it or is it worth collecting?
XEC is a ticker for a cryptocurrency called e-cash, eCash was formerly known as Bitcoin cash ABC. Bitcoin cash ABC is a hard fork of Bitcoin cash. After changing the name to XEC, the value is redodomized to 1: 1,000,000.
In this case there are two different crypto coins, yes, there is Bitcoin cash ABC which we now know as e-cash, there is also Bitcoin cash. These are two different projects, after redenomination each Bitcoin cash ABC will be replaced with one million XEC. So the total supply turned into 21 trillion coins.
The mission of e-cash is to increase the transaction speed from around 100 transactions per second to more than five million transactions per second. It then increases payment security, and transactions are processed within three seconds at most. Then also create a Fork-free Network.
However, it is not explained how to create this fork-free network. Because we know, forks are always there, eCash network will be upgraded every year, namely on May 15 and November 15. So for those of you who collect eCash, you can pay attention to these dates too.
eCash was built by developers who created Bitcoin cash but with a much more aggressive roadmap.
Oh yes, for those of you who like coin reviews
The beginning of Bitcoin cash ABC or eCash. Bitcoin cash ABC is the result of a fork of Bitcoin cash, because there was a feud between miners after Amaury Sechet developer of Bitcoin ABC introduced a new regulation where Bitcoin cash miners will be taxed eight percent for development.
Bitcoin ABC itself is the dominant Lead developer in the Bitcoin Cash Project. The problem is that the funds are controlled by Amaury Sechet himself, Then a fierce feud ensues until finally Fork occurs.
Bitcoin cash broke into the old Bitcoin cash ABC and Bitcoin cash. On 15 Nov 2020, they officially fork. Is the problem solved?
After the fork, an eight percent tax was implemented on Bitcoin cash ABC, a group of whales then attacked the Bitcoin Cash ABC Network with a 51% attack. Then change the code from the original eight percent tax to 100%. It doesn't stop there, they combine attacks with flooding transactions and making mining activities a waste of money and energy.
That said, this attack costs about 7,300 dollars per hour, the goal is to destroy the Bitcoin cash ABC network and drain the energy of miners. Vitalik Buterin even spoke up because of this case, not long after, Bitcoin cash ABC was rebranded into eCash with the ticker XEC.
Maybe many are asking why should rebrand?
The exact reason I also do not know 100%. It's also possible, in my opinion, so that people forget about the 51% attack. What is certain is that this incident is a very bad brand image for a network, especially for a network that is quite new, information about eCash or Bitcoin cash ABC is also not widely found on the internet.
On July 1, 2021, the developer of Bitcoin cash ABC decided to rebrand to eCash, changing the name from Bitcoin cash ABC to eCash not only changing the name. Even though the Network explorer itself still uses Bitcoin ABC. After the rebrand to eCash, the consensus changed to proof of stake.
By using a layer of avalanche whose info can make transactions safer and faster. If you want to collect eCash, you can buy it at major exchanges such as binance, Huobi, GET.IO, OKEx, Hotbit, MAX, Tokocrypto, Indodax, and many more.
For Project plans, friends can go to the eCash web, here it is explained which projects have been realized and which projects are still in the development stage or are just wishful thinking. So what's interesting in this section, in the avalanche post-consensus section that says you can fork free upgrades.
Later eCash will integrate with Ethereum's EVM and support smart contracts. XEC or e-cash are in the top 40, rebranding Bitcoin cash ABC to eCash seems quite effective, because previously Bitcoin cash ABC was ranked in the two hundreds at that time. Meanwhile Bitcoin cash was ranked 18th at that time based on coinmarketcap.
For a while because e-cash is still new, adoption of e-cash is still very low, both Bitcoin cash, Bitcoin SV, Bitcoin Cash ABC, eCash, these all have a common ancestor, namely the original Bitcoin created by Satoshi Nakamoto.
If I personally prefer choose Bitcoin for future investments that have ETFs, even in the form of Futures that have been adopted by other countries. What is certain is not to use speculation. So why do we have to be distracted with other coins that are still uncertain.
---
---