Short/Mid/Long Term HIVE USD Predictions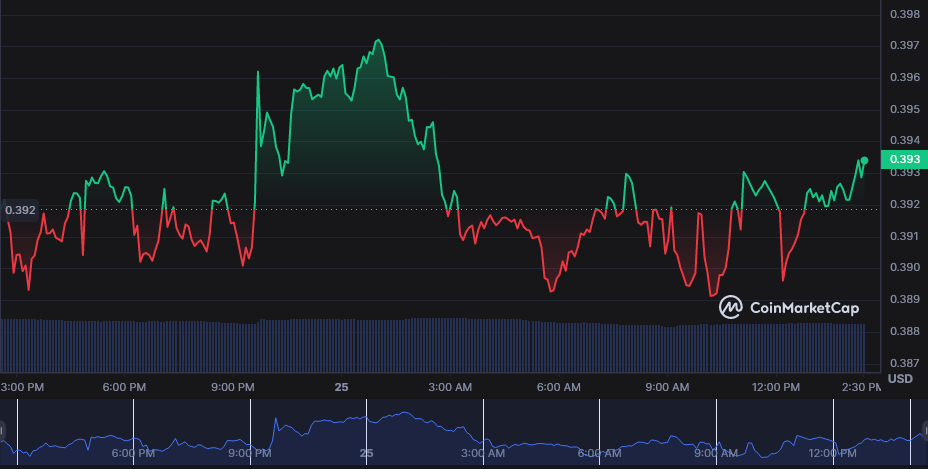 Source: CoinMarketCap (03/25/2023)
---
---
The above graph shows the current 24 hour trend of the HIVE Token. As you can see the HIVE TOKEN fluctuated just one cent within the past 24 hour period. If we expand that graph to show the weekly trend we will also see that the HIVE Token has been floating around $0.40 USD for the past six of seven days. The one day that was the out-liner was 03/20/2023 where the HIVE Token seen a spike that reached a high of $0.54 USD. I think it to be no coincidence that the HIVE Blockchain's birthday was also on that same date (03/20/2023). So what can we expect to happen next?
Future HIVE Token Price
Personally I think we are in for a dip. I'm slightly regretting trading my HBD for HIVE but in that same breath I banked some HIVE profits doing so and its always a good idea to hedge your bets.
I think this is a little trickier to predict. I don't think the over-all investment/ cryptocurrency community has recovered from the FTX fiasco and the dent it put in our wallets. Time is needed to recover. Time is needed so the general public forget about such things. How much time: I don't know but I don't think we are there yet. With this in mind I think much more of the same will take place with dips and spikes in the HIVE Tokens and other currencies USD value until an eventual bull run.
Nothing but success, not only in the Tokens USD value but in the blockchain as a whole. Its only a matter of time before we have another gaming success such as Splinterlands. Its only a matter of time before the same success travels to non-gaming apps. WEB3 hasn't been discovered by the masses but once that happens (its inevitable) the existing WEB3 apps and blockchains like HIVE will be in a great position to reap the benefits of such circumstances.
What To Do....
In the mean time I'll be watching the trade value between the HIVE Token and secondary tokens such as LEO (LeoFinance). The HIVE trade value between other Hive Blockchain assets are also on my radar. Such as Splinterlands Chaos Legion Packs, SPS, PSYBERX Crates & Tokens and much more. Example: Chaos Legion Packs are currently trading for just $2.22 USD or 5.53* HIVE TOKENS. If one thinks the HIVE Tokens USD value will continue to dip it might be a wise move to buy up some of these under-priced Chaos Legion packs. If the HIVE Tokens USD value dips at the same time as Chaos Legion Packs USD value spikes, lots of HIVE profits could be made. However that is just one scenario of many. Always do your own research before investing any of your hard earned currencies and never invest what you can't afford to lose. Nothing said on the @rentmoney blog should be considered financial advice. This post/ blog is for entertainment purposes only.
---
---
Hive Token Seven Day Chart
Source: CointMarketCap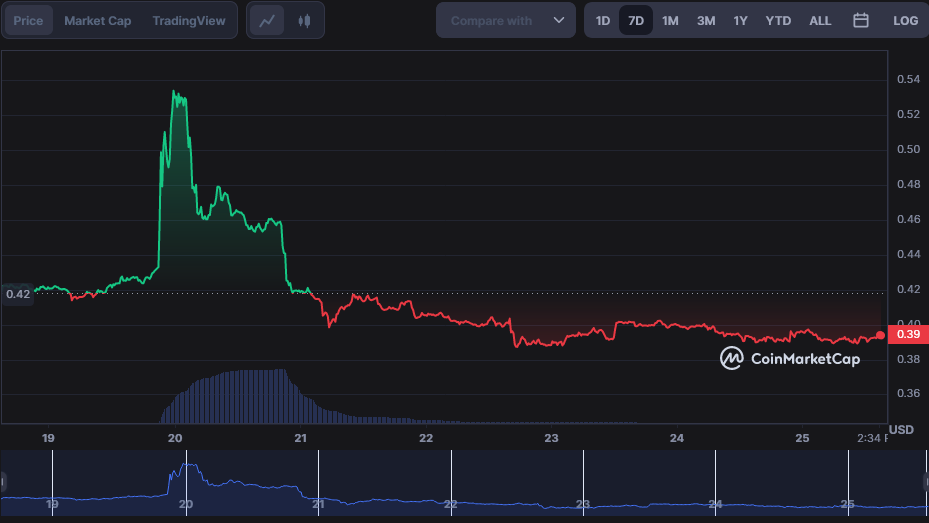 ---
Posted Using LeoFinance Beta
---
---