RentMoney Creates His First NFT (Tradable For A Chaos Legion Booster Pack)

Today I have created my very first NFT. If you are like me doing such a thing might seem to be a little overwhelming but I'm here to tell you that it was as easy as counting one, two, three. This isn't because I'm some creative genius. The ease of creating this NFT was thanks to the Hive's very own frontend named HiveMeme (https://www.hiveme.me). Before I share with you my created NFT and its usecase lets go over the steps on how the NFT creation process works.
---
How To Create An NFT On HiveME.ME
Go to https://www.hiveme.me/
Sign in using your Hive Network Posting Key
Navigate to top of page
Locate and click the NFT link displayed
Under NFT Market click MINT
Follow the displayed instructions
---
Each NFT creation costs 600 MEME to create. Each additional edition of a specific NFT will cost an additional 100 MEME. NFT creation on HIVEME.ME can be created in Audio, Image and Video form. When creating your NFT you will have two options of rights to choose from. The first being Private and the second Limited Production Rights. If you are unsure on what rights to choose I would recommend you choose Private. Before completing the above steps you will need to get whitelisted. The above steps will also help you find the whitelist area. Once there follow instructions on how to get whitelisted.
---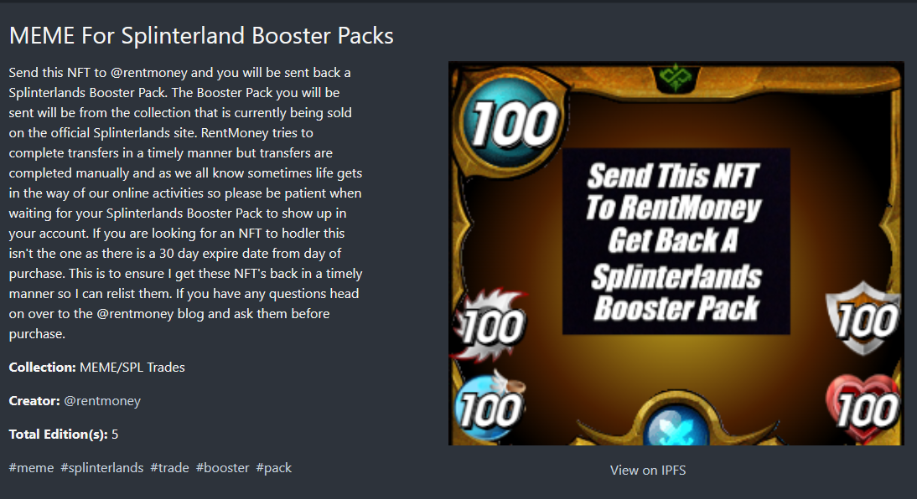 ---
MEME For Splinterland Booster Packs
Send this NFT to @rentmoney and you will be sent back a Splinterlands Booster Pack. The Booster Pack you will be sent will be from the collection that is currently being sold on the official Splinterlands site. RentMoney tries to complete transfers in a timely manner but transfers are completed manually and as we all know sometimes life gets in the way of our online activities so please be patient when waiting for your Splinterlands Booster Pack to show up in your account. If you are looking for an NFT to hodler this isn't the one as there is a 30 day expire date from day of purchase. This is to ensure I get these NFT's back in a timely manner so I can relist them. If you have any questions head on over to the @rentmoney blog and ask them before purchase.
---
MEME On Hive-Engine:
https://hive-engine.com/?p=market&t=MEME
MEME On LeoDex:

---
There it is folks, my (@rentmoney) first NFT creation. As noted in its description the only reason to purchase one of these NFT's is to send it back to me. Once you do so you will be sent back a Splinterlands Booster Pack. The current booster pack sold on the official Splinterlands site is of the Chaos Legion set so that is the booster pack that will be sent to you. I have only created five editions of this NFT and I will place them up for trade on the HiveMe.ME NFT marketplace periodically and without notice. This is to give everyone a fair shot at getting one that wishes to trade their MEME for a Splinterlands Booster Pack. The first one will be placed for sale within the next 24 hours. After that one sells and the trade is completed I will place up another (possibly multiple) randomly throughout the days/weeks/months. This Splinterlands Pack trade for MEME is done by @rentmoney and he alone holds the responsibility to complete the trade.
---
Link To NFT Market:
https://www.hiveme.me/nfts/market
---
What is Splinterlands ?
Splinterlands is an online blockchain game built on the Hive Network. It utilizes NFT's for game play. These NFT's and other in game assets are tradable and have real monetary value. Click here to play or to invest in Splinterlands. Play for free or pay $10 USD and start earning today!.
---
---

---
---
---
---