MEME Delegation Contest + RentMoney's NFT Flash Sale + Proof Of Stake Initiative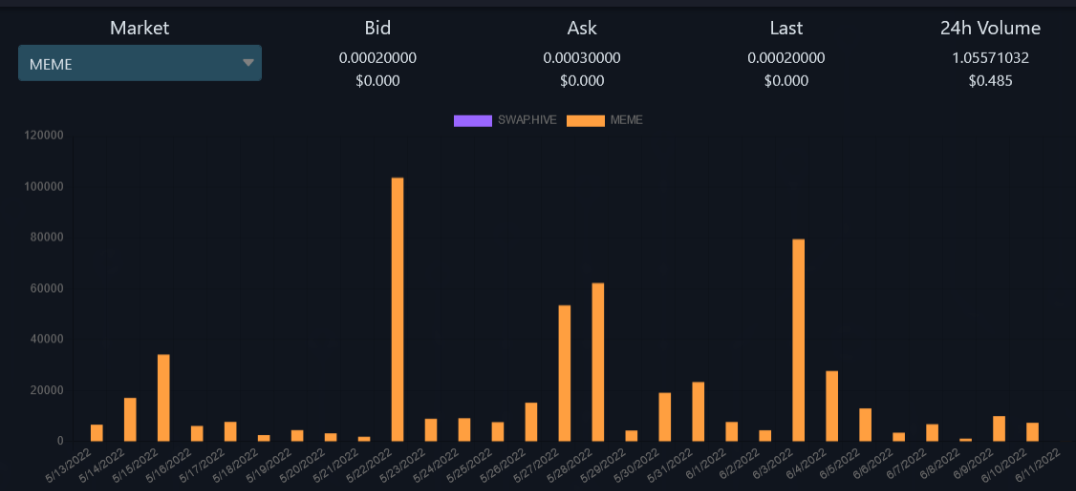 250,000 MEME Delegation
What Is MEME?
Hiveme.me is a frontend that is used to access the Hive Blockchain. Creating and curating content on Hiveme.me allows users to earn the frontends native token known as MEME. One can also earn the HIVE Blockchains native tokens (HIVE/HBD) while curating and creating content on Hiveme.me. The Hiveme.me frontend allows for NFT creation and has an onsite market in which you can trade your NFT creations. Delegation winners (10 X 25,000) will be announced in *seven days.
Last Months Winners
The below Hivens will have their MEME delegations removed in the upcoming days unless otherwise noted. Yous are free to reapply to win this months delegation contest.
| MEMESTER | delegation |
| --- | --- |
| @ninjamike | 25,000 |
| @forsakensushi | 25,000 |
| @rqr4 | 25,000 |
| @dizzyapple | 25,000 |
| @ecto1337 | 25,000 |
| @steven-patrick | 25,000 |
| @forsakensushi | 25,000 |
| @imno | 25,000 |
| @indiebandguru | 25,000 |
| @tengolotodo | 25,000 |
The owner of HiveME.ME generously sent me 400,000 in MEME Tokens to help with the HiveMe.ME initiatives I run. Some of those tokens have been and will continue to be used to fund upcoming Splinterland tournaments. We will also be giving some away in upcoming MEME token giveaways so keep your eyes peeled for those posts. Keeping such an amount sitting in my account unstaked doesn't make much sense so I'll be powering up 125,000 to help fund this delegation initiative. These 125,000 are reserved for MEME promotional purposes and when needed will be powered down and used in future MEME sponsored initiatives. To enter this months MEME Delegation contest all one needs to do is leave a reply in the comment section below. Earn a second entry ticket for reblogging (let me know that you did so in your entry comment). MEME delegations will stay for at least 30 days but likely longer). I reserve the right to but may not utilize pick 5/10 winners.
25,000 Bonus Delegation Winners
---
---
Proof Of Stake Initiative
Its been awhile since we ran our Proof Of Purchase/Stake initiative so lets do that today. In the comment section below share proof that you purchased or staked some MEME tokens on the date of or after 06/12/2022 and I'll upvote that comment. To recap: (1) Show proof of purchasing some MEME tokens and your comment will get upvoted (2) Show proof you staked some MEME tokens and your comment will get upvoted (3) Do both for higher upvote percentage. One entry per MEMESTER :) Not sure where you can trade for the MEME token? No worries, Rentmoney has you covered. MEME can be traded on all Hive Dexs including but not limited to LeoDex, Hive-Engine and Tribaldex.
Trade MEME Tokens
LeoDex:
https://leodex.io/market/MEME
Hive-Engine:
https://hive-engine.com/trade/MEME

---
---
NFT Flash Sale
For the next seven days or until purchased the below NFT will come with a 20% rebate. To claim the rebate one first must purchase the NFT. Second the purchaser must utilize the NFT by sending it to @rentmoney to claim their Chaos Legion Booster. Currently the NFT is purchasable for the low cost of 20,000 MEME. The 20% rebate will gross you 4,000 MEME in savings meaning the actual price of MEME tokens the below NFT will cost you is 16,000 (A steal of a deal). This 20% bonus expires on June 19th, 2022. So if you purchase make sure you utilize before that date or you will miss out on that sweet 20% rebate.
Link To Purchase
https://www.hiveme.me/nfts/rentmoney_meme-spl-trades_meme-for-splinterland-booster-packs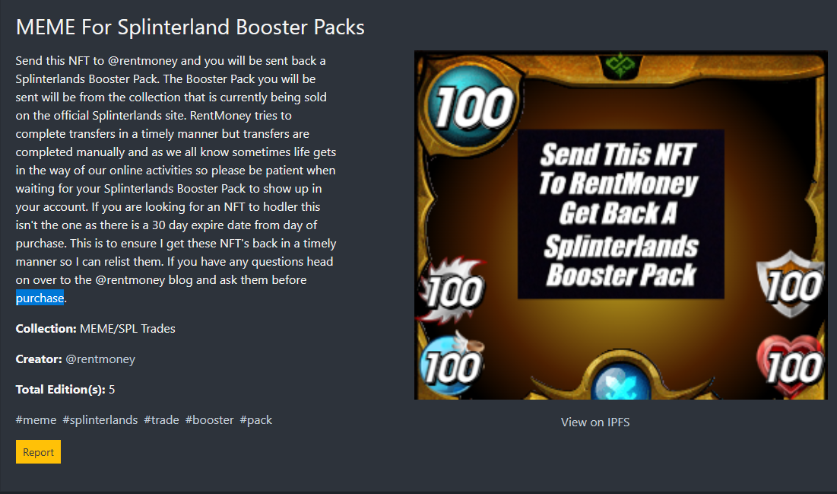 Posted Using LeoFinance Beta
---
---