DRAGONS: Share Your Battle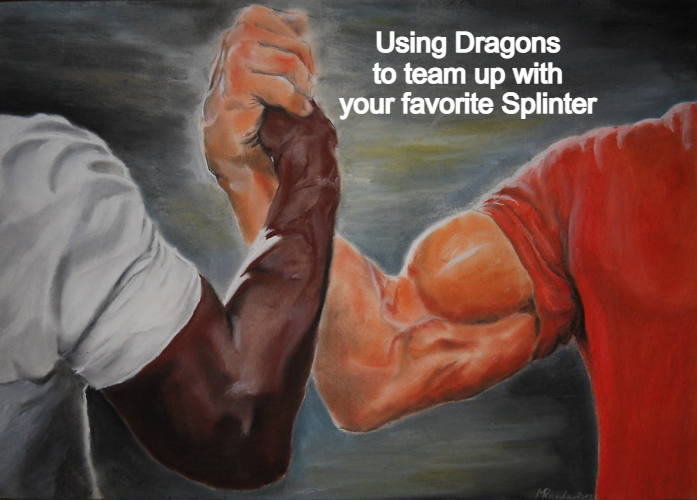 Introduction
The Splinterlands team has started an initiative and its called Show Your Battle Contest. Every week the team picks a theme and asks us Monster Manaics to showcase some battles that are in line with that theme.
Its been awhile since I participated in the *weekly Share Your Battle contest. With this weeks contest asking us to share battles that have the Splinter Dragon showcased I didn't want to pass up the chance for doing just that.
DRAGONS
SUMMONERS
Common: DELWYN DRAGONSCALE
Rare: NEB SENI
Rare: DRAKE OF ARNAK
EPIC: DARIA DRAGONSCALE
EPIC: KRETCH TALLEVOR
Legendary: SELENIA SKY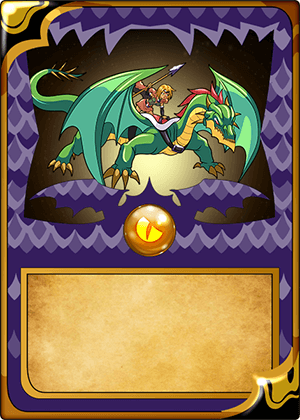 SELENIA SKY LORE
Selenia Sky is a famed Dragon summoner from Draykh-Nahka. Though she has no scales, the purest of the Fire Blood pumps through Selenia's veins. Most of the flying Dragons allow her to ride them even though she is not an approved Gloridax Dragon Rider. Selenia has won more Mount Mox victories than any other summoner in the Splinterlands, and she knows she is the best.Lore taken from official Splinterlands site.
Dragon ABILITIES
Selecting the Dragon Splinter for battle will allow you to call upon any other Splinter and its Monsters to help you in battle.


My Line Up Of Monsters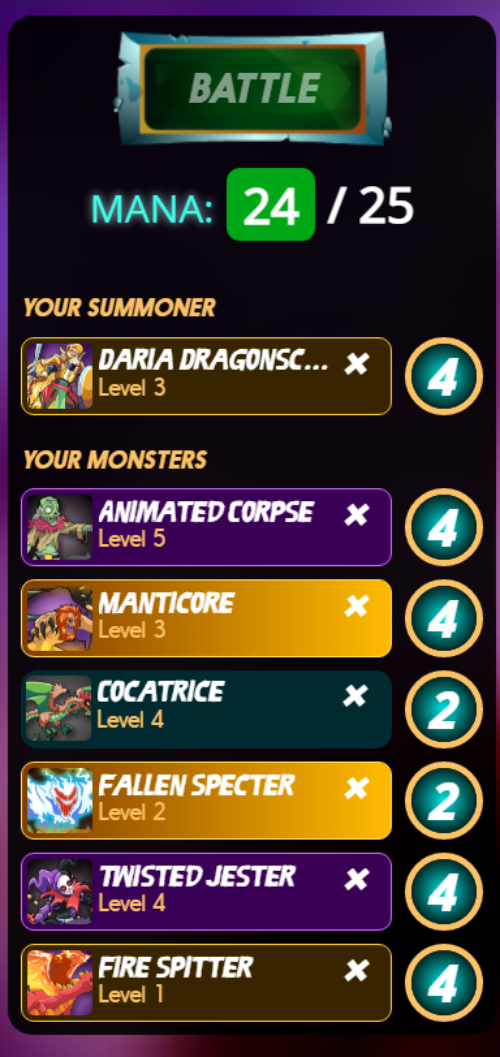 The Battle: Click Link To View Replay
https://steemmonsters.com?p=battle&id=sl_827199f371a4384d66612fc5460334b6&ref=rentmoney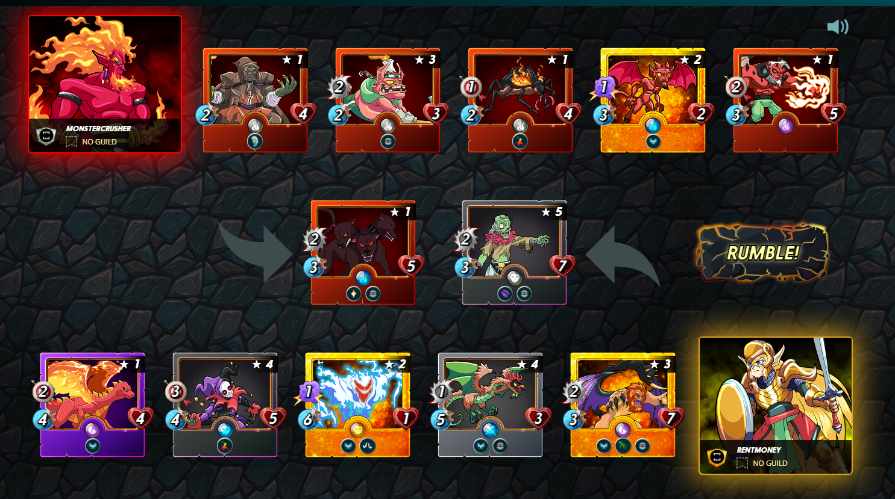 Victory was mine! With the Splinterland game growing in popularity and players getting better by the day getting a win in battle isn't as easy as it once was. The above showcased battle had a mana cap of 25 and rule set "Little League" which means no Monsters with a MANA cost of over Four.
I decided to use the EPIC Dragon Summoner DARIA DRAGONSCALE for this battle. Its an EPIC that allows all MELE attack Monsters to have plus one to their attack. Like all Dragon Summoners using Daria allowed me to use a second Splinter. My second Splinter of choice was the Death Splinter.
My opponent was far outmatched in this battle and didn't stand much of a chance. My Dragons and their allies were much too strong and powerful for my opponent to overcome. I used a standard strategy of having Mele attack monsters in the front with magic in the middle and ranged in the back for this battle.
One of the key Monsters in this line up is the Legendary Monster Fallen Specter. This Legendary Dragon Monster has the ability to hinder the attack of all the enemies Mele attack monsters. This means that combined with Daria my team ended up with a plus one attack plus my opponents team was hit with a minus one mele attack. Teaming these two up in battle will help bring you many victories.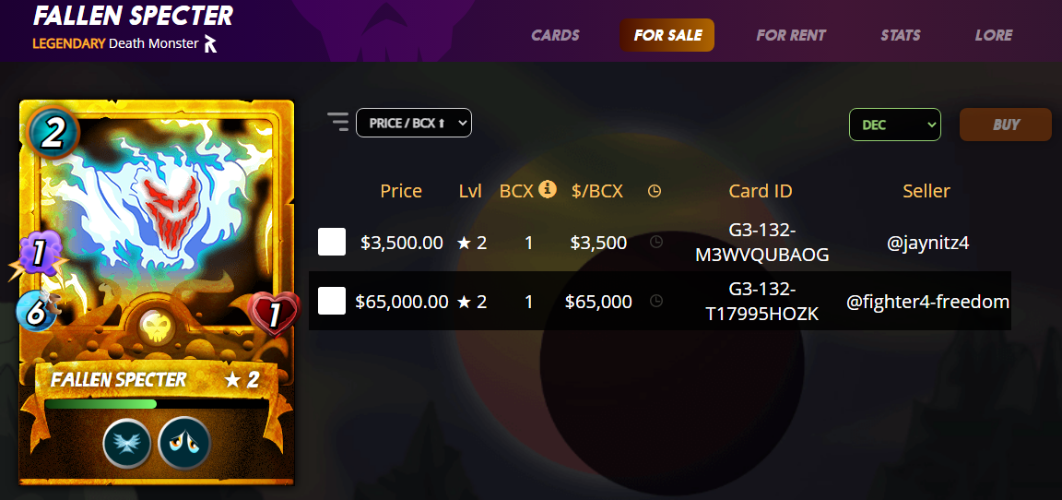 FALLEN SPECTER
They don't always go away. A Dark Eternal soul is already corrupted beyond the salvation of the living, so to all outside the land of Mortis, they are lost. Even when a Dark Eternal is defeated or destroyed in combat, there is often left a remnant, a flicker of the soul that once was. Sometimes these Specters, clinging to their anger, retain certain physical powers in this realm. The most powerful Fallen Specters are chilling sights to behold when they are called to tournament battle at Mount Mox. Lore taken from official Splinterlands site.
Official CHALLENGE RULES
Create a post sharing a video (link) of one of your battles with the NAGA FIRE WIZARD.
Remember to link to your battle even if you also upload it to a video hosting platform (like youtube).
Make it look good. Need help formatting? Check out this ULTIMATE MARKDOWN TUTORIAL
NOTE: Your posts will NOT be re-Tweeted from the Official Splinterlands Twitter unless you take time to create an actual THUMBNAIL. Sticking the image of the character at the top of your post looks horrible when shared on social media. You are welcome to use the same THUMBNAIL/COVER that is in this post or check out THIS POST for how to create your own.
Card Images by Level HERE.
Tag splinterlands.
---
---
FREE Splinterlands Voucher
Click Here To Join FREE Raffle
---
Splinterlands Total Market Cap $221,975,019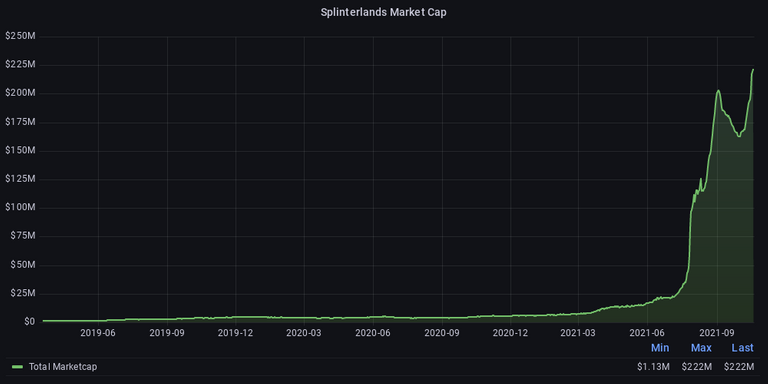 ---
Splinterlands is an online blockchain game built on the Hive Network. It utilizes NFT's for game play. These NFT's and other in game assets are tradable and have real monetary value. Click here to play or to invest in Splinterlands. Play for free or pay $10 usd and start earning today!
---
DARIA DRAGONSCALE LORE
Daria is the only Gloridax summoner who is also a member of the elite Dragonsguard. Not only is she trained to summon the largest and fiercest Dragons, but she is herself proficient in all the arts of war. Daria is clever, quick, and beautiful. Though she carries the purest Fire Blood, she refuses to take a mate.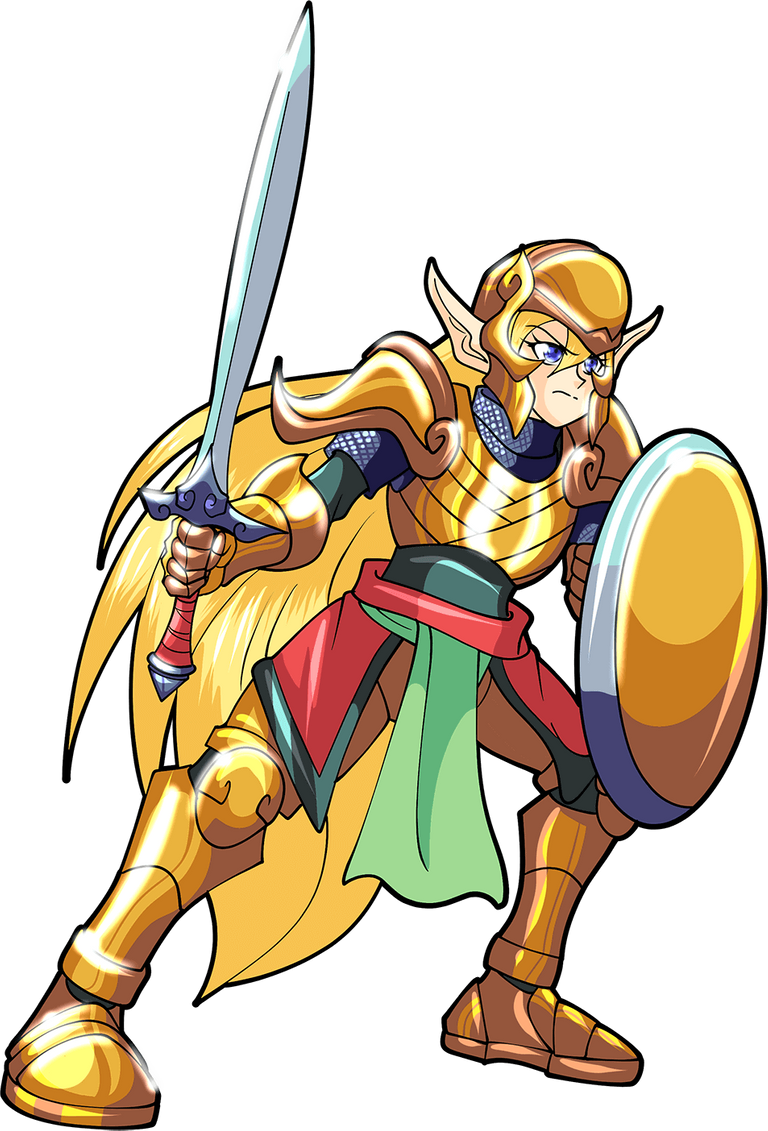 ---
Posted via proofofbrain.io
---
---