Torta de cumplemes 50 de Rejito (cola+remolacha)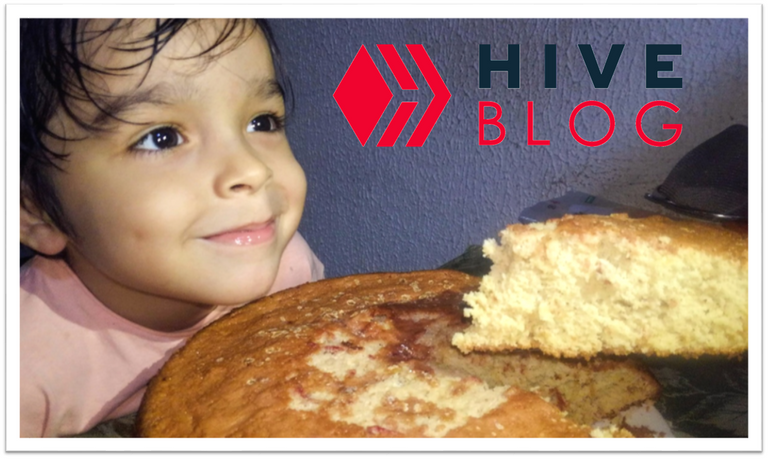 Saludos, mis queridos compañeros de #Motherhood, espero que estén disfrutando el tiempo junto a su familia, tesoro invaluable y maravilloso. Que el Señor llene de paz los hogares de cada uno de ustedes, unidos bajo al unión del amor y la fe en Jesús.

Hoy quiero compartir con ustedes esta torta que realicé ayer como motivo del CUMPLEMES NÚMERO 50 de mi hijo Reggie Jeremías, alias Rejito.
Mi esposa (@fabiarte) y yo, mes a mes hemos venido celebrando los días 16 un mes más de vida de Rejito, y cada vez ha sido una nueva aventura para elaborar una torta con lo que tenemos en la nevera, especialmente en cuanto al tema del relleno y sabor, así que hemos hecho multitud de experimentos, unos más exitosos que otros (aunque todos han sido devorados jaja).
En esta ocasión abrimos la nevera y lo que conseguimos útil para una torta fue: 1 refresco de cola negra y un trozo de remolacha. Hemos usado remolacha antes, pero hace años que no usamos ningún tipo de refresco ¡y jamás juntos!
Así que aquí les cuento nuestra experiencia y el paso a paso de cómo elaborar esta torta o la base para que realicen la que quieran.
INGREDIENTES:
300 gramos de harina de trigo.
300 gramos de azúcar.
3 huevos.
100 gramos de remolacha.
1 taza de refresco de cola negra (sería interesante probar con otros sabores también).
Greetings, my dear fellow #Motherhood members, I hope you are enjoying the time with your family, invaluable and wonderful treasure. May the Lord fill the homes of each one of you with peace, united under the union of love and faith in Jesus.
Today I want to share with you this cake that I made yesterday for the 50th monthly-birthday of my son Reggie Jeremías, aka Rejito.
My wife (@fabiarte) and I, month by month we have been celebrating the 16th day one more month of Rejito's life, and each time it has been a new adventure to make a cake with what we have in the fridge, especially on the subject of filling and flavor, so we have done many experiments, some more successful than others (although all have been devoured haha).
This time we opened the fridge and what we got useful for a cake was: 1 black cola and a piece of beet. We've used beets before, but it's been years since we've used any kind of soda and never together!
So here I tell you our experience and the step by step of how to make this cake or the base for you to make the one you want.
INGREDIENTS:
300 grams of wheat flour.
300 grams of sugar.
3 eggs.
100 grams of beets.
1 cup of black cola (it would be interesting to try other flavors as well).
---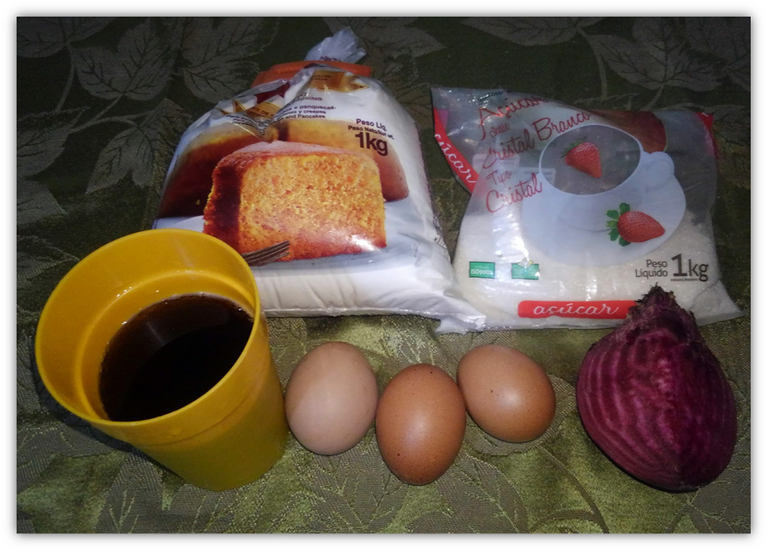 ---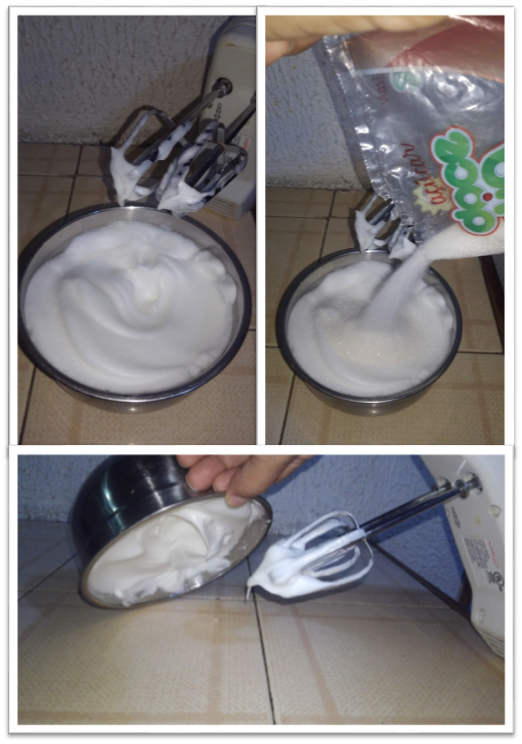 We separated the egg whites and beated until stiff, then we added 100 grams of sugar and beated again until stiff, which is tested by turning the container upside down without spilling.
Separamos las claras de los huevos y batimos hasta llevarlos a punto de nieve, luego le aplicamos 100 gramos de azúcar y volvimos a batir a punto de nieve hasta que quedara bien firme, lo cual se prueba poniendo el envase boca abajo sin que se derrame.
---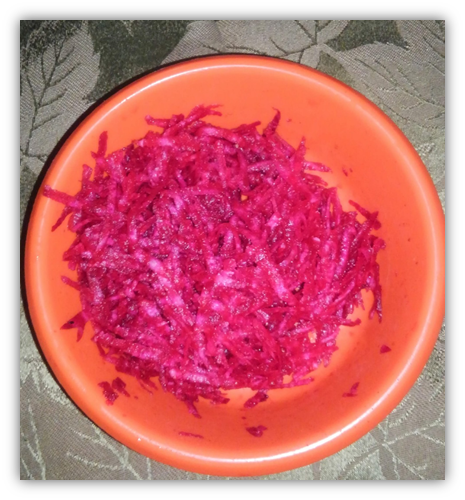 We peel and grate the beets.
Pelamos y rallamos la remolacha.
---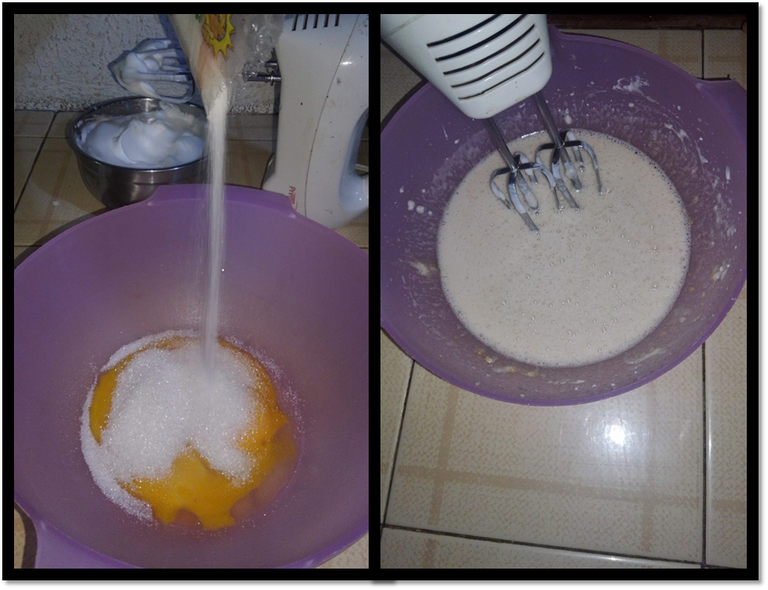 Beat the 3 egg yolks with 200 grams of sugar and the cup of soda until a homogeneous mixture is obtained.
Batimos las 3 yemas con 200 gramos de azúcar y la taza de refresco hasta obtener una mezcla homogénea.
---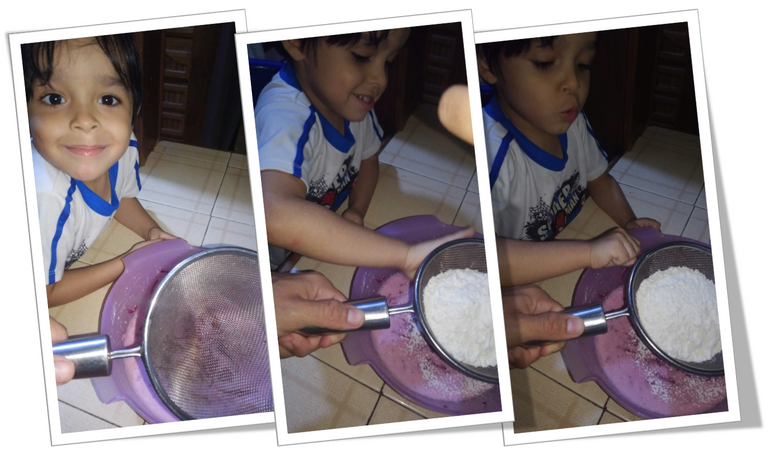 We sift the wheat flour with the valuable help of Rejito.
Cernimos la harina de trigo con la valiosa ayuda de Rejito.
---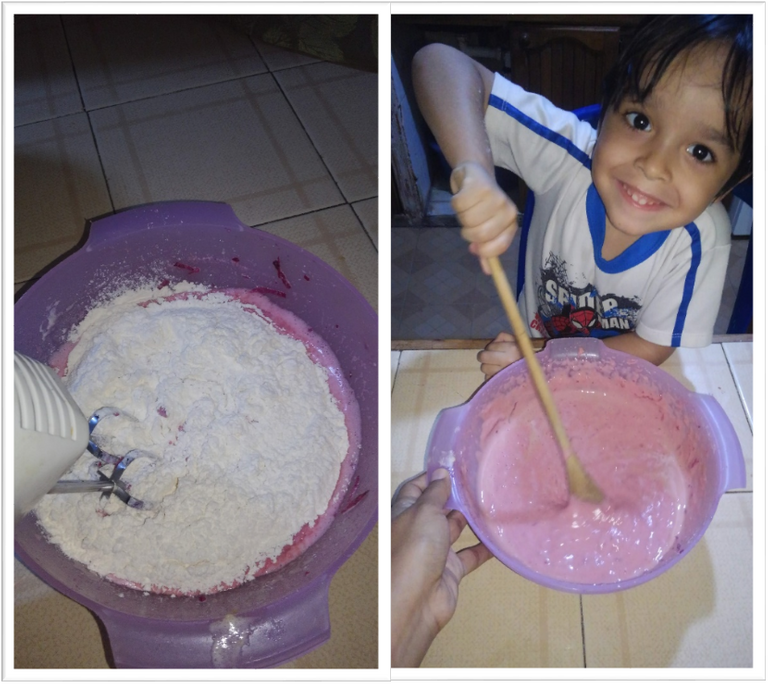 )
We beat the mixture with Rejito's strength.
Batimos la mezcla con la fuerza de Rejito.
---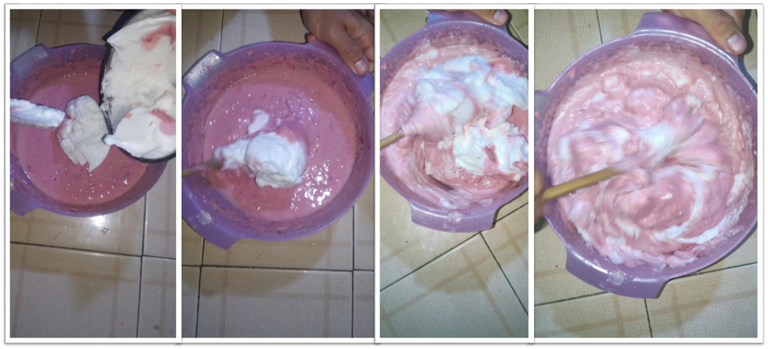 Once a homogeneous mixture is obtained, add half of the beaten egg, mix in an enveloping manner, add the remaining beaten egg and mix until you have an almost homogeneous mixture (beating too much causes the air in the beaten egg to be lost).
Una vez obtenida una mezcla homogénea, agregamos la mitad del huevo batido, mezclamos en forma envolvente, agregamos el huevo batido restante y mezclamos hasta tener una mezcla casi homogénea (batir demasiado hace que se pierda el aire del huevo batido).
---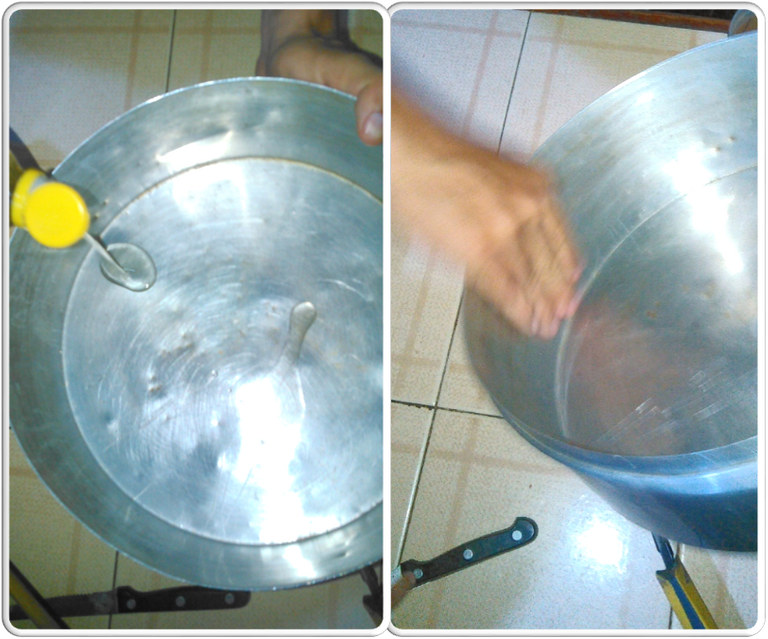 We oil the pan, especially the bottom.
Aceitamos la tortera, en especial el fondo.
---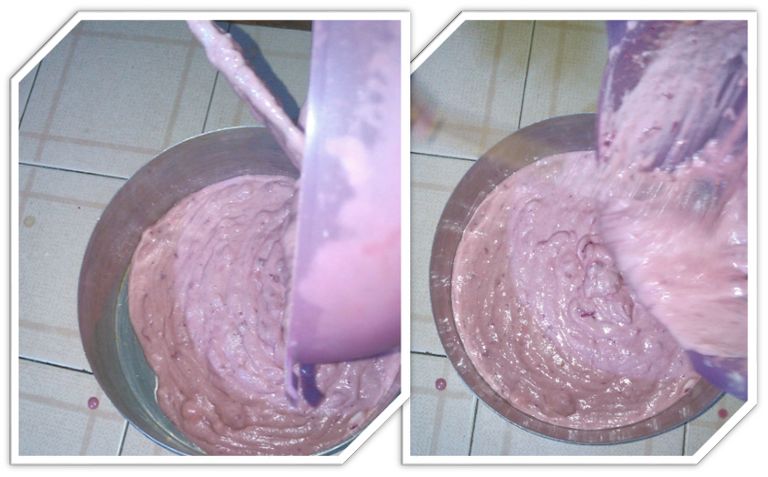 Pour the mixture into the pan, using a paddle to pour it all in.
Vertimos la mezcla en la tortera, usando una paleta para verter todo.
---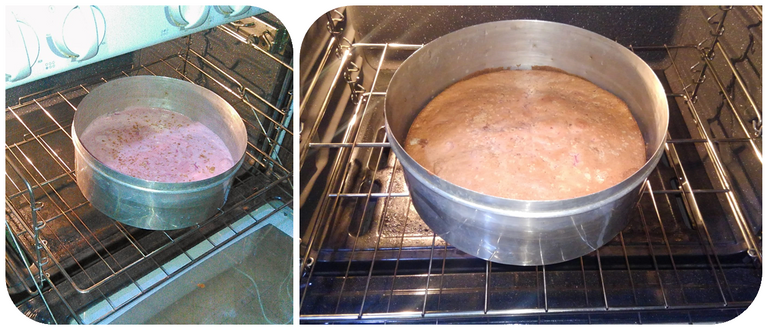 We put it in the oven (previously heated to 180ºC), we left it for 45 minutes and it was ready, you can see the difference when we put it in and take it out of the oven.
La metimos al horno (previamente calentado a 180ºC), la dejamos 45 minutos y listo, pueden observar la diferencia al meterla y sacarla del horno.
---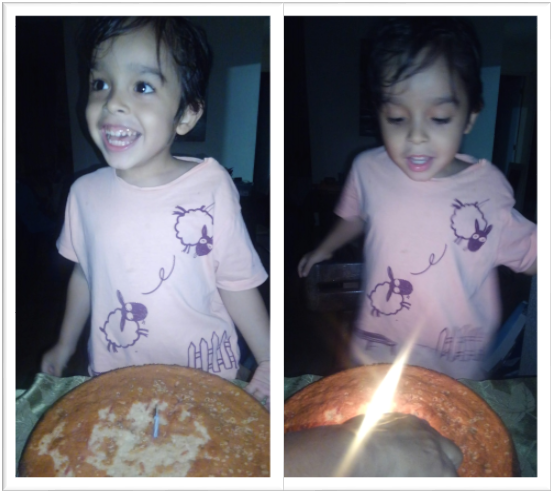 And to sing Happy Birthday!
¡Y a cantar Feliz Cumplemes!
---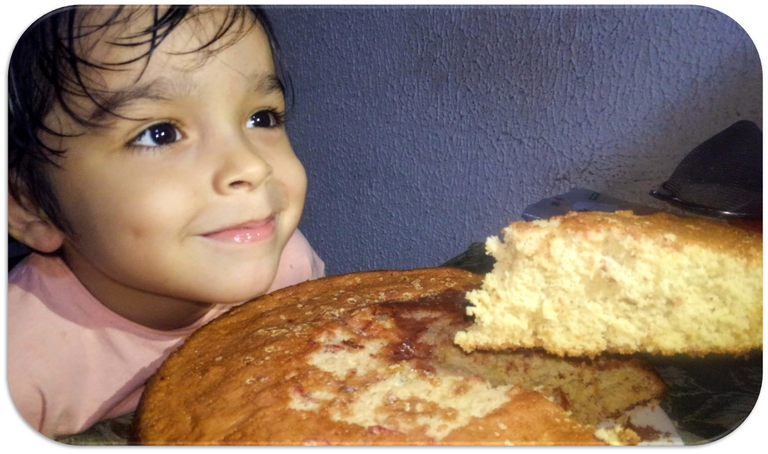 In this photo you can see that the cake turned out fluffy, but more precious is the expression of innocent happiness of Rejito, who always enjoys celebrating his birthday.
En esta foto pueden ver que la torta quedó esponjosa, pero más valiosa es la expresión de inocente felicidad de Rejito, que siempre disfruta celebrar su cumplemes.
---
I must say that the mix was good, the cake was very tasty and we all enjoyed it. You can make it the same for sure, but I also encourage you to try other mixes :)
Debo decir que la mezcla fue buena, la torta quedó bien sabrosa y todos la disfrutamos. Pueden hacerla igual con toda seguridad, pero además les animo a probar con otras mezclas :)
See you in a future post, and don't forget to enjoy it as a family!
¡Nos vemos en un próximo post! ¡Y no olviden disfrutar en familia!
---
---