The Great NFT Mommy - ALCHEMY Becomes More Prolific!

Alchemy, the platform behind the famous NFT market, such as OpenSea, Nifty ... has successfully mobilized a huge amount of money.
Blockchain developer Alchemy announced that it has just raised $ 80 million (PAM-PAM!) in a B-series fundraising round to develop more new applications and technologies for NFTs.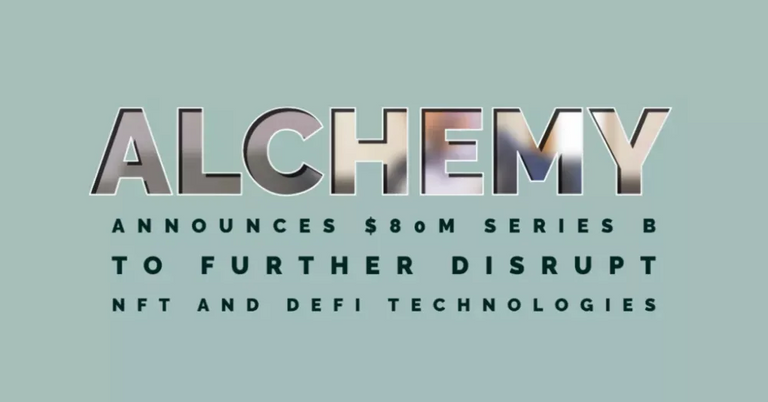 The B-Series fundraising round, announced on April 28, is led by investor Coatue and Addition Capital, a venture capital fund that belongs to the US investor Lee Fixel.
Other famous names will also take part in this round, such as the Glazers family, the owners of the Tampa Bay Buccaneers and Manchester United and the company called VC DFJ Growth.
🎥 The band Chainsmokers and actor Jared Leto also contributed to the sponsorship round, bringing Alchemy's value to $ 500 million. Current supporters include Pantera Capital, Coinbase, Samsung, Stanford University and some notable individuals such as Charles Schwab and Yahoo co-founder Jerry Yang.
According to CNBC, Alchemy has benefited from NFT insanity because it acts as an intermediary between the blockchain itself and the NTF collections and applications running on it.
Alchemy, launched on December 12, has steadily grown exponentially on its platform in the last 2019 months, and the number of companies that Alchemy has supported has doubled in the first quarter.
Alchemy has developed a support platform for Dapper Labs, launching some of the most successful NFT collections to date, including CryptoKitties and the hugely popular NBA Top Shot.
Alchemy technology aims to eliminate the complexity and cost of building infrastructure on the layer blockchain. Alchemy CTO Joe Lau compared the technology to Amazon's AWS:
"Every time you open DoorDash, you use the Amazon infrastructure. And every time you interact with NFT, use Alchemy technology. "
Paul Veradittakit of Pantera Capital also described Alchemy as the "Amazon Web Services (AWS) of the blockchain industry," which allows for an improved view of a decentralized web.
Alchemy has quickly become the technology behind many major NFT platforms, including OpenSea, Nifty Gateway, CryptoKitties, and Unchained Gods ...
"Alchemy provides the infrastructure for many large companies in the blockchain industry," Lau said.
With the money just raised, Alchemy representatives said they plan to hire more developers and use the money to fund activities for future projects.

Maybe you're not a fan of NFTs or maybe you are an NFT creator. Even so, this info is good for the moment for those who invest in NFT as well.
I'm always focused on the global changes related to crypto.
Feel free to let me know what you think if you've read this article.
Thank you!
With passion and research,
@regenerette

Leo gif @mariosfame
Posted Using LeoFinance Beta
---
---