It's That Time Of The Crypto Life
I think it's safe to say that the bear market last more than the Bull market these days. It felt like we were in a Bull market for like 2 minutes and here we are on another bear run rollercoaster, well, the last bear lasted for 2 years and dipped from $19k to $3k, that was more than 80% dip from its $19k all time high. That was the moment I decided to take crypto seriously and started investing my life into crypto. In late 2020 we started seeing a sign of Bull run after experiencing bear from early 2018, but those moments where so beautiful.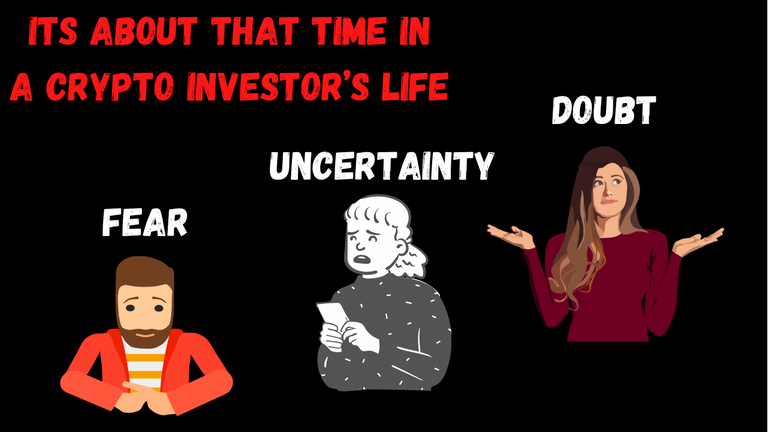 Waking up in the morning to check your portfolio and it's 10% profit added, you feel like the luckiest person and you are so glad that you are on this crypto journey. You could spend money any how you wanted because you know you have a valued crypto portfolio in your crypto wallet. I remember seeing BNB under $20 and found it worthless because I never did my research, I thought it was just a Binance coin just for being a coin sake. But during the Bull run, the pump was so crazy I got angry at myself for underrating it and not buying a lot when I had the chance.
Déjà vu Feeling
In the last bear run, the red colors were always so bright and loud, so loud that you could hear them scream on your ear saying "that's the value of your portfolio dipping so hard". I have two portfolios, a crypto portfolio set aside just an investment for spending and not to hold for long term, guess what? I'm down 30% on that portfolio and it feels like 2018/2019 all over again. For now we can't completely compare this bear run and the last bear run. The last bear run was 80% loss from the all time high, the current bear is 54% down the last all time high.
FUD is spreading as usual as some people are having a lot of Fear Uncertainty and Doubts, by this time in 2019, I was getting worried that the 22 ETH I bought for over $3,000 would go to zero. But the technology and the utility of Ethereum got me going because I knew the price was going to be valued more in the future. I never considered selling but I was constantly worried on when the market was going to pick up and start pumping.
I had lots of my assets staked in Defi to earn passive income with it which will sustain me when I decide to spend some money. But the market price crash has affected everything, so selling at this low price is not an option for me. At least I am trying my best to buy the dip, it's not easy because the dip keeps dipping and no one knows when it will rise again.
It's About That Time
This is the time where the market will get rid of the week hands and reward the Diamond strong hands later. People that have the opportunity to buy the current dip are so lucky because they are getting it at a cheaper rate. In the next Bull run they can sell and take profit.
This is the time where building and developments also take place, and undervalued gems are scattered in the bear gutters right now. Researching on the next possible big thing and investing greatly on it is the thing to do now, this way you get rewarded big time when the Bull run starts again, but for now, hold on tight
Posted Using LeoFinance Beta
---
---