Advantages Of Using PEAKD To Transfer Hive To Avoid Mistakes
Good day guys, as we all know, Hive is more than just a social media platform, it's also our personal bank where we can save our money and invest. Remember, it's decentralized so you are responsible for your account. Any mistake you make on Hive, you will be accountable for it. So it's best you try your best to be extremely careful with what you do with your account.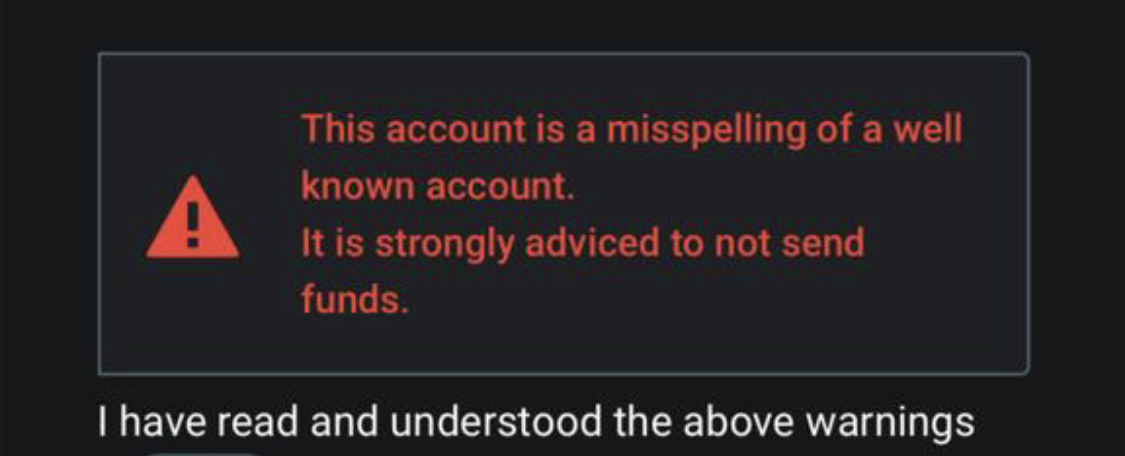 As much as we know that Hive is not a get rich quick scheme, it's a platform that gives you the opportunity to acquire wealth over time with patience and hard work, it's best you stay careful when transacting. Imagine spending time on the blockchain and contributing to the blockchain, then you get rewarded for your contributions on the blockchain and jeopardize that by not being careful. That's really sad, that's a complete waste of time effort and resources. When dealing with transactions, every letter or figure matters, because the moment you make a mistake, then prepare to lose your funds.
Ever since I have been making transactions on Hive I try my best to be very careful, so careful that my 7 months on Hive, I have never made a mistake. But one can never be too careful. I try to make sure am in the calmest state of mind before making any transaction on Hive, I don't try to be under pressure or busy at all. This is the reason I do my transactions in the morning when I wake up or in the night when am done with everything I was supposed to do for the day.
So having a calm mind is one way to ensure you don't make mistakes because that state keeps you rational mentally. Yesterday a friend @machioflagos called me that she wanted to make a withdrawal to a Binance account but she needs my help. Well, I was extremely busy when she called but she sounded like she needed the money urgently. I don't transact when am busy because there are higher chances that I will make mistakes but I decided to go ahead.
I wish I told her to wait till after I was less busy.
I have taught her how to trade her HBD to Hive on the open market, which she did correctly. Then it was time to send the Hive to a Binance account. I sent her the details which is the address and the memo. Personally when sending, I don't manually input the address and memo because I know that making mistakes when typing are higher so I do copy and paste. Even after copying and pasting, I still check properly and make sure that I got every letter and figure correctly.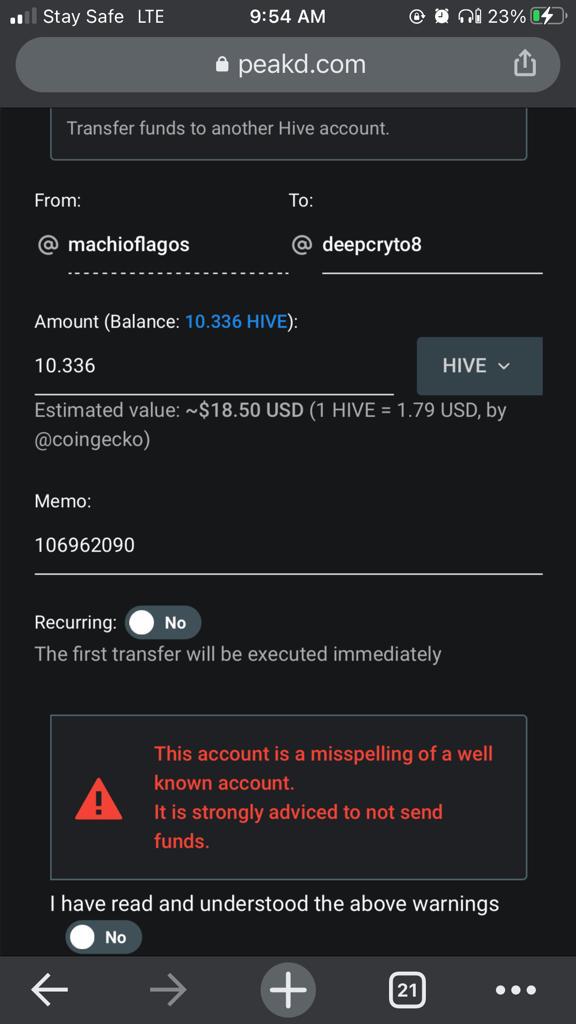 I got a call from @machioflagos showing me the above image. The caution sign warned that something was wrong and it should be checked properly. Kudos to the @peakd team for such feature. She was worried and asked me to look at the image properly and make sure it was correct, but busy me couldn't settle down to read it and understand, I assumed that if she did the copy and paste of what I sent her, then they shouldn't be any problem. Unfortunately she typed "deepcryto8" instead of "deepcrypto8" and I didn't see it early enough. With my assumption I told her to send it that way, which she did.
Hive is very fast in transaction so I was surprised that in 30 minutes I haven't received the Hive in my Binance wallet. I decided to cross check what she sent and found she missed a "p" in the transaction details. I felt so sad for her because she was cautious of the sign but unfortunately I was too busy to look at it twice.
I learnt a trick from one of @onealfa's comment where he talked about sending funds to the wrong Hive account, creating a Hive account with the name and claiming the funds. So I tried creating a new account with the name deepcryto8 so I can claim the money for her, but unfortunately someone has already created the account. This person has been getting free money from people's mistake for a long time.
My advice is that you should use @peakd more often when transferring Hive or HBD so you get warnings like this. I will like to thank the @theterminal for trying to help and giving me words of encouragement. They suggested I make this post to create more awareness. Thanks a lot for what you do.
Posted Using LeoFinance Beta
---
---