Scaling Brotopia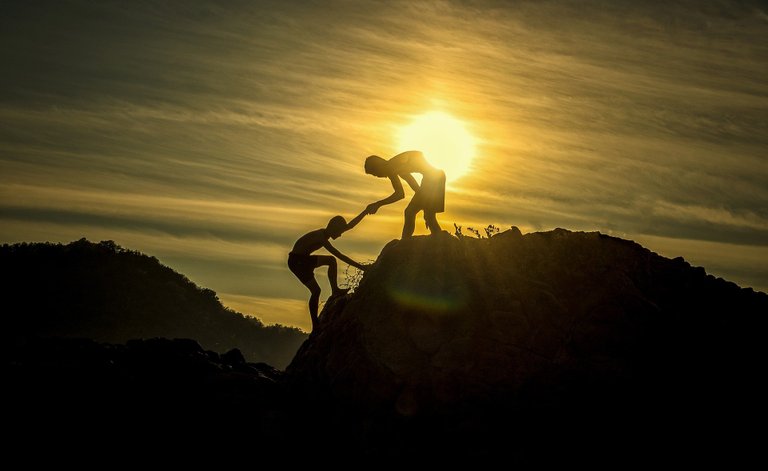 So it's been a while since I've written anything here.
I am being badgered by several of my online friends to the point of distraction to start writing again. I'll admit, I do find it really therapeutic, so perhaps I might just wield today and see where this may take me. I mean, it can't be worse than one of @trumpman's shitoleo posts, right?
Right!
So what does one post when he's made a killing from hive over the last few years? I mean I used to talk about the lessons I'd learned from the crazy situations I had found myself in the past. Maybe once in a while I'd throw in something about communism being the centre of all evil, and then I'd talk about men and women, but where to go next?
I mean if you know me then you'll not really be interested in some motivational fluff about some random situation that I was in several years back -- you'd probably want to know about the kind of things I'm working on with @brofund.
And this is the dilemma I've had over posting on my own account for months now. How can I justify posting on my own account daily where I can barely scratch together 3 full posts about what we're doing up in the legendary man cave. I mean we're always testing new stuff alas there is only so many times I can write about it. And these projects take time.
The @stickupboys came up with a solution the other week that I liked. They've been begging me in pm to get working on some socials. Start streaming, get live, spread the mancave love all around on all the social channels. In the words of Nike I should "just do it."
As from next year I'm going to take The Man Cave to the next level. Maybe not for you, but for me it has always been a social project too -- where men come together, have fun, compete, or just do anything they really want to. I've always wanted to have that extra layer of social activity to what we do. How that will materialise is anyone's guess. But it will be fun trying!
Facebook isn't a trillion dollar company because it "just focuses on the money"
And that leads me neatly into what I've been doing over the last few months and will continue to do for the next few -- as we all get rich over the spoils of war. I've been collecting, and collecting hard. I have a few good ideas where I'm going to take us in the future but wherever we stop we are in at least three positions outside of Hive that are set to make us a whackload of coinage.
The four projects I'm in right now are: The drip network, Splinterlands, $time, and soon to be The Manor Farm. I'll talk about these in a later post because @hetty-rowan wants to talk about drip for lbi next week and since she does such a good job for us who am I to say no, right?
Between those four external positions we have around $400,000, which is around $320,000 Splinterlands, $70,000 Drip, $1200 $time & about $10,000 waiting to be pumped into The Manor Farm
Don't forget our HUGE stake in Hive Engine. Well over $100k there.

Wen Divs?
We're quite far out of reaching the dividends stage from all this right now. I would like to emphasise that BRO was never a dividends project, and neither was it a get rich quick scheme. However, once I have solidified a nice position in all four projects, which could be half a year from now -- divs are going to be so insane you will not be able to believe what is happening.
Hopefully you'll get to see all this craziness in real time too as I stream from my home right into your wallet.
But, as the markets go, the markets will always market, and I guess we'll revisit all of these ideas when the time is nearer.
And did I tell you about the Binance peg? Probably not. If you aren't a regular in either The Man Cave or Neoxian City then you'll not have heard that I have been talking with @fblso and he will be helping me create a binance peg token. My initial thought is of course Cine. I have been quite inactive with Cine recently but as I gain traction and build a nice wealth pot for us I will be able to do much more in the future.
I'm also looking for a community manager for $Cine. If you think you can fit this bill then please hit me up!
And with all that I'm going to finish off with some motivational crap that might peak the interest of some of you that are into that! Look away now if you are one of those cry-babies that are easily offended!
When I started The Man Cave I did it out of spite - spite of a growing feminist movement that was vindictive, hurtful, narcissistic, and self-centred. I even had some people tell me that if I was going to start a place for men then perhaps now was a great opportunity to teach them how not to "rape." - heh, yeah. Crazy right?
But actually what I found was something that completely changed my perception of men forever. I've met some of the most fatherly, caring, and inspiring individuals I have ever had the opportunity to meet, and it caused me to revaluate the relationship I had with my own Dad. Turns out it was me that was a bit broken, and not the other way around.
Sure my Dad was broken, but he was the exception and not the rule.
So as we grow we have turned into a place where the few of us that turn up regularly show support for one another, be that in our own way. For some men that could be a joke about the size of my incredibly small pee pee, or, for other men it could mean a warm hug and to just know that you're there for them. We engage and banter in different ways. We always have done.
For some it seems like we are the escaped wing of a psychiatric hospital, and for others it's the escape from the family they need sometimes -- shouting you out @bearbear613
But whatever we are, one thing I'm not going to do is safeguard an entire room for one or two people. If you want to be in where we are and receive the good stuff, then you have to roll with the punches,
And in my opinion that's what being a man is about!
Anyways, peace out blood.
---
---