Thailand (Koh Sok) - Jungle Treks, Caves and Monkeys Madness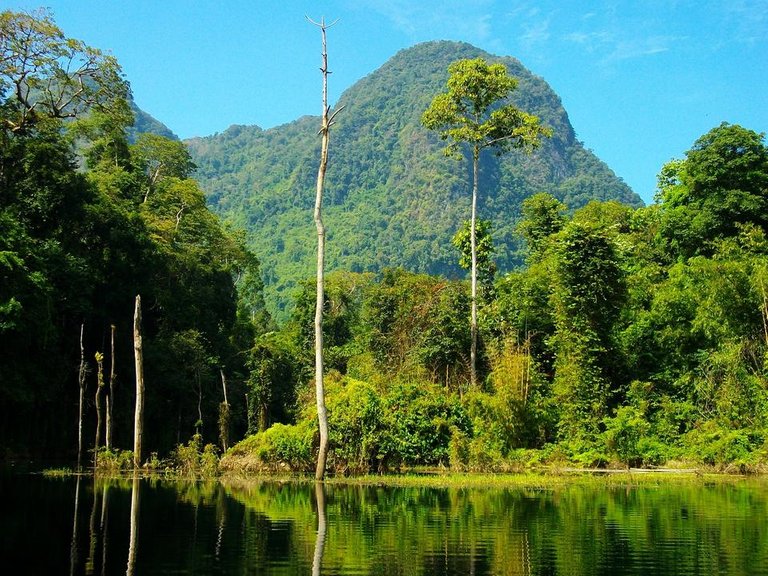 Koh Sok national park is 'hands down' one of the most majestic places I've ever visited in my life. My flowery words can't do justice to this place, but luckily I took many pictures on this three day trip.
Day 1: Arriving at the Lake
---
As you motor deeper into the national park it takes on a prehistoric aspect. This really is Jurassic park in Thailand. The many steep limestone stacks were formed when the area was flooded in the formation of a near by damn. I'm not 100% sure how happy the locals would have been at the time, but the result has certainly turned out spectacular.
After about an hour on the long-tail boat, motoring through this landscape of limestone canyons and emerald jungle, we arrived at our destination.
This is an amazing place to stay. Sleeping in huts that float on the lake, you escape the creepy crawlies of the jungle. But be sure to douse yourself with mosquito repellent because those winy little critters make it out onto the water!
---
Day 2: Jungle Trekking and Caves
The jungle is alive with bird call, hoots and the humming of insects. Koh Sok is home to a hugely diverse ecosystem and many animal species can be seen or evidence of their presence can be found. These include Malayan sun bears, gibbons, winged lizards, flying foxes, many bat species. Primates are also well represented with long-tailed macaques and spectacled langurs regularly spotted. Larger species are more elusive but lucky trekkers can see wild elephants, sun bears, clouded leopards and tigers.
Most experts agree that at over 160 million years old, the evergreen rainforest at Koh Sok is one of the oldest in the world.

Source: lonelyplanet.com
---
Unfortunately, we didn't really see anything in the jungle that morning. But the sweaty walk through the humid jungle was something a pasty Brit like me will never forget. I had stupidly admitted to the (Thai ex-special forces) guide that I was arachnophobic, and he spent a lot of the time telling me that we had just walked past a tarantulas nest 😉
We reached the cave around 2pm and were told that it was a tunnel cave and we would emerge at the other side further into the jungle. The guide took great enjoyment telling me to look out for cave spiders and vampire bats.
---
Well, we didn't see any cave spiders... but the vampire bats were real.
---
The trek was really well planned as the cave emerged only an hours trek away from the lake and the comfort of our huts.
---
---
Day 3: Monkey Madness
This was possibly one of my favorite days out of the three. I'm one of these people who loves to strike out alone... and doesn't really like to pay extortionate rates for a guide 😉 But to be fair, as the guide said to me on the second night after one too many shots of jungle juice (illegally brewed still alcohol), he'd be happy to guide me into the jungle for free if death was my goal. He had a point, there are a thousand ways to end up dead in the jungle if you don't know what you're doing.
This final day's activity was a nice compromise. We were given canoes and allowed to explore the waterways on our own. One of the guides had pointed us in the general direction of a place monkeys were known to cross the water, so the hunt was on!
---
It didn't take long to find a squabbling bunch of jungle layabouts 😆 I think it was probably about ten minutes into our sojourn when we heard the cracking of branches and hoots from the banks to our left. We both stopped paddling and just allowed ourselves to drift with the gentle current.
---
I have to admit that my camera wasn't really up to the job. I had to zoom to get these shots while trying to keep a steady hand and not drop it into the river. This was a bit of a tall order. Hopefully this gives you an impression of what it was like to stalk this troupe of long-tailed macaques.
The macaque hung around for about fifteen minutes on the river bank, eating fruit squabbling and generally monkeying around. They'd definitely spotted us from the minute they arrived, but as we drifted closer the whole group leaped into the river, swam across and disappeared into the undergrowth.
Koh Sok is in my top three recomendation of places to visit in Thailand.
If you like seclusion and wildlife this is the number one place to visit for my money. If the heat and humidity effects you badly, it might be one to miss. But, there is always the lake to leap into for a cooling dip! I did that pretty much 4-5 times a day 😉
Thanks for reading.
---

---

In honor of the fact that Steemfest 4 will be held in Bangkok Thailand this autumn, this series will share a collection of images from my adventures travelling 'the land of smiles' over 8 years ago. Each post will be accompanied by a short description of that place, kind of like a post card or recommendation for anyone who is planning on backpacking around Thailand while visiting for the annual conference of all things steem. I'm still unsure if I will make it to Steemfest 4 tbh, I hope I can.

As some of you may be aware, I plan on finally getting started writing a trilogy of books that have been in the planning stages for nearly a decade. This unfortunately means I can't spend the time I would like to dedicated to steem. This photographic series is my way to continue posting and contributing to steem while I work on my first novel. These shorter posts will hopefully allow me to keep in touch with all the friends I have made here. I hope that everyone understands 🙂

Check out previous posts in this series:



#1 An Image a Day - Thailand - Chiang Mai Twilight Temples (Build Up for Steemfest 4)

#2 An Image a Day - Thailand - Chiang Mai: The Jungle by the Side of the Road

#3 Thailand - Chiang Mai: Wat Phra That Doi Suthep Mountain Temple

#4 Thailand - Koh Miang Island (Similians) - Peace, Palm Trees and Coconut Breeze

revisesociology, this might possibly be another destination you'd consider in your quest to escape the gap yahh crowd. I promise I'll only tag you into these Thailand recommendation posts when it is a destination that is off the beaten track. If it's annoying you mate, and you'd rather I didn't, let me know and I'll stop 👍

All pictures are my own property, unless credited below picture. If you have enjoyed this travel/photography post, you can check out my homepage @raj808 for similar content. Thanks again.






---
---