Thailand - Koh Miang Island (Similians) - Peace, Palm Trees and Coconut Breeze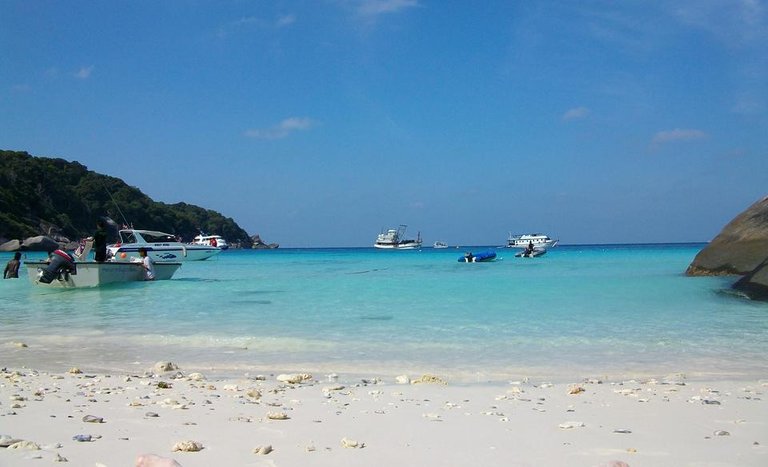 Warm seas, gentle breezes, beaches, jungle and coconuts split whole with a machete. These are the things I'll remember from my short time on Four Island (Koh Miang) in the Similan islands.

This island sits just off the coast of Khao Lak in the southern Thailand.
I was visiting the island that day from a scuba diving liveaboard dive boat. To read more about that dive trip check out the posts below:
Scuba Scribe - Diving Elephant Rock and the Shimmering Night - Part 1
Scuba Scribe - Diving Elephant Rock and the Shimmering Night - Part 2

Scuba Scribe - Diving the Similian Islands - Concluding Part

This is the place to stay if you want that Robinson Crusoe feel, well at least in the morning and evening. We departed the boat around 8.30am as you get used to early starts when diving.
---
Palms swayed in hypnotic waves as azure seas flashed crystalline smiles off the waves from the dinghy's wake.
Upon arriving on the beach it was just us and one couple who were camping on the island with a permit. I've since learned through researching this article, that they now have bamboo hut accommodation on (Koh Miang) which is kind of a shame as I'm sure that the 'desert island' feel we encountered is less now.
As the morning heated up, the group split up to explore. Although I felt the call of the jungle, I didn't venture too far away from the beach. The water and rock pools were just too inviting.
---
I spent most of my time on the island mooching on the beach, snorkeling the outer reefs and freediving to pick up (dead) coral which I later traded with a visiting boat captain who climbed the palm trees and split fresh coconuts for the whole group. I was still completely in love with the ocean at this point (and I still am if I'm honest) as the liveaboard trip that I was undertaking was only my 9-16th dives in open ocean. The diving was spectacular and it was this trip which sparked my lifelong passion for scuba diving.
---
As the day wore on more tourists turned up on speed boats from Phuket. My main recommendation for visiting Koh Miang is to camp or stay in the bamboo huts for 3-4 days at least. There are not that many overnight visitors allowed to stay, which means the mornings and evenings on this island are a truly peaceful experience.
revisesociology, this could be a potential place to find that abandoned beach vibe away from the gap yah crowd 😉 I noticed that all of the boats visiting were either dive boats moored up overnight, or speed boats. There were no big boats full of boozed up trust-fund gap yahhhhhs. Although there were around 20-30 people on the beach by 1pm, they were all pretty chilled out. This may have changed so I advise research on trip adviser if you are considering a stay on Koh Miang. All of the tourist boats arrive and depart between 11am - 5pm so if you stay, you can get that Robinson Crusoe vibe for at least part of the time.
Or better yet... learn how to dive and visit on a liveaboard boat out of Khao Lak...
and you will be treated to open ocean sunsets like this to inspire the soul before plunging into the deep foreboding blue for a night dive!
Thanks for reading.


In honor of the fact that Steemfest 4 will be held in Bangkok Thailand this autumn, this series will share a collection of images from my adventures travelling 'the land of smiles' over 8 years ago. Each post will be accompanied by a short description of that place, kind of like a post card or recommendation for anyone who is planning on backpacking around Thailand while visiting for the annual conference of all things steem. I'm still unsure if I will make it to Steemfest 4 tbh, I hope I can.

As some of you may be aware, I plan on finally getting started writing a trilogy of books that have been in the planning stages for nearly a decade. This unfortunately means I can't spend the time I would like to dedicated to steem. This photographic series is my way to continue posting and contributing to steem while I work on my first novel. These shorter posts will hopefully allow me to keep in touch with all the friends I have made here. I hope that everyone understands 🙂

Check out previous posts in this series:



#1 An Image a Day - Thailand - Chiang Mai Twilight Temples (Build Up for Steemfest 4)

#2 An Image a Day - Thailand - Chiang Mai: The Jungle by the Side of the Road

#3 Thailand - Chiang Mai: Wat Phra That Doi Suthep Mountain Temple

All pictures are my own property, unless credited below picture. If you have enjoyed this travel/photography post, you can check out my homepage @raj808 for similar content. Thanks again.






---
---