Spring Blossom - A Month of Daily Haiku (Day 8)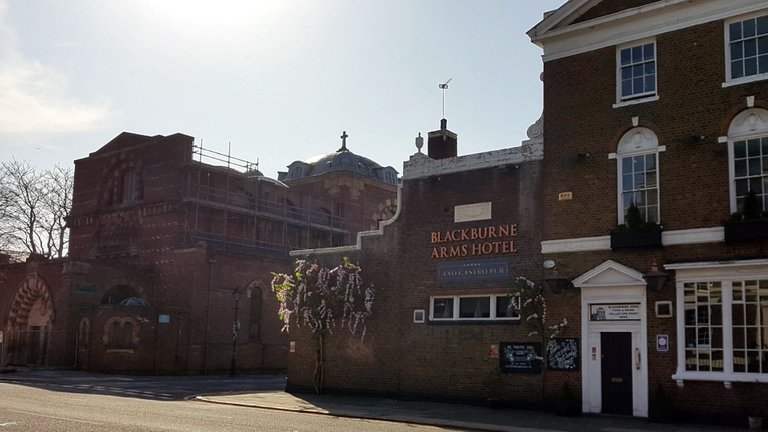 Picture of my local pub, taken by me today
---
Spring sun breathes a sigh
Jasmine blossom paints pub walls
soon to reopen.
---


This week I am exploring the theme of inspiration, particularly in regards to finding inspiration for creative writing. There are many practices that can improve your short stories or poetry through observation, practices that can exercise your writing muscles and inspire the muse. Each day I will share one of my favorites with you, along with a haiku inspired by each technique.
The first practice is mindful walking. To keep the explanation simple, all this means is to actively observe and make mental notes of the environment around you during your daily tasks. This is better done while doing jobs outside, walking to the shop etc, rather than say at work. The outside world is an everchanging environment where you can pick up on different and unique ways to color the narrative of your writing.
"In writing. Don't use adjectives which merely tell us how you want us to feel about the thing you are describing. I mean, instead of telling us a thing was "terrible," describe it so that we'll be terrified. Don't say it was "delightful"; make us say "delightful" when we've read the description. You see, all those words (horrifying, wonderful, hideous, exquisite) are only like saying to your readers, "Please will you do my job for me."

― C.S. Lewis
Check out my Haiku above to see an example of how I applied this technique in describing the spring blossom blooming. In the case of poetry, and in particular a short form like Haiku, you have to pick one of the many things you've observed to focus on. But the technique remains the same for either fiction or poetry. The key thing to remember is to be aware of the small things that usually wash over you and hold them in your mind. In the case of writing descriptive passages for short fiction, this technique can mean the difference between a flat description and one that draws the reader in.
For example:
I walked down the street. The sun warmed my face, blossom burst on the branches and the wind was cold. Spring was well on its way.

The sun kissed blossom on the branches as I walked. The Jasmine tree trailed whiskers of salmon hue down the side of the pub wall, too long closed down in the wake of the pandemic. Lockdown was ending soon though, and I smiled as I remembered hazy summer days spent drinking outside that pub. The wind blew cold off the river, a hint of winter's fading in its biting breath. Spring was well underway.
Which is better? I would argue number 2 shows much more about setting through the description while giving some information about the narrator. The second descriptive passage benefits from my mindful walking technique, whereas I wrote the first without drawing on any observances from my walk today, only commenting on the basic environmental factors.
---
I have decided to challenge myself for a month to post a daily Haiku on Hive. Each week will have a different theme based on a picture prompt.
This week's broad theme is Inspiration.
To read more about the aesthetics of true haiku, and the difference between haiku and senryu, please check out my post: Haiku Vs Senryu - The Aesthetics of Form
All images in this post are creative commons sources, linked below pic. If you have enjoyed this Haiku, please check out my homepage @raj808 for similar content. Thank you.




Click banner to visit the community page

Find us on twitter by clicking the banner above.
---
---