Showcase Sunday: The Tale of a Reformed Vegetarian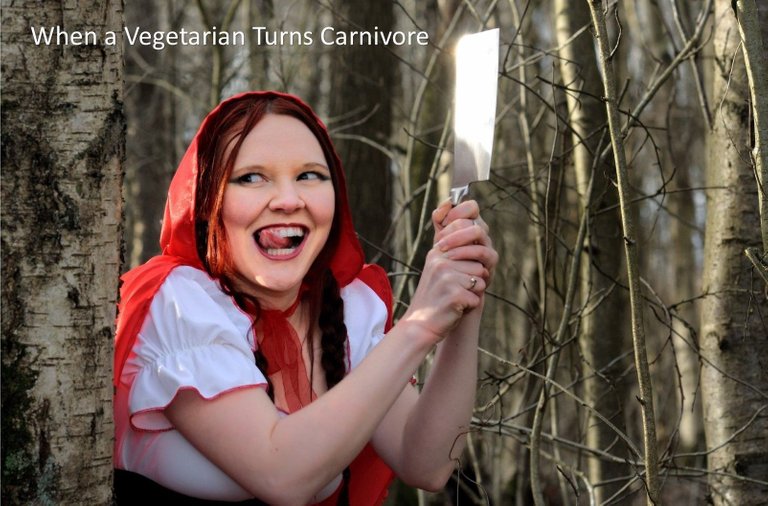 What is that I hear you whisper... Showcase Sunday is here again! Some old timey steemian shilling their past posts like Walter White when he realizes he's fckn hard as nails.
This one is going to be another comedy post from the vaults of the depraved mind of raj808. Hopefully some light relief from the 1001 articles you've just read about the steem pump. Maybe a change from the sluice of posts about why you should rush NOW to vote on a steem proposal... seriously, I'm not joking GO DO IT NOW!
A piece of writing that a non steemian might discover, understand, have a chuckle at and then think 'I'm gonna check out that site again', rather than wander away scratching their head feeling a little like they've been allowed into a secret club, only to leave with a headache because everything they read is about the intricacies of the steem blockchain.
Something fun, funny and just for shits and giggles.
Soooooo.... without further to do. I give you...
The Tale of a Reformed Vegetarian
Buckle up your seat belts and strap in for a tale that will chill you to the bone!
A tale of heartbreak, drama, betrayal, love, hate, pastrami, bacon, chorizo and all kinds of artisan hams. Warning! There may be graphic descriptions of meat envy in this post which some readers may find offensive.
Also, if you are offended by being preached at... look away now.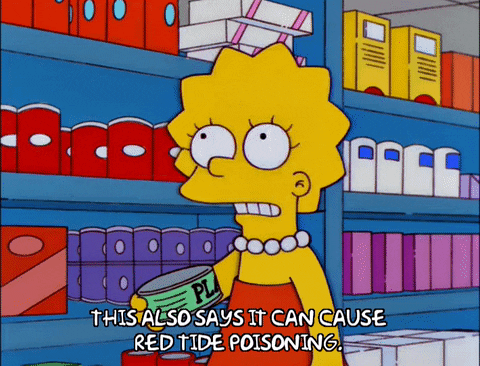 I have been a vegetarian since I was 6 years old. To preempt all the self-entitled idiots and their self entitled outrage I will explain myself in the form of a poem because I have heard the same set of questions over and over again all of my life.
When I was just a wee sprog
I asked my mother what's in this hotdog?
She said, 'that was a pig', I thought, this is just sick
and gave up meat to the relief of all hogs.
That's pretty much how I remember it, my mum was a hippie, she said that's fine; I haven't grown up with any brain underdevelopment, or muscle wastage. I'm a 6.1 feet tall male with a stupid amount of middle-aged podgy fat and an enjoyment of beer and boobs, so that pretty much covers the questions about if you can develop properly without eating meat. I'm living proof... that a man can develop just as sophisticated a set of various stuff, things and ideas on a veggie diet.
But here's the thing! I recently developed an unhealthy addiction to a reality TV show called....... Bear Grylls The Island... and this changed everything.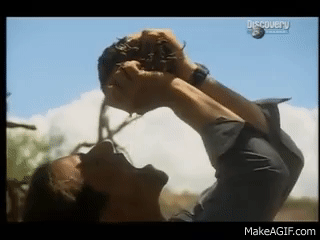 For anyone not familiar with this Goliath of light entertainment, Bear Grylls - the guy who can be seen above proving that you can squeeze life sustaining moisture out of a lump of shit - dumps 15 morons on a tropical island with a days survival training and a few machetes between them. Then through the power of clever editing we have a show where you can watch a bunch of absolute dickheads starve until emaciated and fight among themselves. All the while watching from your couch, eating pizza and nodding in the knowledge you could do so much better. It's a winning formula and I have now exhausted the supply on catch-up TV and feel like a crackhead who has sat on his pipe.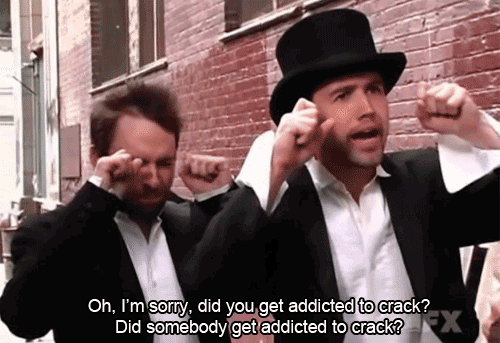 A strange thing happened while watching this show, I developed meat envy. Watching this rag-tag assortment of privileged city workers, plumbers, builders, hairdressers and even a call center operator, hunting and killing a pig released the inner beast in me. Before I knew it, I was no longer seeing this: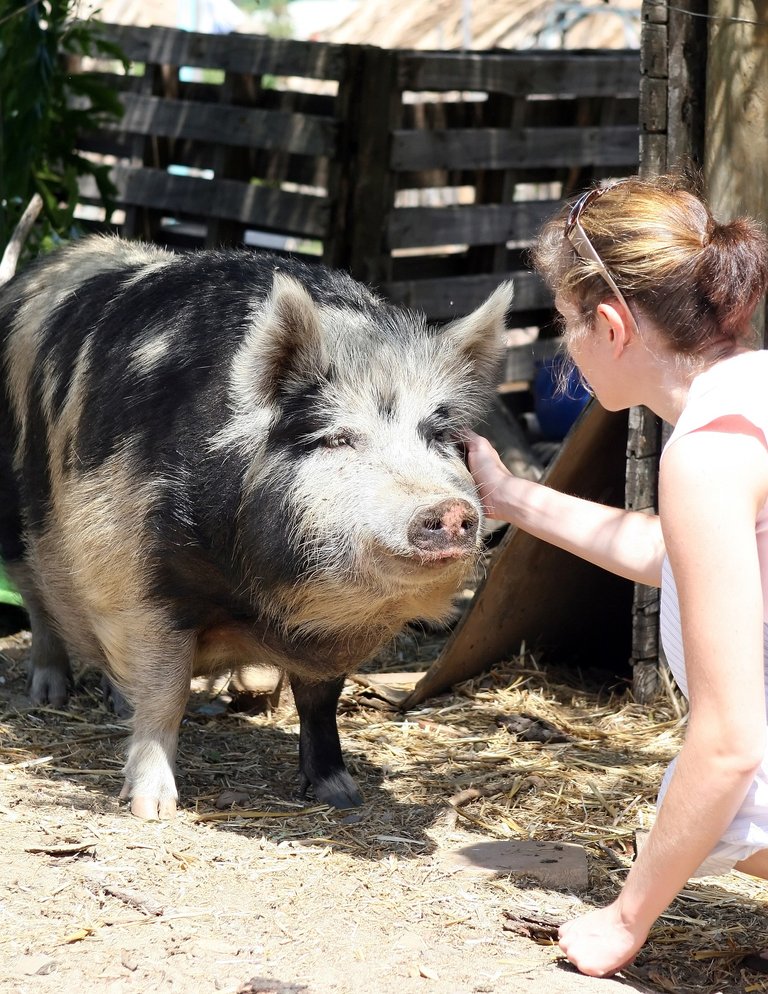 Instead, I was seeing this: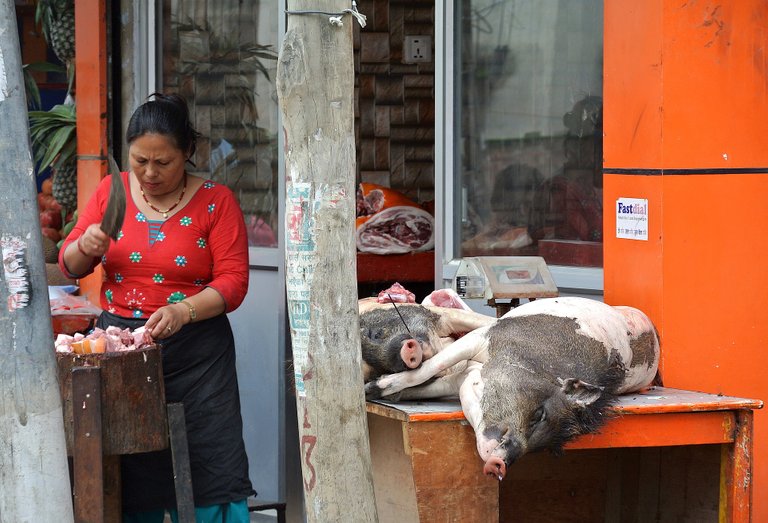 And then eventually, this: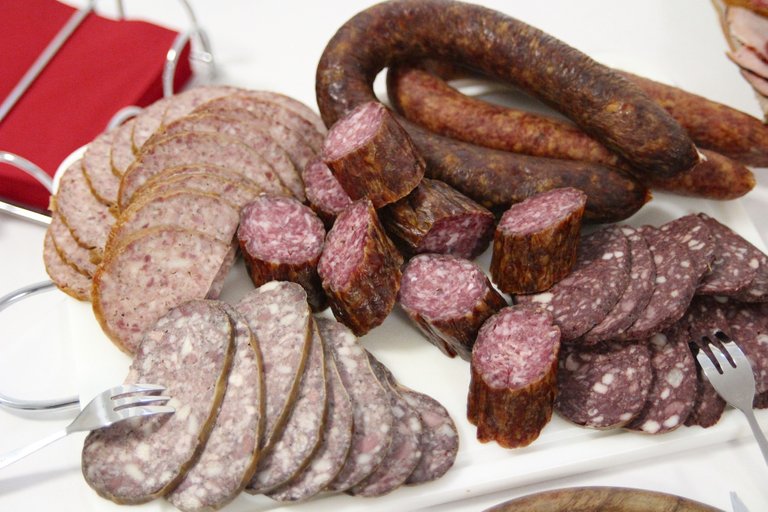 I was having nightmares; I was so conflicted all of those comments from the meat eating morons I mentioned above were echoing through my mind.
Maybe bacon was 'just soooooooooooo... good!'
Maybe we were meant to be carnivores! How could I have missed such simple homespun wisdom even though human beings are officially classed as omnivores and despite 99.999999999% of the meat eating population having never killed an animal for their own food. Of course they were right.
Maybe I was just a protein starved insane person, reeling through life in a carbohydrate-based fog, never seeing the light.
All praise the almighty ham, believe in the beef, supplicate yourself at the feet of the meat.
My mind was whirling with all the possibilities, an explosion of new tastes, a whole new way to pig-out on a Saturday night.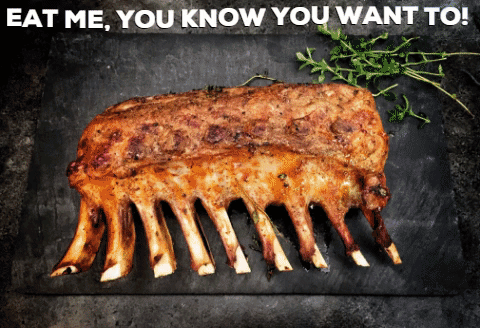 Then reality dawned and I realized that I didn't have the energy to change my habits. So I thought, nahhhhh
and...
Bought myself a nice quinoa/avocado salad, got back to cultivating my hipster beard and working on my blog.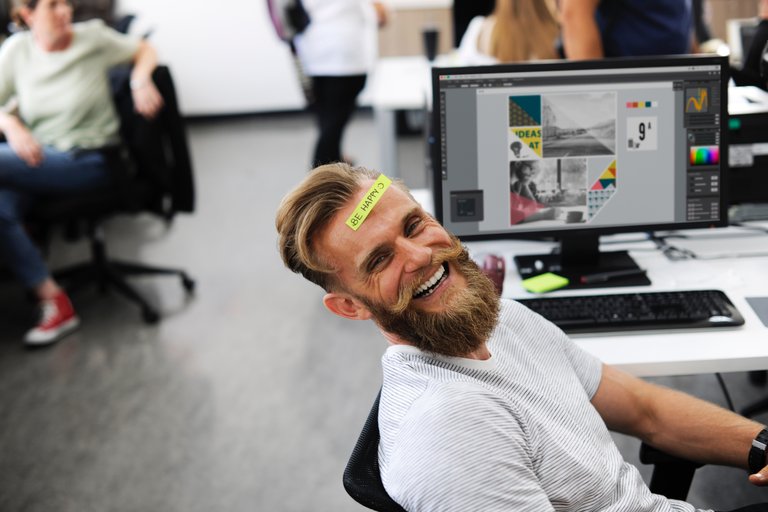 So remember, not all stereotypes are true!
Vegetarians can be fat bastards too... and we don't all work in new media.
P.s. Just to infuriate all the meat-trolls even more.... I do eat fish. But that's a subject for another post.
---

---
All pictures in this post were ethically sourced from local sites within a 2 mile radius of this post (unsplash.com + pexels.com) creative commons. All giffs were humanly dispatched at giphy.com and the final collage gif was hand reared by me on artisan cheese and wild truffles. Please follow links to verify.



123456789101112


If you have enjoyed this #comedyopenmic you can check out my other work on my homepage @raj808. Thanks for reading.






---
---