Showcase Sunday: A Celebration of Multimedia on Steem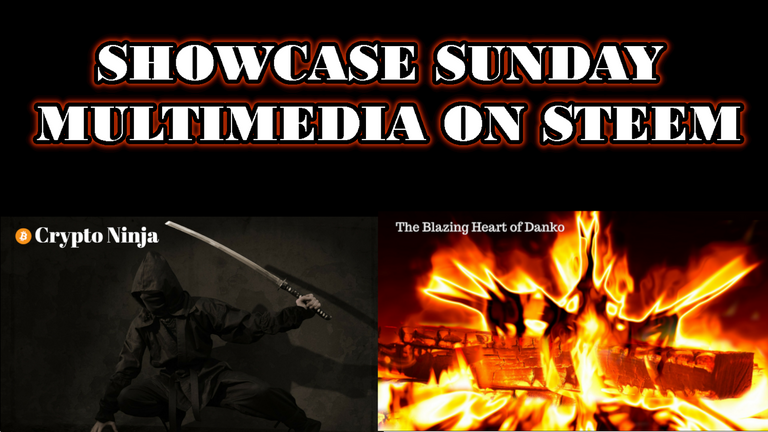 It's Sunday... which means the Showcase Sunday challenge. Showcase Sunday is a chance to resurrect your best work, and perhaps get some new eyes on those posts that took hours/days to make.
So what do I mean by multimedia?
Multimedia is the integration of multiple forms of media. This includes text, graphics, audio, video, etc. For example, a presentation involving audio and video clips would be considered a "multimedia presentation."

Definition Source
I've kinda made a specialty out of these types of post on steem, incorporating video, poetry and music... and yes even unleashing the steem blockchain's premier rap recording artiste... drum roll please... Crypto Ninja.
This what is at the heart of multimedia on steem for me. Adding extra value by going the extra mile with your content. Spending long hours editing video and audio to get it just right, hopefully expanding on an already excellent piece of writing.
The first of these posts was origonally uploaded to dlive. I know... booos all round. And the second was uploaded to dsound. As both of these platforms/links no longer work with this content, I have included the YouTube and SoundCloud versions instead.
Crypto Ninja - Shillin it Ya'll
Yeah yeah steemit crew, this is the Crypto Ninja brought to you by badboy baker productions. badboy baker spinning some low down dirty beats on the decks, so check out this joint right about now….
I sling shitcoins & bitcoin
on YoBit & Coinfloor
yeah I have a moustache
Like a 70's porn star
I'm a crypto ninja
cutting you open
like Zoro
I've got a channel on youtube
With analysis I borrow.
I buy drugs with Monero
my lambos with steem
I'm a modern day hero
like Mandela or Sheen
I'm a crypotopian mogul
An ICO soldier
Invested in Electroneum
an I'm still holding em.
I bought trumpcoin
with bitcoin, then scalped
it for shitcoins, sold my
shitcoins for bitcoin
now I'm kicking it
in the Dordogne.
Shit…
I can't get no relief.
my balance on bittrex
Beggars belief.
I'm a life style choice
voice of a generation
some say genius
pride of the nation.
But I stay humble
As you other rappers mumble
tired fiat rhymes
that you trip on
and stumble.
You fumble in your
Pockets for dollars
And dimes,
While I flip Likes,
into Upvotes that chime
jingle in my wallet
with steem power,
I'm on it
while you're twitching fiat
like a burnt out alcoholic.
I'm a crpto ninja
getting paid daily
all my bread is sourdough,
yeah you know baby
that's just how rich I am…
peace…. We out.
---

---
The Blazing Heart of Danko
Creativity is a strange thing. Sometimes, an idea is born out of a simple thought and blooms into a complex story. Like a seed planted, which eventually becomes a tree with many leaves, each perfectly placed to funnel rain down to the roots and drink in as much sunlight as possible.
Embittered on all sides by trees
closing in, squeezing out hope.
The people looked to sky and earth,
to the old oak and sycamore.
wondering why the birth of a child,
and innocent eyes, led only to war,
only to more of the same,
as leaves fell, as buds burst in pain
Hunted by enemies they clamor
for someone to heed their sorrow,
in dark night beneath oaken domes
and creaking pines, a light to shine
a beacon to find a new home.
Still, fear poisoned the people
from root through sap,
until at last they wavered
in storm blackened night,
held a moot to balance fear and sorrow,
the scales swung in forest winds
As the tempest raged through night
into morrow.
Then Danko proclaimed in rain lashed morn;
"I'll lead you through swamp and storm
to the golden fields of the steppes,
where horses roam and honeyed mead
is sown by the bumbling bees
and the dark of trees are unknown."
Young and fierce his eyes pierced them
as the lightening rent skies in twain
the people knew it was time
to hasten from this swampy grave
of darkened woods or forever remain.
On bur choked paths he led them,
as trees bent bows to rake the weak
and lame who stumbled, as the storm
rumbled in thundered distain,
a dark mist of blame clouded hearts,
forest spirits watched and followed
feeding fear with all their arts
of spell and curse, weaving charms
of fibrous despair and sorrow,
while a poisonous fog gathered
in hollows beneath trees,
suffocating the weak with disease.
But Danko forged on, a young tree
stout and strong, refusing to bow,
and the people grew dour,
resenting his fortitude in the face
of their sour weave born fear.
Birthed in anger, they seared
Danko with harsh words of blame,
but the flame of their anger
stoked only the fire of love in his gaze.
They closed in, throttled by terror
unfettered in madness, feral
as beasts they mistakenly gleaned
the fire in his eyes as a daemon,
a forest spirit, clothed in his skin
reflecting the pallor of their sins.
While the dirge of the forests song
droned on in the hollows
and the storm echoed sorrows,
calling for murder in despair.
Danko's heart flared, in love unquenched
and he raised his hand and wrenched
heart from chest, thrust on high
to light up the sky in living light of love,
And he cried "Is this not enough
to lighten the way? Not enough to burn
a path through this dark place?"
The people were struck dumb,
their minds now sundered of pestilent mist.
In the light of bliss and blazing love
golden fields shone above in the steppes,
the way was clear, all fear was gone
And they hastened on
as Danko stood frozen
as stone, heart blazing like the sun.
---

---
All media sources used in this post are creative commons licence or my own original material. If you have enjoyed reading this post & poetry, you can check out similar work on my homepage @raj808. Thank you.






---
---