Jungle Waterfall Mists - A Month of Daily Haiku (Day 7)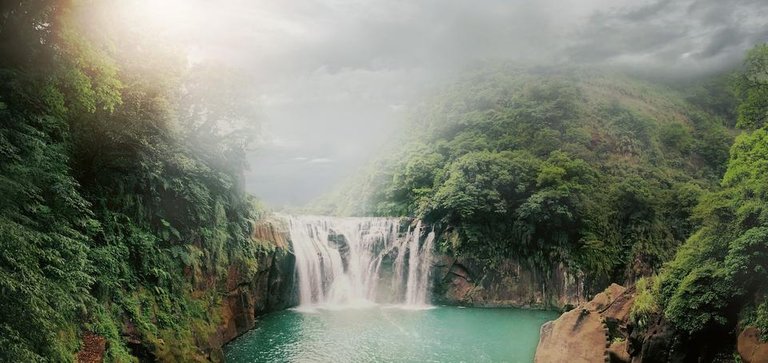 Image by DarkWorkX from Pixabay
---
Jungle waterfall
mists the canopy with dew.
Leaves drink in sun-life.
---

---
While writing this Haiku I tried to remember the sounds and underlying feeling of the jungle at dawn. I've been lucky enough to visit the jungle twice, once in Thailand and also in Belize. On one of these occasions I camped near to a waterfall and used to bathe every morning in the pool next to the falls. This poem was largely inspired by casting my memory back to that experience, floating in the pool on my back, staring up it the canopy around the pool. These were the feelings/thoughts that crossed my mind when looking at this picture and composing this Haiku. Hopefully the poem expressed some of what makes a great Haiku:

Mono no aware (物の哀れ), empathy with nature and human life; the "feeling of things", nostalgia, regret for the passing of time, understanding of the changeability and of the transience without suffering.

Karumi (軽み), beauty in simplicity; poetic beauty reflected in its simplicity, free from preconceptions and moral judgment.

Wabi (侘寂), the taste for frugal and natural things, rustic simplicity, freshness or silence; it can be applied to both natural and artificial objects, or even non-ostentatious elegance.
Reference from @bananafish Mizu No Oto Haiku Competition
This is day seven of my month long challenge - from the 06th of August until the 06th of September - to post a daily Haiku on steem. Each week will have a different theme based on picture prompts from either Pixabay.com or Unsplash.com. This week's broad theme is different natural environments.
I have created a new tag #monthofhaiku. If anyone wants to replicate the challenge please feel free, I will check the tag occasionally and try to curate the better Haiku. However, this is not meant to be a challenge to the writers' community. I have an extremely busy month ahead, and I started this as a personal challenge so that I didn't drift away from posting on steem. Please, forgive me if I'm slow to respond to comments or am not around on discord, I have had to reassess my priorities over the last few weeks.
The picture used in this post is creative commons, linked below pic. If you have enjoyed this Haiku, please check out my homepage @raj808 for similar content. Thank you.







---
---