Bread Fruit - A Month of Daily Haiku (Day 12)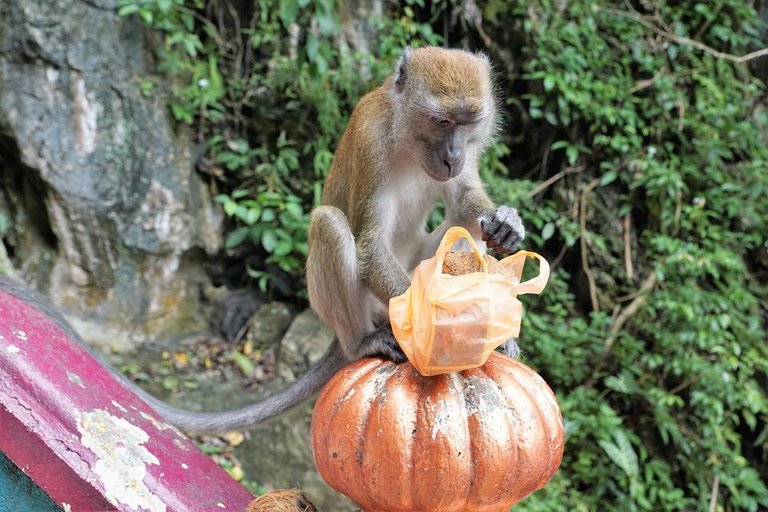 Image by photosforyou from Pixabay
---
The Macaque peels back
the plastic bag Breadfruit skin.
Aping what has been.
---

---
This Haiku was a pure reaction to the image as a prompt. I tried to keep my moral compass in my pocket with this one and just reflect on the image.
Monkeys are among some of the most impressive animals to adapt to the (human) built environment, to the extent that they can be a real pest in certain urban areas around the world. I've experienced the tenacity of the thieving monkeys once or twice on my travels around the world. The first time was in Thailand in a monkey temple where I observed the monkys mugging the tourists for their snacks, despite the fact we were all handing out bananas that we'd bought from a local. I remember thinking that it was pretty much poetic justice to be honest; we destroy their habitat, steal the forest away from them, and the Macaque just get on with trying to dominate the environment by terrorizing the tourists 😂
I find it interesting to watch animals in the urban environment, to see how they've adapted their nature to fit in with our synthetic 'built' world. This was not a typical Haiku, but hopefully the poem expressed some of what makes the form great:

Mono no aware (物の哀れ), empathy with nature and human life; the "feeling of things", nostalgia, regret for the passing of time, understanding of the changeability and of the transience without suffering.

Karumi (軽み), beauty in simplicity; poetic beauty reflected in its simplicity, free from preconceptions and moral judgment.

Wabi (侘寂), the taste for frugal and natural things, rustic simplicity, freshness or silence; it can be applied to both natural and artificial objects, or even non-ostentatious elegance.
Reference from @bananafish Mizu No Oto Haiku Competition
This is day twelve of my month long challenge - from the 06th of August until the 06th of September - to post a daily Haiku on steem. Each week will have a different theme based on picture prompts from either Pixabay.com or Unsplash.com. This week's broad theme is man vs nature.
I have created a new tag #monthofhaiku. If anyone wants to replicate the challenge please feel free, I will check the tag occasionally and try to curate the better Haiku. However, this is not meant to be a challenge to the writers' community. I have an extremely busy month ahead, and I started this as a personal challenge so that I didn't drift away from posting on steem. Please, forgive me if I'm slow to respond to comments or am not around on discord, I have had to reassess my priorities over the last few weeks.
The picture used in this post is creative commons, linked below pic. If you have enjoyed this Haiku, please check out my homepage @raj808 for similar content. Thank you.







---
---