Bitcoin Move Imminent - Convergences of Signals - The US FED Meeting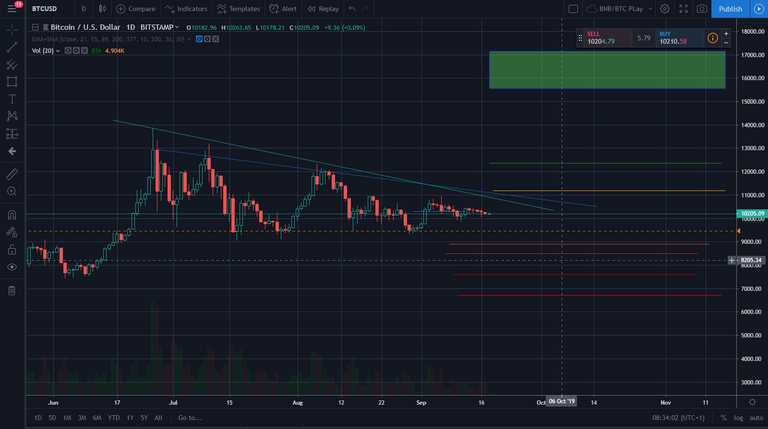 Click image to enlarge
Before I get into the analysis, let me tell you a story about a not so young man who bought his first bag of Satoshi's in early 2017.
I had never traded before. I had never invested before. I didn't know what was meant by 'going long', or 'going short'. Candlestick charts, hidden bullish divergence, RSI, profit to loss ratio; it all sounded like something from an economists wet dream. But I saw the opportunity for some quick money (wrong) and dove right in.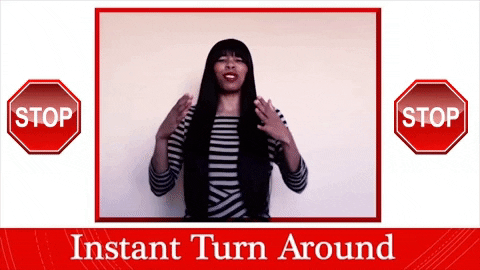 After selling some scuba diving gear which I no longer used - diving in the UK is like jumping into a freezing whirlpool that is looking to kill you a million different ways - I worked out how to buy Bitcoin through a brokerage service and moved it to an exchange.
It was the 2017 bull market. Alts were bouncing up from higher low to higher high like god's own bouncy ball. I'd got into this market from the advice of a friend of a friend who was milking the alt run. However, I didn't know WTF I was doing and instead of sticking with (hodling) the 3 or 4 coins my friend had suggested, I decided to try and learn how to trade.
Don't get me wrong, I'm not an idiot, I didn't just start throwing bitcoin at shitcoins like Lil Wayne makin it rain.
I went online and I researched candlestick dojis, trend line patterns and basic charting... but I'm a writer with a strong bias toward my right brain hemisphere (creativity) and honestly, TA boils my head. But I persevered.
I learned the hard way that it's possible to see some signals from the basics, but the only way to catch the major turning points where there is decent money to be made is to find convergences of multiple technical analysis signals. When these signals combine with a larger economical imperative in the traditional financial sector you are vastly increasing your odds on calling a big trending move.
Day trading... fuck that for a bowl of cornflakes. I mean seriously, there is no quicker way to lose your hair. I personally don't have the psychology, or constitution to separate myself emotionally, so day trading is out of the question.
What the Charts Tell Me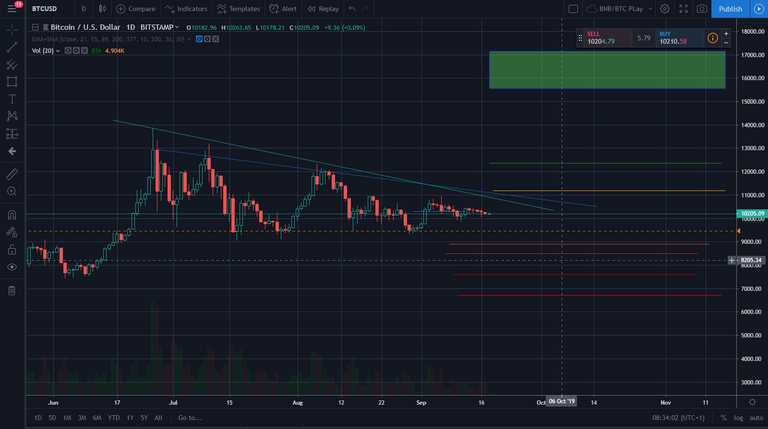 Click image to enlarge
We've been sideways for so long that a move is imminent. Volume is as low as its been for nearly six months (slowly descending) and we're reaching the apex of a flag pattern. Technically it is a bear flag, but we're in an overall macro bullish trend so that doesn't really hold as much weight.
There is a massive opportunity either way if you're prepared to trade leverage. This is a key point in the traders perspective. Everyone is calling a move downwards, I'm not too sure about that. But one thing is certain; there are key levels that will indicate the direction of this next massive volume move. The levels as indicated on my chart (yellow dotted line or yellow solid line) for a trend either way are set to represent a long or short signal when a daily candlestick closes either above or below respectively.
Downward trend signal line: $9400 approx.
Upward trend signal line: 11200 approx or 12300 conservatively.
In the down trend scenario the other lines represent potential bounce zones or areas of resistance. In the up trend scenario I don't see anything stopping us until we reach the area represented by the green rectangle around 15500 - 17000 (the last area of support in the 2017 bull/bear turn around).
So, my strategy is simple; short with leverage past the down signal line, long with leverage past the higher up signal line and most important... set stop losses!
The US FED Meeting = Move Imminent
This is where those convergences I spoke about come in! Today is the date when the US Federal Open Market Committee meet to decide whether to cut interest rates. Why is this important?
Historically store of value assets such as gold, and now bitcoin, increase in value when interest rates are cut as the reduction in borrowing costs lower the yield (return) on the U.S. dollar. Basically, BTC will most probably follow the stock market which is propped up by the cut in interest rates. And yes, you've guessed it, all of the talk coming out of the financial sector says interest rates will be cut by a 25 basis point.
I have noticed in crypto-world that the big moves often go against the prevailing sentiment. This is a consequence of an unregulated market where groups of whales can effectively move the market in the direction that suits them. Whales are always looking to make their gains by fooling 'stupid money'. This is why I'm staying neutral, and even leaning toward a possible upward trend, as a lot of the technical indicators have pointed toward an imminent correction down. We've been seeing higher lows, a bear flag has emerged over the last few months and general sentiment on crypto twitter is for the bears. My point is that if whales want to profit from liquidating short positions to increase their SAT stack, then triggering a parabolic move upwards where they can sell at an increased profit, would be a good move. This is the time to do it!
In the scenario I envision the whales are looking to fool all these people, looking to profit from people who don't know about the FED and swoop in to liquidate all the market shorts. This is why I am happily sitting on the sidelines, and will be watching how BTC reacts today and over the rest of the week. This is the type of trading I can take a risk with; occasional, well informed and conservative in working from key support/resistance.
An important thing to remember when trading any time interval is to not get caught up in sentiment, or even your own bias toward direction. I've made a case for an upwards move, but one thing is certain, I will wait for those key levels I spoke about and trade the momentum either up or down.
Don't be a bull or a bear, be a... 'I don't care about the bull or the bear'.
Thanks for reading.
---
DISCLAIMER:
This is not financial advice, nor a guarantee or promise in regards to any result that may be obtained from using the above content. The information provided here is for informational and entertainment purposes only. It should not be considered as financial and/or investment advice. No person should make any kind of financial decision without first consulting their own financial adviser and/or conducting their own research and due diligence.

All gifs used in this post are from giphy.com (creative commons licence), pictures are screenshots of my BTC chart on trading view. If you have enjoyed this crypto/trading article, you can find similar content on my homepage @raj808. Thanks for reading.







---
---