Rub my head.. I'm on fire!!
Whoooweee! I'm on a roll!! I had another notification this morning I won from another giveaway! This time I won the rare NFT R60 Touring Coach from @ynwa.andree in his giveaway
There was 2 other winners also: @servelle won 10k starbits and @subidu won rare NFT Jet Ski. Congratulations to them both!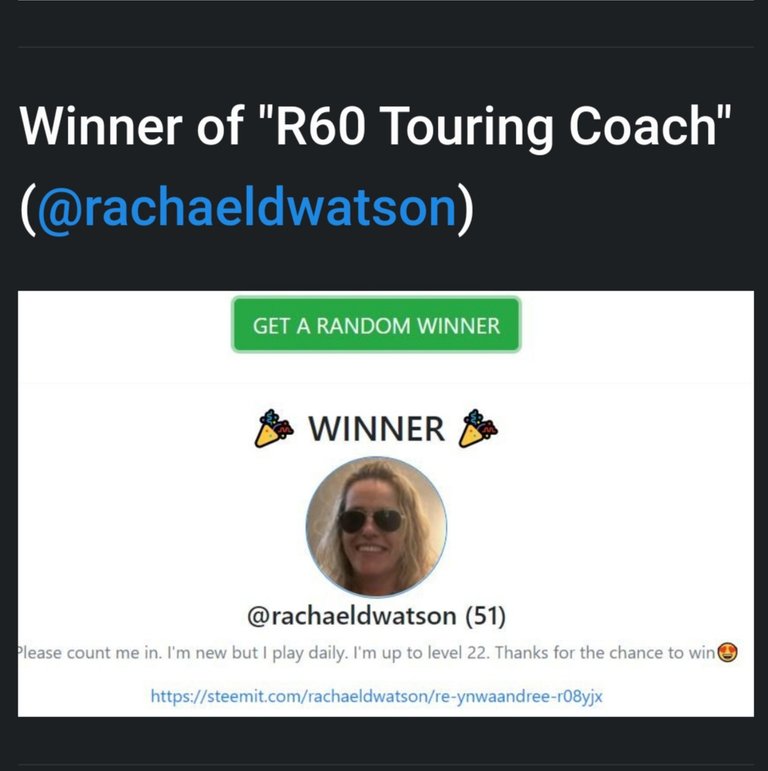 I'm super excited to win anything! Lol seriously I'm like a kid! I found @ynwa.andree by stumbling across @risingstargame daily give away list. I followed them and since then I've won 3 different times now from the list they share. In total I've won 2k (from @alejoca ) starbits and R60 Touring Bus NFT. I think that's pretty awesome! Especially since I just started less than a week ago!!
If you play the risingstargame I would suggest following @risingstargame and enter all the giveaways they list daily. Follow the people offering the giveaways and follow the rules for the giveaway. It's quick and easy! Who knows you might be the next winner.
If you're not playing the risingstar game and would like to please use my referral link.
---
---