Visit a unique temple on Ly Son Island on the occasion of the New Year
Hello everyone. Surely everyone is enjoying a warm Lunar New Year with their families, right? There must be Chung cake, apricot blossom, peach blossom, and even fireworks 😍.
Spring is always the most anticipated season of the year because everything is a new beginning and really new. You know, in order to have a perfect spring, I went back to my hometown very early to clean the house. The best Tet is still the house-cleaning period, no matter how busy everyone is, everyone takes time to clean the house to wish for a tidy, stable, and peaceful new year.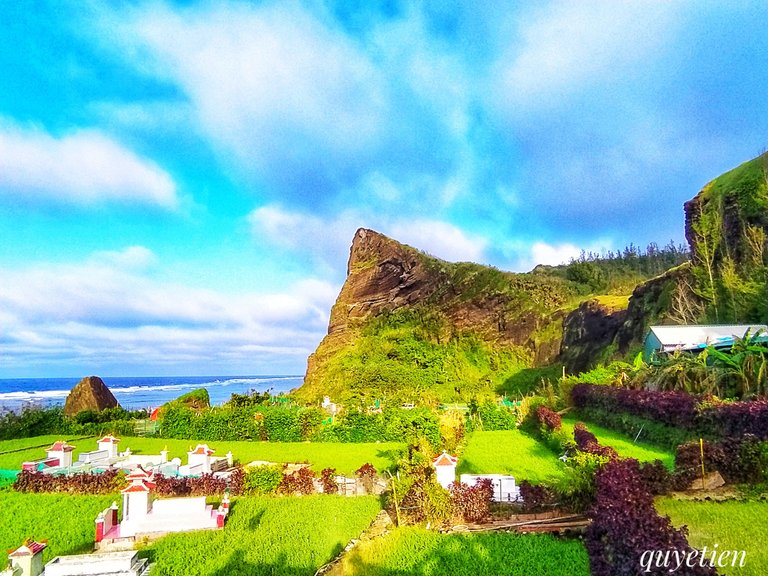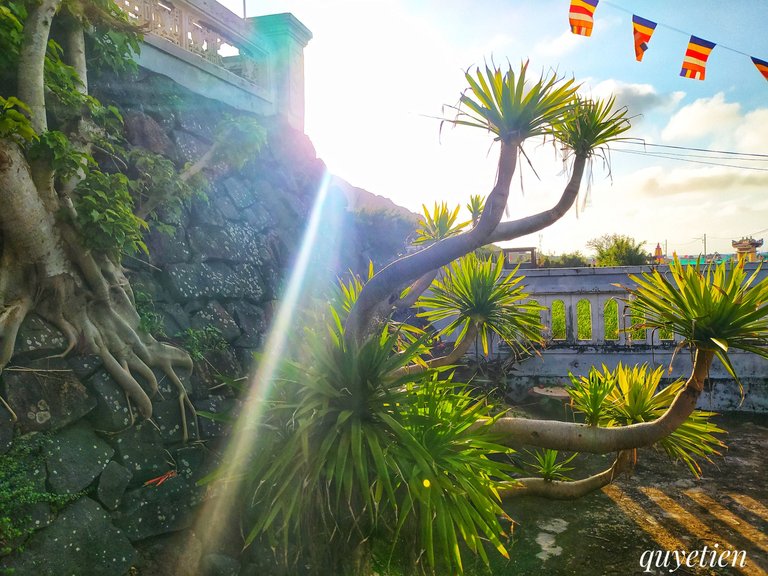 Spring this year may be a bit colder than usual, but that is the full spring, the cold of spring weather brings family members closer together and Tet is really warmer.
I still remember vividly, every time spring came, the family eagerly prepared banana leaves (in the North, mainly used Dong leaves) to wrap Chung cake, Tet cake, and Gai cakes as well. In my hometown, I like Tet cake and Gai cake more, I wait until everyone is done making cakes, then I go to scoop up some leftover cake fillings in the mold to bake. You know, it's really delicious, the deliciousness of the lack of craving or maybe it's delicious because there's a taste of childhood in it. That day, I and the children in the village ran around the neighborhood to ask for some leftover cake and then shared a little bit of each. Just like that, the New Year comes and goes in the blink of an eye, when I'm 23 years old, 23 spring has passed in my life.
One of the customs in my hometown is to go to the temple to gather early spring buds to pray for peace for the new year. It can be said that this is a common custom throughout my country.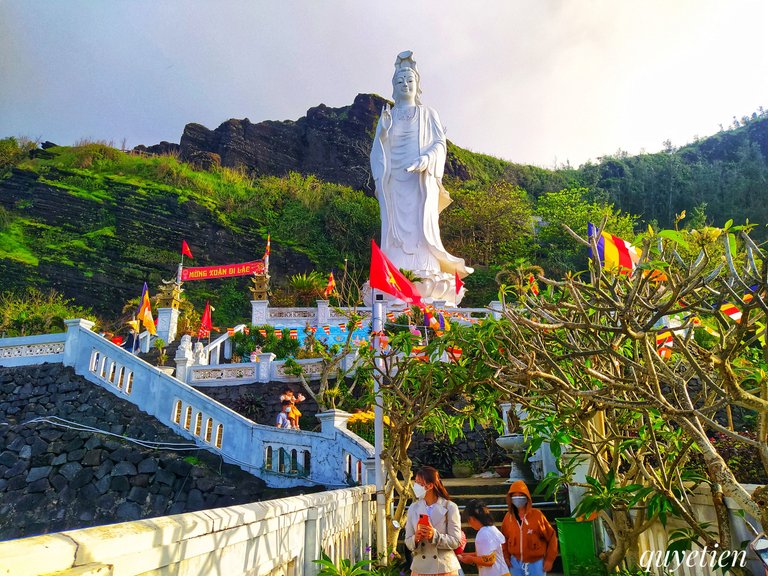 Although my hometown is only a small island, Buddhism is still very popular in my hometown, so choosing to go to the temple to pray for peace in early spring is indispensable.
Today, I and my relatives went to a very beautiful temple, that is the "Duc Pagoda". A temple not only carries the spiritual beauty in the hearts of the people of the island but also carries the wild beauty of the mountains and forests 😊.
Have you seen the temple?
This is not my destination, this is just a temple that I happened to see on the way!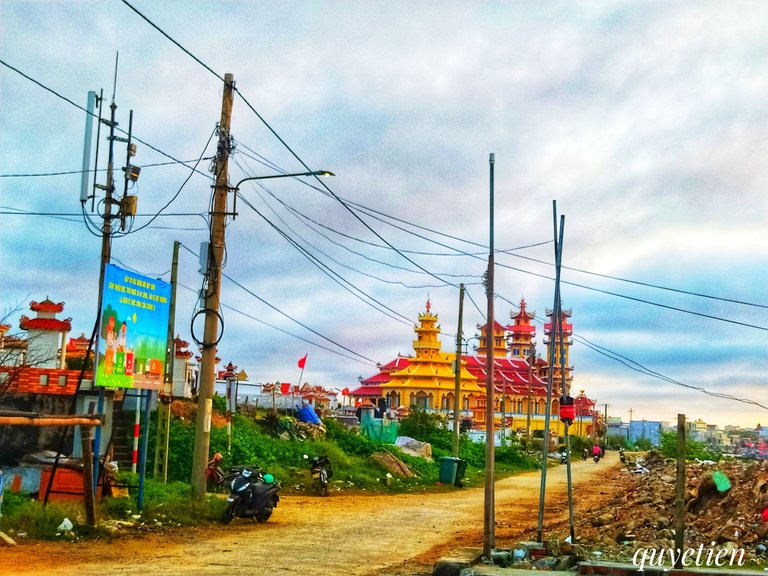 Have you seen the statue of Guanyin Buddha? That's where I want to take you.
Duc Pagoda is also known as Liem Tu Peak, the pagoda is located on Gieng Tien mountain. Legend has it that, once upon a time, a Zen master saw a large cave with a Bodhi tree, so he carved it out to build a temple. And from there, the name "Duc Pagoda" was born.
It can be said that this temple is located in a beautiful location but also very spiritual because around this mountain is an old cemetery from a long time ago. You can see that the temple is surrounded by graves, so when you come here, don't be surprised 😊.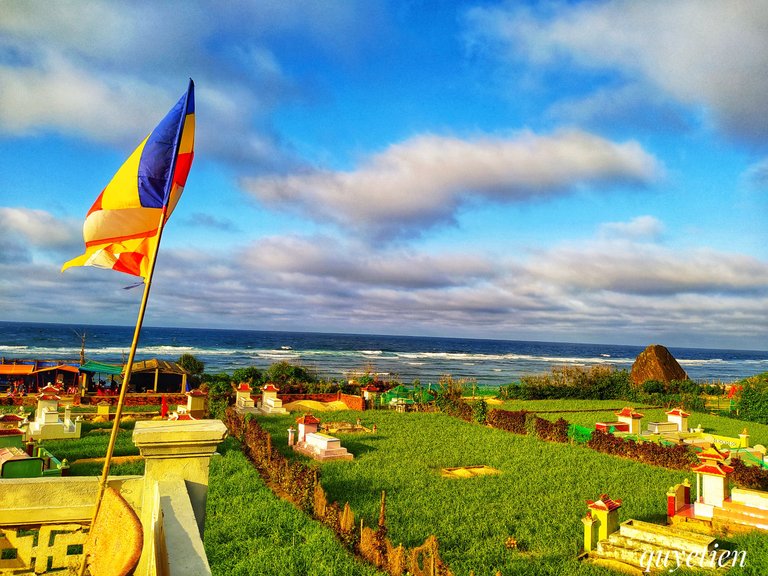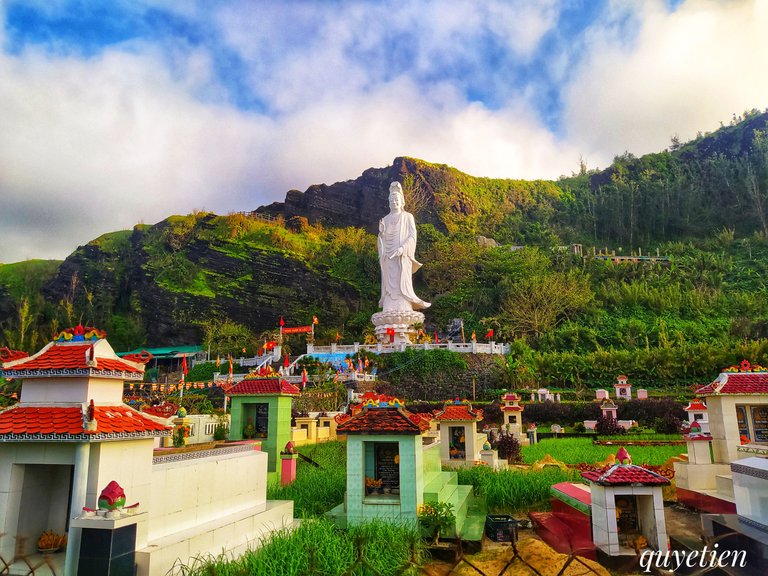 Follow me, go inside to discover all the beauty of this place😍.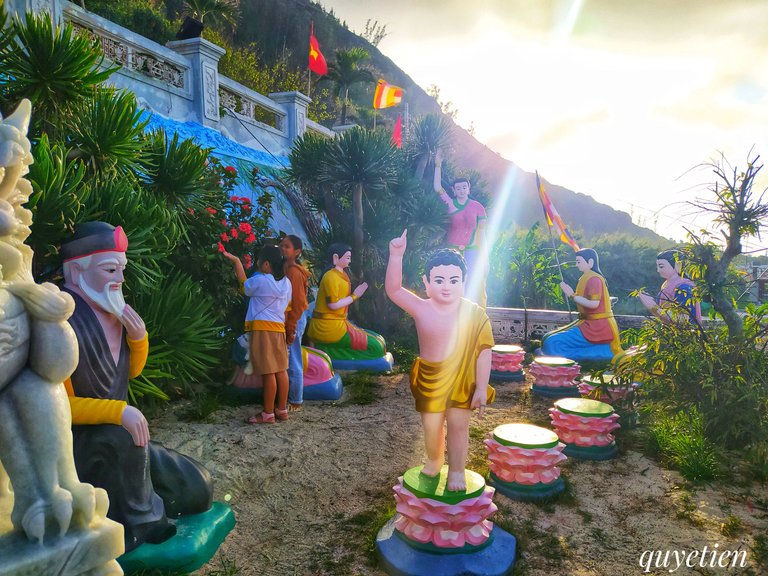 At the bottom, around the foot of the Buddha statue, there is a rockery and an aquarium. There are two boys watching the fish swimming in the lake with amusement. On the side of the lake, there is also a Bodhi tree with luxuriant leaves reflecting on the lake surface. I really like this space and scene, it's so quiet and so peaceful.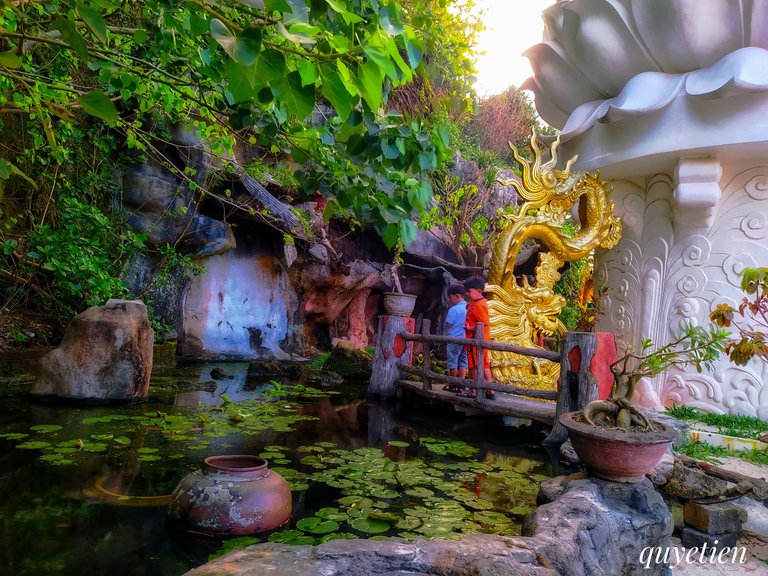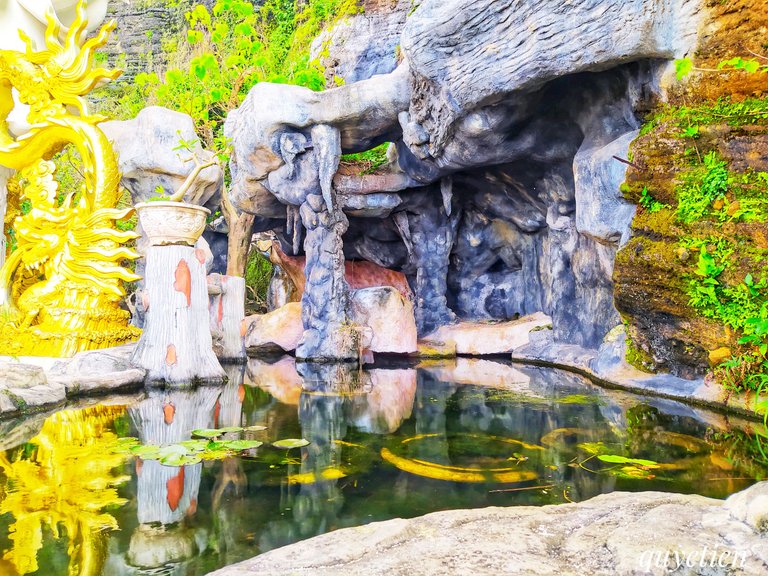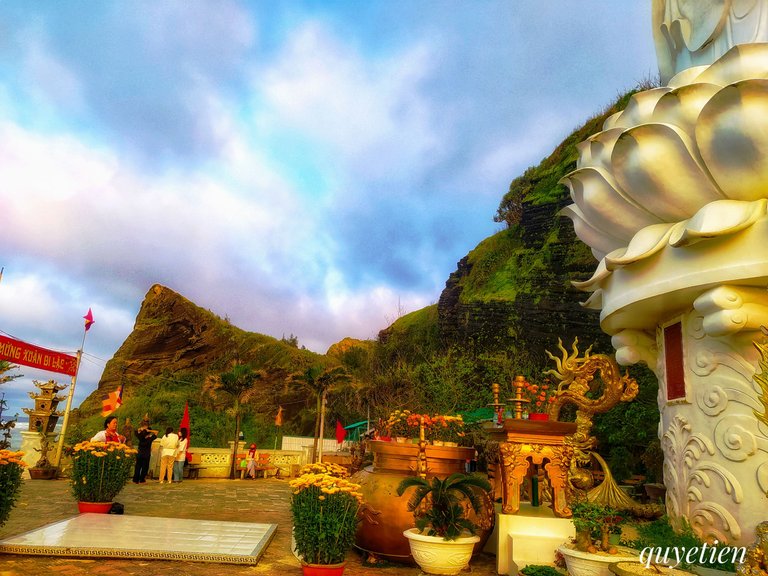 Now is the time to prepare mentally to conquer this mountain. Hundreds of stairs are waiting for us ahead, let's go now🏃‍♀.
Don't be afraid to take the rough road or to overcome the slopes, everything is waiting for you to be worth it.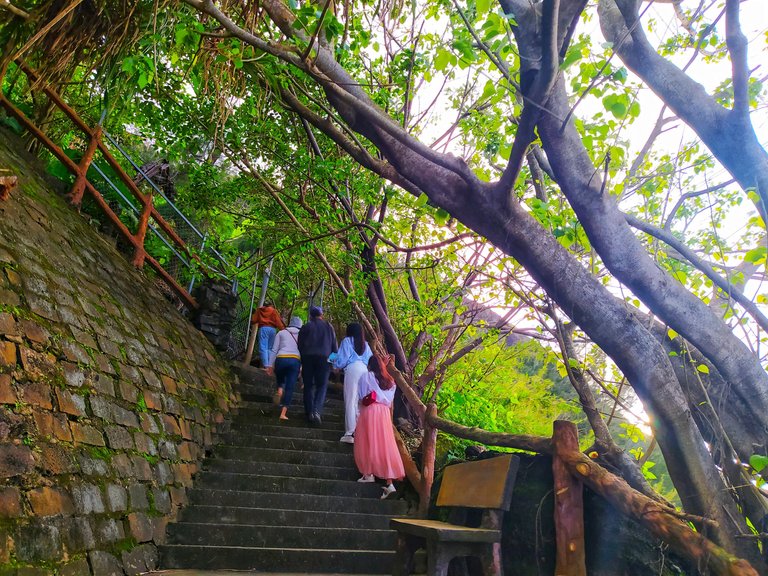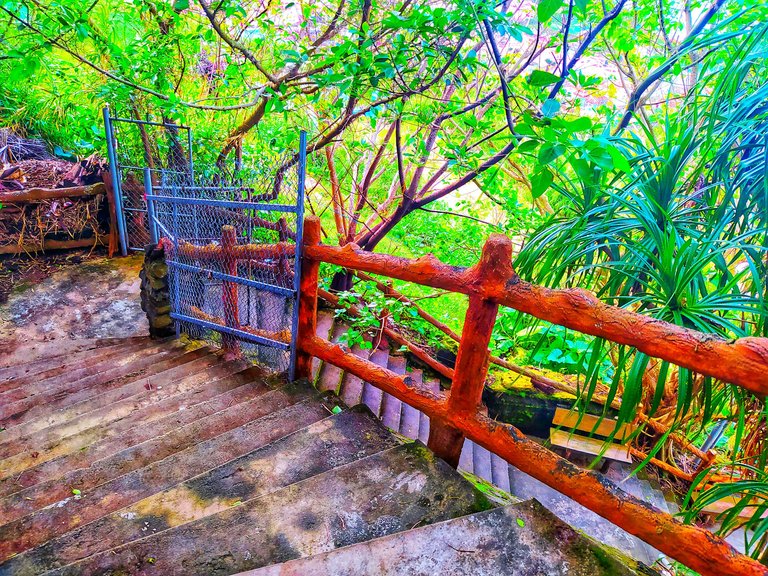 Have you ever seen rocks like this? Dome-shaped gates like this are welcoming us to this place 😉.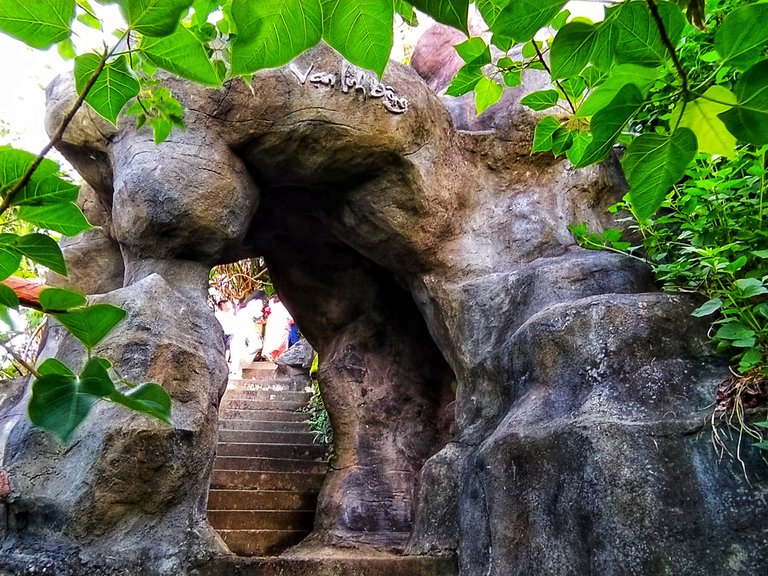 With the mountain formed from volcanic eruptions accompanied by the erosion of seawater, it is really normal to see caves in it.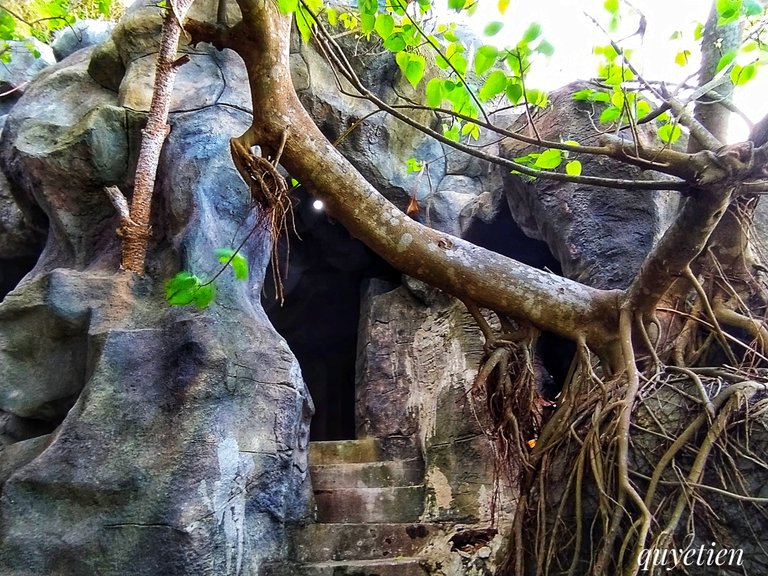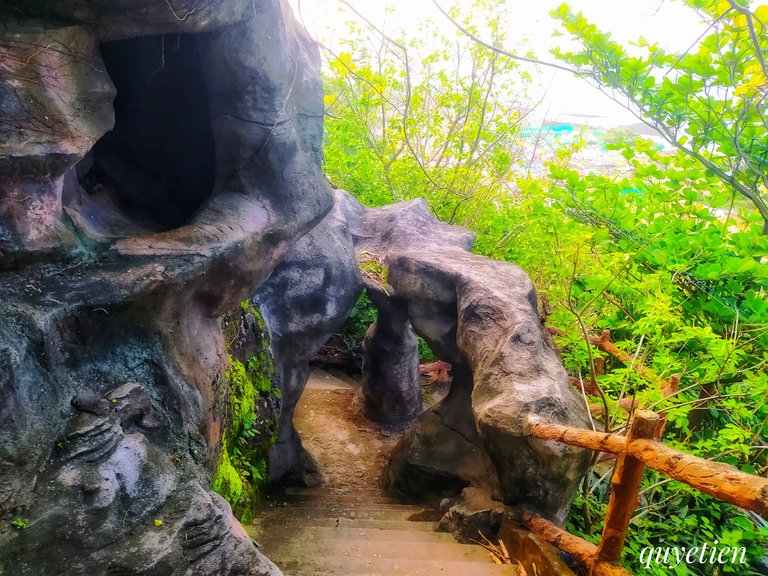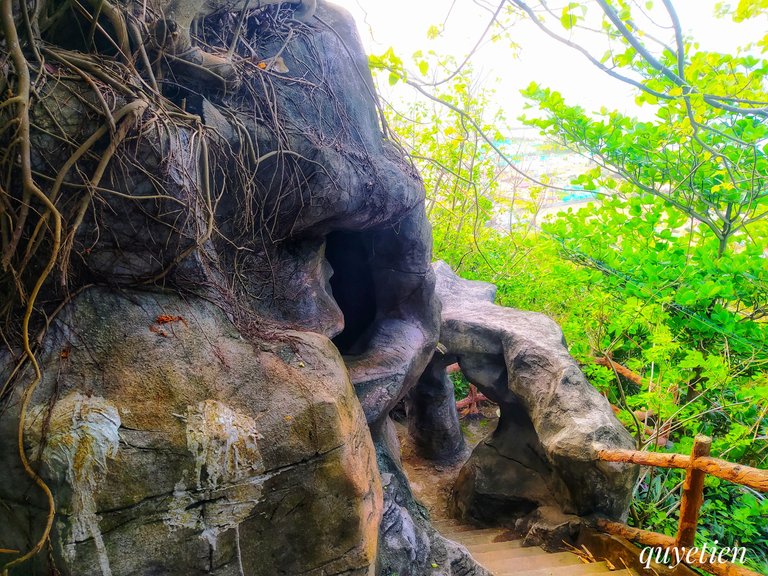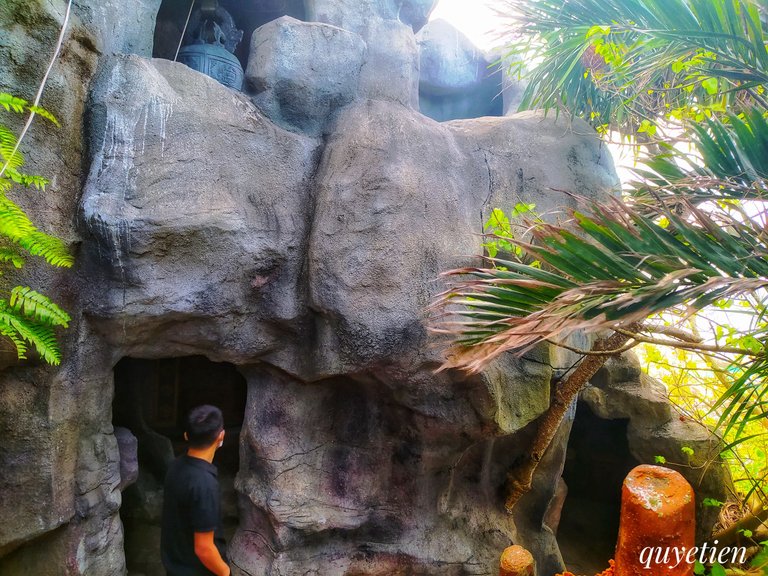 Observantly you will see in each small cave there are worshiping different buddhas, this type of architecture really attracts your eyes. As can be seen, nature gives us everything, our job is just to enjoy, improve and protect the good values of nature like this ❤️.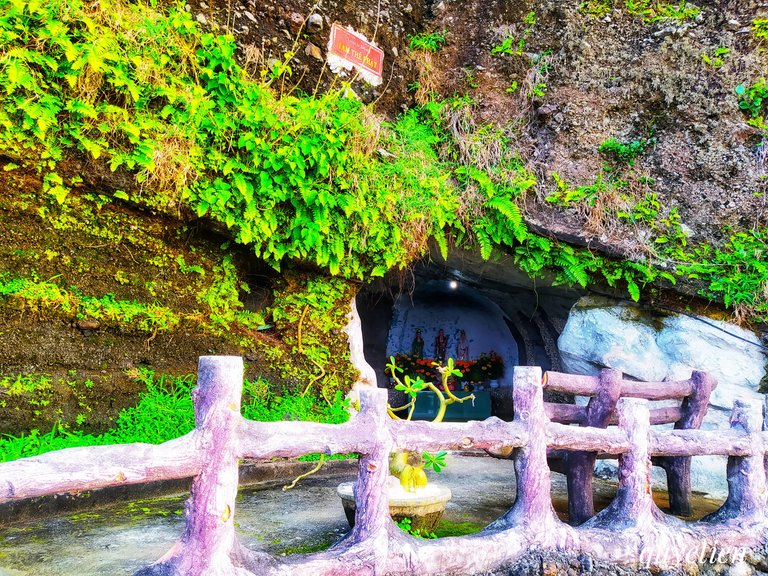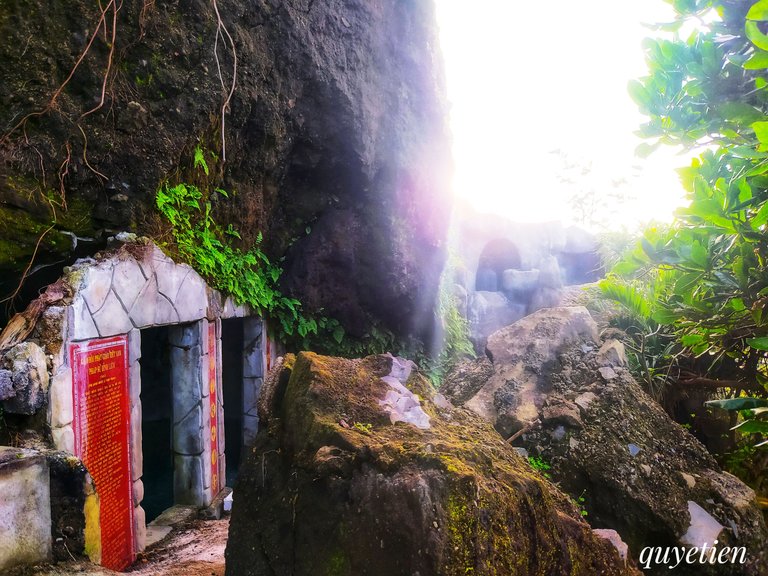 Each flight of stairs brings a different beauty and surprise, only when we reach the top of the mountain can we feel everything.
The huge rock formations covered with green moss also become poetic in the eyes of the viewer.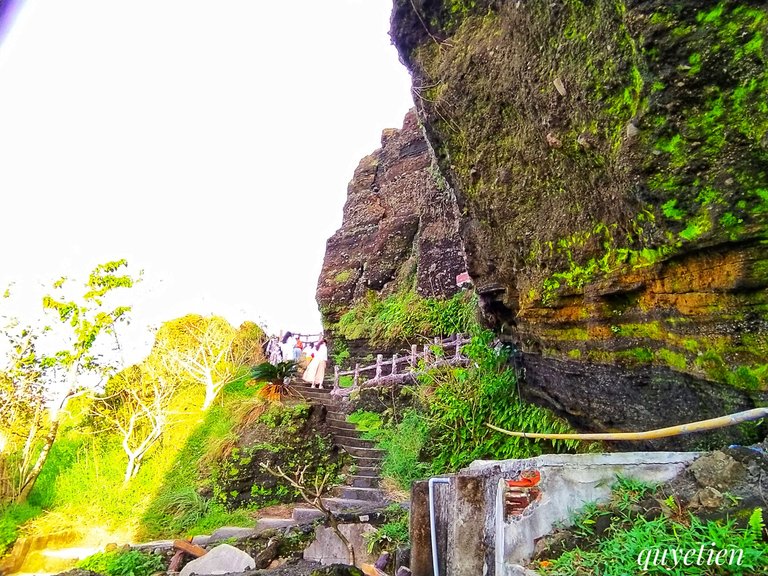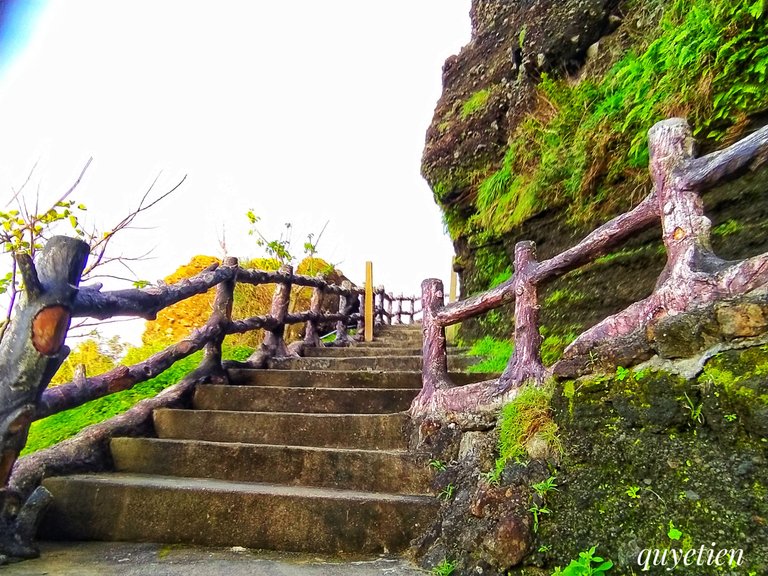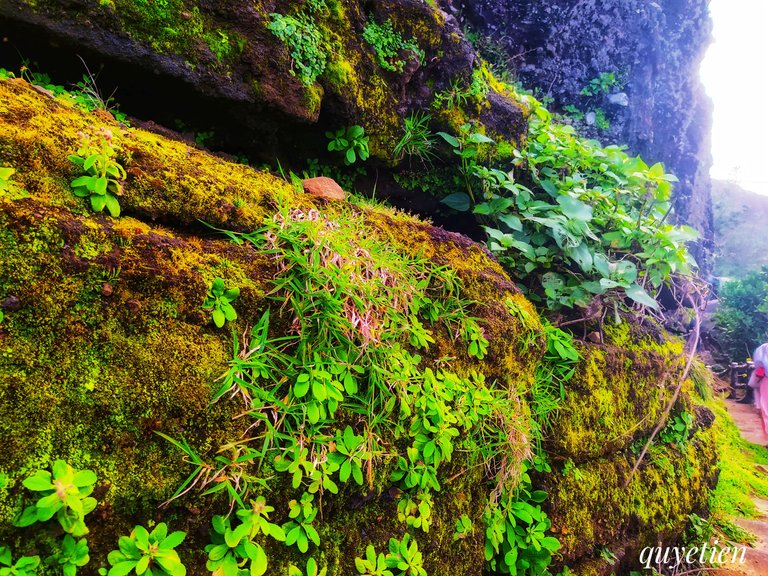 Looking down from above, we can enjoy a panoramic view of the beauty of this place, the blue of the mountains and the sea, combining both high and far views. From here, we can see the back of the Bodhisattva Avalokitesvara statue.
What a beautiful scene 😍.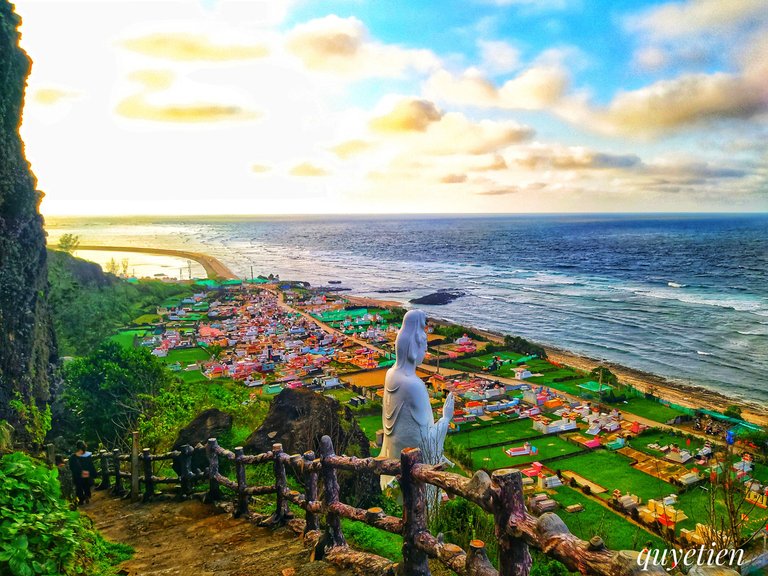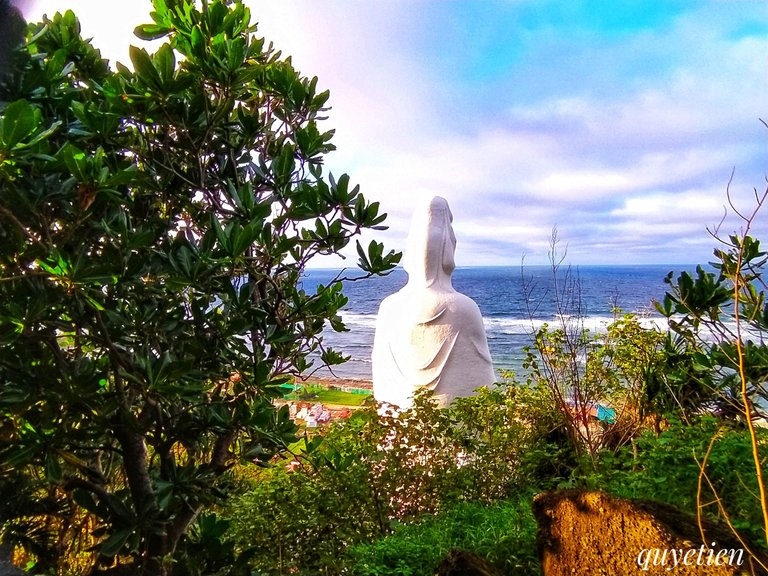 We have finally reached the top of the mountain, we have had to climb a long and precarious way just to wait for this little moment. What a joy it is 😂.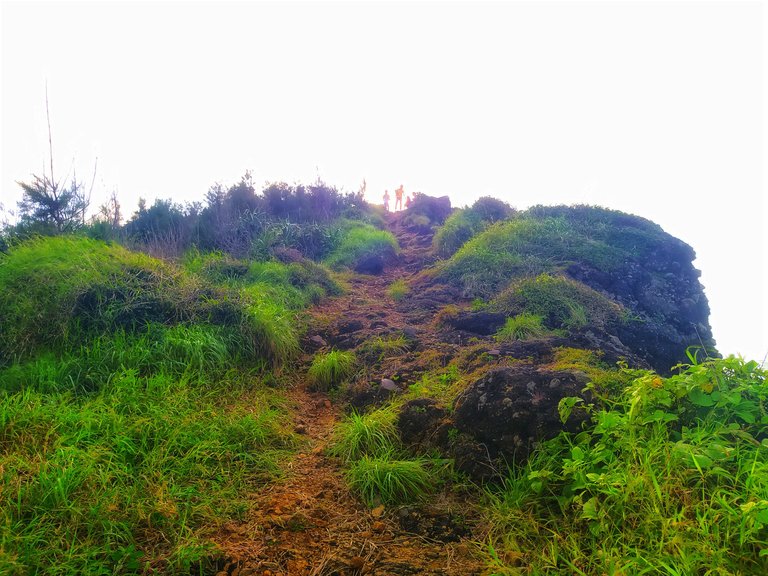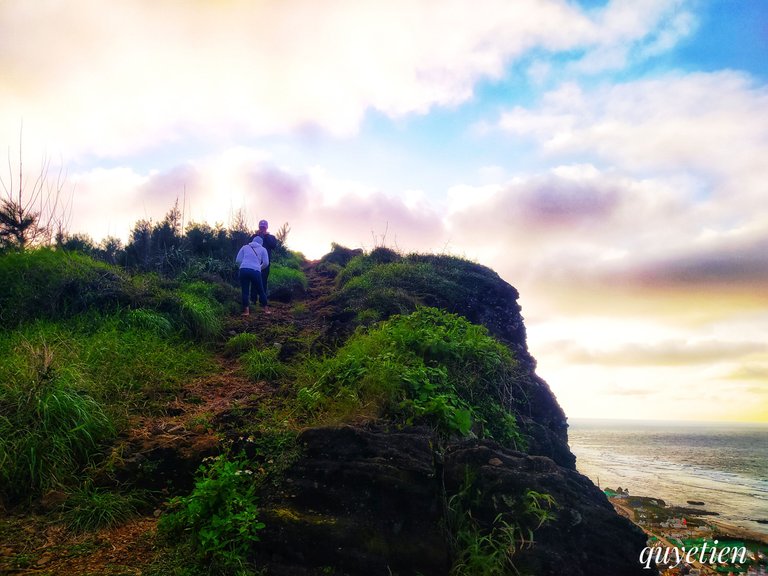 Now sit back and look at the grass for a while 😍.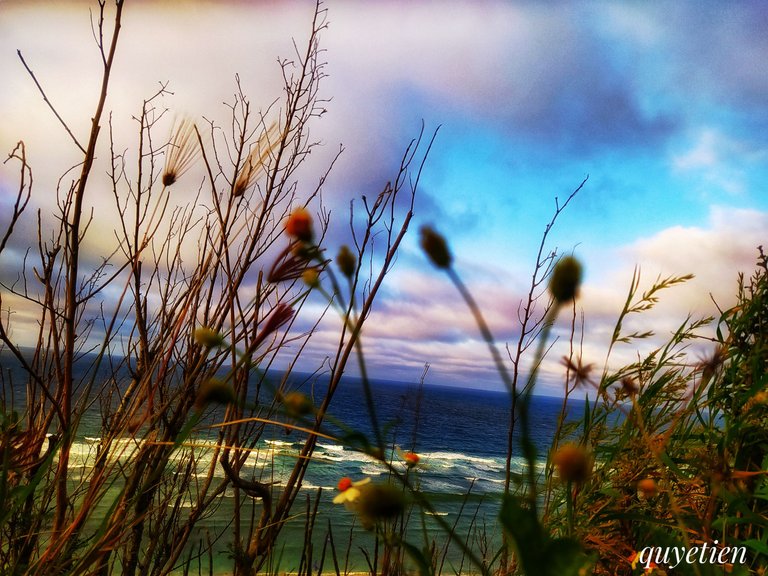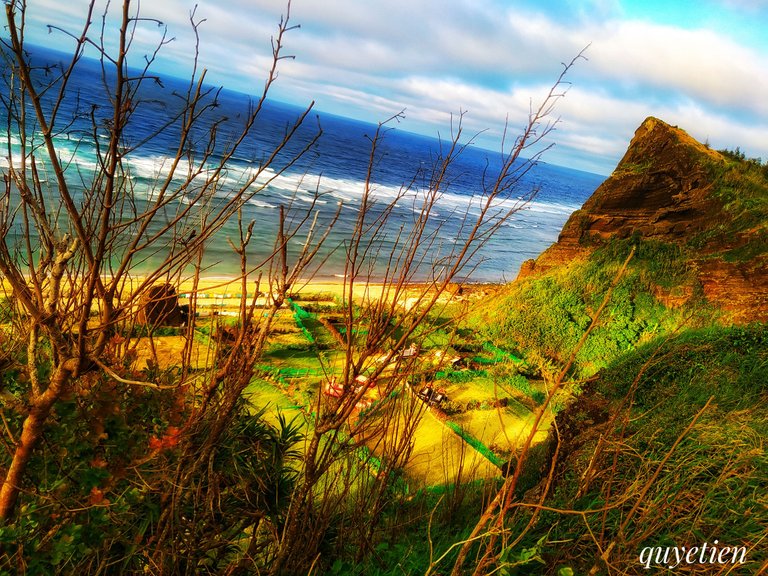 The sunset is already down. It's time to go down the mountain 😊!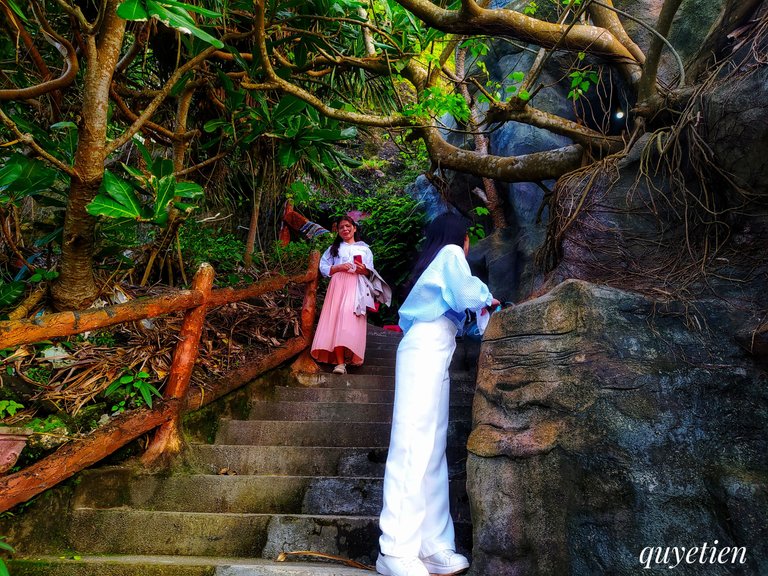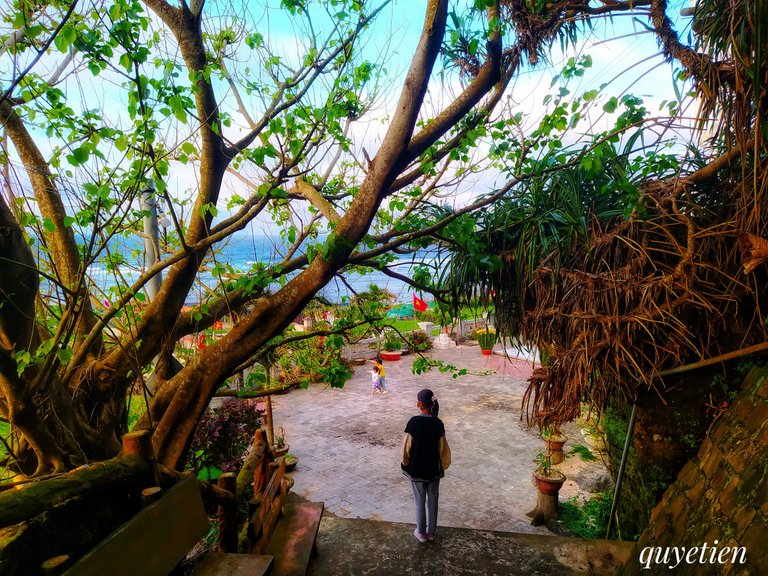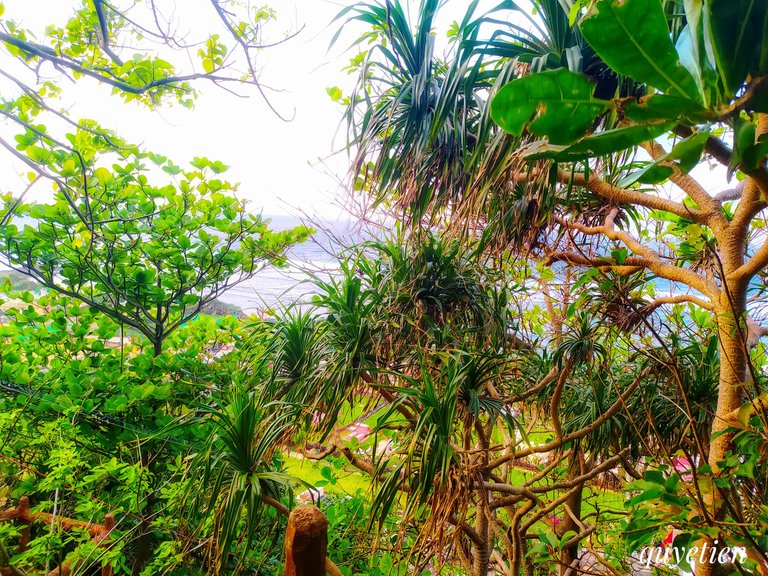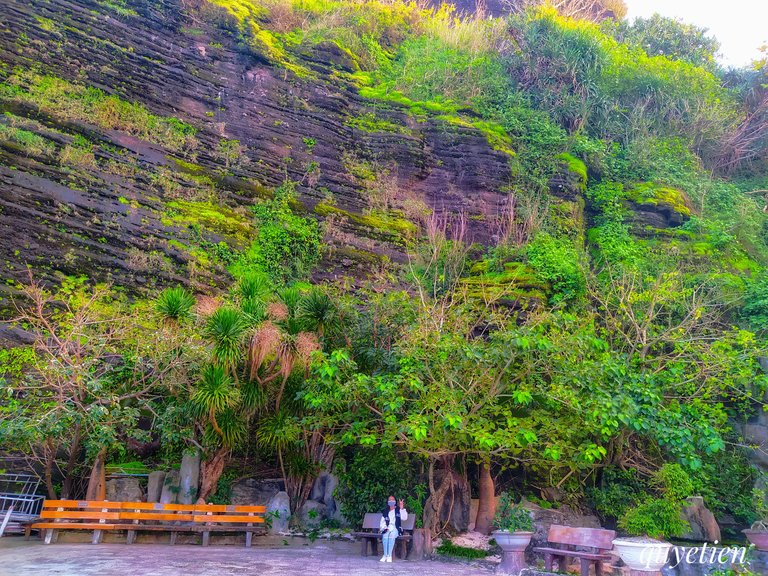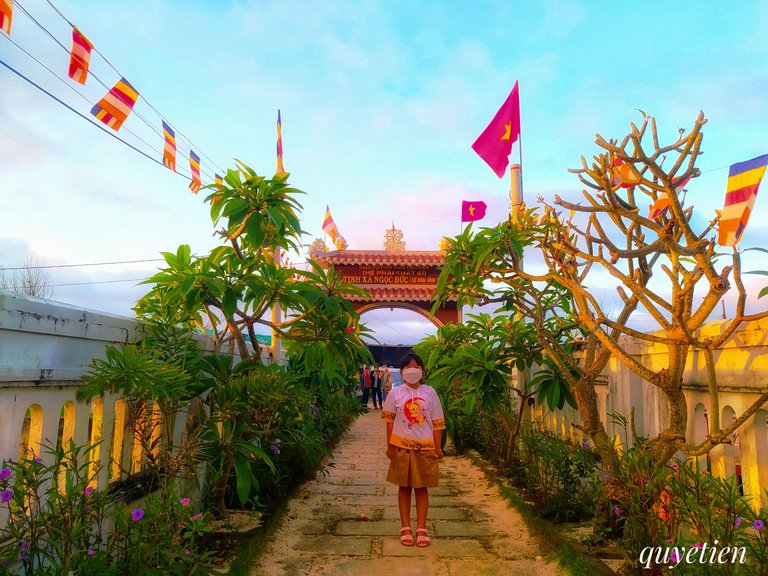 In front of the temple, people sell very cute souvenirs such as snail shells, snail rings or bracelets made from snail shells, etc. And there are also dried seaweeds 😇.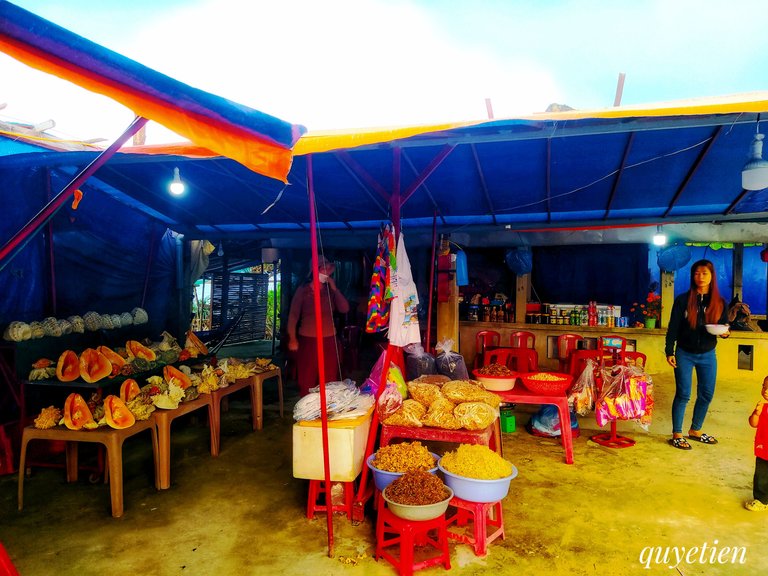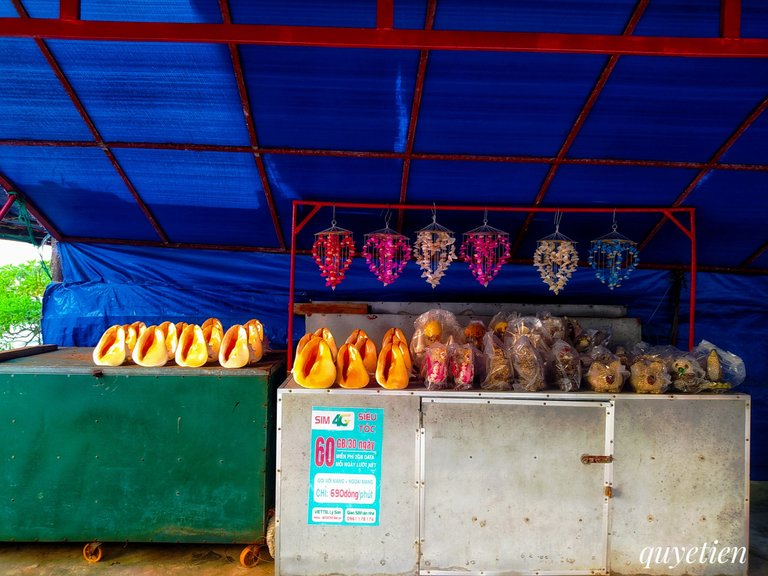 The sunset had already entered the sea, and I and my loved ones also had to leave. I'm sure you guys had a great experience with me 😍.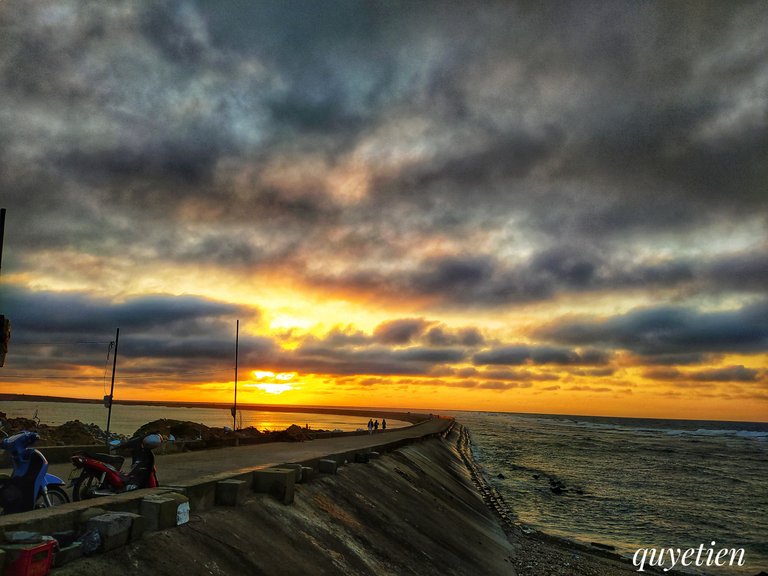 Thank you for reading my article.
See you in the next posts ❤️.
[//]:# (!pinmapple 15.370211 lat 109.122722 long d3scr)
---
---