The Best Day - Today !
Hello everyone!
I'm Tien 😍.
On a beautiful day, after cloudy days and cold rains, we suddenly realize that beautiful moments in life are always present around us. Not just weekend moments or long trips with friends to new places. Those are the ordinary moments of everyday life, the mixed emotions of joy and sorrow inside each of us. Right!
Surely you often hear this question from your friends, from everyone around you, "How was your day?". A pretty simple question but it's hard to answer. It's easy that you just need to have a response ready, but the hard part is, you have to rethink how your day is. Is it happy or sad, does it have anything impressive for you to say no, it's worth stopping to think, isn't it!
After thinking about it, answer me "HOW IS YOUR TODAY?"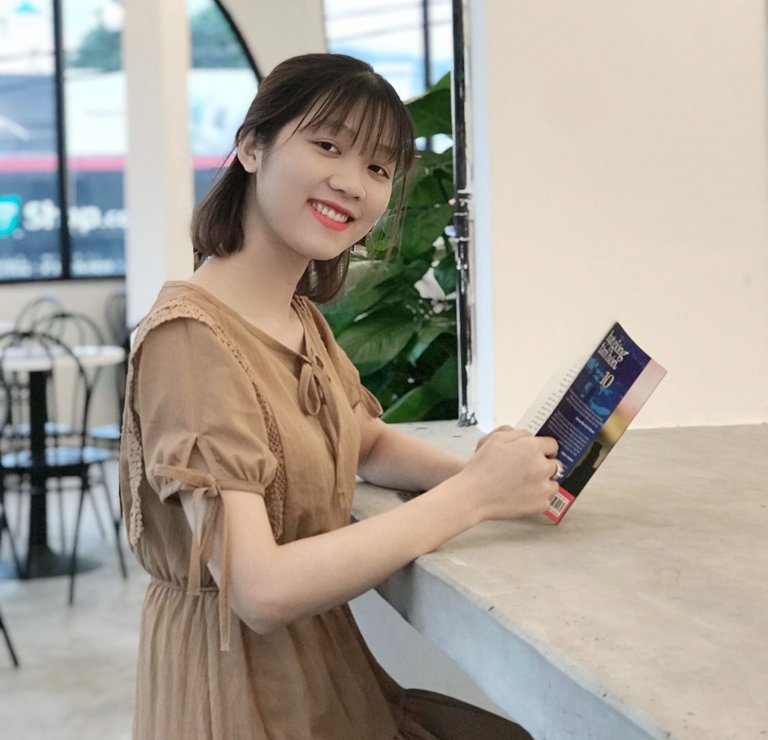 Today is a great day! That is the perfect answer that I want to say. A great day is not just a day full of good experiences or full of joy, but interspersed with sad emotions or quiet moments when you think about work, about the pressures you are facing. Yes. So don't feel that today is a bad day if something bad is happening to you!
Perceiving the colors of life depends a lot on your mood. Don't hesitate to smile to receive it!
1, 2, 3 laughs 😆!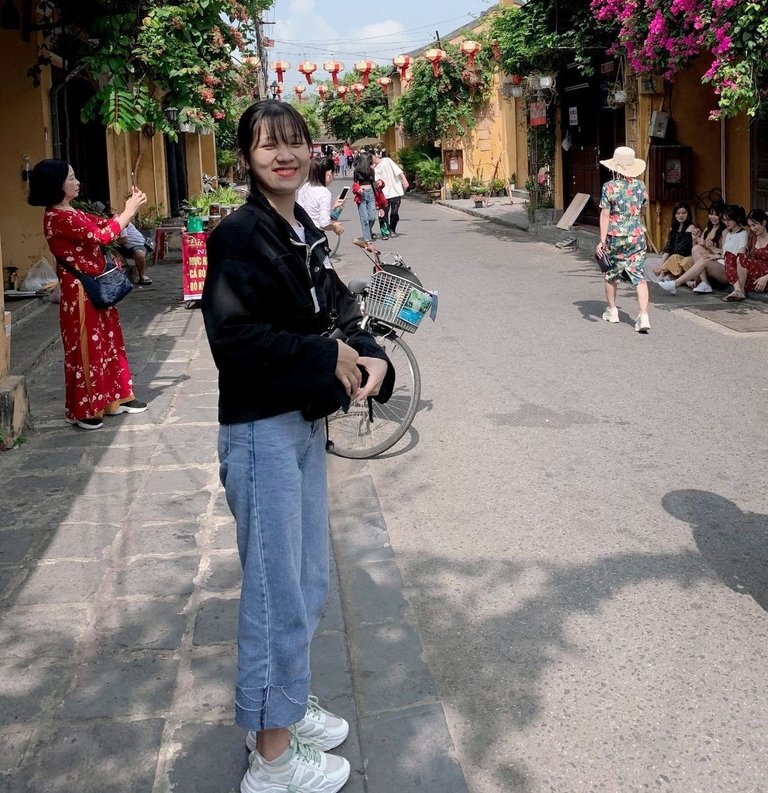 I know there are many friends who are very busy with work every day. Some of you focus on working hard during the week and spending the weekend just relaxing and doing other things. But there are also some of you who balance between work and other things such as relaxation, surrounding relationships, ... during the day. I think either way is fine, as long as you feel it's right for you and you feel like it.
As for me, I want every day to be a wonderful experience, with joy, happiness, and sadness, and disappointment.
I am very fond of the saying: "Happiness is not a destination but a journey we are on" 😊.
Why don't we enjoy each day but have to wait until one day. For example, the day you become rich, the day you have a lot of money you will be happy, surely at that time, you will be happy? What if one day I am poorer 😂? (I'm kidding).
Actually, my day is not too special, but I feel satisfied with it. Every beautiful morning, I will wake up earlier, maybe listening to a song to wake up or motivational English learning videos for the new day. In particular, I will also go with my lover to the beach to catch the sunrise in the morning.
Isn't it amazing 😍?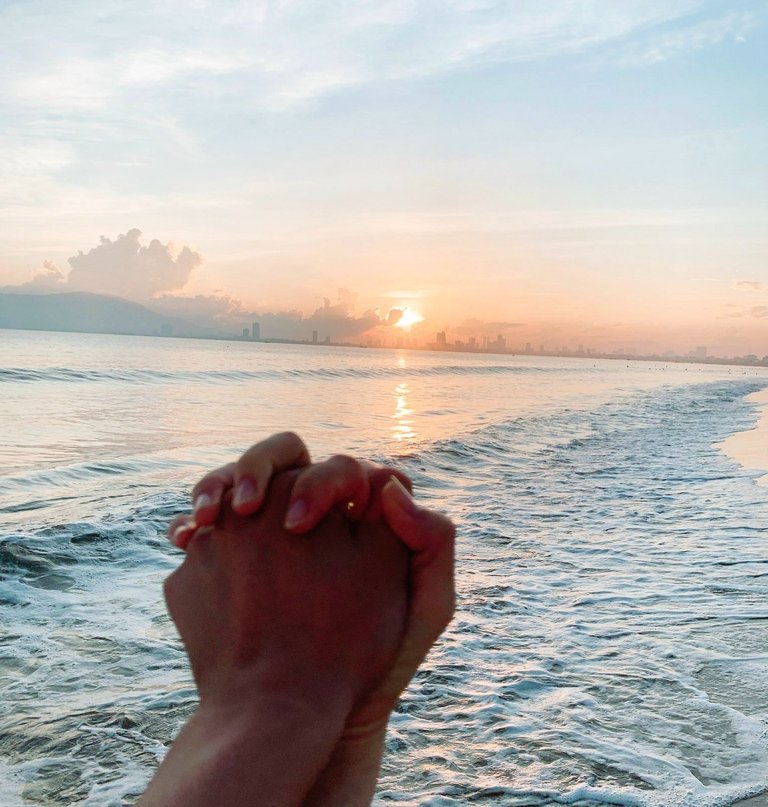 Once you have enough Vitamin Sea energy, let's go back to work and study together. Don't forget to top up your breakfast so you don't get hungry 😍!
It's time for class, let's sit down to study. I'm currently a final year student, so I have a lot to learn and learn more soft skills. However, I also have more free time than people who work, so I also cherish this time.
This is my school uniform!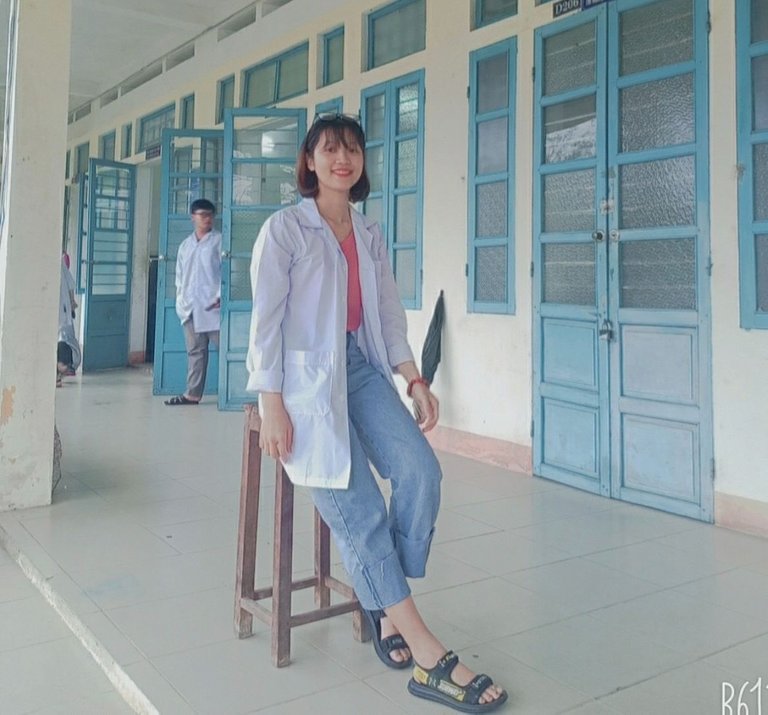 After school, the first thing I do is give myself some time to relax before I cook lunch. One of my hobbies is making fun of my boyfriend. Due to the nature of work and the epidemic situation, my boyfriend often works from home. I really like having a pet, so when he's busy at work, I make him my pet.
Tadda.....my pet 😂!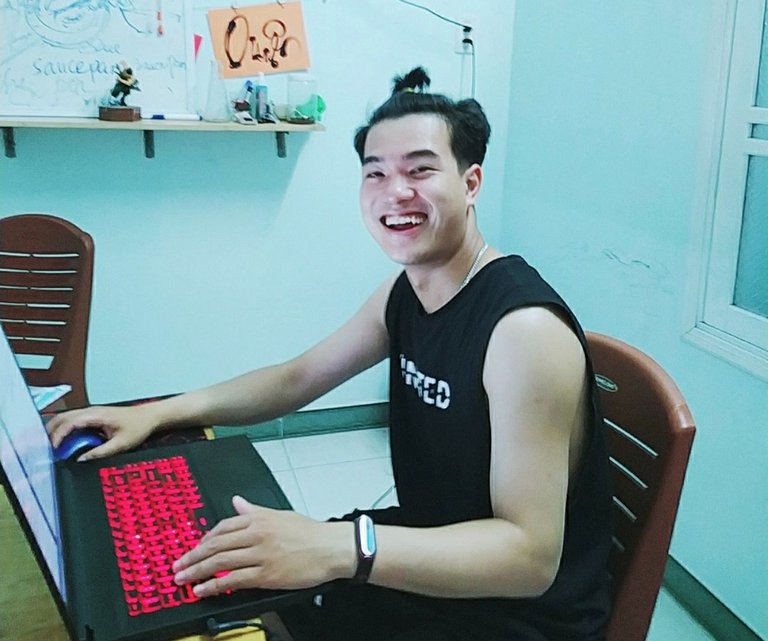 He looks like he's enjoying himself too 😄.
This is our lunch. This is also the first lunch he cooked for me when we first met. But since then, I've only cooked 😂.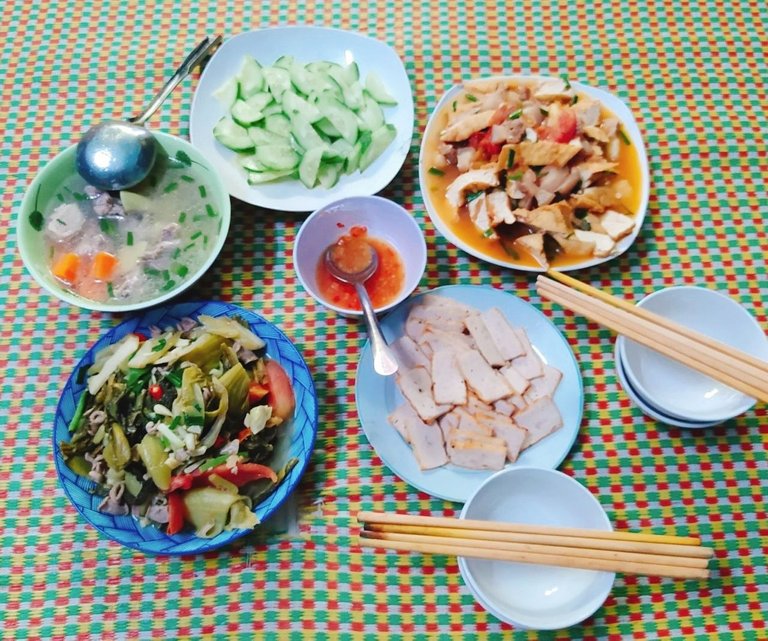 After each meal, we also don't forget to take pictures to save our innocent moments.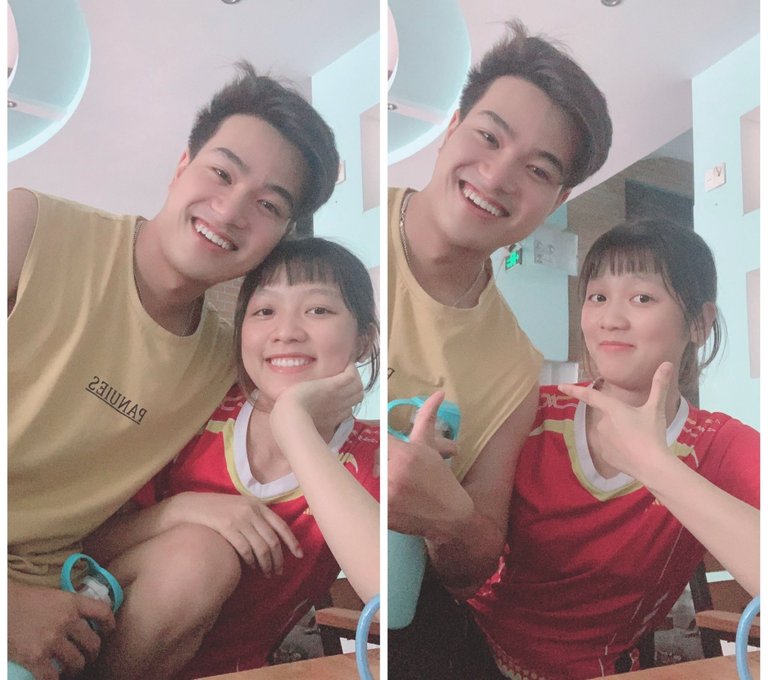 Now take a short lunch break to work in the afternoon, everyone.
How's everyone's afternoon? I have finished all my work. You must have had a hard day and worked hard too!
Now come to our little beach party 😇.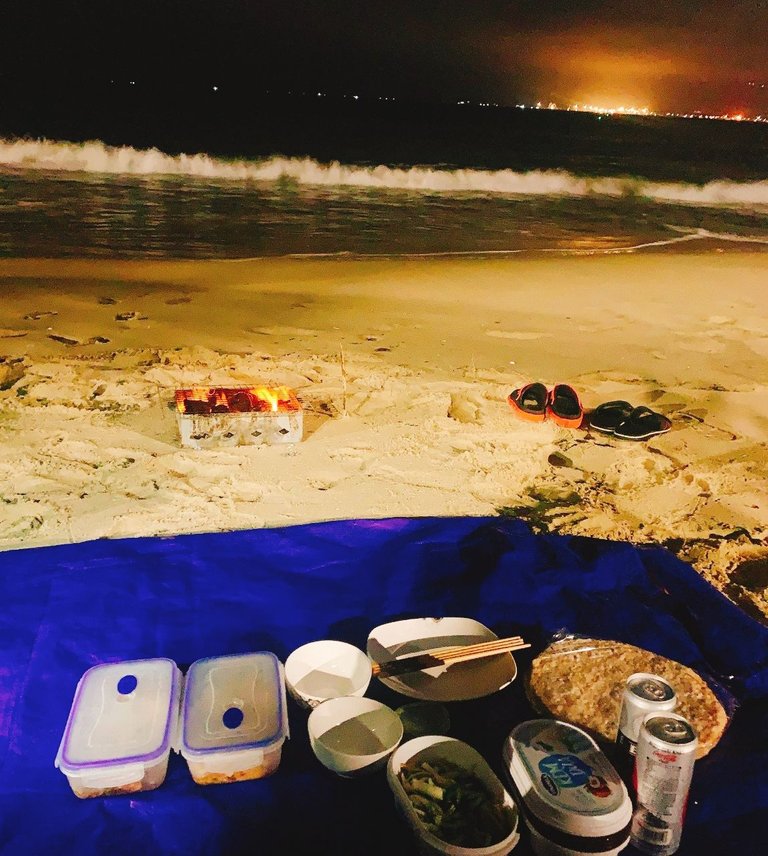 We also do not often organize small parties like this. But I think it's extremely useful for couples to rekindle their feelings.
Together sitting under the embers, watching the beach, listening to the waves crashing, and retelling the stories of the past. We talk about each of our hearts, tell each other about future orientations, places we want to go. Really great!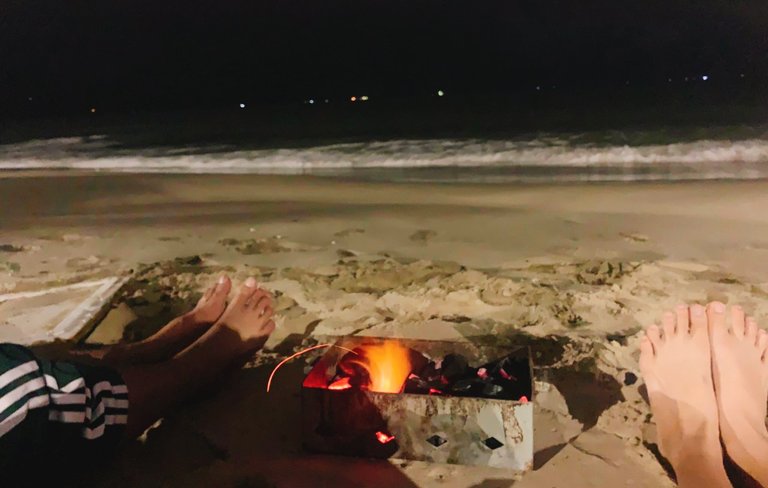 Our party had mixed chicken and grilled chicken. This is our favorite dish. How wonderful it is to eat grilled chicken and drink a beer 😋!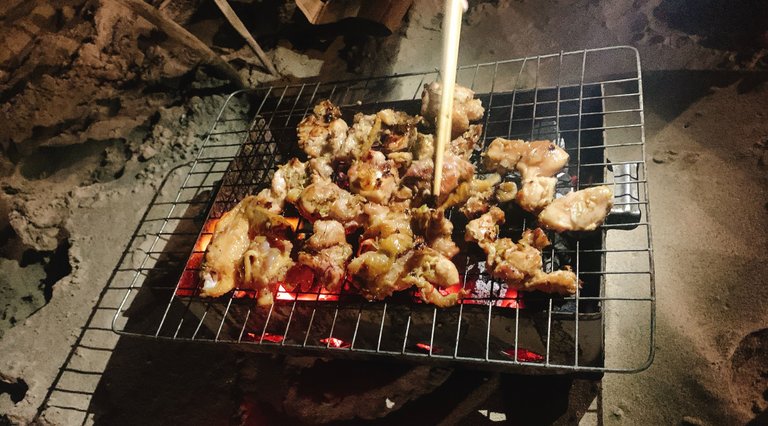 Even though I was grilling meat, I didn't forget the cute expression for posing 😊.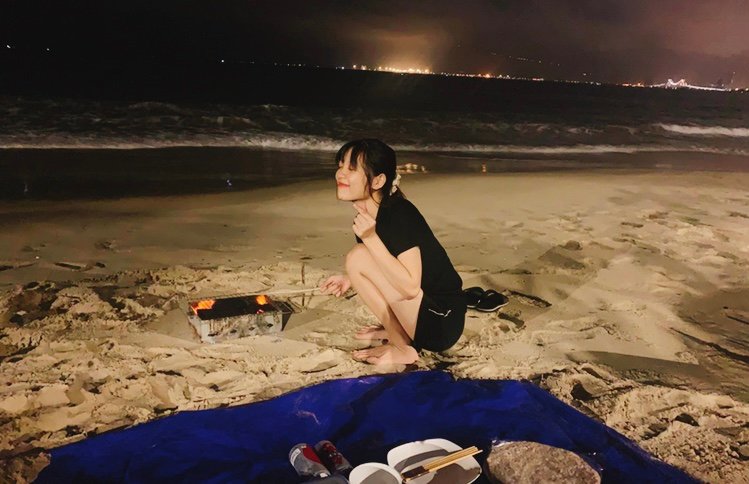 My boyfriend is also eagerly waiting for a barbecue from me. He can't wait to enjoy this dish 😅.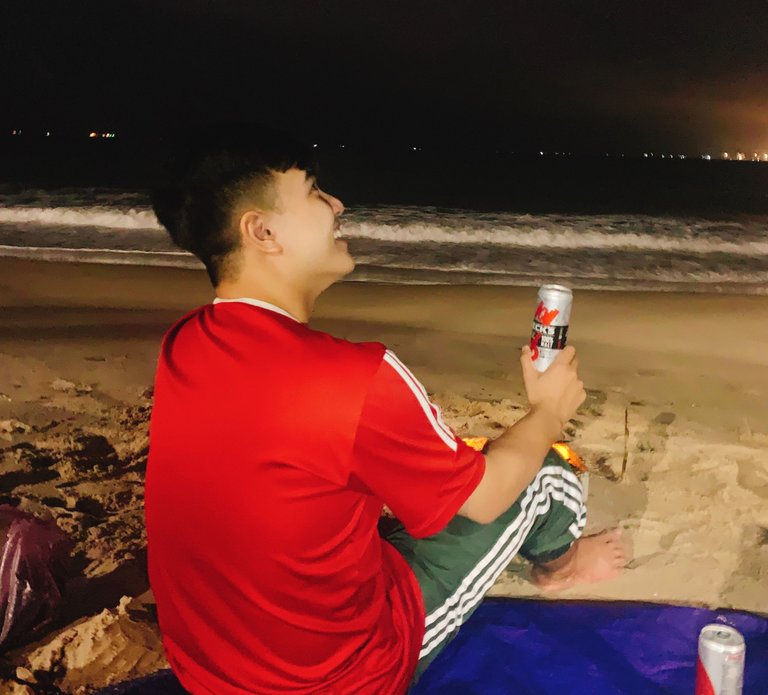 Just smile but I'm hungry too 😇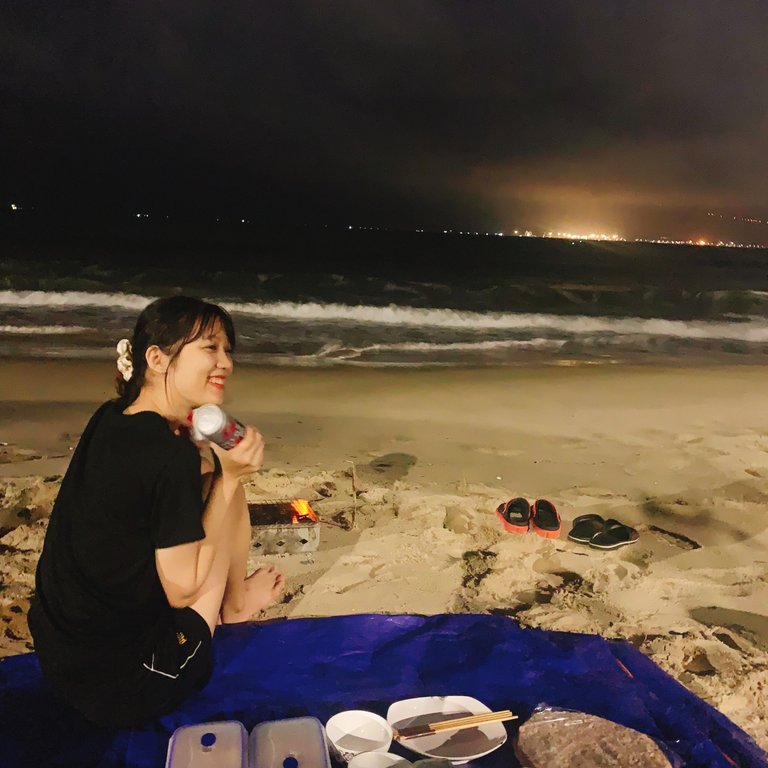 My big love, for you guys❤️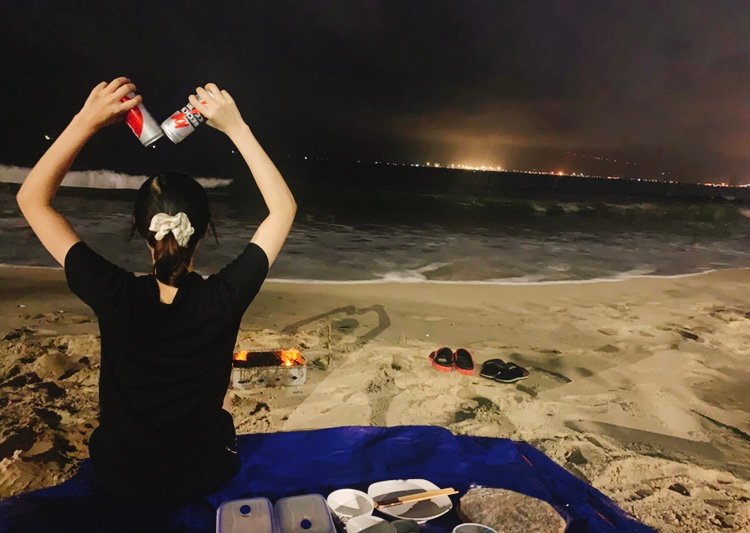 After eating and drinking, we thought of a game to play. Do you know what game this is?
Right! That's Tic Tac Toe. But the special thing is that we don't have to play Tic Tac Toe on smartphones or on paper, but on the sand. Really interesting isn't it 😍!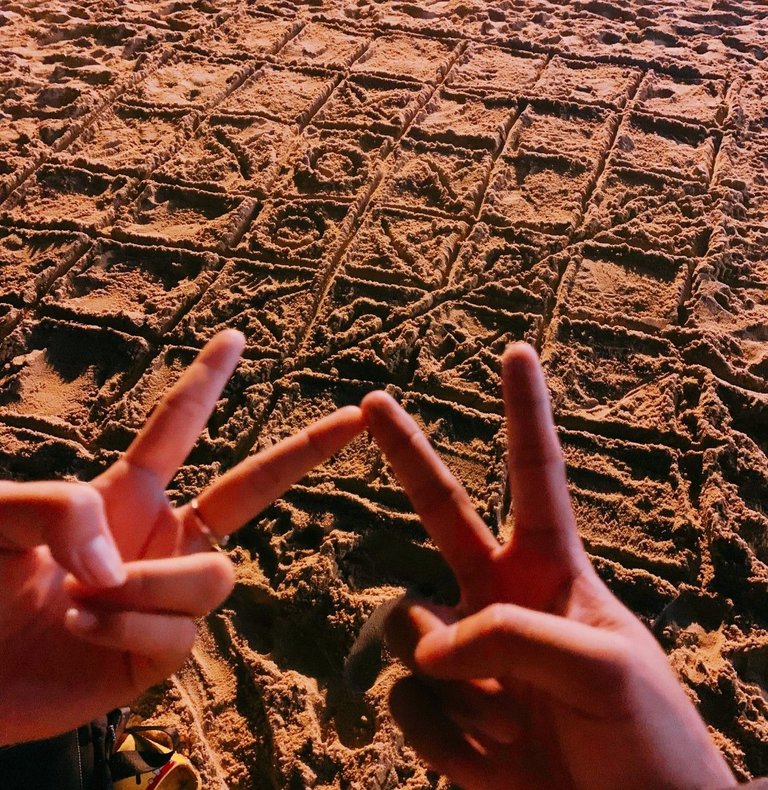 It's nice to have someone to play crazy games with. Sometimes we don't have to dress very well, go to really luxurious places to feel the joy. We simply feel the harmony of our companions, feel the peace in our own souls when we are with them. That is the feeling of loving and being loved!
We had fun times together. Our day is so simple but so meaningful 😊.
Everyone must have had a great day, right? If today there are many things that make you unhappy or tired, let's cheer up. Because every day is always a great day as long as we are alive and alive.
Hope everyone will always have a great day. Because whether it's tomorrow or the day of a year from now, if we live in the moment of each day, every day is today - a great today!
---
Thank you for reading my post ❤️.
---
---