Ly Son Island - Welcome To My Hometown 😍
Hello friends
I'm Tien - a funny and simple girl 😊!
Surely at the beginning of the week, you are quite busy with work and study, right?
No matter how busy you are, take time to rest and give yourself a relaxing space! That will help you work more efficiently!
Now, let's follow me to Ly Son Island-My hometown to experience the wonderful colors of nature! You will discover Ly Son island from the most honest perspective of someone who was born and raised here. Let's go!
Sa Ky port (in Quang Ngai province) is our first destination. Now let's get on the boat and go to the island!
After about 30-45 minutes by boat, we are almost there. Get out of the cabin, stand in front of the boat to feel the sea breeze, the sound of the waves, and see the undulating hills.
Look! Ly Son Island is gradually appearing in front of us 😍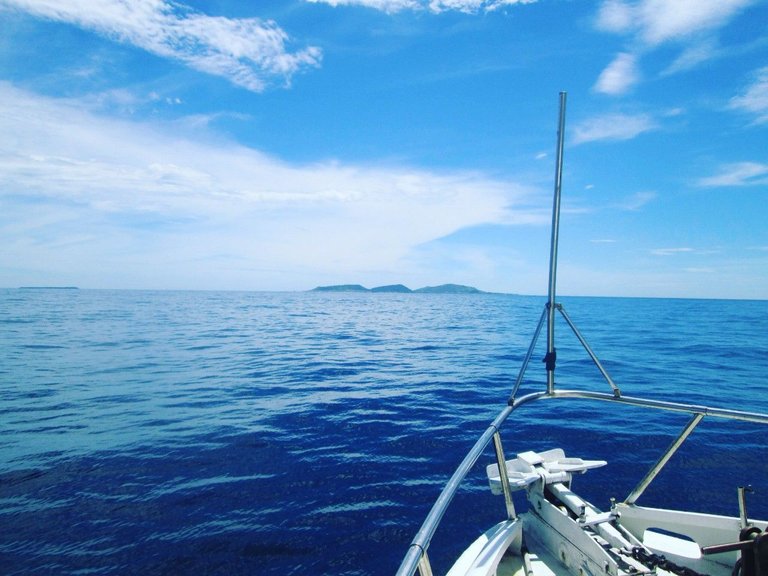 After arriving at the island, we will rest for a while because there may be some people with seasickness and it is also time for us to eat and drink to recharge for the journey to explore the island.
By the way, at lunchtime, I will tell you a little story about the island for you to understand better. After resting, we will visit the island by motorbike. You can visit the whole island in just 1 or 2 days. Because Ly Son Island has a rather small area of about 10 square kilometers, although it is small, it contains the masterpieces of nature.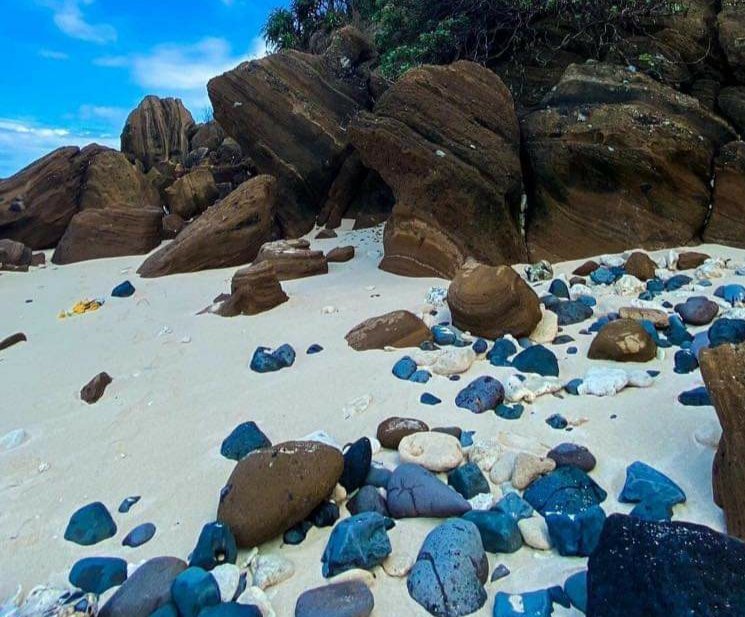 You know, Ly Son was called Cu Lao Re because in the past there were many Re trees here, that's what I heard from my grandfather. This is an island formed by a volcanic eruption about 20-30 million years ago.
I am a native here, my grandfather often told me that in the past, my ancestors went to the island to live and I am the next generation. Every time I listen to the stories of the village elders telling about the island, I feel very proud.
Because it is formed from volcanic lava, plus the erosion and invasion of seawater, it has formed beautiful cliffs and caves in the cliffs. Not to mention the scenic spots such as Hang Pagoda, Duc Pagoda, Cau cave, Cong To Vo, Thoi Loi mountain, Mu Cu island, etc. If you have the opportunity to come here, you must not miss these places!
Have you worn a helmet yet? Now it's time to start.
Perhaps, you are curious as to where we are going, right? Let's drive for another 10 minutes. Have you seen anything yet 🤗!
Cong To Vo
This is our first destination, it's Cong To Vo. Why is it called Cong To Vo? Because of this arch, it is shaped like a gate, gate in Vietnamese means "Cong" and "To Vo" is a name given by the people for a long time. From afar, we can be far from this stone gate lying on the beach to catch the sun coming up. It is as resilient as the people here. Although bare, but still strong!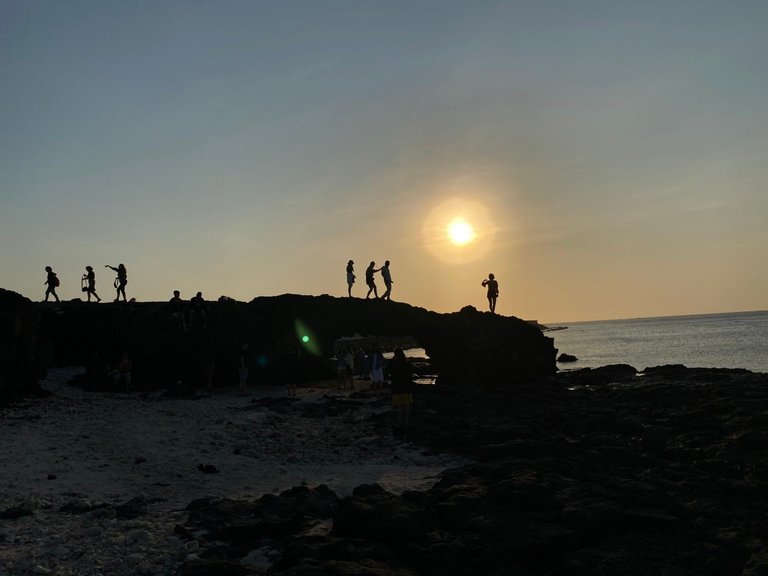 Duc pagoda
Located to the right of Cong To Vo is Duc Pagoda, just a few steps to Duc Pagoda! There is a very tall statue of Quan Am Buddha facing the sea, as a position at the head of the island. In people's minds, this is like a fairy protecting them from storms and tsunamis. Therefore, this is not only a tourist destination but it also has spiritual significance for the people here.
Along with Cong To Vo, you can see the coastline with colorful paintings ❤️.
Ok! Please enter the temple, burn incense, and you can also join hands to pray for your own wishes. It might work! Now take a deep breath, and prepare your energy to climb the stairs. Step by step conquer this mountain.
We finally reached the top of the mountain. Scream loudly, shout to dispel the sorrows in your heart so that the sadness goes with the wind. Really refreshing right 😇!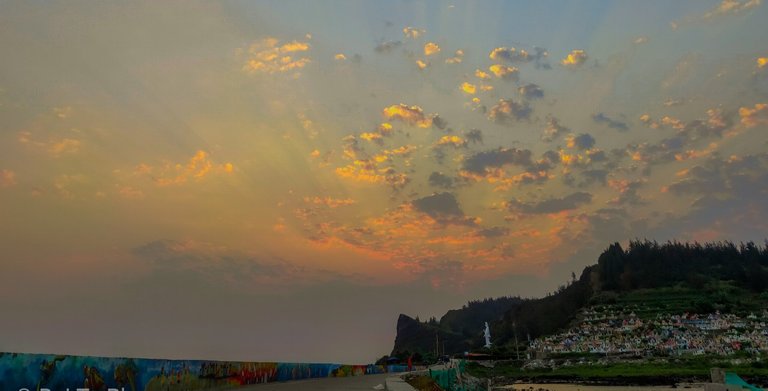 Oh! Look down below, there's the sunset, there's the boats. It's so amazing.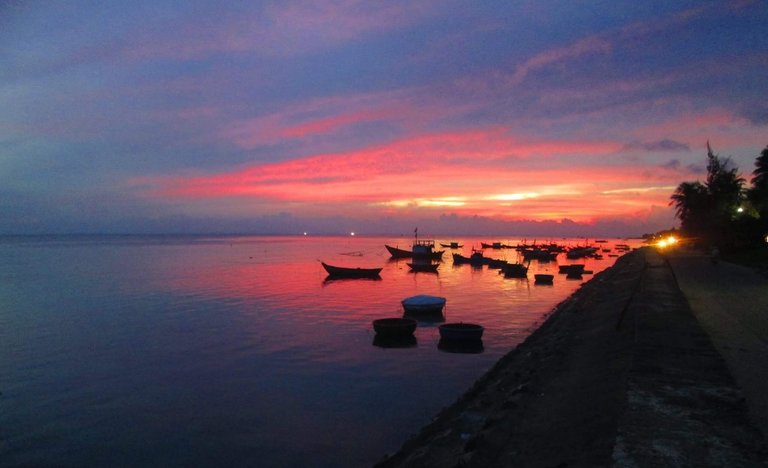 Don't be so absorbed in watching the sunset that you forget that it's already dark. It's time to go home 😊.
One day to enjoy the beauty of the island is not enough. Let's take one more day, one more day to feel it fully.
Seafood
I know you guys still want to go, but it's going to be interesting tonight. What will I eat tonight!
I heard your stomach growl, maybe you're hungry, let's eat it together😋
By the embers, there are friends, there is me and there is delicious food. It's great for chatting, isn't it?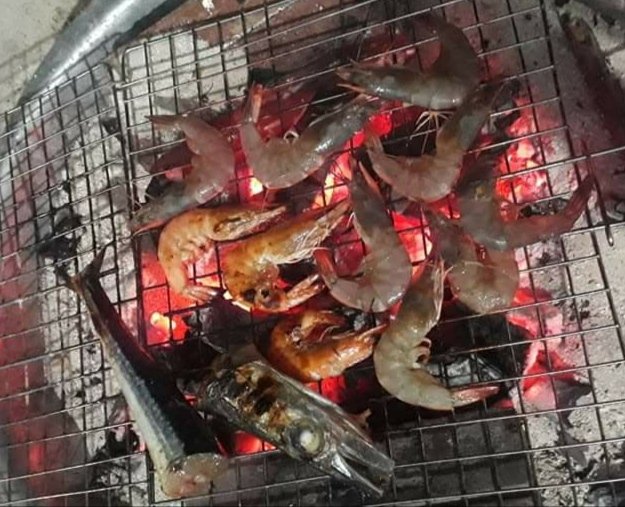 I still remember vividly, rice for my childhood was a luxury, because the soil on the island is sandy soil and cannot hold water, so rice cannot be grown. Rice was transported from the mainland to the island very difficult. Especially in the rainy and stormy seasons, boats cannot go to the mainland to carry rice to supply people. So my family had to mix a little rice with a lot of sweet potatoes to cook enough for a family. Although I lack rice, I have no shortage of seafood, from abalone to lobster, I have also eaten. And today, we sit together to enjoy them and plan the trip tomorrow morning 😊.
Did you sleep well last night?
It's 5am, let's go to a place that can't be missed.
Thoi Loi mountain
Hurry up guys. It's the sun! It's dawn!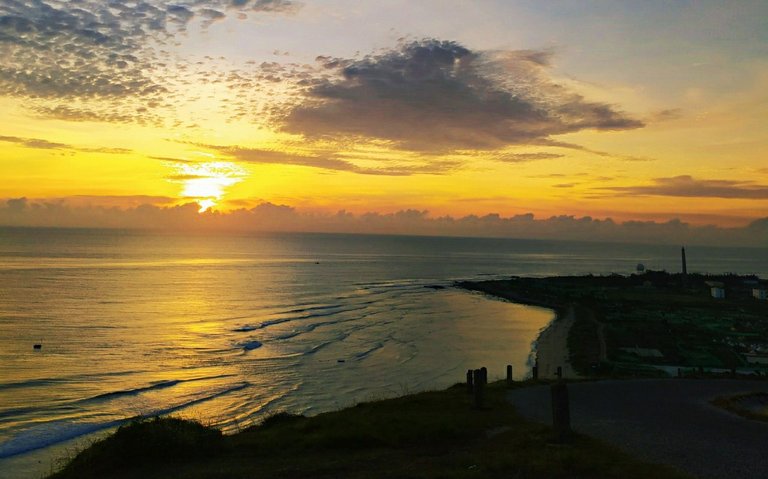 The reason why I didn't tell you about this place last night is because I wanted to give you a surprise, a wonderful surprise.
Thoi Loi is an extinct volcano, it is a masterpiece of nature. The green of the trees, the blue of the sea, plus the red of the sky. It's so dreamy!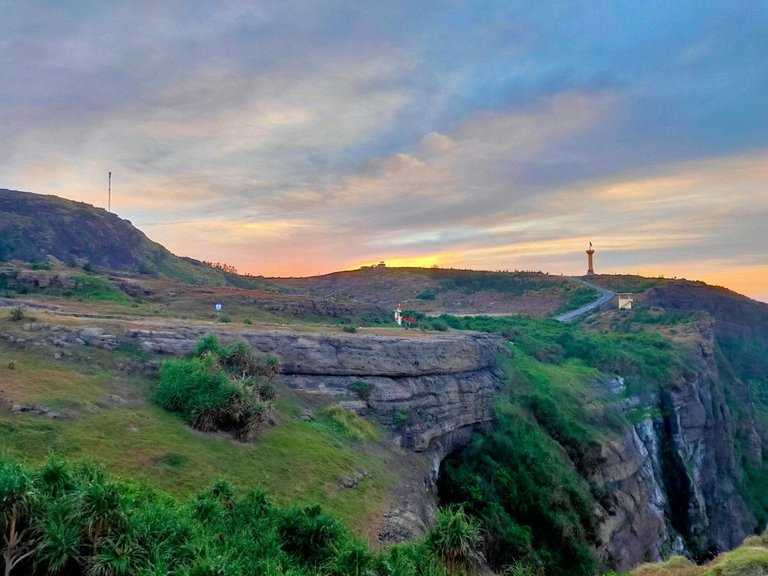 While we walk to see the sunrise, I will tell my memories of this mountain. It's very funny. My childhood roamed around this hill to that mountain. After each school session, I and my friends go to the mountains to pick wild fruits, as long as the fruit is edible. Let me reveal, there are many fruits on the mountain, the mountain is guarded and they are very fierce. However, we have experienced fruit hunters, so we are not afraid of anyone. So my friends and I went to the mountains to pick: guava, jackfruit, mango, fruit, plum, banana, wild fruit, etc. At that time, I was quite young, I saw that every fruit I picked was fine and put it in my shirt.
Once, I climbed a tree to pick a jackfruit fruit, so I was stung by a bee in my cheek. So my face swelled up to look like Tru Bat Gioi in the movie "Tay Du Ki", so when I got home, my mother yelled at me and beat me up. I cry and cry. After crying, I was happy again because of my spoils, so I ate the jackfruit deliciously. It's fun to eat while laughing because even if my mom hits me, I'll still pick it next time 😄.
Do you guys want to go back to my childhood to do these crazy things?
Here are our spoils after the journey up the mountain.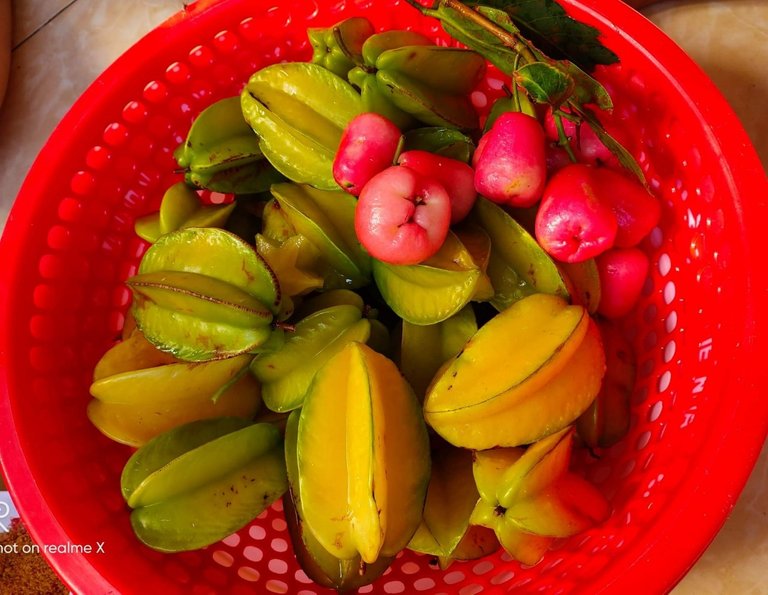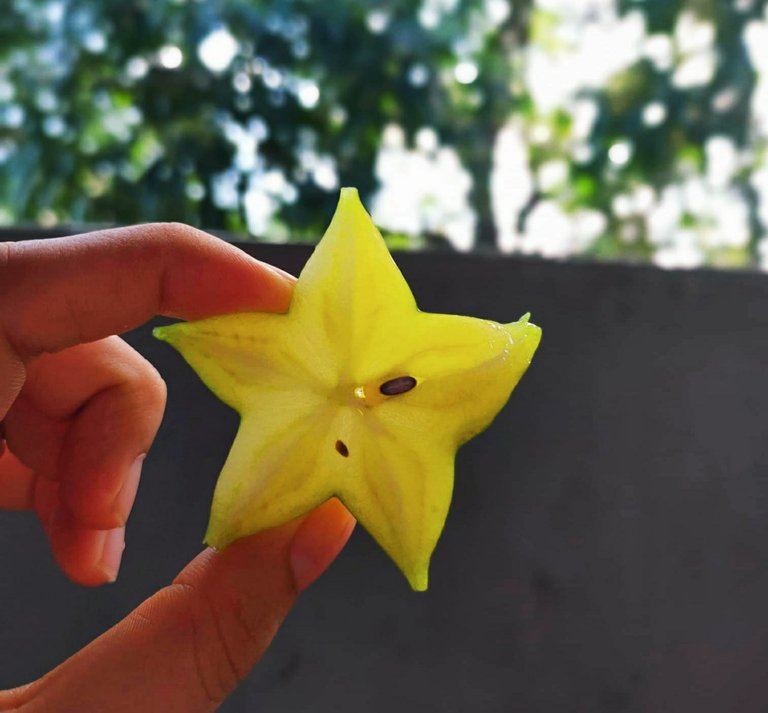 Come to this place, do not forget to go to the lake at the top of the mountain. Because this is a lake made up of a crater that is both a reservoir for irrigation water for the whole island.
Lake on top of Thoi Loi mountain
I don't know how your holiday is, but here every holiday, me and my classmates often come here to relax after stressful working and studying days. The special thing is, today I have friends who are you!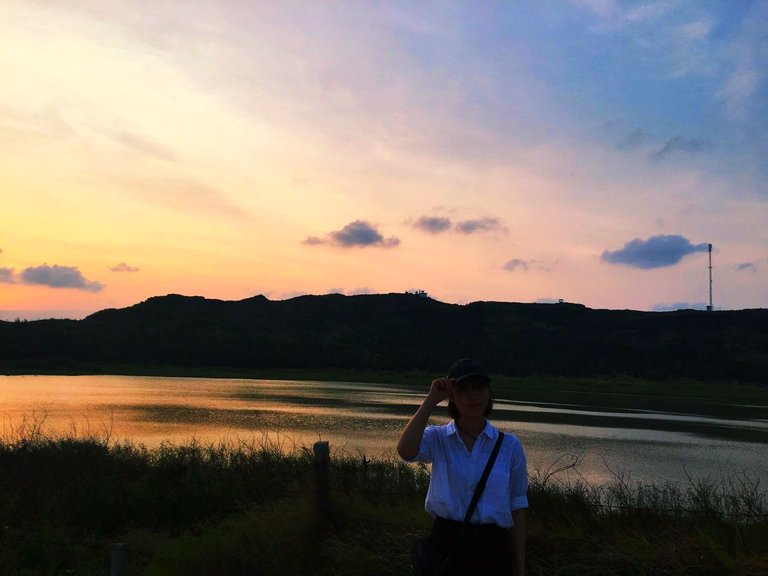 The lake behind me, I really want to swim 🐬.
I am a person who is very sensitive to nature, I love its beauty, the beauty is like magic. I feel full of energy when I go there, sitting on the beach I feel my worldview expand when I look at the horizon, I don't know what's there, but I think there's a lot of things novelly deep in the ocean. So, after stressful exams or the Tet holiday, my friends and I walked around the beautiful scenery in our hometown.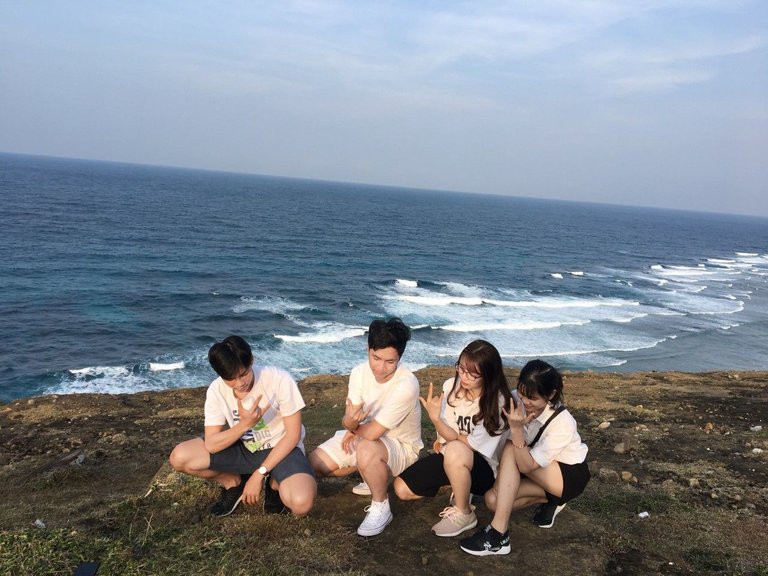 Be Island
Now let's go canoe to Be Island, because it's already afternoon 😍.
You know, Ly Son Island includes 2 islands: Lon island and Be island. Be Island is about 3 nautical miles northwest of Lon Island. Be Island has a smaller area, sparser population than Lon Island. Although it is smaller, its beauty is not inferior!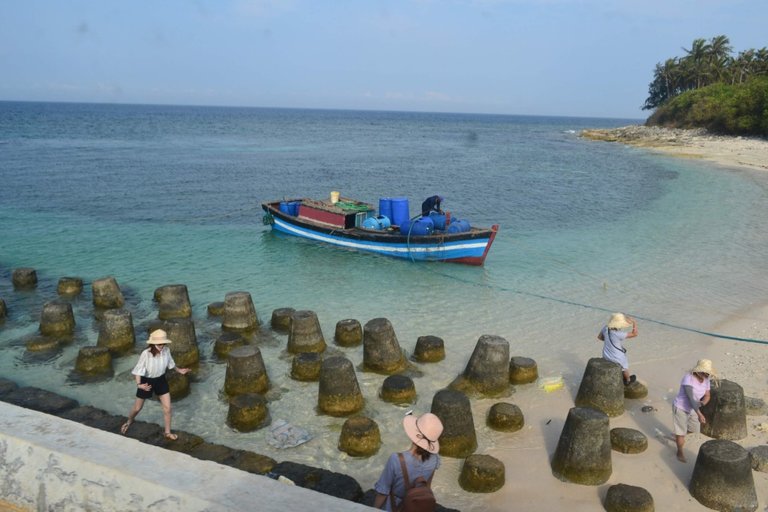 Currently, I live in Lon island, there is a deep-water port that is very convenient for boats to dock, so most tourists come to Lon island first, then go to Be island by canoe. In the afternoon at Be Island we had great experiences.
Let's go back to Lon island to watch the sunset 😊!
Sunset on the sea
Looking down from the top of the mountain, you can see a panoramic view of Ly Son island sparkling with lights. The sunset gradually fades out the last rays of light to make room for electric lights. Maybe after a day of traveling, what we need is simply to sit back and watch the surroundings, listen to the sound of the waves.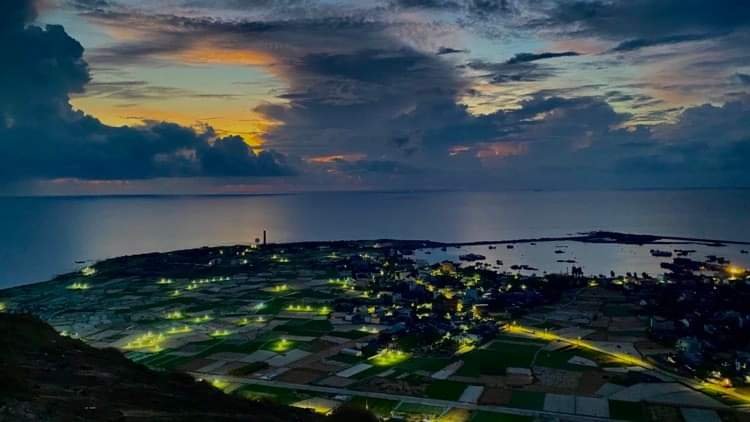 Just close your eyes, you can see the whole beauty of nature in your head. Come to think of it, I just want to catch a train home right now!
So we have experienced the scenery of a day in Ly Son island. Our tour must stop here. Because tomorrow you have to go back to the busy city to work. But don't forget that I always welcome you to come here and bring you great experiences 😌.
I want to tell more about my island, but maybe my post is already quite long. There are many interesting things about the life, culture, and people of Ly Son island that I will tell you in the next episode. Look forward to my next episode and don't miss me too much. I will be back soon 😇.
---
Thank you to everyone who read this article of mine.
---
I love you all ❤️❤️
---
---