Karaoke, a fun thing in Vietnam
I don't know when karaoke appeared in Vietnam and when I was in elementary school, I still didn't know about it.
Is there karaoke where you live?
I find it quite common in Japan and Korea as well. In Vietnam, they will buy karaoke machines, build soundproof rooms to let you sing comfortably. You will have to pay by the hour to use the room. Many places serve food and drinks. Nowadays, you can find karaoke bars mostly in densely populated areas in Vietnam.
It was not until my 11th grade year that I first entered a karaoke bar at the end of the school year party. At that time, with the culture of my family and most of the people around me, the Karaoke bar is really something very expensive, extravagant and not good. Those places are not for students like us and parents often forbid their children from going there. Maybe it's because TV often has bad news about those places, or in movies I rarely see images of people having healthy fun at karaoke bars, but often seeing them doing bad things there. So people think that those who go there are usually bad people.
I still remember my first time going to karaoke, it was quite an enjoyable experience that makes me laugh every time I think about it. At that party, my mother gave me 50,000 VND (about 2 dollars).We had about 8 people, 3 country boys and 5 city boys. I have to explain to you country boy and city boy a little bit. Where I live, there will be a town in the center, which is the most developed. There will be a big market, a high school, a hospital, and around there will be small villages like where we live. Each village usually has 20 - 50 households and almost everyone knows each other. If there is something wrong with anyone's house, the whole village will know tomorrow morning.
In secondary school, we will study at our village's school. In high school, all the villages will come to the town to study. People from the village like us will look like country boy, and people living in town will be called city boy.
We are unfamiliar with cafes, supermarkets, hotels, internet shops and of course, karaoke bars. People in their street are usually very confident and outstanding. They dress well and have a lot of modern clothes, and know more about everything in the street than we do. But the friends in my class are really nice and friendly people.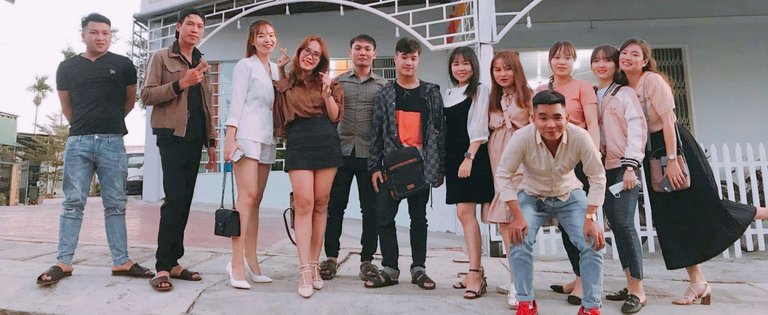 The first time we were led to karaoke by the street friends, we were very surprised. There are many similar rooms that if you don't pay attention, it's easy to mistake someone else's room. The friends in the street are very natural, they choose songs and sing. We feel very comfortable but still dare to sit still and listen.
They asked me to help me choose my favorite song. But because I was shy and didn't dare to sing, I said that I couldn't sing. Sounds funny, doesn't it? Because all primary and secondary schools in Vietnam teach music and you must be able to sing to graduate. After that, a friend saw that I was self-deprecating, so he said: "let me sing first". And you confidently choose a song and sing. I don't know if it was intentional, but at that time I had to hold back my laughter, because he really didn't sing very well. Although he can't sing well, he is still very confident in performing, he does the moves of professional singers.
The awkward atmosphere was dispelled and the other friends all danced along. To this day, I'm really grateful for that. Thanks to him, I felt more confident and then I started singing my first karaoke song of my life 'Nửa vầng trăng'.
Now I'm not as self-conscious as before. On the contrary, I love going to sing with my friends. My recent favorite songs are: 'Sóng gió', 'Từ em mà ra', 'Tâm sự tuổi 30'… If you like, you can listen to them on YouTube.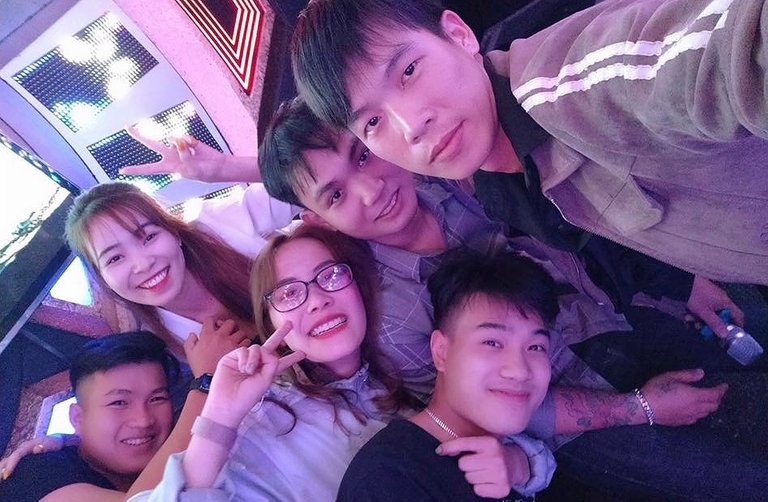 I don't know since when karaoke has been very popular in Vietnam. People often go to karaoke bars after birthday parties, after going to weddings, parties like class reunions, new employee welcome party or congratulatory party for something.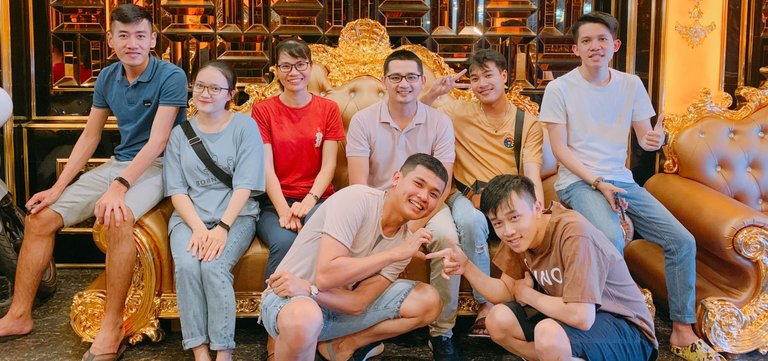 One of the things that makes me love going to karaoke is that people don't care if you sing or not. People just want to hear your voice and your job is to confidently sing your song. No one will criticize you for not singing well. I dare to assure you of that.
When I was in Japan, I often heard Japanese friends say that they often went to karaoke alone. I was really surprised when I heard about it. I've never been to karaoke alone. In Vietnam, if you go to karaoke alone, people will find it very strange. In Japan, they consider going to karaoke alone as a way to relieve stress. I found them to be smart, it worked, and it didn't hurt anyone. I am a person who has always believed in the magical effects of music.
Going back to the story in my village, now people in my village have less bad thoughts about karaoke and they no longer ban their children from going to karaoke. But elderly people like my parents seem shy to go to karaoke, they think karaoke bars are only suitable for young people. Actually, my parents and grandparents have never been to a karaoke bar. Instead, they buy karaoke machines themselves to sing at home.
And I realized one thing is that all Vietnamese people like to sing, even the most serious ones. You may not see it, but sometimes they sing alone, when their mood is happy. We also often like to share our favorite songs with others. Music is amazing.
I think that one day, when my extended family gets together, I will invite everyone to a karaoke bar to try it out. And hopefully my parents will also join.
---
Here are my happy moments with friends at karaoke at my friend's birthday party.
Birthday parties at karaoke bars are also very interesting.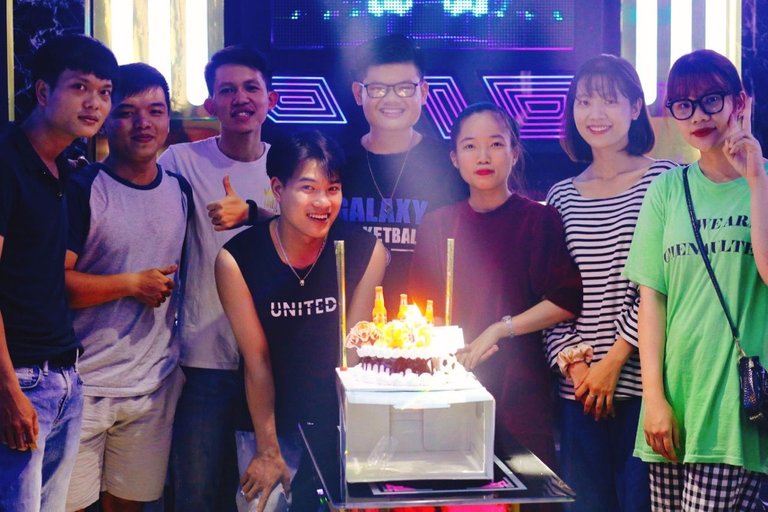 Karaoke also has a lot of delicious food and beer.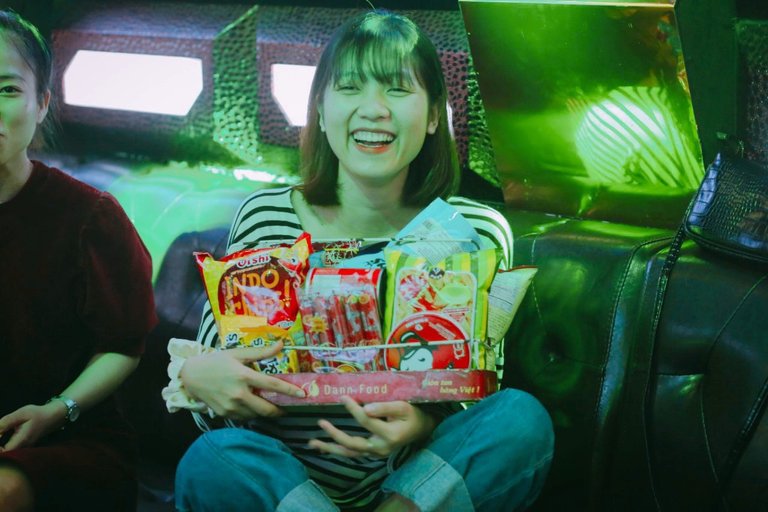 My cute and funny girl.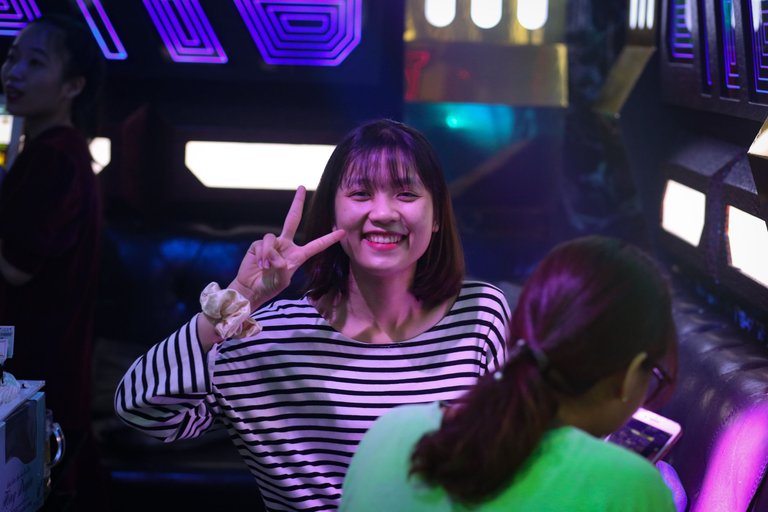 People often drink beer to feel more confident when singing.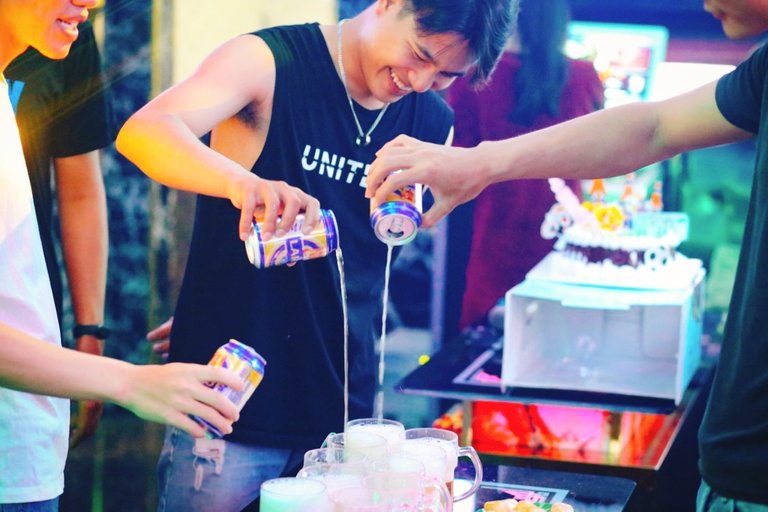 When you've had too much beer.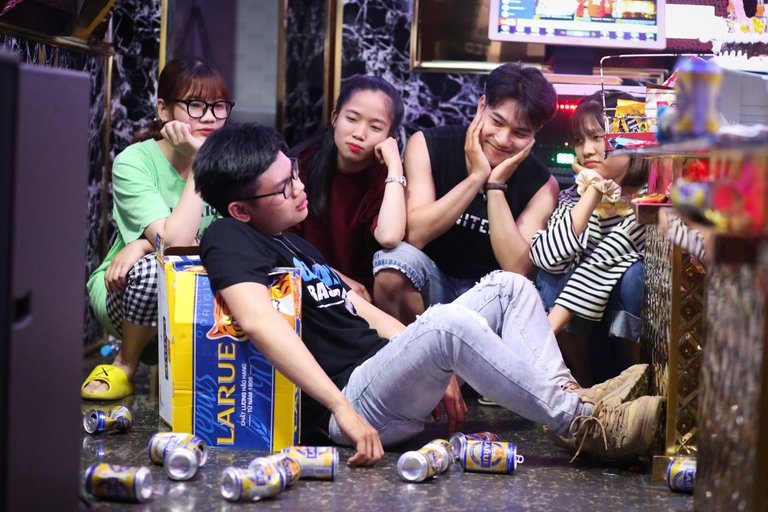 No one can break your sleep.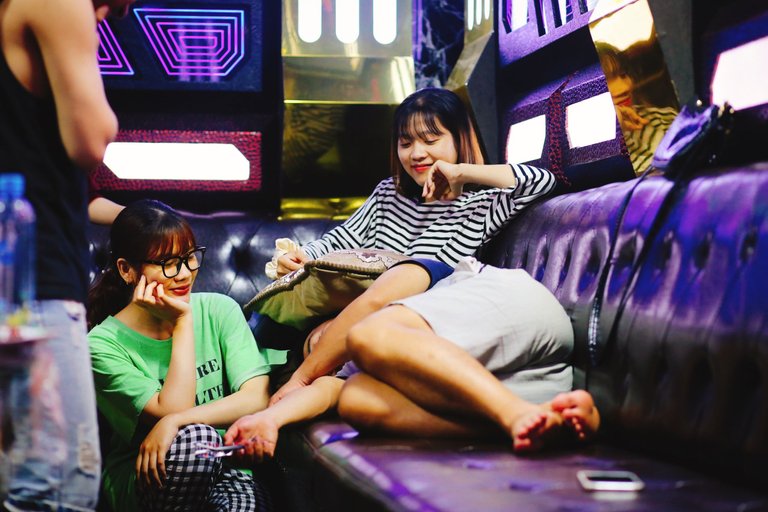 Everyone laughs happily.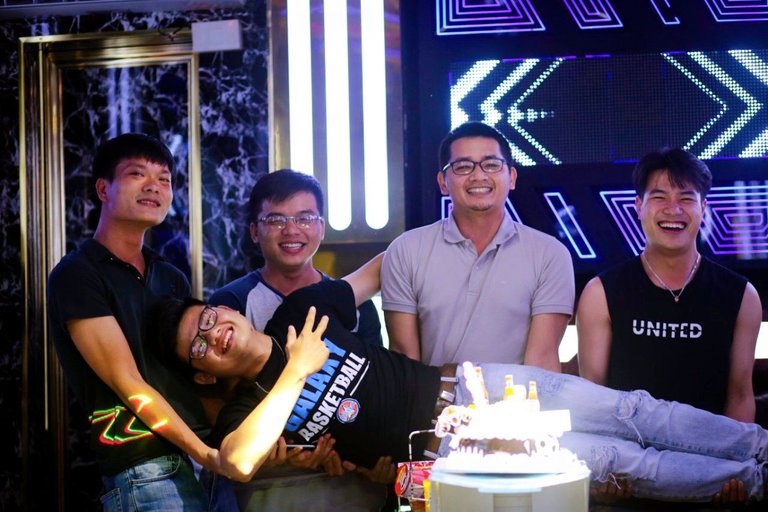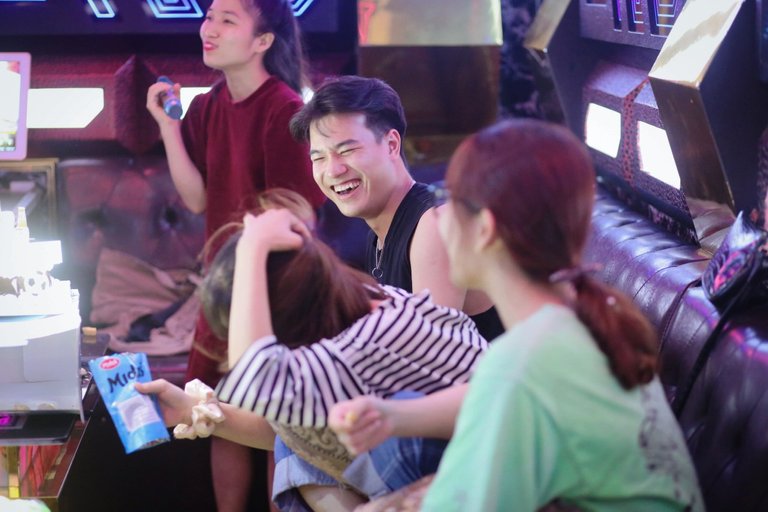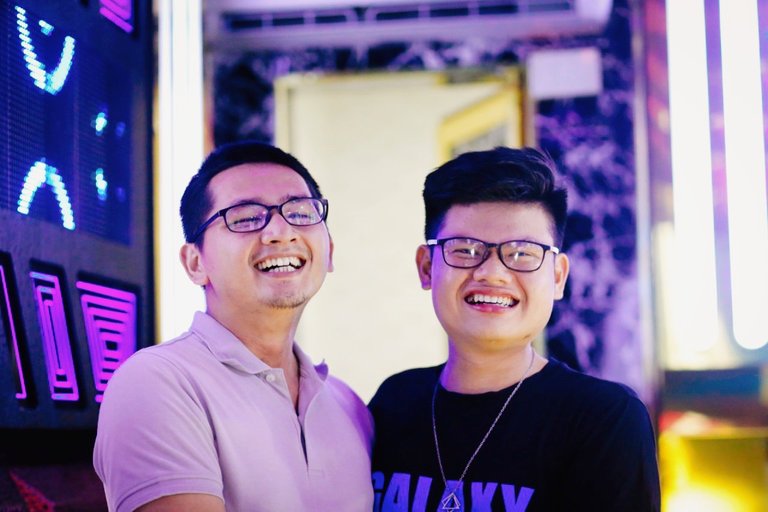 And thank you my friends for all!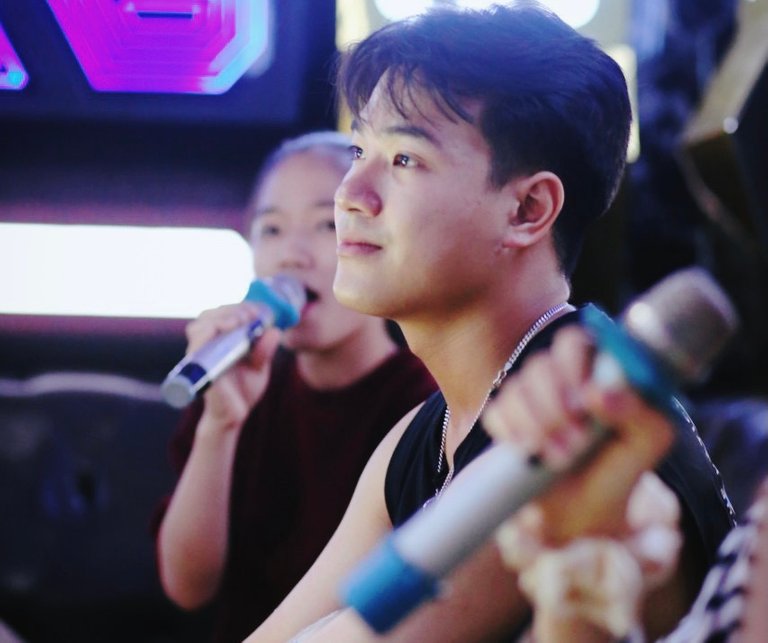 ---
Thank you for reading this article and have a nice day. 😍
---
---
---