Happy weekend at Tien Sa beach with friends
Hello everyone!
It's me again, I'm Quyet.
Time flies so fast, doesn't it?
After hard-working days, it's finally time for a weekend to rest and relax.
How's your weekend? Is it fun ❤️?
On weekends, I usually allow myself to wake up later than usual, around 7 am. After I finished my personal hygiene, I walked and exercised a bit near my house and bought "Banh mi" on the way.
"Banh mi" is a popular and famous dish in Vietnam. I really love it because it's so delicious and cheap 💸. I bought it for about 10 thousand VND (0.4 dollars).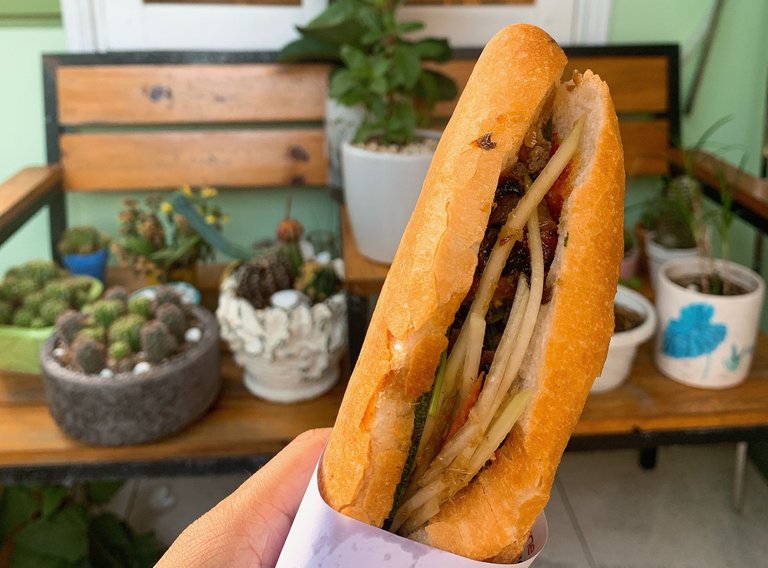 As you can see, there are meat, vegetables, and sauce inside 😋.
While eating and thinking about where to go out and what to do today, by chance and luck, I learned that Do Do plans to go to Tien Sa port with his group.
Mr. Do Do is gentle and kind, 🤠 who introduced me to Hive. You've probably seen him on Hive too. His account is @dodovietnam.
In order for you to better understand the place we are going to, I will introduce the beach at Tien Sa port. So what does the name "Tien Sa" mean?
"Tien" in Vietnamese means divine. Like if you do a good job or you have a hard time, that person will appear and grant you a wish. Although I have never met them 😇.
"Sa" means to descend, to get stuck. Therefore, Tien Sa is translated as the fairy of the world. Sounds reasonable, right? Because the fairies saw the beautiful beach and came down to play here, they named this beach Tien Sa. As I understand it is so. If you are interested, you can find out more on the internet!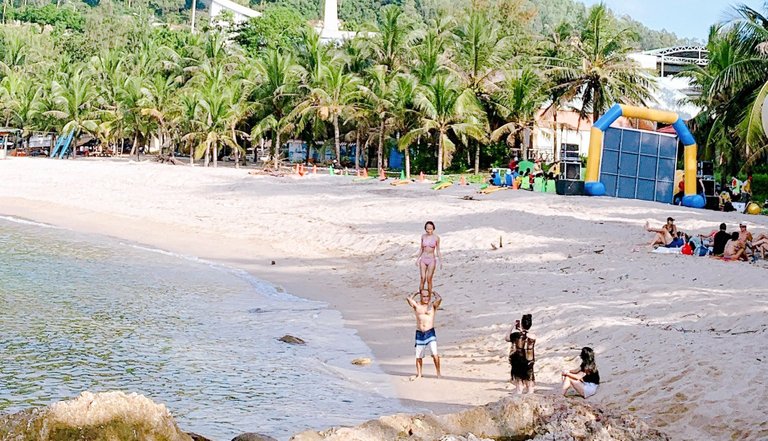 About its location, it is located in Son Tra District, Danang city, Vietnam. If you go from Da Nang airport, it will take you about 30 minutes. You can easily find it on google map.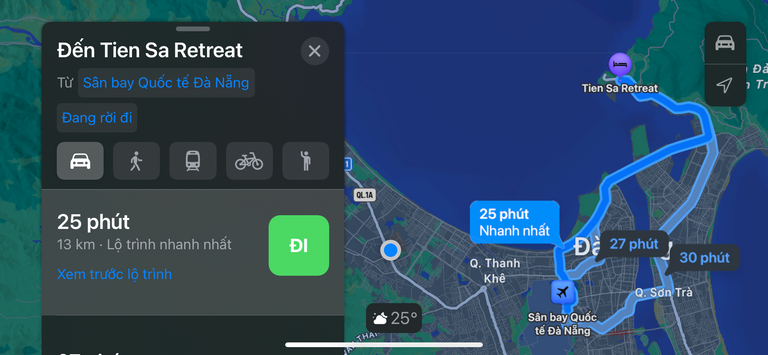 We went by motorbike and it took about 30 minutes. I got there around 3 pm. The beach is really nice and the water is clear. A few friends couldn't wait for this moment any longer, rushing into the sea to bathe.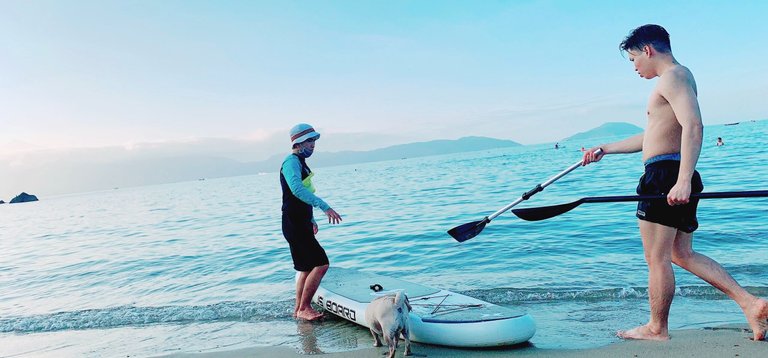 We decided to go for a walk first and explore around. The dogs also agreed and followed us. They also seem very eager. Just run around and wag your tail happily.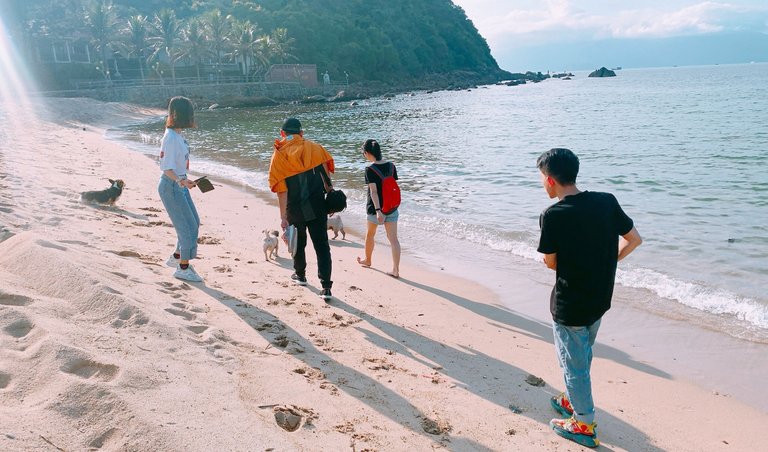 This is Tien, my girlfriend. A person who is very hyperactive and curious about everything.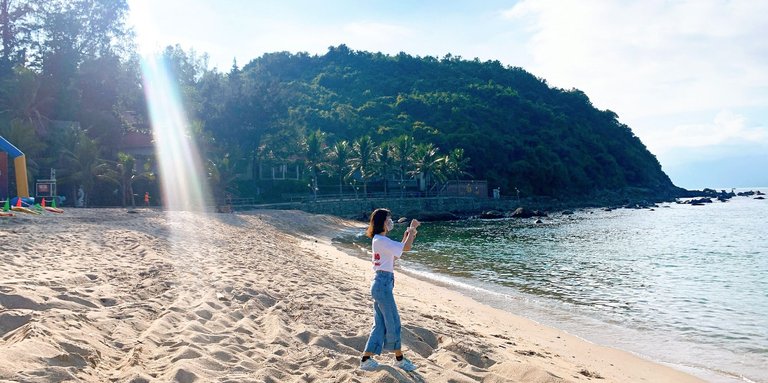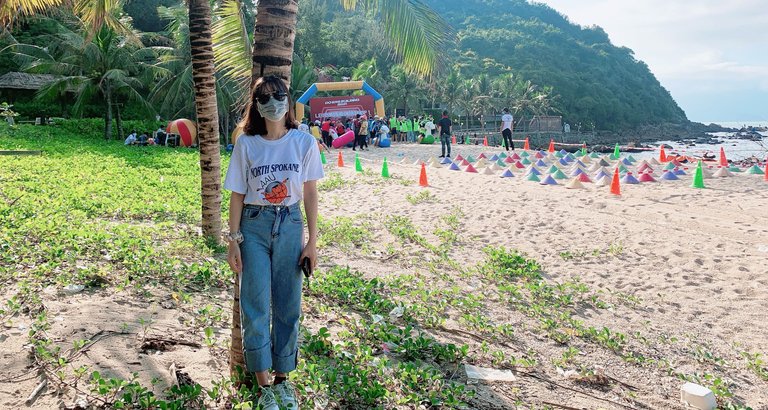 If you pay attention, you can see that behind there is a group playing games. Here you can buy tickets to camp and have a small party with grilled meat, grilled seafood and some fruit, cakes, etc. That's great.
The other group is holding team building on the beach. They are divided into 3 teams yellow, blue and red. I don't know which team won, but looking at them was fun.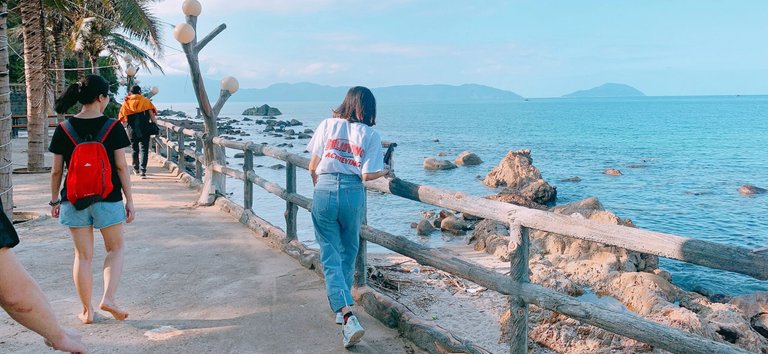 Our group continues to explore around. My girlfriend is always paying attention and looking for something. She believes in fairies, treasures, and pirates and she even hopes to see mermaids.
After a while of searching, there were results. Here, you can see, she caught a crab. But the crab was only her companion in the photo because she later released the crab back into the sea 🦀.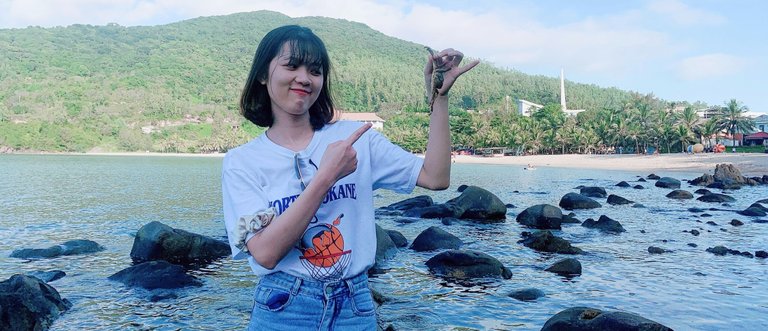 My main duty is to watch her, take pictures and go for a walk. She looks so happy after a long stay at home because of the Covid epidemic.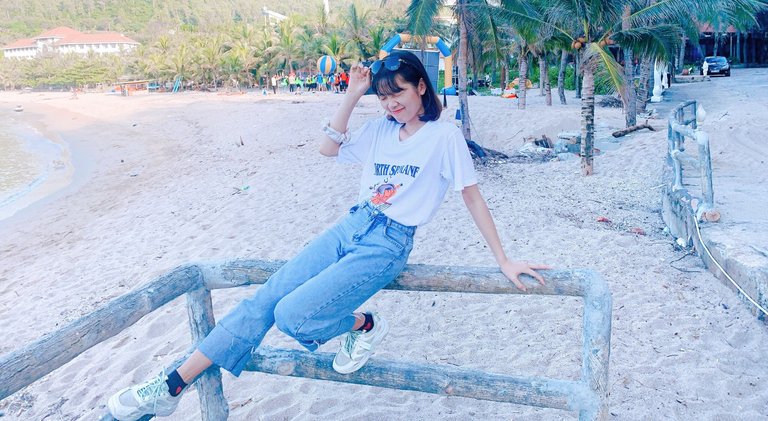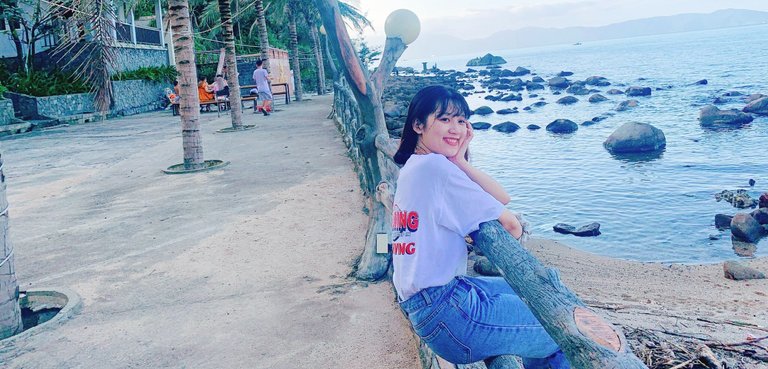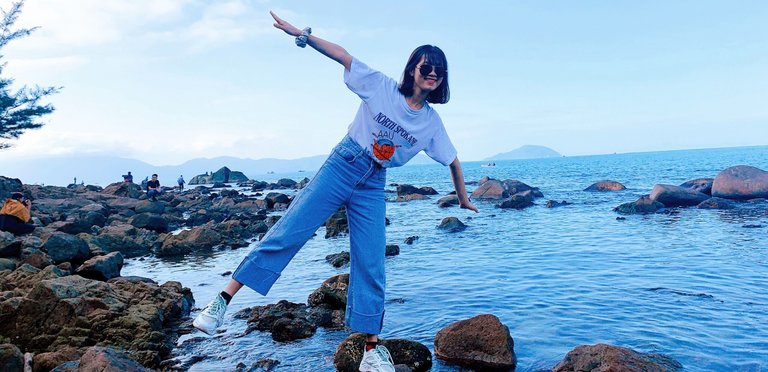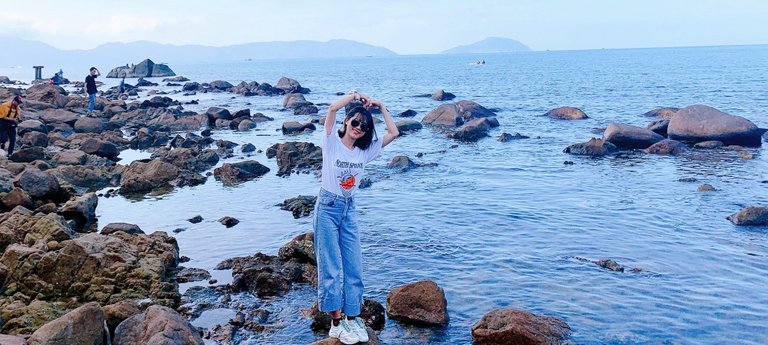 Luckily, she didn't forget about me either.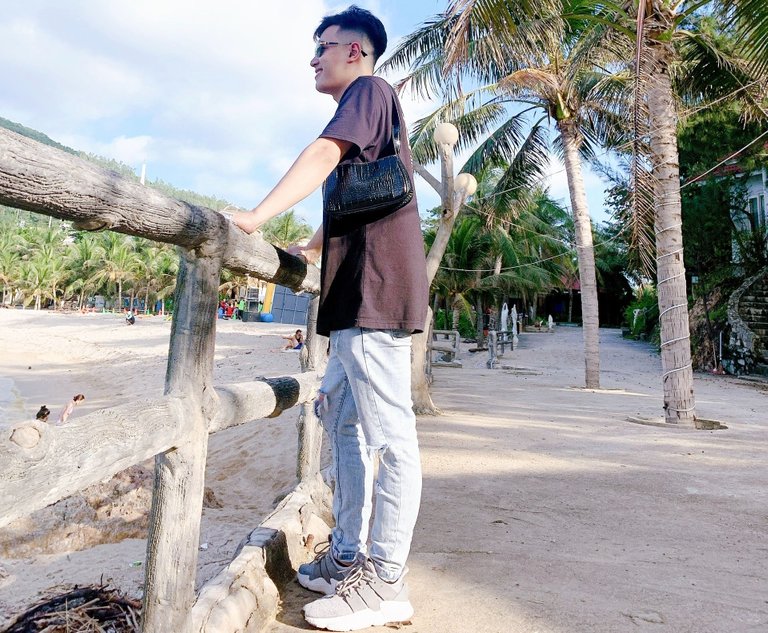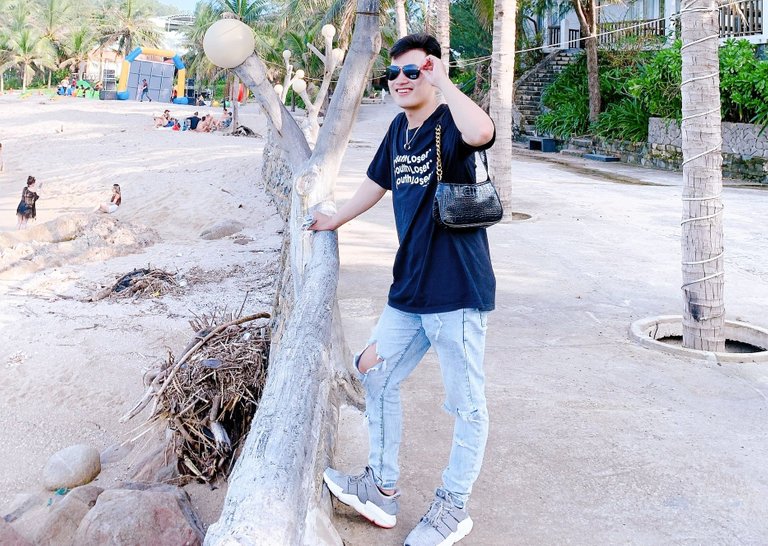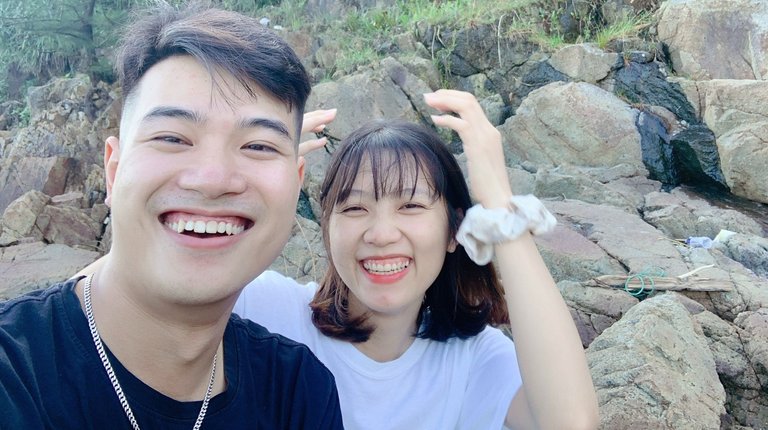 After walking for a while, we sat down and enjoyed the atmosphere here. The sea is beautiful. Sometimes I also think, it would be great if every day when I wake up I can see the beach.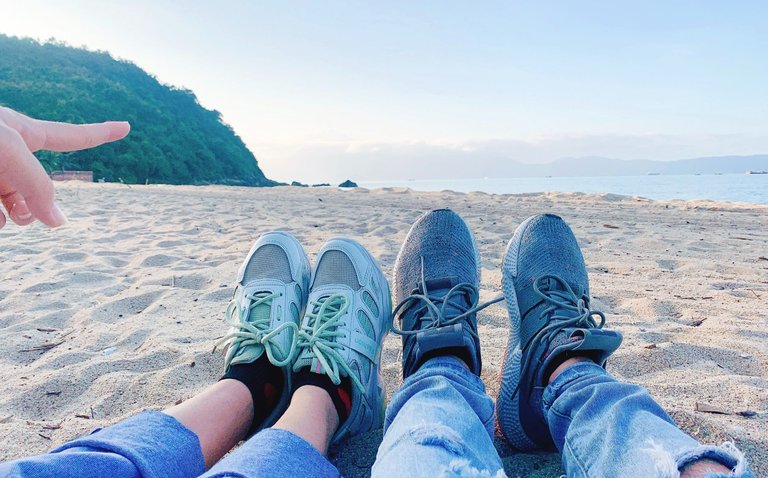 In my hometown and the places where I lived before, there is no sea. I also know that many people, only see the sea through TV and on the internet, but have never seen the beauty of the sea with their own eyes. I'm really lucky.
After resting, everyone started to go to the sea to play and paddle Sup.
This is also me and my girlfriend's first time rowing Sup.
She looks so excited, so am I.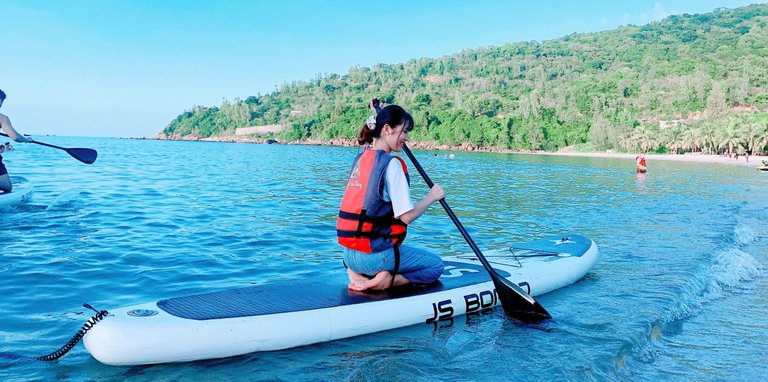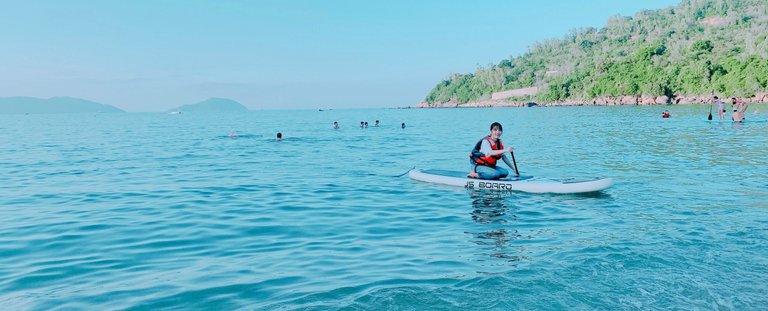 You see how cool she is right? At first, her rowing looked very smooth and professional. But after a while, she rowed around and couldn't return to shore. 😂 Looks very funny. Our group formed a team to rescue her 🛶. Maybe she had a great experience.
We also paddled to the sea and watched the sunset. I'm sorry I can't show it to you because my friend hasn't sent me a picture yet 😅.
After almost 2 hours of rowing Sup, we returned to the shore.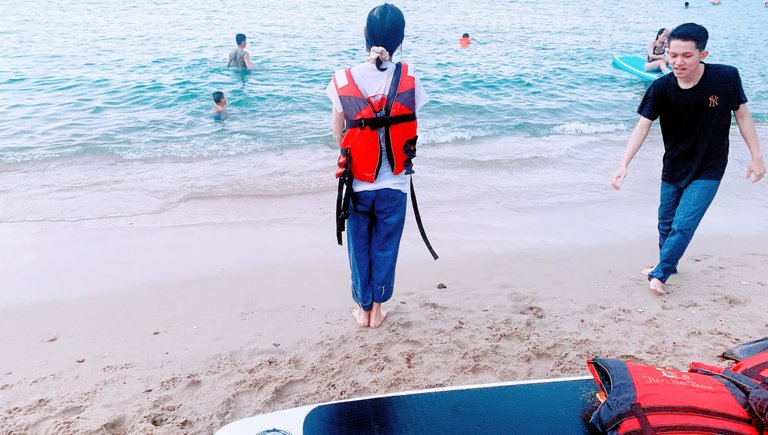 Did you see something special? Right. My girlfriend is wearing a life jacket upside down. Since they were all drenched, they should be dressed like this to avoid the cold wind. The seawater is warm, but when you go ashore, it will feel cold so I think you should bring a towel or a jacket to keep warm if you go in the afternoon. Since our coats are quite far away, we ran a few laps to keep warm.
Around 6 o'clock everyone returned home.
This article can not describe the beauty and excitement of Tien Sa beach. So if you have a chance, come and experience it 😍.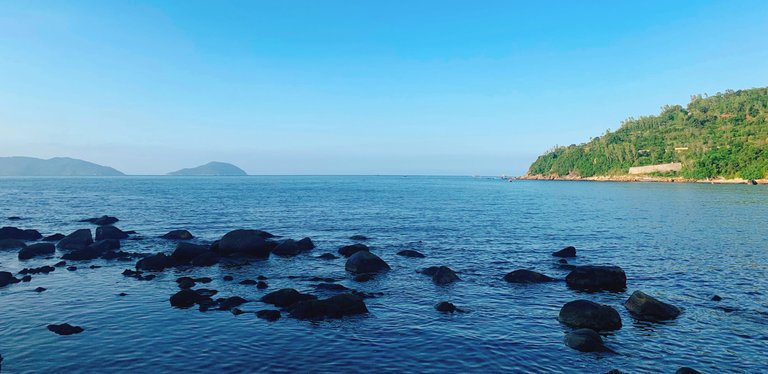 I hope that you had a nice weekend. But don't be sad, or worry if you're busy this weekend and can't go out. Come to Hive, where we are, we will try to convey the most joyful images and feelings about the outings so that you feel like you are here and experience it.
Wishing you a new week full of energy, success, and luck ❤️.
---
Thanks for reading our article.
---
---