Utilizing LeoThreads to the maximum #Threads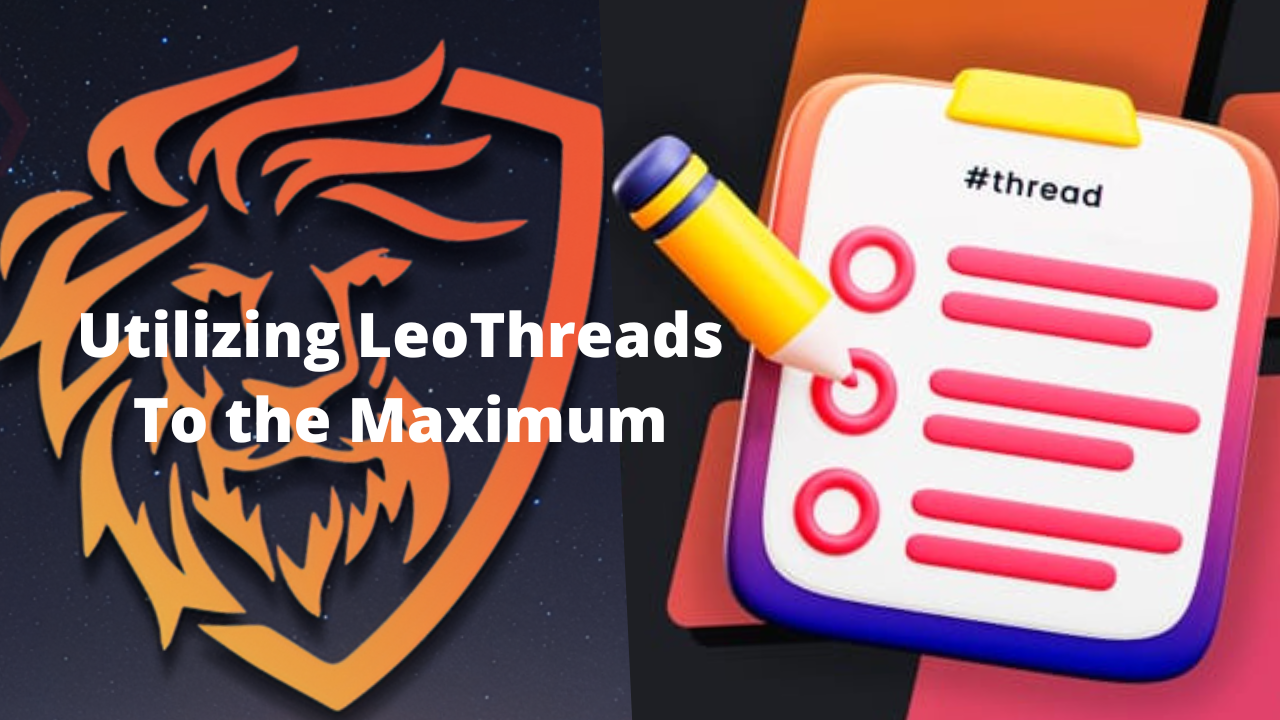 LeoThreads is enhancing the Leofinance ecosystem and providing better visibility and adoption for the Hive blockchain in general as it allows easier onboarding via something as simple as a twitter account, enhances better interaction and engagement via short-form content, better visibility, promotion of content, and the opportunity to earn LEO tokens with threads as little as 240 characters.
This new development will add more energy to the LeoFinance ecosystem since it will be featuring several twitter users who find it convenient to create contents several times daily engaging several other posts. Threading is the new normal in microblogging
In fact, I have told several friends from other blogging/microblogging platforms and are excited to be a part of the Leo train via LeoThreads, especially since they'd not only be microblogging but will also be earning LEO tokens for their engagements.
---
#LeoThreads has a lot of advantages which are unlimited and can be utilised in more ways than we can imagine. It's utilization is simply dependent on our ability to observe the obvious and think beyond the box while discovering several other possibilities and opportunities it provides to us. Here are some advantages #LeoThreads provides.
Ease of Onboarding
The rebranding/restructuring of LeoFinance via LeoThreads allows easier onboarding since new users can easily sign-up/sign-in by simply using a twitter account. Hence, making it easier for friends and family to join the Leo train without doubts and the stress of creating a typical Hive account. It's time for them to begin Threading and engaging in a much more fun way than on twitter.
It's an opportunity for me to bring friends and family who enjoy microblogging on platforms such as twitter/noise.cash into the blockchain via LeoThreads. I've begun spreading the word and a surge of newbies will be received shortly.
---
Better visibilities
LeoThreads provides users with better visibility because that can simply create Thread which will be visible by everyone. A more interesting/informative thread means better engagement on your thread, Interacting with other user's threads also influences visibility to the maximum.
---
Content Promotion
The visibility provided by LeoThreads can also be in form promotion for your brand, business or even your Leofinance articles. For instance, as a user with little following and less visibility of content, I'm able to promote my content via LeoThreads in a bid to gain visibility and new friends in the process.
Content promotion is an advantage provided it is not abused/ done in excess. I'm not one to judge hence it's not for me to decide how much promotion is too much promotion. I'd rather not think much about it but have fun with Threads.
---
Earn LEO tokens
This is a game changer for people who spend most parts of their days on twitter. Your short posts will earn you LEO tokens if someone with a nice amount of Leo Power (LP) upvotes your content. Which means that your content must be one of interest for it to be eligible for upvote from whoever comes across it.
Don't focus on the upvotes but let quality/interesting content be the focus and the rewards will come along.
---
Earn Ecency Points
Surprisingly, Ecency points can be earned from interacting on Threads, You're probably wondering how. It's not as complicated as you're probably thinking. You can simply create a Thread on LeoThreads, and whenever someone comments on your thread, you can reply/upvote via the Ecency front-end and earn points for doing so. It's so easy.
---
There are many more ways to utilize LeoThreads but the few ways mentioned above are the commonest ways to take advantage of the new innovation in the Leo ecosystem. #LeoThreads is a step ahead in the world of microblogging by providing the advantages that no other crypto-social platform has provided.
LeoThreads is the new normal!
Follow me on: LeoFinance read.cash [noise.cash](https://noise.cash/user/kristoffer
Posted Using LeoFinance Beta
---
---