LeoThreads defeats Twitter and noise.cash #Threads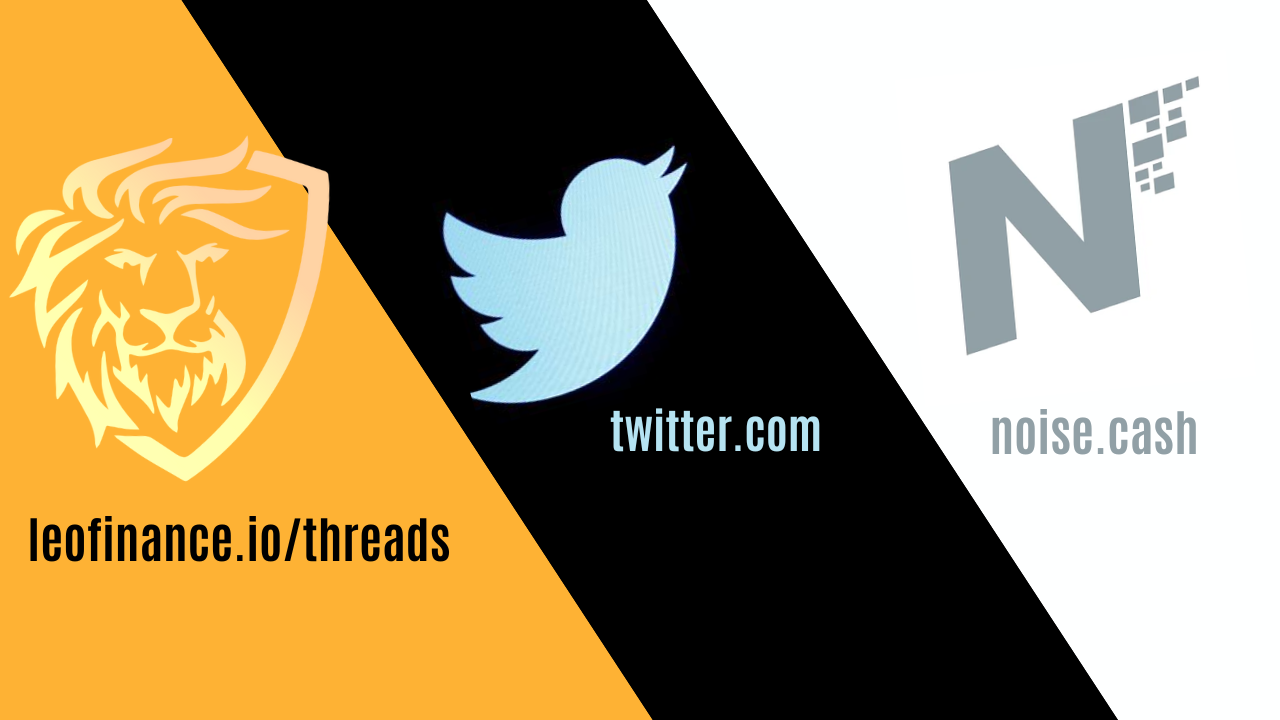 With the innovation and launch of #LeoThreads by Leofinance just three days ago accessible via Leofinance.io/threads, there's been several thousands of Threads and interactions within the first few hours, as well as new users on the blockchain. According to @khaleelkazi, 'Y'all are threading so hard that you broke the UI'

Thus proving that this innovation is barely one amidst the several hundreds and thousands of possibilities the blockchain has to offer.
The excitement provided by the launch of LeoThreads resulted in writing the article THREAD- The Unlimited Possibilities! while also sharing the news with friends who blog/microblog on other platforms but have doubts about writing on Leofinance due to its complexities.
A very surprising question ensued - 'is it like noise.cash?'. Surprisingly, No. It's not like noise.cash. It's like twitter, but better!
---
Noise.cash versus Twitter
Noise.cash is a microblogging platform similar to twitter except that it is powered by cryptocurrency BCH (Bitcoin cash) which allows users to receive/give upvotes in micro-BCH for creating short and original/quality content, thus making it a step ahead since your thousands of tweets would earn you nothing.

Unfortunately, censorship on noise.cash is far worse than twitter's, thus making it a 'do-good version' of twitter since freedom of speech is limited. Your content is highly regulated/controlled. noise.cash is very centralized and has all the downsides of traditional social media sites.
Much worse than centralisation and censorship is a swarm of unregulated spammers who create multiple accounts to support, downvote/report anyone at will, which sometimes result in a meaningless suspension of accounts since the reports/suspensions are not handled by humans but automated by bots which can't tell the difference, thus begging the question of transparency. The support/creative team are literally dead!.
Contents are not published on-chain, and the lack of a sustainable system makes it off-putting since the Bitcoin cash (BCH) funds are only gotten from daily donations by Bitcoin cash evangelist Mar De Mesel. The bear market ensures reduced rewards since rewards are limited to the donations alone. The donation stops and the death of noise.cash follows. A not-so-bright future innit!
Unlike twitter which provides better visibility for your brand or business, noise.cash has a very limited perspective/visibility, and is not worth the twitter comparison.
---
LeoThreads Versus Twitter vs noise.cash
LeoThreads, a rebranding/subsidiary of Leofinance offers the Twitter* advantage and much more via a sustainable system which allows users to earn LEO rewards from microblogging while eliminating the scepticism and debate of length versus quality.
The existence of an anti-spam system via RC (resource credits) makes it near-impossible for spammers to flourish and perhaps cheat the system without having to pay beforehand. Reports are examined by real people- Hive watchers, unlike on noise.cash, thus ensuring transparency.
Publishing of content on-chain and the added advantage of censorship resistance as any crypto-socialplatform should be makes it top-tier, as this ensures freedom of speech and full control/ownership of content. The ultimate microblogging experience is at hand!
LeoThreads defeats Twitter and noise.cash by an order of magnitude!
Follow me on: LeoFinance read.cash noise.cash
Posted Using LeoFinance Beta
---
---