Panglipuran Village in Bali : The World's Third Cleanest Village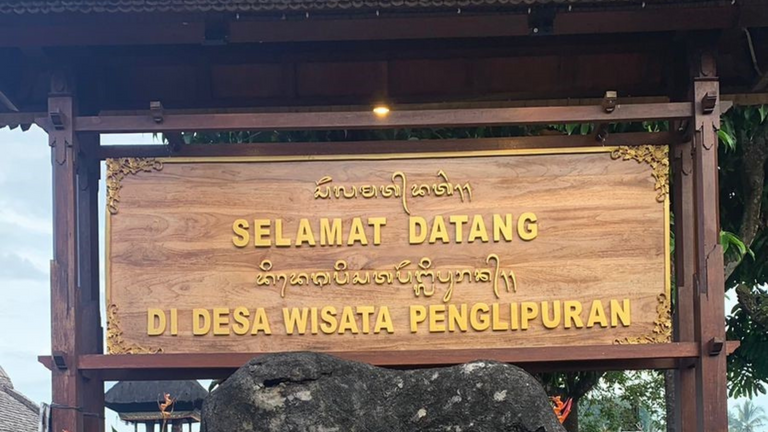 ~ 😘 Hello Pinmapple Community around the world 😘 ~
Welcome back to my post,
@queen-silvia
. This is another post which is talking about one of the tourism spot in Bali, Indonesia. Well, let me show you one of the most authentic village in Bali, Panglipuran Village. The picture above is showing "Welcome to panglipuran tourism village". Panglipuran is located in the city of Bangli, Bali province, Indonesia. It's a well known village as the Green Destination Foundation has nominated Panglipuran Village as the World's third cleanest village, due to its cleanliness and tidiness. If you already know about where the Bali island in the world map, let me show you where Panglipuran village exactly located in Bali map :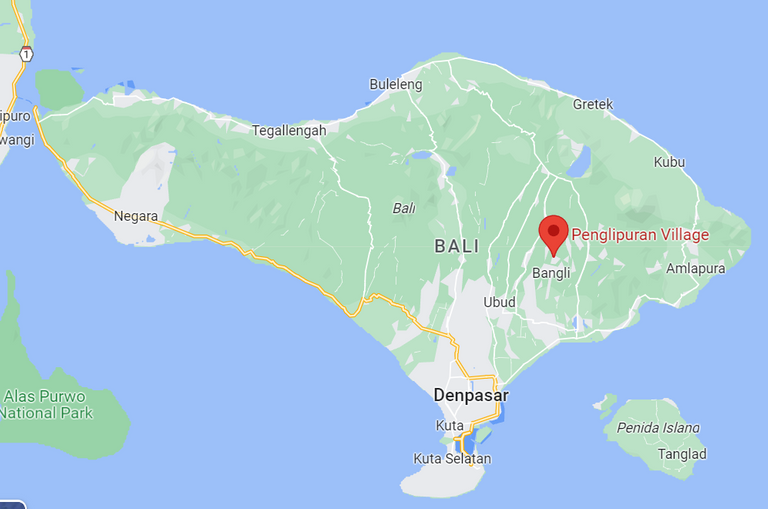 It's at the near center of Bali island. Alright, now let's see some photographs I took in Panglipuran Village.
---
Here is the main photos of Panglipuran Village, we can see the ladder in the main road which makes it different than other road in the world. In the edge of the road, there is grass to give some space between the local people's house and the road.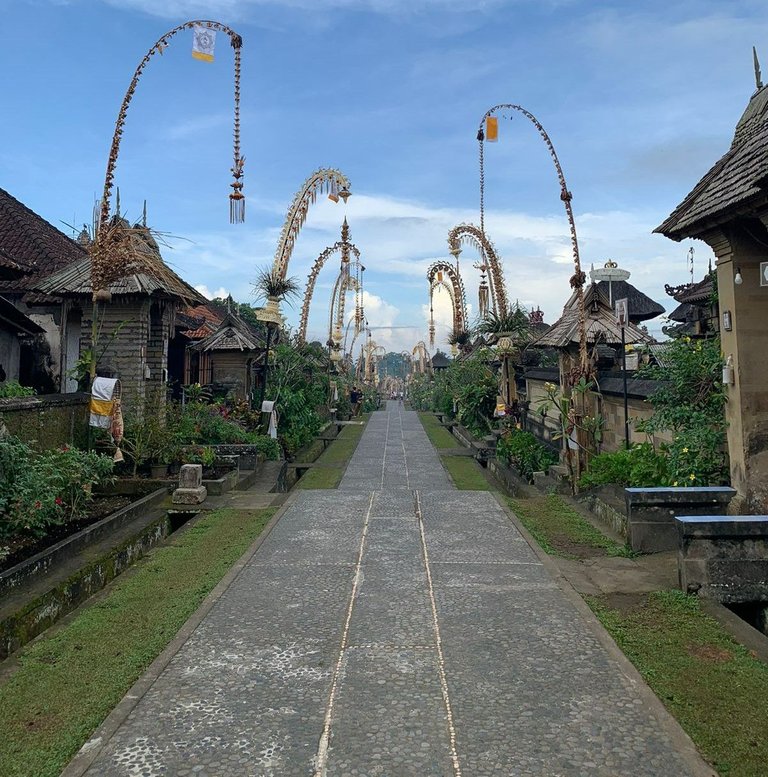 In every house, we can see the decoration that soars high in the sky. it is a home decoration as well as a tool used for special ceremonies. We can also see that each house has little garden in front of their house where people planted some indigenous flower there.
---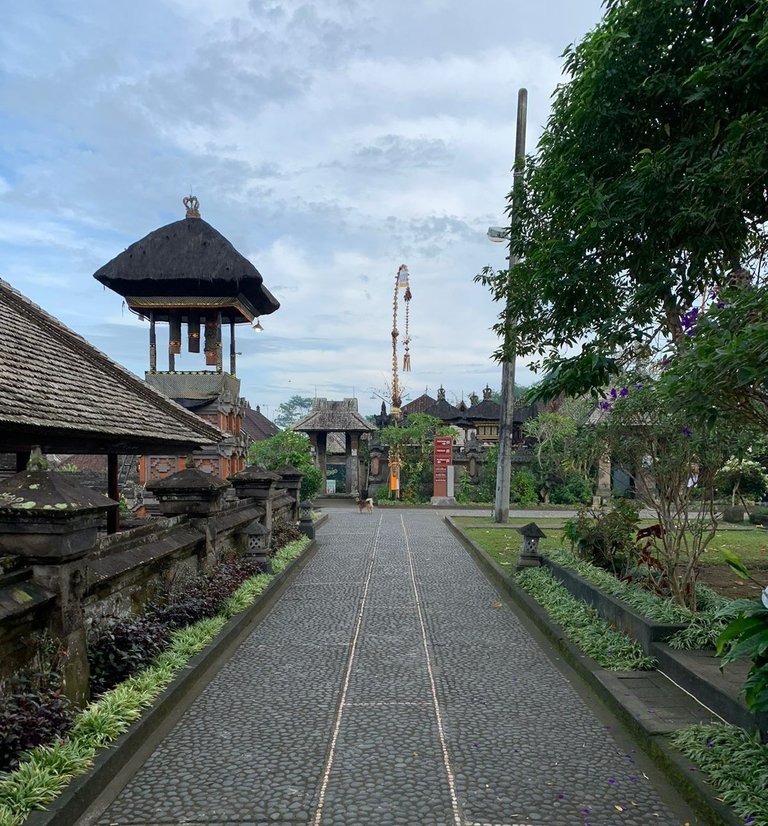 This is another view of the road, We can see a very high gazebo along with some stuffs that I do believe local people used it for the special ceremonies as well. What makes this village unique is that The Balinese culture is still 100% pure. If you guys want to see the "Real Bali" where there's no other buildings built from people outside of Bali then Panglipuran village is the best place to visit. balinese people also a great home for dog lovers as we can see there's a nice dog standing and looking at me (It's a cute dog, trust me 😄).
---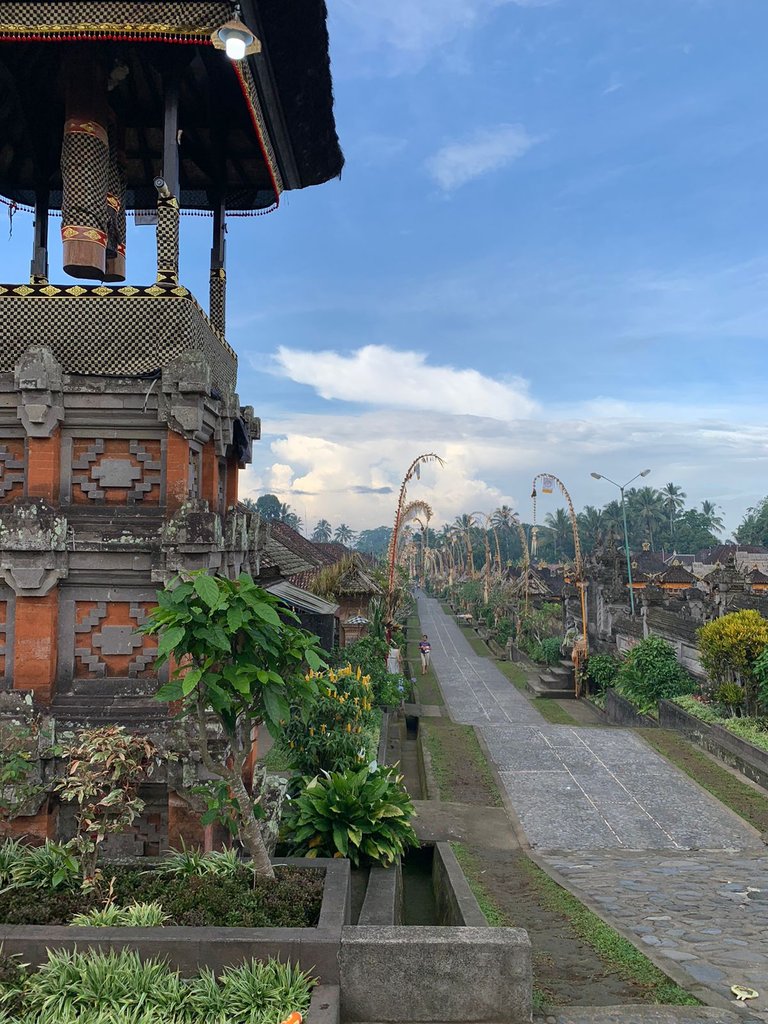 Here is the closer look of gazebo. Lots of plants and flowers makes the village even more wonderful. The roof of each building is also very unique, it has particular pattern which maybe you have never seen it before. Even as an Indonesian people, I only see the pattern when I came to bali only. I didn't find that kind of art outside of Bali region.
---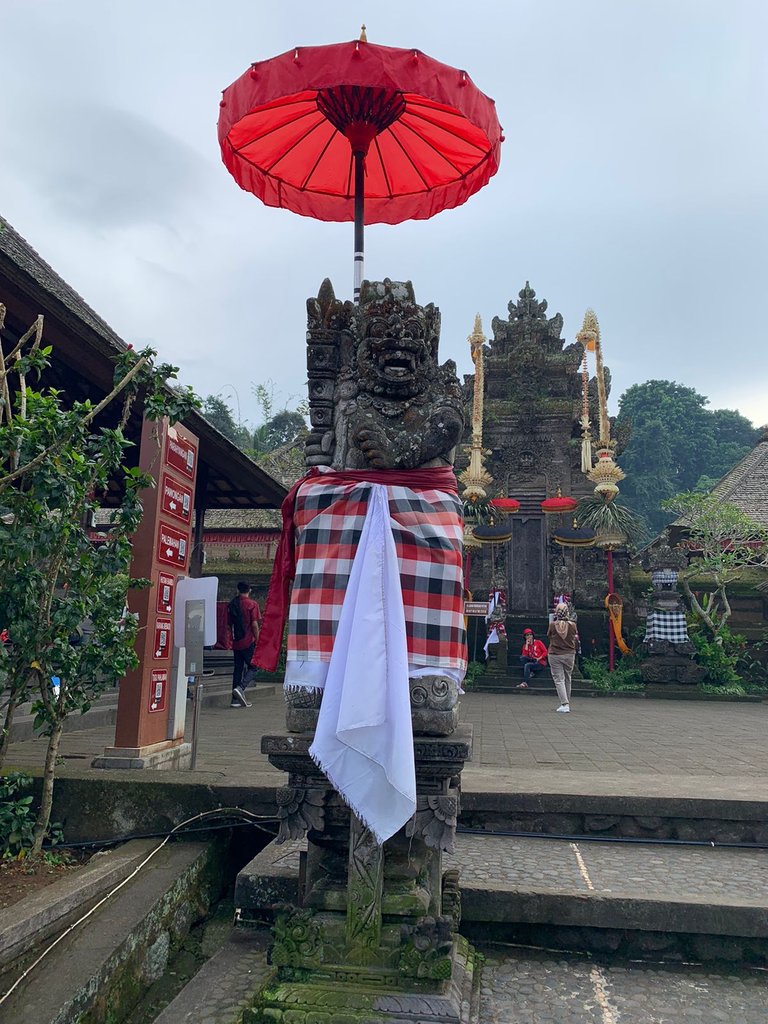 Walking down the road, you can see some nice statue made by local people. They also gave fine cloth on the statues to make them more attractive. Some tourists in the village, like me are very glad to take some photographs of the statue. You know guys, I think Balinese people are really expert when it comes to convert the stone into wonderful statue, They made it very detail to generate perfect result.
---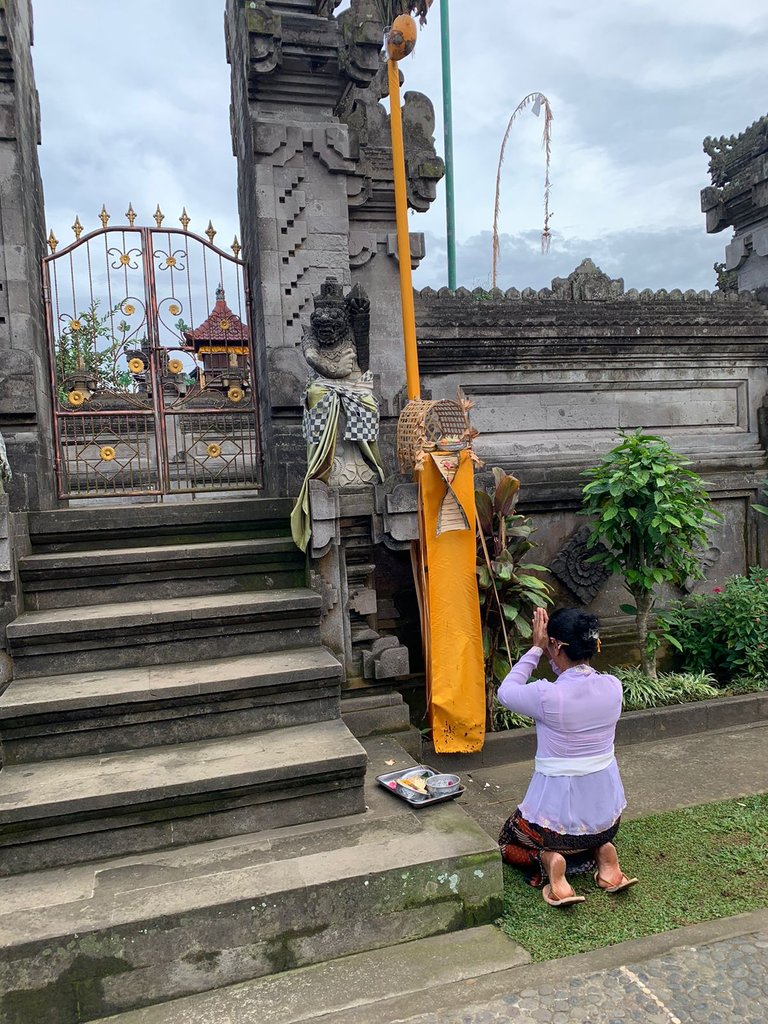 Here is also a beautiful culture that makes Bali wonderful. Regular Worship in the morning and the evening. Indonesia has lots of cultures and tribes but we live peacefully as we respect each other believes based on what we were taught. people in Panglipuran village always clean the worship area after doing their activities so they keep it clean all the time.
---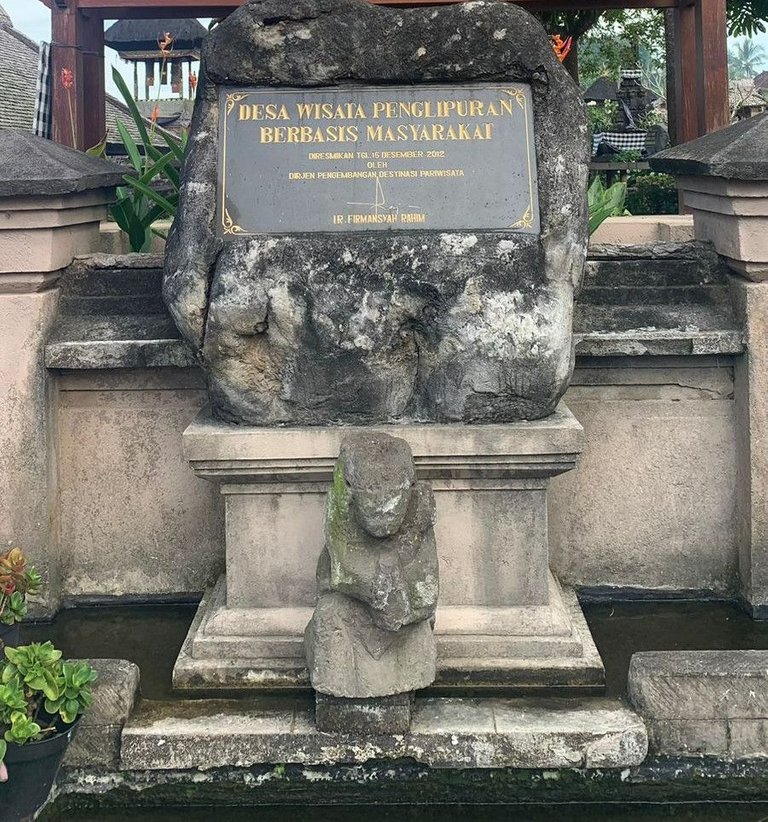 This is the stone where Panglipuran village was inaugurated as a tourist area on December 15, 2012 by The directorate general of tourism development, Firmansyah Rahim. Almost in all of the great tourism spot in Bali, there's an inauguration charter to show to all tourists.
---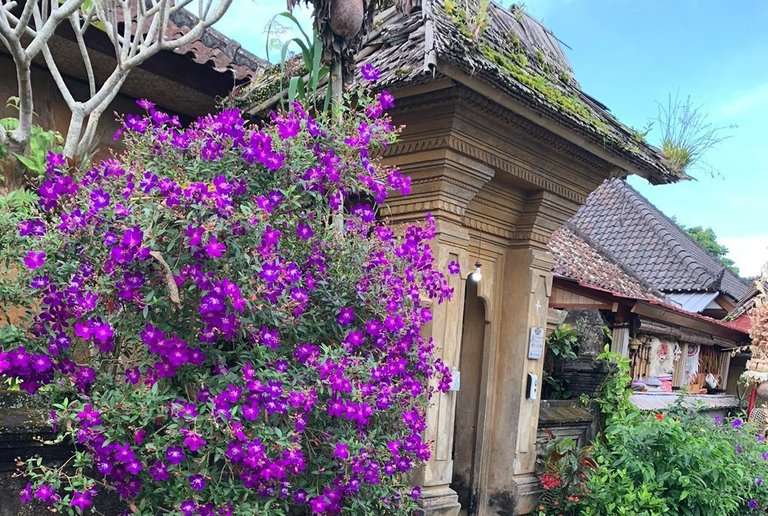 Here is the last picture that I took in Panglipuran Village, Every local people house has a unique entrance which is built very attractive. There's a special roof, lamp and wood carving which is quite wonderful. The purple flowers makes the house even much more cool and colorful. I really like this village, 100!.
---
I want to pin my post on pinmapple and here is the code I got from Pinmapple
:# (!pinmapple -8.45173 lat 115.35370 long d3scr)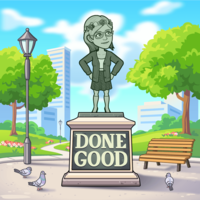 Alright guys, That's all I can share to all of you about Panglipuran Village, The World's Third Cleanest Village, in Bali, Indonesia. All the pictures in this post are taken by my camera. I hope you like the post and If you want to know about what's the best tourist destination Indonesia or Bali, Feel free to DM me in my contact below. Thanks for reading the post, any comments will be much appreciated, let's get to know each other :) :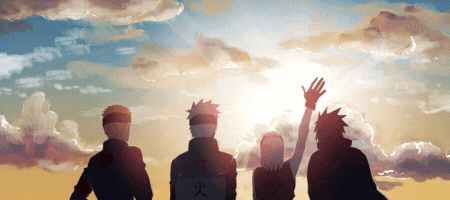 ---
---