My dCity.io UPDATE & NEWS+ dCity.io Giveaway Spin #5 - win 5000 SIM
Hello everyone!
I am happy to see many more people joined my dCity.io giveaway #4! 🙂
From now on, I am changing the format of this post a bit - I will share here how I play and my short thoughts & news about the game.
---
HOW DO I PLAY
Here I will share my current dCity stats, my goals and how I intend to achieve them:
As you can see on the picture below, previous week stats and change in stats are n/a as I am staring with this from today! As for goals, I assume that the method of small steps will work, so the first goal is to increase base income by a minimum of 10 SIM per week when I reach 4000, it will decide what to do next. The second goal is to climb up in the rankings, but this goal will not be determined by places in the rankings, but by the amount of passive earnings in Hive!
How will I increase my income and climb the rankings?
As I like the "luck factor" in games, I will be mixing buying/ printing new NFT's with buying cards from the market!
My ranking of the best INCOME cards:
Farm
Ice cream shop
Barber shop
Music store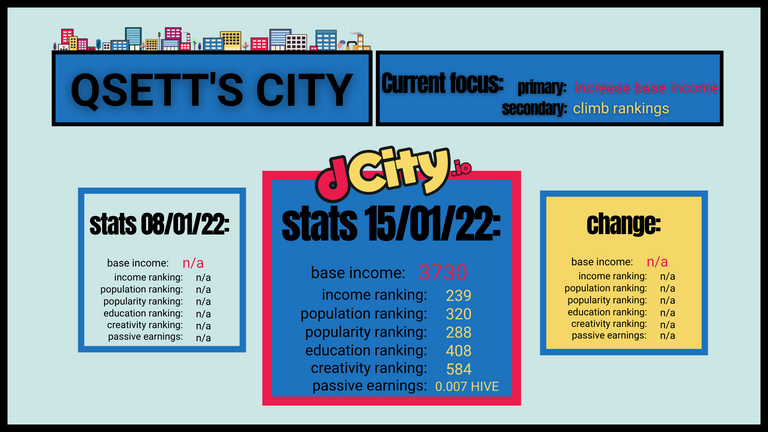 Wish me luck and good trades!
---
DCITY.IO NEWS
In this section, every week I will share thoughts and news from dCity that I came across - in a simple a bit humorous, short form of the front page of the newspaper 🙂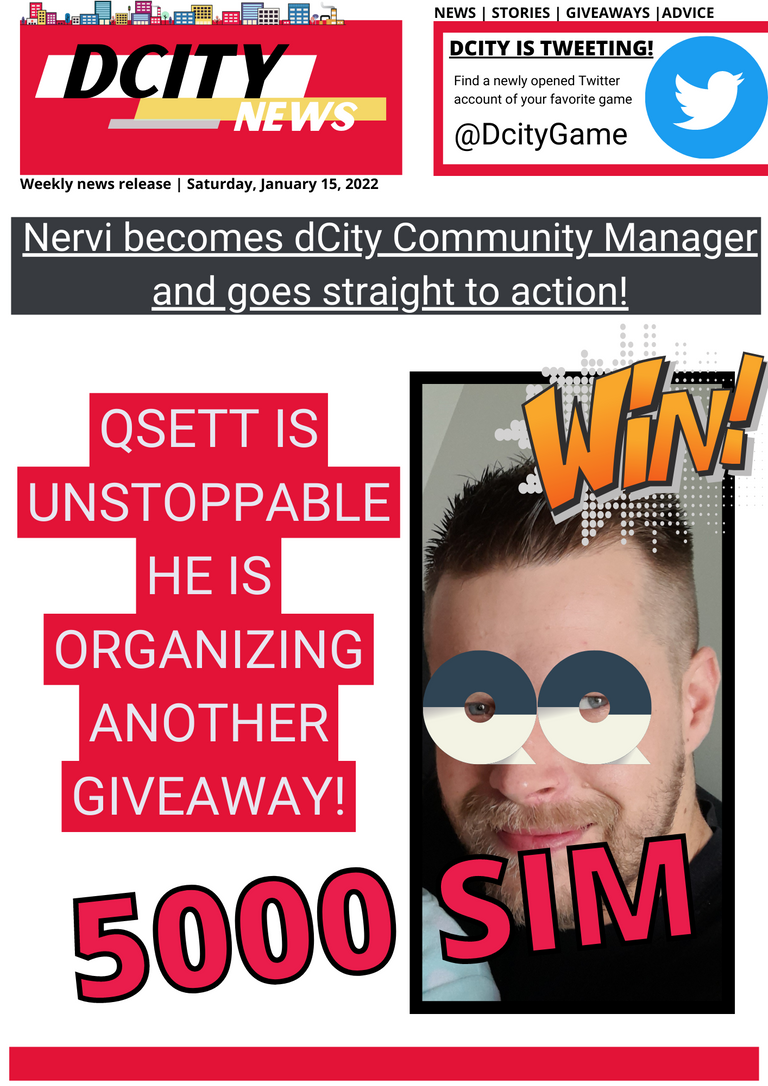 ---
DCITY.IO GIVEAWAY
Let's GIVE AWAY some stuff and help people build their cities and/or PASSIVE INCOME!
I will organize a dCity giveaway weekly as long as I can afford it 😀 that is my way of saying thank you to the game and the community 🙌 Prizes will depend on how I'm doing in the game and generally on Hive - I will try my best to make them attractive! 🙂 Also, one of the rules of every giveaway will be to answer one question - this way I hope perhaps someone can learn something new about dCity!
dCIty.io Giveaway #5
Rules of the giveaway:
I. Giveaway #5 prize - 5000 SIM (as I am happy with the number of participants I am increasing the giveaway prize for giveaway #5!)
II. Answer the question in the comments:
What background I have set in my QSETT city?
II. The winner will be drawn the next Friday (21/01/2022).
GOOD LUCK!
---
GIVEAWAY RESULTS
Before you go to balance your cities... let's congratulate the winner of giveaway #4!!!
12 people participated! New record! And the winner is: @yeckingo1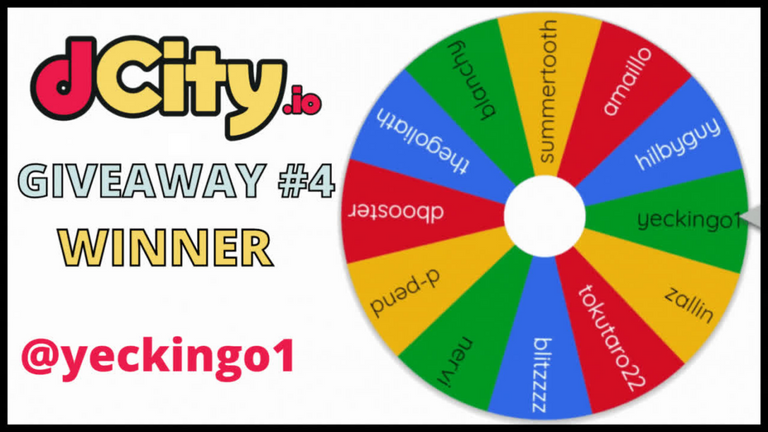 CONGRATULATIONS!
ps. IMPORTANT! - EVERYONE PLEASE LET ME KNOW IN THE COMMENTS IF YOU WOULD LIKE TO BE TAGGED IN THE NEXT GIVEAWAY! 🙂
---
---