Event Planning & Some Disappointments | Registration Fee & Venue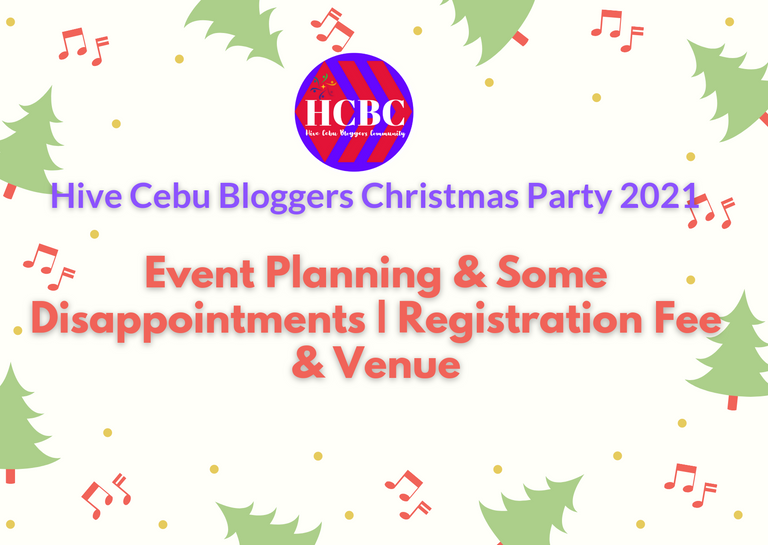 A few times, our team, @asasiklause, @explorewithsasha (@sassycebuana also took her time to meet them after her work hours), they went to check one of the hotels for a possible affordable venue but the minimum number of people are 30 and we didn't even half of the numbers to receive the place.
So, I proposed if they're okay with having a pot luck instead and we just pay for the venue.
Since it's really hard to find a private venue that would allow us to party, and you know when you have a party of more than 10 people it very impossible not to be loud. So we needed a place that is closed door, yet comfortable. When I heard that our common area now accepts private bigger groups gathering, I went to the admin and did some inquiries. I won't go to further details but at first it was a little frustrating and disappointing that increased the rent for the function hall.
All residents of the condominium pay a monthly due depending on how many rooms you have, so for the board members to even charge the residents to pay for the function rooms is quite unfair. But then I thought about the monthly expenses for upkeeps and the employees not to mention the inflation rate.
At that time, 'disappointed with myself' that I didn't have all the energy to look for other affordable places that will allow pot luck and larger group for gatherings, especially we just had our Hivelloween Party about a month ago. With so many things going on while also planning our family gatherings, and I don't like rushing things so even though I wanted to have a bigger event for our Christmas party, I think the majority decision for doing the pot-luck party is better than having no party at all!
So, ahead of time, I set proper expectations to the common area admin of the condominium that there will be guests that are also not residents and I forwarded our fb page: hivecebubloggers (although some are having a hard time looking for that "going button", thanks FB for making things not actually so friendly to use,lol, I can't wait until Hive innovates a dapp that can also has all the features like fb, insta, reddit and twitter, LOL!!). so they will know that they are part of our @hivecebubloggers community and some special guests. The admin confirmed and instructed me to sign the contract together with the deposit of 5,000 php (Yes, another disappointment! Why would charge 5,000 php deposit if the place is totally empty. It's okay, actually not okay, I did complain about the deposit but I had to cool myself before I started throwing some more arguments and really didn't have the luxury of time of to do that. And the venue fee 4000 php (3500 for only 4hrs to use the function room and 500 for the extra hours).
Again,
registration fee is still the same: 200 php
For the venue, it was announced on our @hivecebubloggers blog post: Hive Cebu Bloggers Community Christmas Party Official Announcement!
My fingers are crossed that there won't be a huge challenge a few days before the event that we won't be able to handle.
Above all, am super excited for this event and to see everyone! 🎄💃
Xo,
Gil
---
---