Swedish style sandwich
Hello everyone!
This layered sandwich cake is guaranteed to be a hit at the next garden party! Without baking, it is simply prepared with toast, cream cheese and any filling.
Smörgåstårta is the Swedish answer to creamy American sandwiches and it comes in a particularly beautiful, often playful form. A Smörgåstårta is basically a whole smörgåsbord in one. They are available with fish, with meat, with both, vegetarian, in summer and in winter. It is prepared for festive occasions such as New Year's Eve, graduation, birthday or whatever and is always the star of the buffet.
A cake like this always looks great. It is structured like a savory layer cake and consists of bread, cream and cold cuts, cheese, fish, vegetables or salad like a sandwich. Some cakes actually contain everything, of course I chose the vegan version, vegan salmon, smoked tofu, herbs and vegetables.
You can decorate according to your desire and creativity. Less is often more.
The sweetheart is not low in calories, so small pieces are usually enough. It's great, then it won't be eaten away so quickly and is enough for many.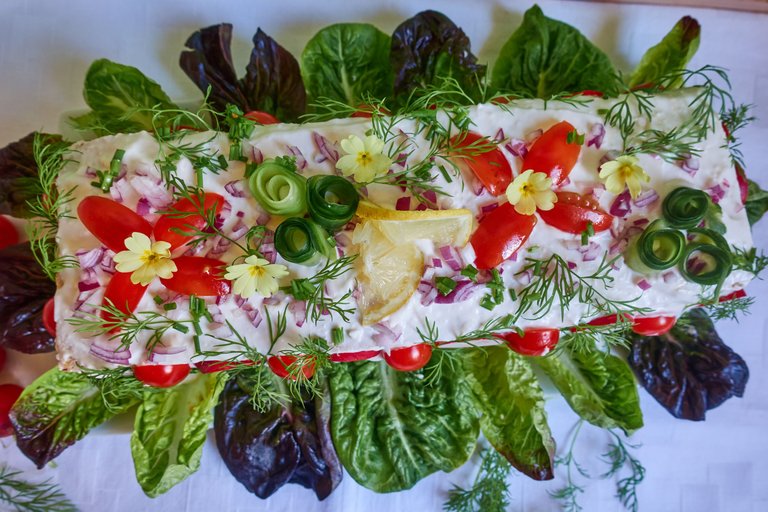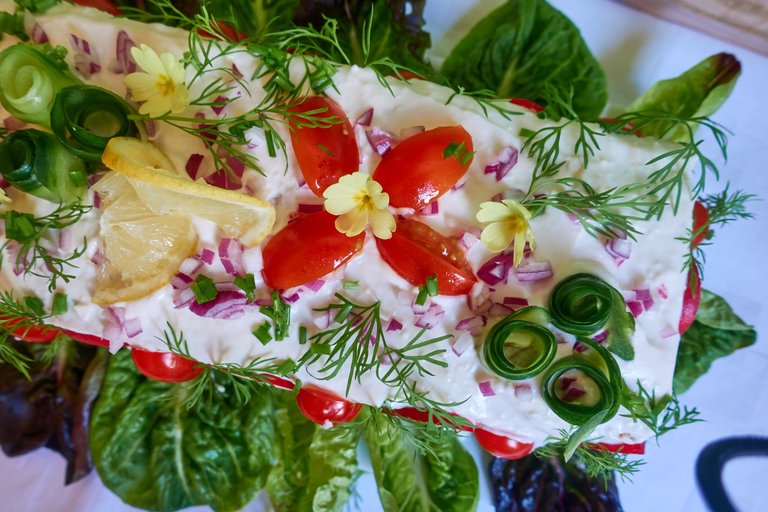 Ingredients:
12 slices of sandwich bread, whole grain and debarked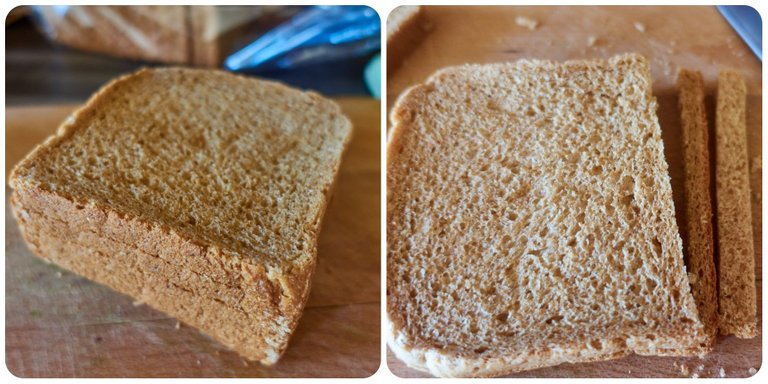 Ingredients for the smoked tofu filling:
2 small avocados
150 g natural vegan spread
1 tablespoon vegan tartar sauce
150 g smoked tofu
1 spring onion, finely chopped
1 handful of fresh parsley
Juice and zest of half a lemon
salt and pepper to taste
---
Ingredients for the salmon filling:
80 g vegan salmon
1 spring onion
150 g vegan sour cream
3 tablespoons vegan mayonnaise
1 handful of fresh dill
salt and pepper to taste
Ingredients for the topping:
150 g vegan sour cream
3 tablespoons vegan mayonnaise
100 g creme fraiche with horseradish vegan
For the decoration:
1 cucumber
1 small bunch of fresh dill
radish
1 small red onion, finely chopped
lemon
Edible flowers
cherry tomatoes
lettuce leaves
chives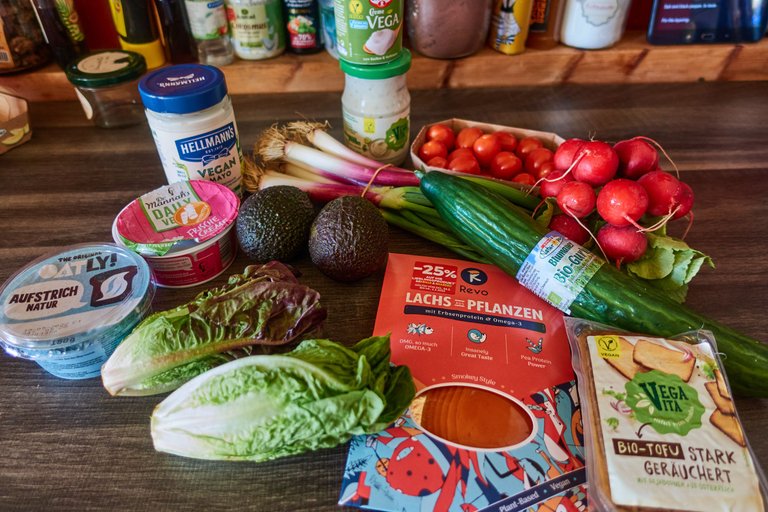 Preparation smoked tofu filling:
Mash the flesh of the avocados finely with a fork
Add the lemon juice and the natural spread and mix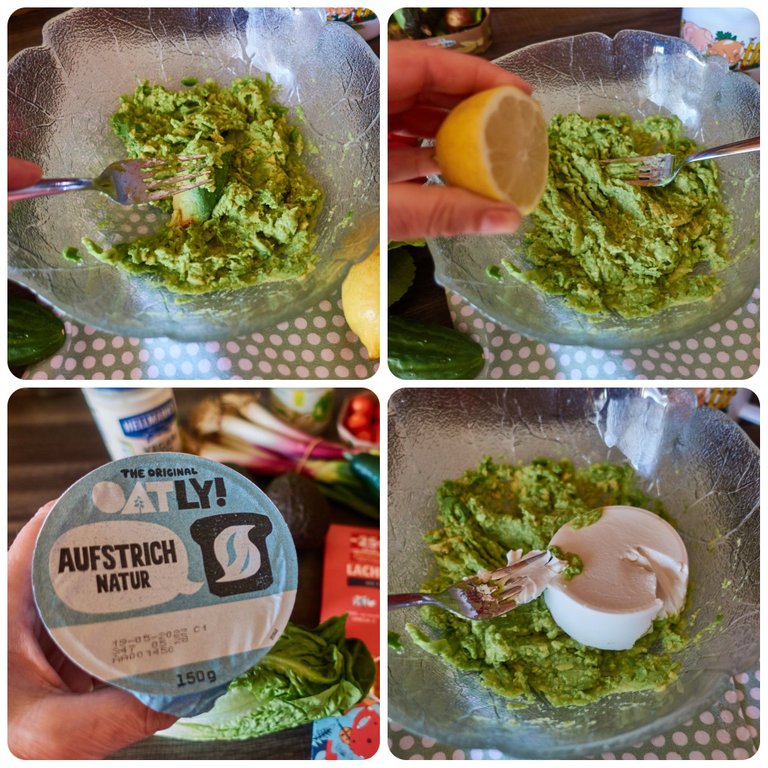 Cut the tofu into small cubes
Cut the spring onion into fine rings
Finely chop the parsley and mix everything with the avocado
Add sauce tartar, season with salt and pepper and set aside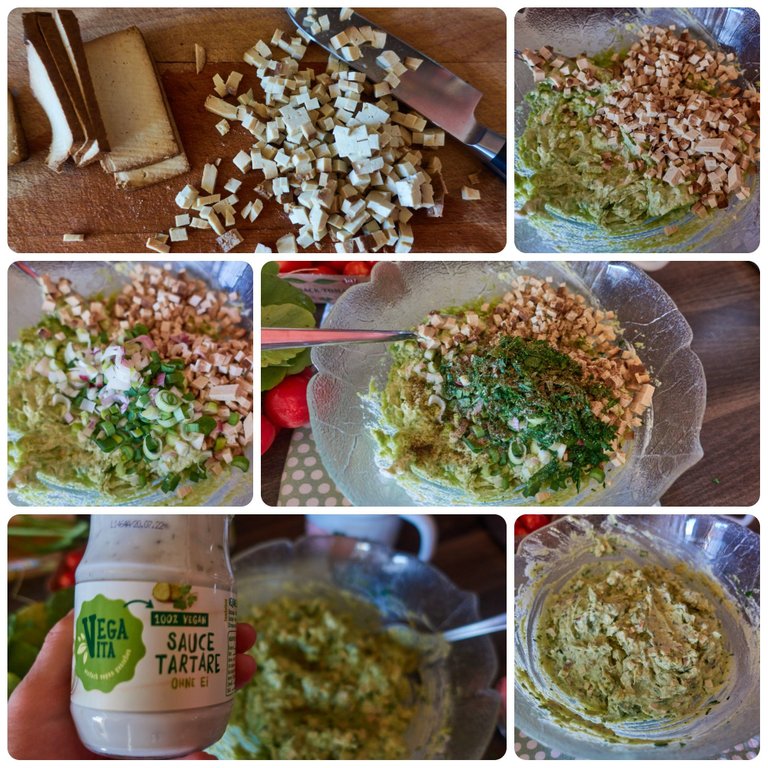 Prepare salmon filling:
Cut the salmon into small cubes
Finely chop the dill and spring onion
Mix the salmon, dill, spring onion, mayonnaise and sour cream in a bowl, season with salt and pepper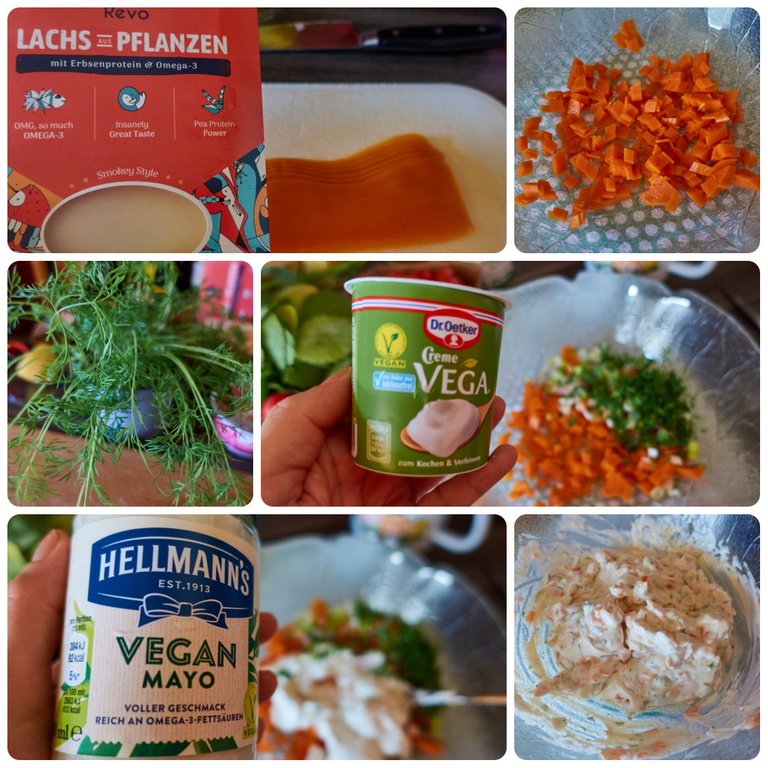 Prepare the topping:
Mix the sour cream, mayonnaise and crème fraîche with horseradish well

Completion:
Place three debarked sandwich breads next to each other on a plate, spread some mayonnaise under the bread to prevent it from slipping
Place lettuce leaves under the bread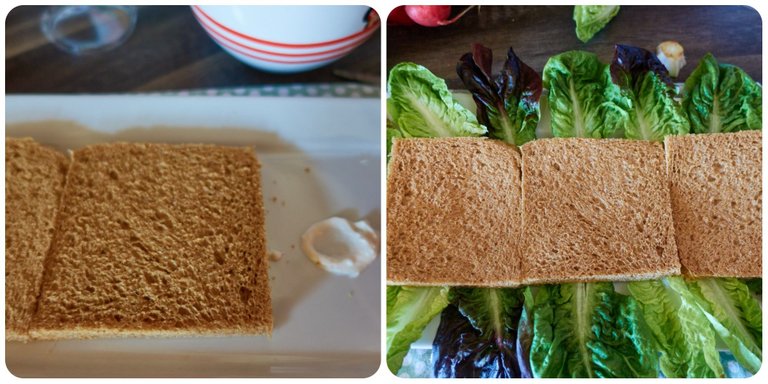 Now put half of the incense filling on the bread and spread it out
Place the second layer of bread on top
Spread the entire salmon filling over it
Place third layer of bread on top
Spread the second half of the incense filling on top
Fourth layer of bread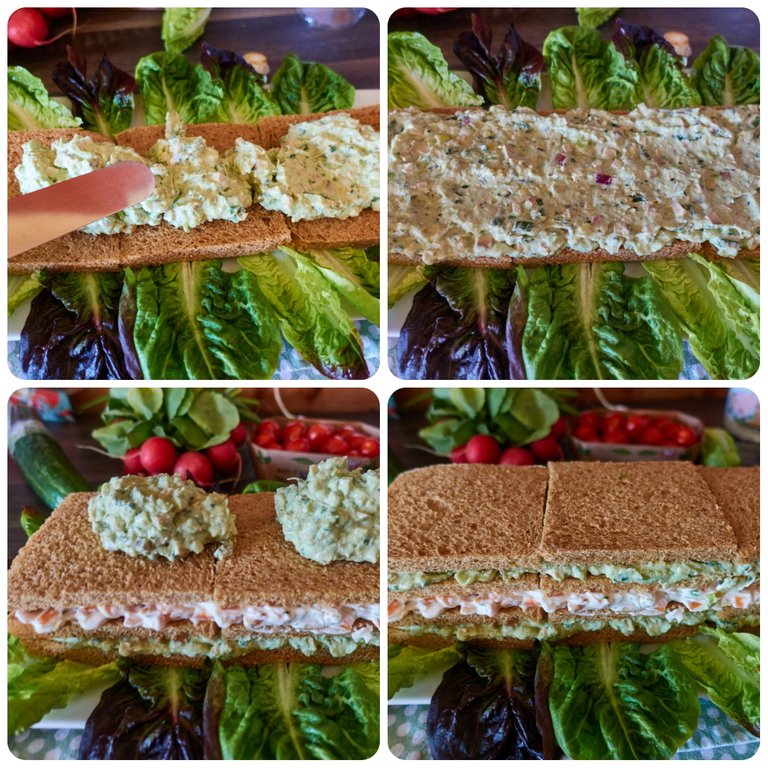 Spread the topping cream all over the sandwich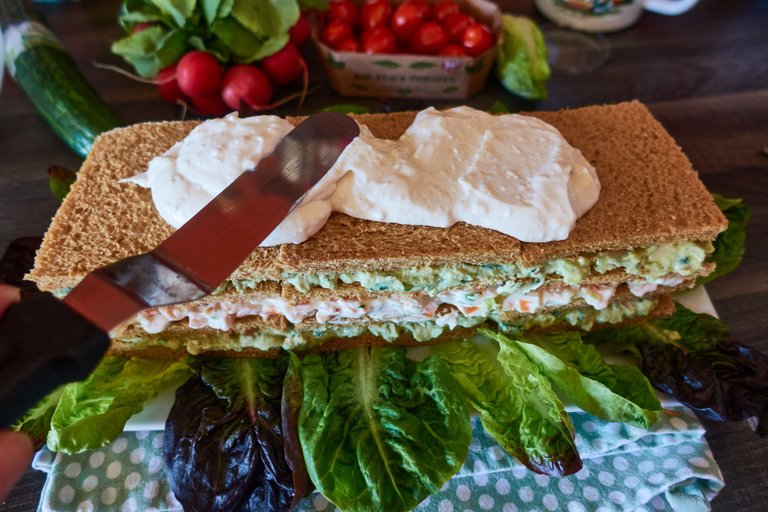 Cut the cucumber, tomatoes, radishes and onion into small pieces and decorate the sandwich with the dill, blossoms and lemon
Chill the sandwich for at least 1 hour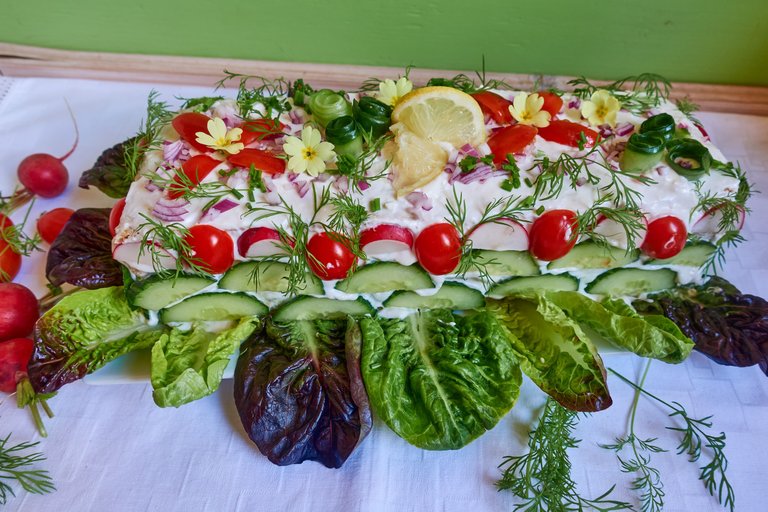 decoration joy
Possible - really only possible decoration for a Smörgåstårta. It can be interchanged and replaced at will. You can get sprouts like the pink beta sprouts all year round, the green stuff is of course limited in winter, so you just have to see what you can get.
Have fun, it's so delicious!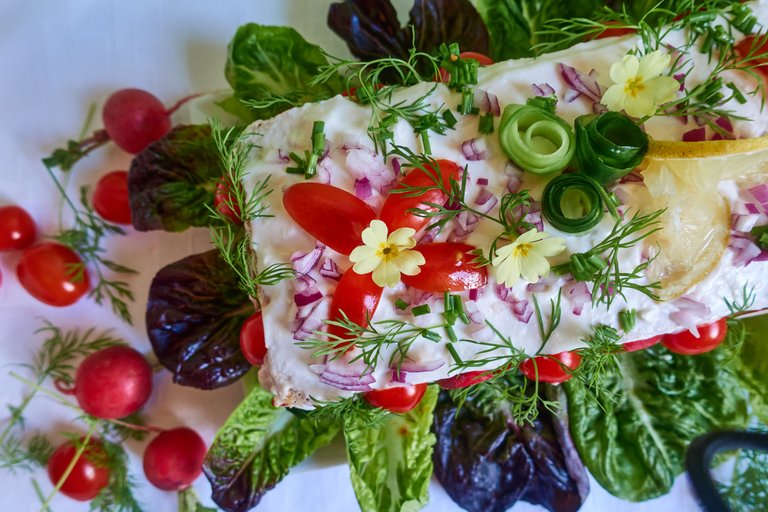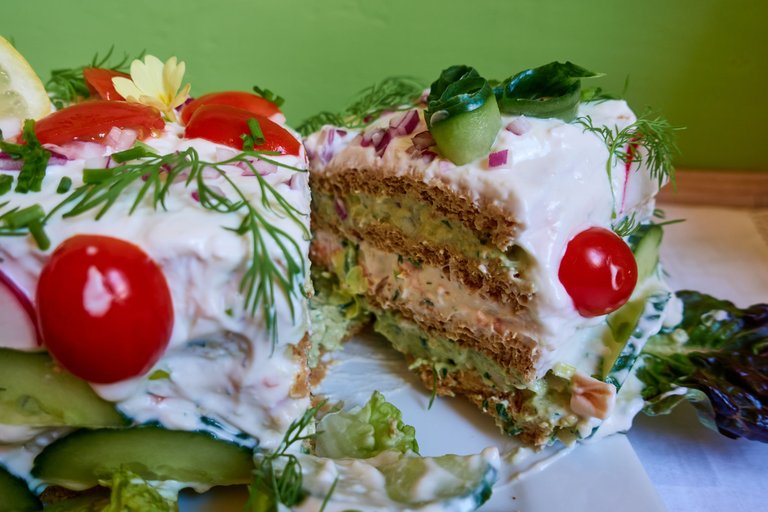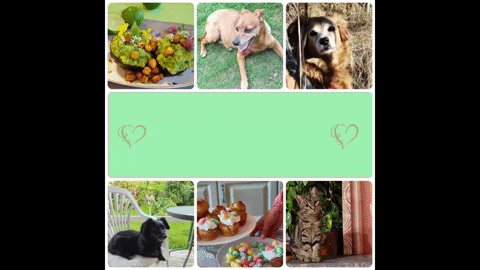 ---
---