"Her love was like lavender, delicate and melancho" - My first professional photo-shoot at "Lavender Field"

"The air was fragrant with a thousand aromatic herbs, with fields of lavender, and with the brightest roses blushing in tufts all over the meadows." ...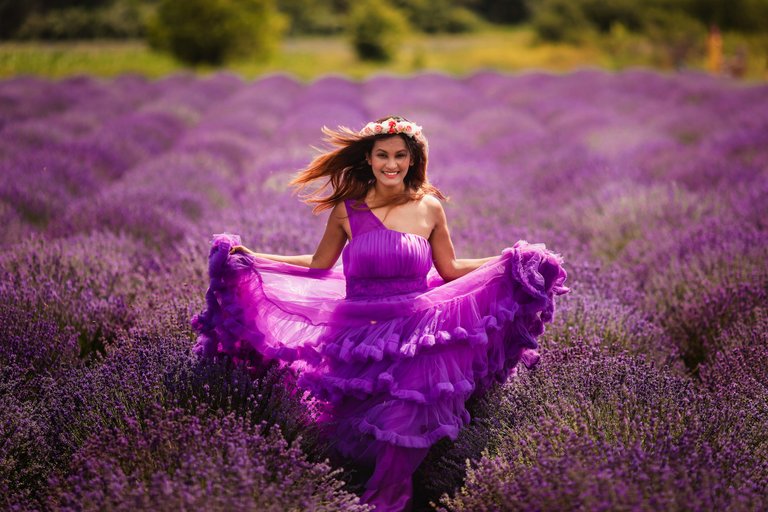 ---
Before diving into the main story, let me share the background story first. The story started in the middle of June, as usual, I was browsing my Instagram feed. Suddenly one picture came into my feed that caught my eyes. A girl took a picture in a vast lavender field and she was from Kharkiv. Instantly, I checked the location and found out the field is in the Kharkiv region, 2 hours drive from the city. Now, how to go, how to arrange everything I had no idea.
I started texting some photographers who do photoshoots in the field but unfortunately, I was too late, all of their dates were booked. They keep telling me to check their stories regularly, sometimes spot left for the photo shoot and if I am lucky I will get that. Hmm, after texting so many photographers and event organizers, I lost hope and thought maybe next time. Lavenders only stay for 2-3 weeks when they full bloom and after that soon they dried out. So, the timing was limited. Also, the entire situation made me curious, what is there actually? Why people wanna go there?
Then after 3-4 days, suddenly I saw a story from an organizer who was offering lavender field events. So, I texted her and came to know that there is a spot left. I booked that spot...
The total cost was 1000 UAH (Transport + Dress + Photography + Explore lavender field), pretty expensive I know but I decided to go.
This post is going to be full of photographs. I am sure you will enjoy them...
Lavender Field Photoshoot
---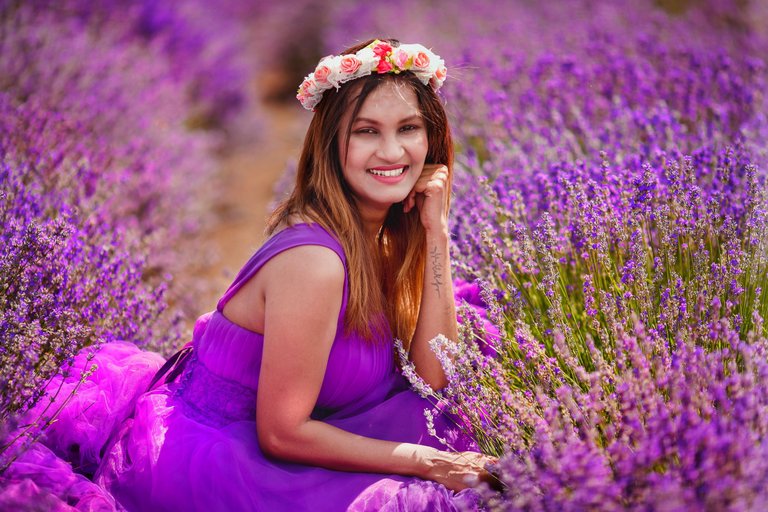 Normally at the beginning of July, all lavenders are cut down and ready for sale. So, the timing was so limited, and also the field stayed quite busy during the season. After all, people go there for photography and create a memory for life. I never saw lavenders in person before, I only heard about lavenders and about their products. Even I have never seen any photographs of lavender fields or farms before. So, 1000 UAH was nothing compared to my whole new experiences...
So, after booking the spot, the organizer put in into a Viber group where many people were already there. Basically, it was her personal group where she writes all the details and instructions.
Honestly speaking I was excited and thought that this is going to be an exciting and lifetime experience for me. The organizer was excited too, she never worked with foreigners before.
After fixing the date, she wrote all the details into her group, each person will get 20 minutes for a photo shoot wearing two different dresses. The timing was in the middle of noon when the sun rays are intense and hard to focus on photography. I was a little bit disappointed seeing the timing in the middle of summer because normally photos of that time don't turn out nice.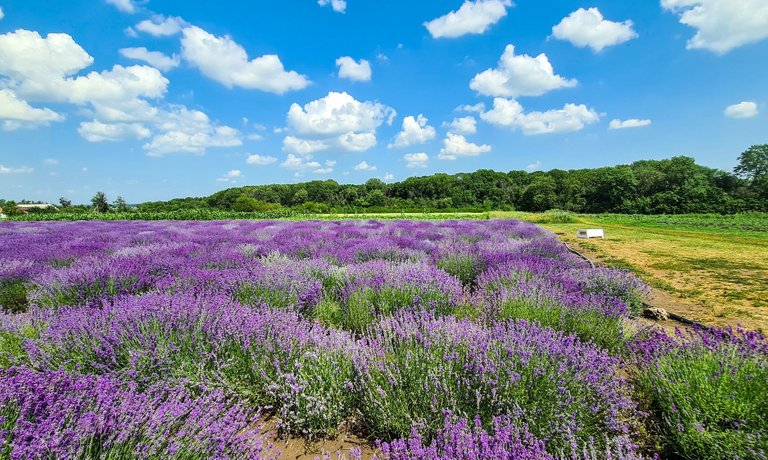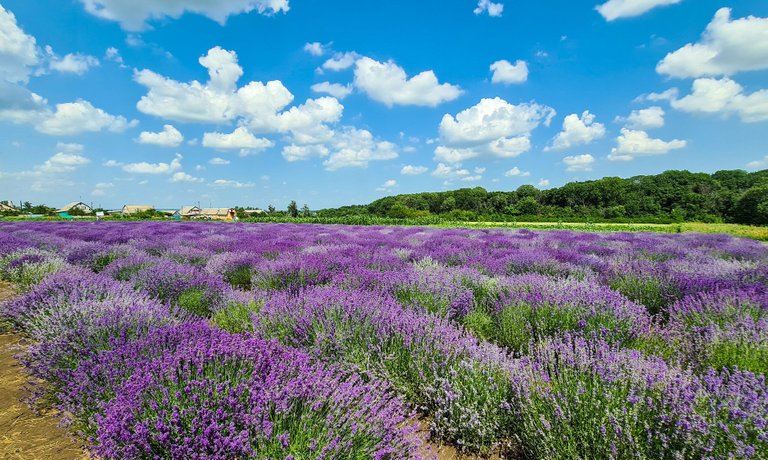 ---
Finally, the day arrived, sorry I forgot the exact date. She already gave us the location from where she is going to pick us up. The pickup point was really far away from my home, it takes 45 minutes to reach there through the metro because it is the last station of Kharkiv Oblast. The location name is Industrialist. Lavender farm was 2 hours drive from there so total 3 hours journey. I had no idea about the Industrialist metro station so I took a taxi and after 1 hour I reach the pickup point where the car was waiting for us. There were other girls too who took part in this event.
I was unknown to them and they seemed to know each other. Anyway, after 2 hours, we reached the farm. The whole way I was silent, not because I was shy but I was feeling uncomfortable too. I have never done a professional photoshoot in life that's why I was so uncomfortable. Even I was the only foreigner so you can understand how I was feeling at that moment.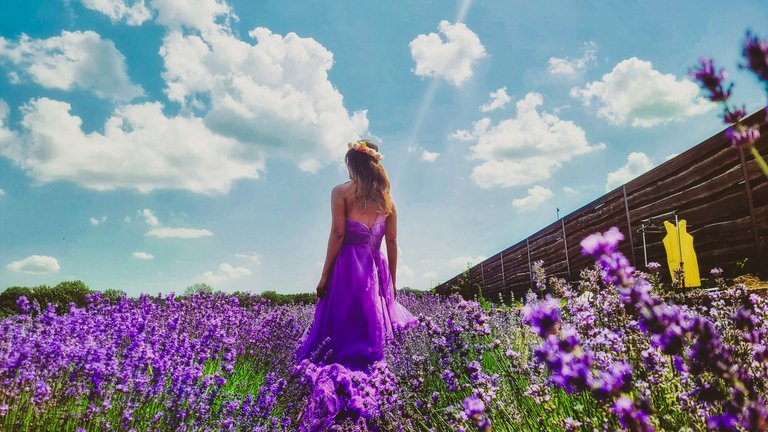 "Her love was like lavender, delicate and melancholy."
― Laura Chouette, 'The Painting Of Mrs. Ravensbrook.'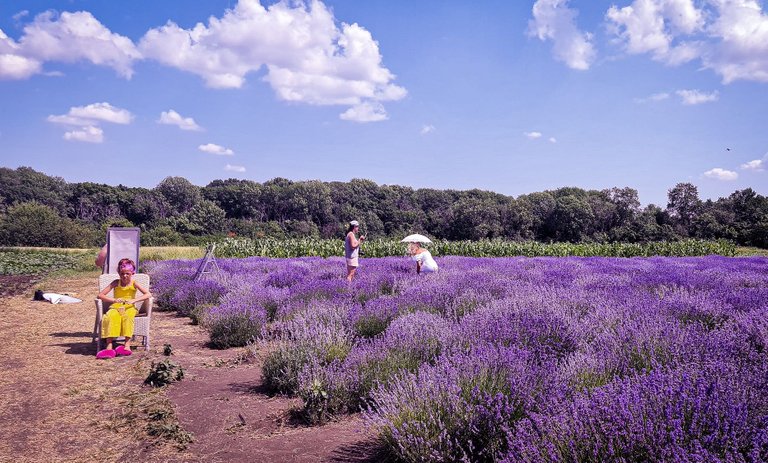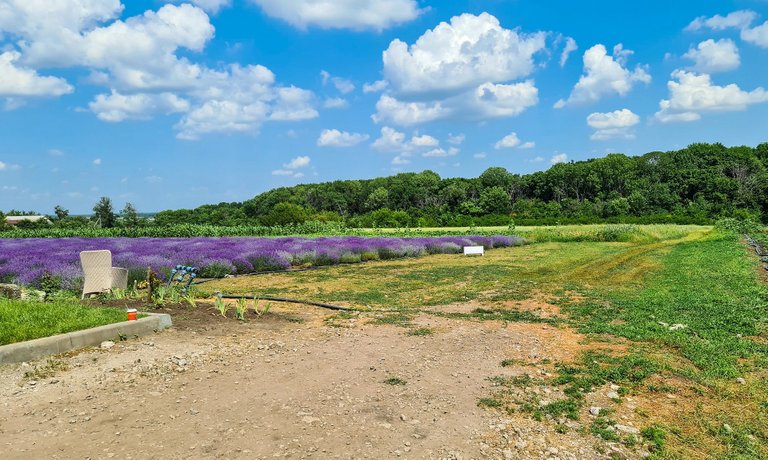 After reaching there, I saw already many people were there. Photoshoot already started and girls are posing, running in the field. I was excited but somehow I was nervous too.
When I went to the exact spot, the organizer came with a smiling face. She asked me if I understand Russian properly or not. Fortunately, she and the photographer understand English so I felt relieved. But still, I was nervous inside because I don't know how everything can be done within 20 minutes.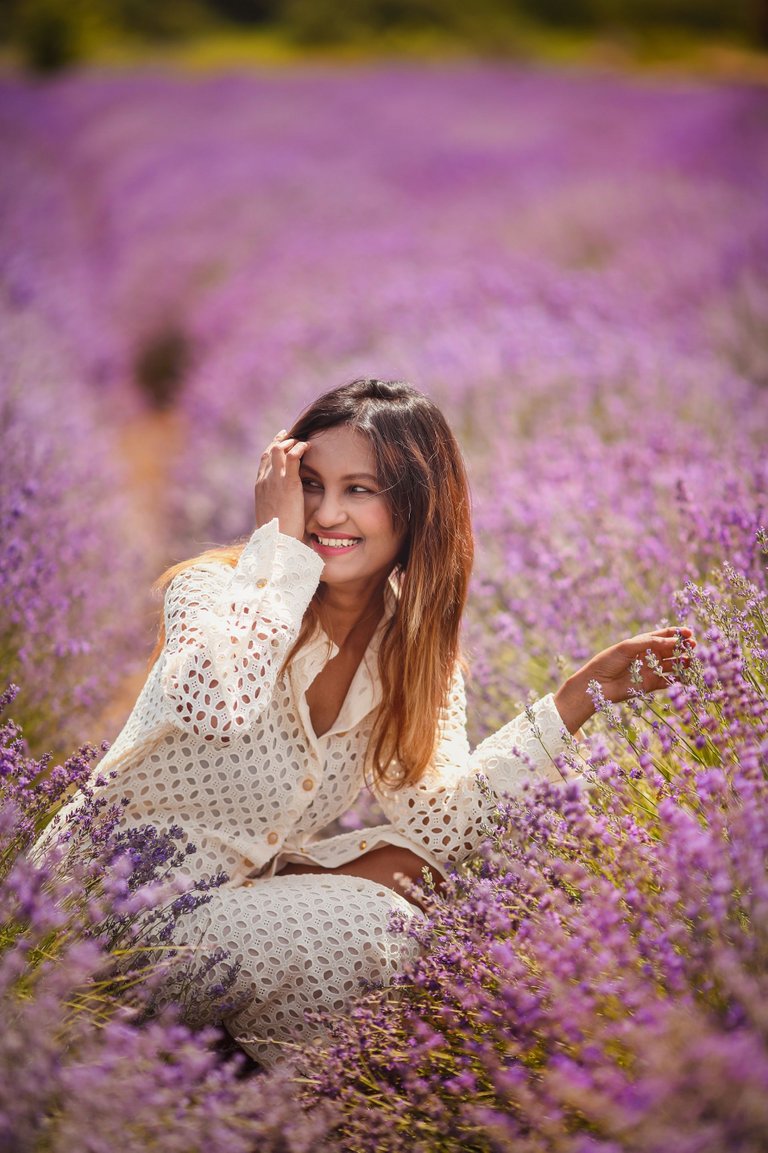 The organizer's name was Palina and she already told us we can bring clothes if we want but it has to be either white, purple or light colors. Lavender itself is very bold and beautiful so the dress color should be light and plain to highlight the field.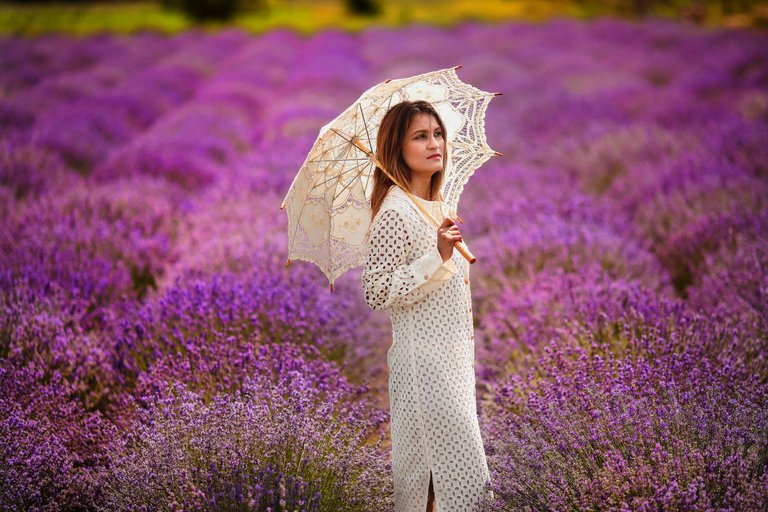 ---
The first dress I have chosen was this white dress of mine. I bought it from Zara for eid and thought it would be perfect for the event. Honestly, when I was in front of the camera, I was so shy and uncomfortable. Photographer was a girl and she helped me a lot to become comfortable in front of the camera. She instructed me what to do and what kind of pose I should do for the photoshoot. For a while I had no idea what I was doing, I just followed her instructions.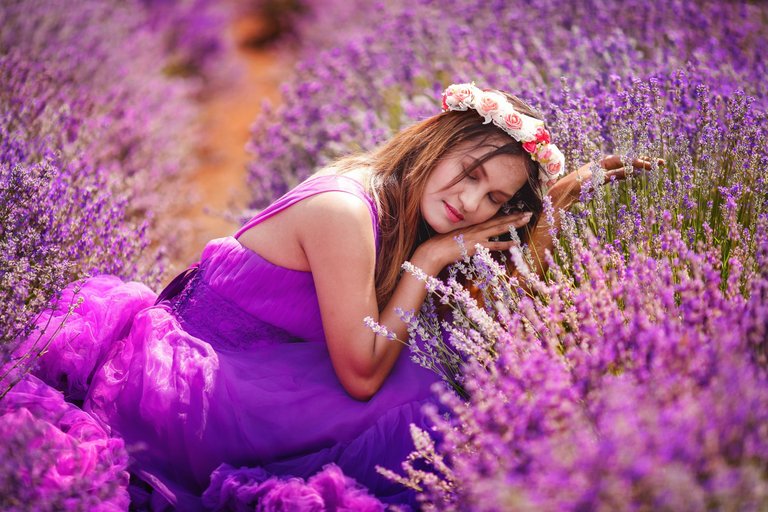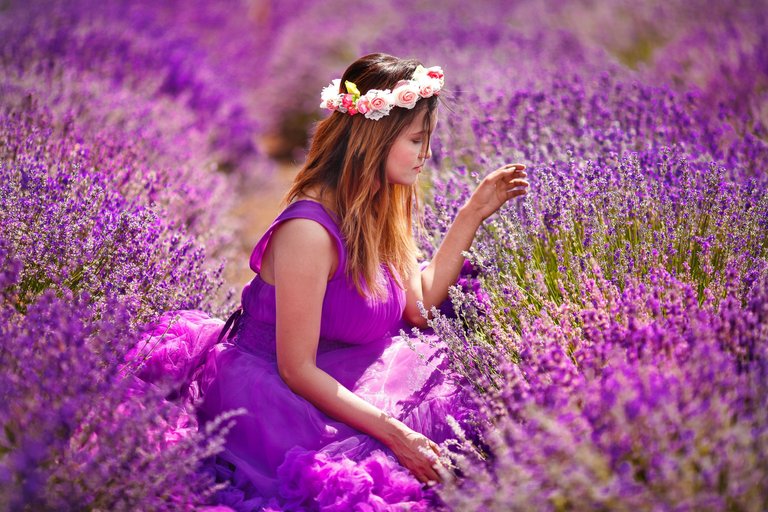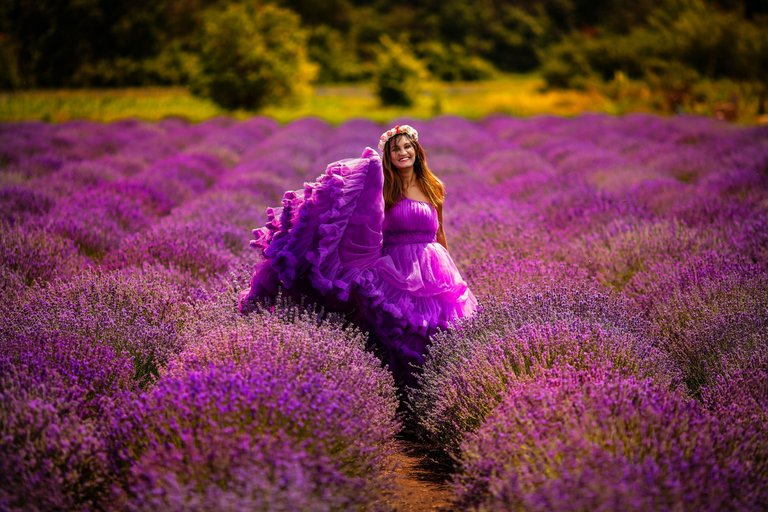 After the first shoot, they suggested me the purple heavy gown for the photoshoot. The dress was so beautiful itself and after wearing the dress, I felt like a princess who was lost in the middle of a lavender field.
Other girls were really busy changing clothes, makeover and going in and out for the shoot. I felt like I am in a photo shoot set full of busy models. I was the only one who was lost and had no idea what she was doing.
The second time when I was infront of the camera, the photographer told me to ran in the middle of the field holding the dress. Hmm, I like the concept because at least I don't need to look at the camera directly. The rays of the sun were intense and I felt like my skin was burning but still, I was running in the middle of the field like other girls :P :P...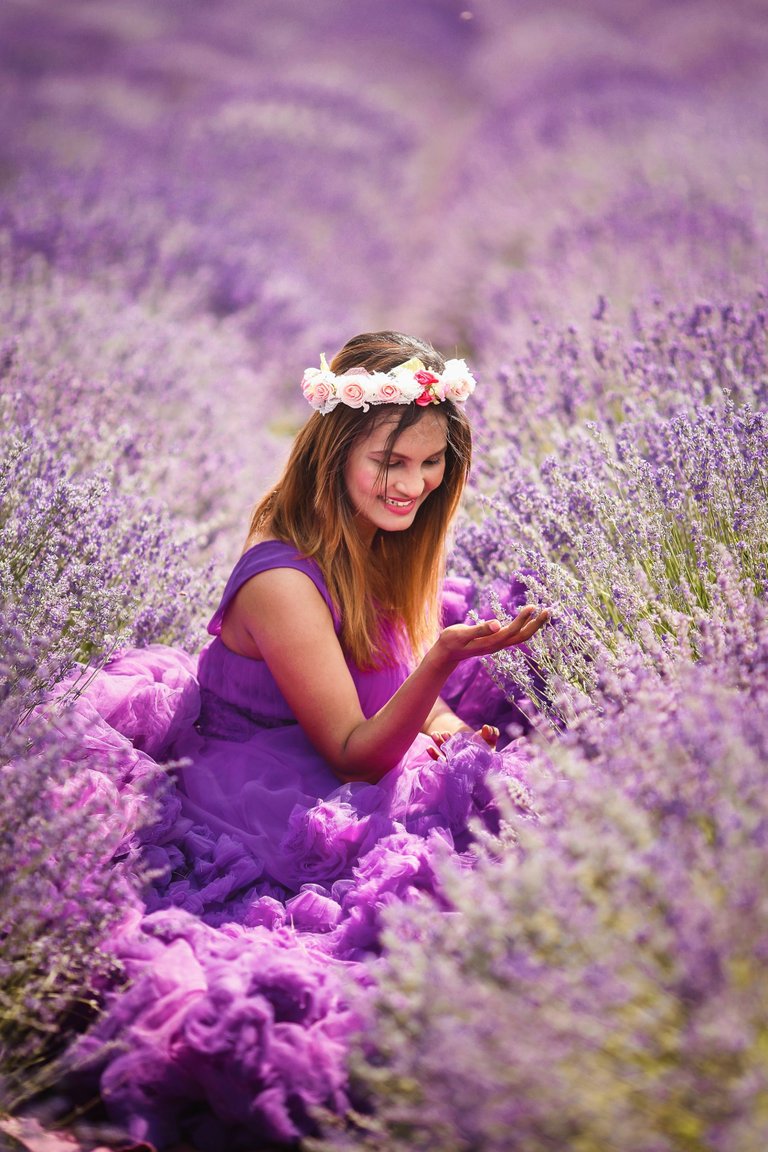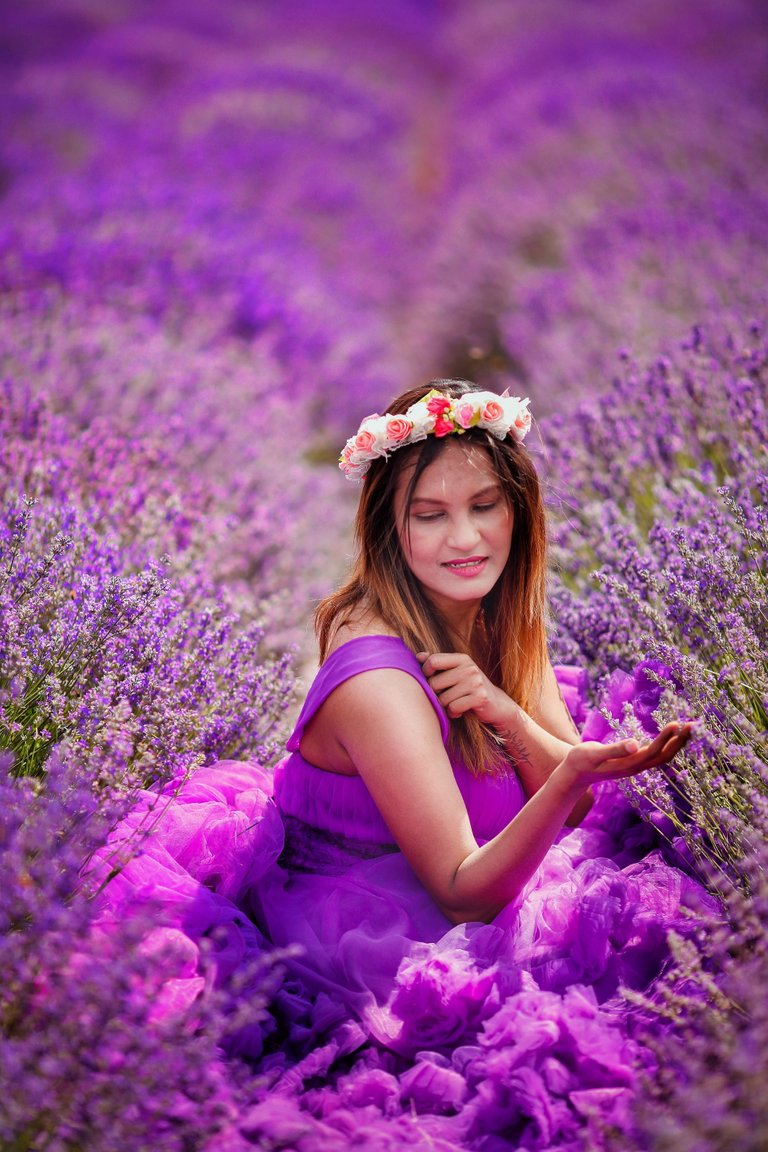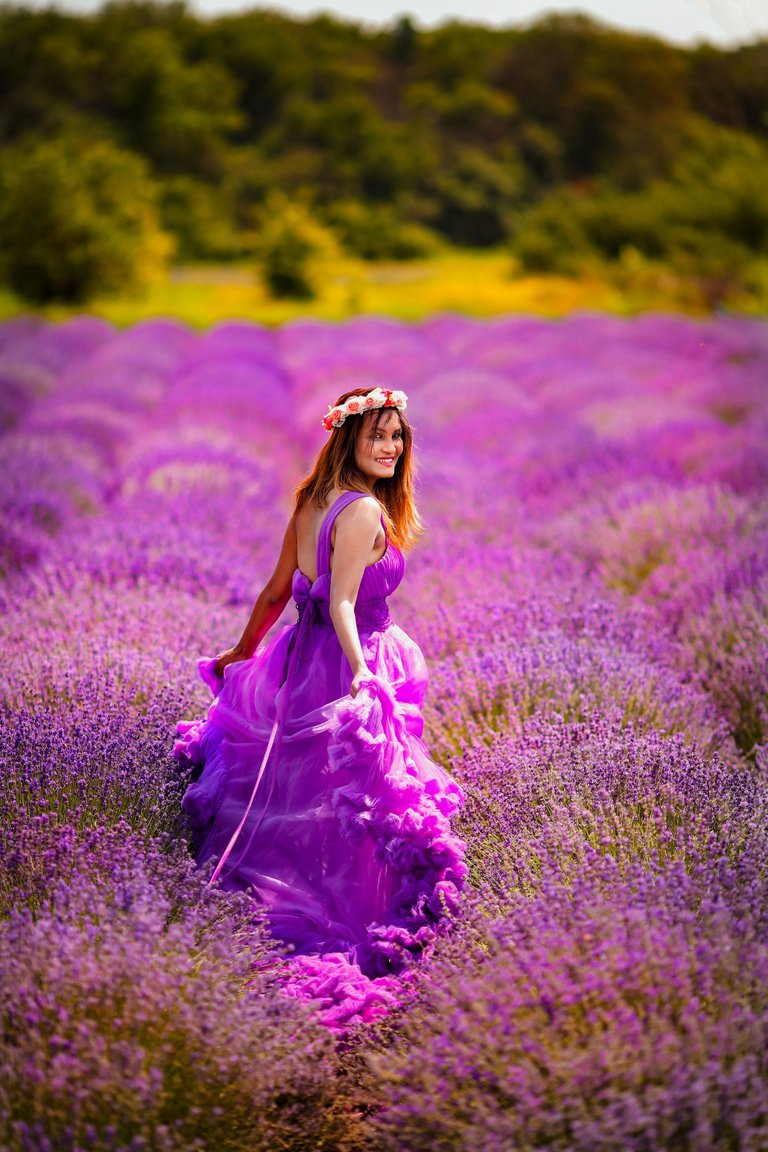 "Forgiveness is the fragrance the violet sheds on the heel that has crushed it." ...
20 minutes passed just like that and how when where!! I don't know. I only know I was in the middle of a vast, beautiful, and intense fragrant lavender field. Even I had no idea what photographer girl was capturing and how the photographs will turn out.
Anyway, the event finished just like that and we changed our dresses and sit on the summer lounge. The owner of the farm then showed us her products made with lavenders.
---
She showed us the samples of aromatic scented candles, handmade soap bars, aromatic oil of lavenders. She also said, if we want to order, we can order. I have ordered handmade soup and one candle for myself. They smell so good...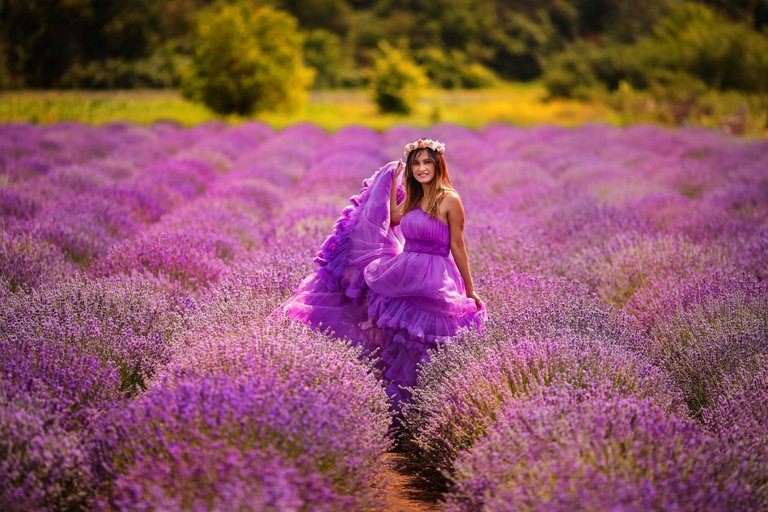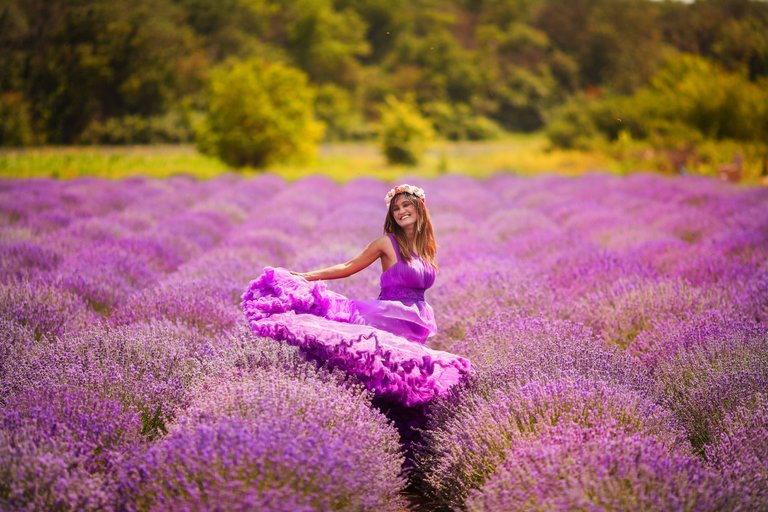 ---
Time has flown so quickly, after exploring the lavender field a little bit, it was time to say goodbye. It was an exceptional experience for me, I met new people, did something new which I have never done before. The best part was I had spent a nice time in the middle of thousands of lavenders.
Photographer did a very good job and I must thank her personally for taking such amazing pictures.
Dear Lavenders, You will be remembered...
---
Event Organizer: @foto_sekta_kh , @polina___go
Photographer: @alinka_simonova
Lavender farm : @my_lavender28
All rights reserved...
Check out :
Night shoot was done after this shoot
Until next time... Have a nice day everyone...
Thanks for reading my blog...
---
Love
Priyan
---

---
Explore Life with Priyan...
---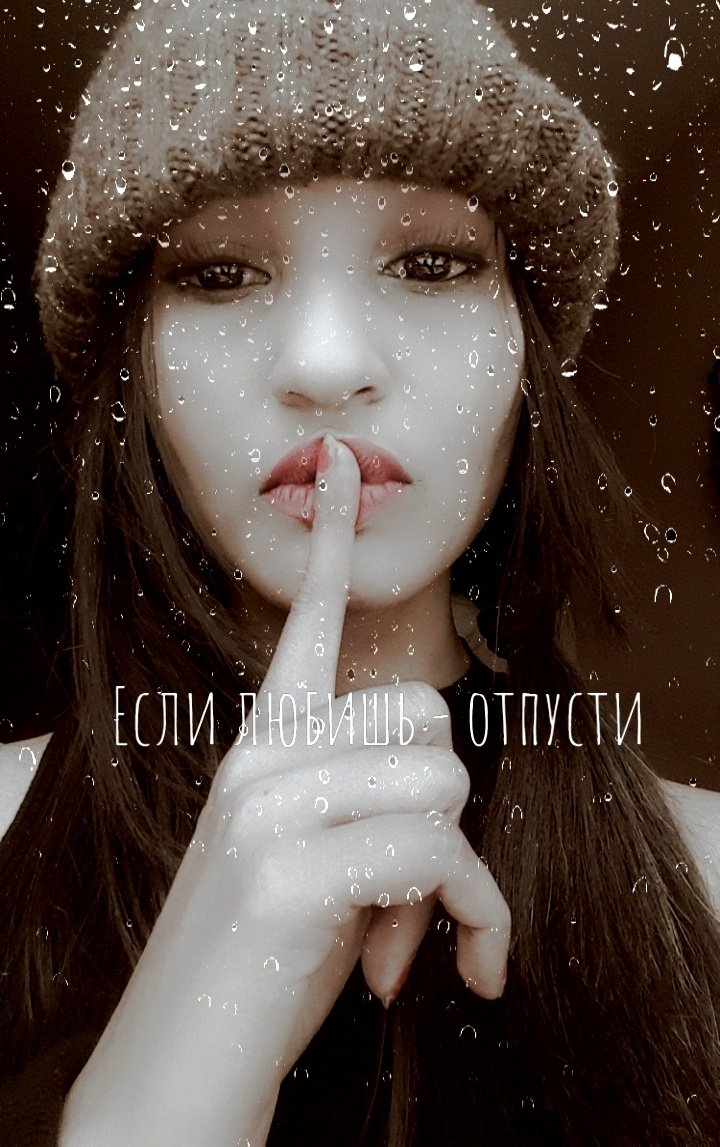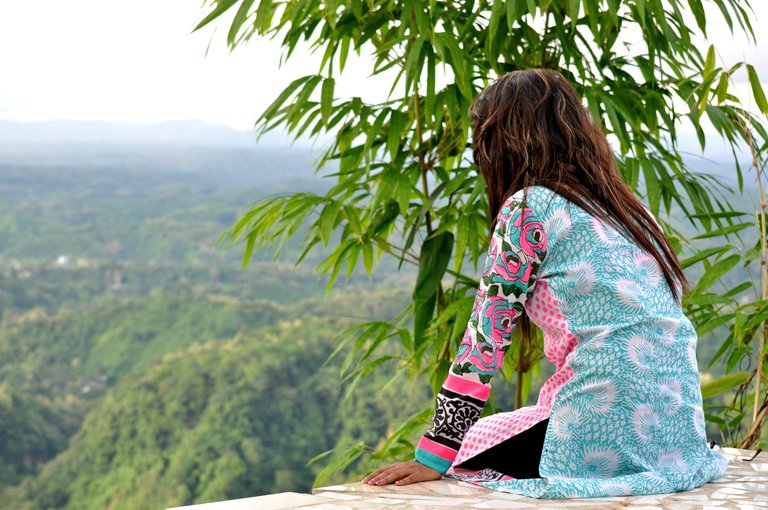 "I am @priyanarc... An architect, a dreamer, and a passionate writer who loves to write about life. I try to present my own perspective and experiences. Please leave your feedback and criticism because it's the only way I can know and reach your mind and thought easily..."

---
Find me on youtube...
Don't forget to subscribe to my channel...
You can find me on Twitter...
Original post written by @priyanarc...
All the pictures used are owned by the author...


If you want this kind of GIF for yourself, Let me know...
---
---
---