Faith, Spirituality and Religion.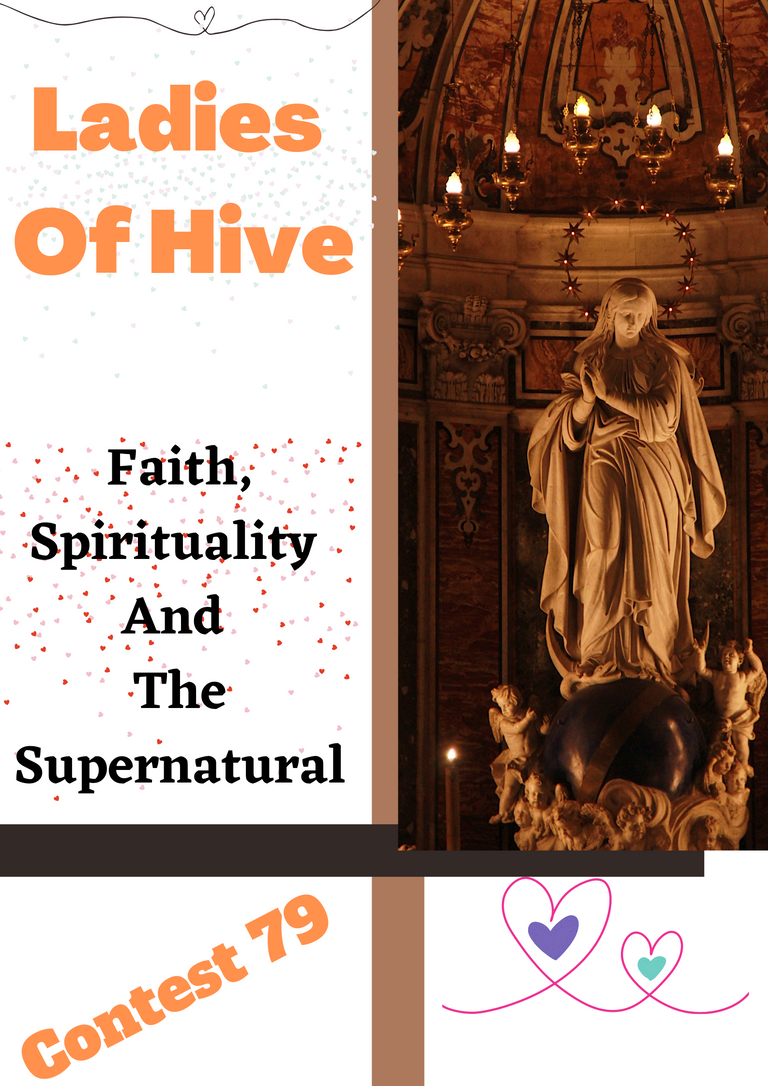 Photo by 𝑿𝒊𝒏𝒈𝒚𝒖𝒆 On 𝑼𝒏𝒔𝒑𝒍𝒂𝒔𝒉 | banner created by Me using 𝑪𝒂𝒏𝒗𝒂
For This week's entry to the ladies of hive contest, I will be sharing my views and opinions on the first question with the house ♕︎
"𝕎𝕠𝕞𝕖𝕟 𝕋𝕖𝕟𝕕 𝕋𝕠 𝔹𝕖 𝕄𝕠𝕣𝕖 𝕊𝕡𝕚𝕣𝕚𝕥𝕦𝕒𝕝 𝕋𝕙𝕒𝕟 𝕄𝕖𝕟 𝔽𝕣𝕠𝕞 𝕎𝕙𝕒𝕥𝕖𝕧𝕖𝕣 𝔽𝕒𝕚𝕥𝕙 ༆༄ ℙ𝕣𝕠𝕥𝕖𝕤𝕥𝕒𝕟𝕥,ℂ𝕒𝕥𝕙𝕠𝕝𝕚𝕔,𝕄𝕦𝕤𝕝𝕚𝕞,𝔹𝕦𝕕𝕕𝕙𝕚𝕤𝕥,𝕎𝕚𝕔𝕔𝕒𝕟"
☟︎︎︎☟︎︎︎☟︎︎︎☟︎︎︎☟︎︎︎☟︎︎︎☟︎︎︎☟︎︎︎☟︎︎︎☟︎︎︎☟︎︎︎☟︎︎︎☟︎︎︎☟︎︎︎☟︎︎︎☟︎︎︎☟︎︎︎☟︎︎︎☟︎︎︎☟︎︎︎☟︎︎︎☟︎︎︎☟︎︎︎☟︎︎︎
I completely agree that women are always more religious/spiritual than men and I will base my opinion on my experiences as a Christian who has had ample opportunities to attend general religious services as well as been a part of a religious sect for years now, one fact is always glaring and it's always the higher ratio of women to the men in such meetings.
Part of what makes a woman more susceptible to spirituality is deeply rooted in the core of what makes her unique.
She has to be a support for her husband, ensure her children grow upright and set on a part to success, ensure her home is peaceful and manage the entire family so why wouldn't she welcome a little spiritual help to make sure everything goes smoothly.
▂▃▅▇█▓▒░۩۞۩ ۩۞۩░▒▓█▇▅▃▂
If you have had the opportunity to be close to a mother during a Christian prayer service, you will find that most of the prayers and requests she makes are usually for her family rather than herself.
She prays for her husband to be safe and for his work, then she prays for her children to prosper and then peace in her home.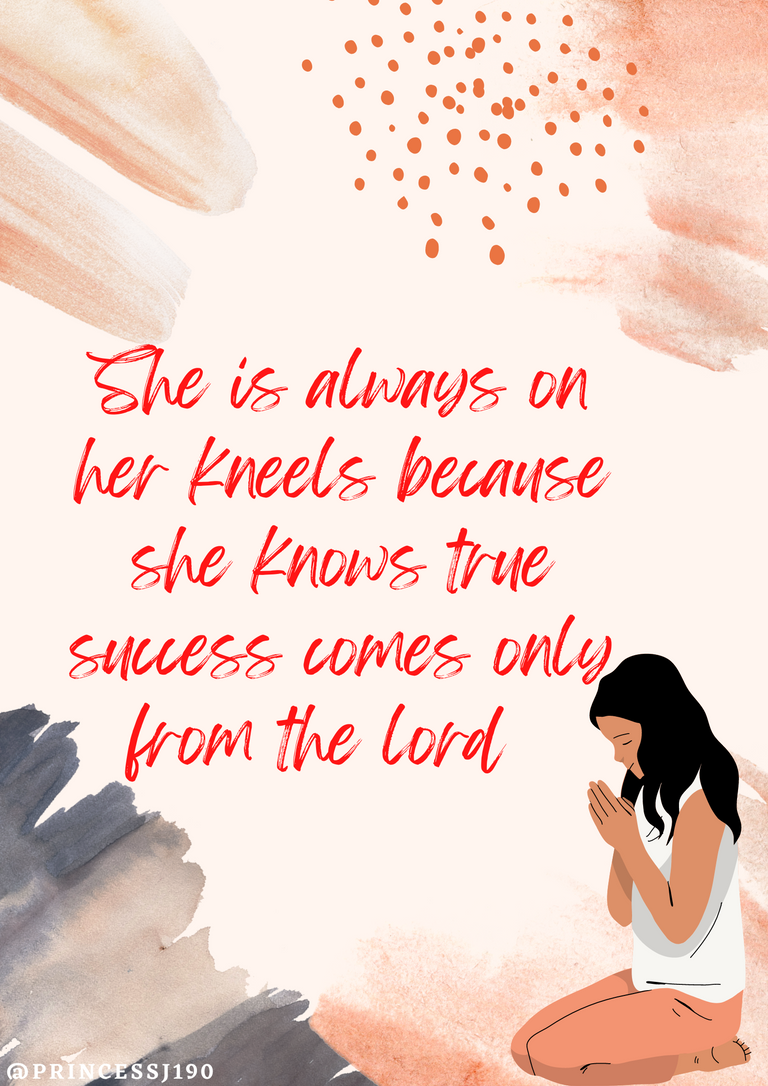 banner created by Me using 𝑪𝒂𝒏𝒗𝒂 free tools/graphics
And even when her husband might be too stressed to attend these prayers or maybe the children choose not to attend, she is always present praying on their behalf because she is sure of the possibility of that extra supernatural assistance in form of answers to her prayers.
"ℍ𝕠𝕨 𝔻𝕚𝕕 𝕀𝕥 𝔹𝕖𝕔𝕠𝕞𝕖 𝕐𝕠𝕦𝕣 𝔽𝕒𝕚𝕥𝕙?"
So in my case, I didn't fully embrace Christianity or faith until after my mother's death.
Originally I wasn't born into a Christian family as my father was more of a traditional man 😁 and my mom just wasn't the religious kind.
Years passed and if I remember correctly I should be in my teens when my mom converted and became a Christian.
She started attending services and working in the church and the transformation of her person was so outstanding.
--------─✱.。:。✱.:。✧.。✰.:。✧.。:。.。✱-----------
I remember her night prayers, her always attending services and programs, and even joining the sanitation ministry at the choice, and to be honest although I knew her prayers were mostly centered on her kids and family at the back of my mind I always did feel she was stressing herself way too much 🤷‍♀️
My wake-up call came during my mom's service of songs.
Some so many people came for the service of songs from the ministry she attended to the extent the sitting arrangement that was made wasn't able to sit 20% of the people who turned up to pay their respect which was baffling because neither I nor any of my siblings envisioned such a turnout.
But what broke me was when it came time to share stories of my mom and experiences others had with her.
A lady who was in the same prayer chain as her recalled how on the day mom died, at the church, they were having a prayer chain vigil when at around 2 am the electricity went, off and everywhere was in darkness and the lady said the words that came out of her mouth was
"If mummy Alero was here she would have bought her light".
⎽⎼⎻⎺⎺⎻⎼⎽⎽⎼⎻⎺⎺⎻⎼⎽⎽⎼⎻⎺⎺⎻⎼⎽⎽⎼⎻⎺⎺⎻⎼⎽⎽⎼⎻⎺⎺⎻⎼⎽⎽⎼⎻⎺⎺⎻⎼⎽⎽⎼⎻⎺⎺⎻⎼⎽⎽⎼⎻⎺⎺⎻⎼⎽
The reason she said that was because after my mom first joined the prayer group, at one of such meetings the electricity went off, and the very next day mom bought this industrial style rechargeable lamp which she would always take along with her to the prayers just in case the power was out again the meeting would continue.
Then there was also an incident that happened that was shared that same day by her area pastor.
It should be around Christmas and the church had made available to widows foodstuffs for the celebration and my mom was one of them.
Seeing my mom with her foodstuff the pastor (the area pastor not the head pastor) who knew her personally told her
"𝑻𝒉𝒊𝒔 𝑭𝒐𝒐𝒅 𝑰 𝑾𝒊𝒍𝒍 𝑬𝒂𝒕 𝑭𝒓𝒐𝒎 𝑰𝒕"
And to his ultimate surprise the next service day she arrived with a portion of the foodstuff for him 😇
He was beyond shocked because what he was meant as a joke but she took it seriously enough to share it with him.
There were just so many beautiful stories even from kids who said they would miss her because she always bought tickets for them at Christmas to attend Xmas party at the church where they get to eat and visit Santa for gifts.
While I cried an ocean that day, later on, I started thinking about my mom and the changes in her after her conversion and how she positively touched so many lives 😇 and that was the catalyst that started my journey of faith.
While she was always nice as a person, she become an even better human being as a Christian and in a way, even I wanted to be just like she was.
𝑸𝒖𝒆𝒔𝒕𝒊𝒐𝒏 ✔︎
"𝕎𝕙𝕒𝕥 𝔻𝕖𝕝𝕚𝕘𝕙𝕥𝕤,𝕀𝕟𝕤𝕚𝕘𝕙𝕥𝕤 𝔸𝕟𝕕 𝕁𝕠𝕪𝕤 ℍ𝕒𝕧𝕖 𝕐𝕠𝕦 𝔻𝕚𝕤𝕔𝕠𝕧𝕖𝕣𝕖𝕕?"
The knowledge of a greater power capable of fulfilling one's deepest desires in form of answers to prayers is enough to calm a restless heart.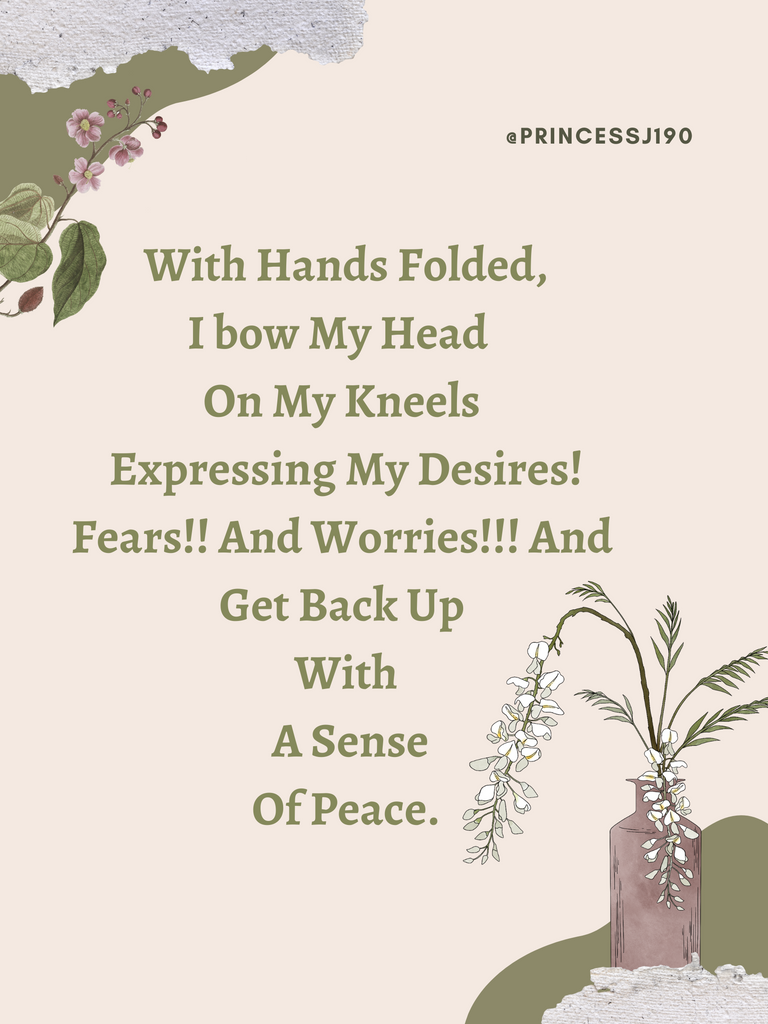 banner created by Me using 𝑪𝒂𝒏𝒗𝒂 free tools/graphics
The world as we know it today is filled with dangers at every turn, sicknesses, and even poverty that threatens to overwhelm a person each day.
Prayers to me are a chance to tell it all, to communicate my deepest desires and wishes to my Savior without fear of being Judged like the world would if I choose to share with them instead.
For me, it's the calmness I always feel whenever I get up from my knees, there is always this sense of peace that no matter what might be happening or the situation I am in, It will be okay.
At this point, I would like to invite @parkerlee to join the contest H͎E͎R͎E͎ and let us know what your thoughts are on these week's questions.
Thank you for taking time out to check out my blog ❤︎, have an awesome weekend ¯_(ツ)_/¯
All Banners created using Canva free tools and graphics but the texts are mine.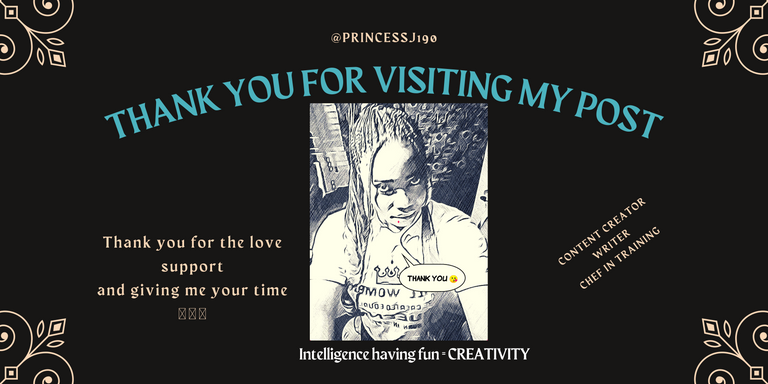 ---
---