HIVE OPEN MIC 🎤 WEEK 124 || LOOK UP CHILD COVER BY PRINCESSBUSAYO
---
IT'S MY ENTRY TO THE HIVE OPEN MIC WEEK 124. THIS IS PRINCESSBUSAYO.
The theme for this week is "MOONSHINE"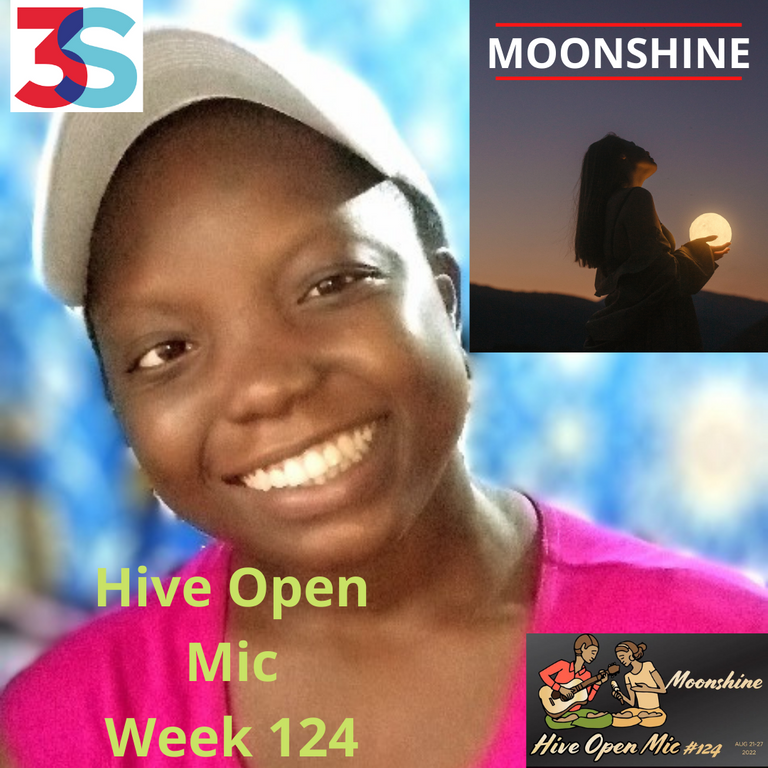 Moon does not produce its light, but it shines because it reflects the sun's light. The moon pops up in different places and at different times because it orbits the Earth.
This reminds me of when we were growing up. We would always think the moon is always following us, and like other children, we would always love it, as we keep circling the whole place, thinking we are still being chased by the same moon.
The moon brings out the beauty of life as it inspires, especially listening to moonlight tales from our elderly ones at night. Stories being told at night, as we gather together to hear from life's experiences is always interesting as it gives us lessons to hold onto.
The moon shines and makes our world bright at night.
---
One fact about the moon is that, it is full of imperfections, but it stays beautiful and is a pleasure to watch. This is why we need to learn from the moon. Despite our imperfections, we should be calm and reflect the beauty in appearances. We should always shine in the darkness of life and give way to the path of light.
Just like we humans, the moon also goes through phases. So, we gotta embrace the changes in our lives without being scared of what differences they might bring.
This is why I chose this song by Lauren Daigle titled "Look up Child" to remind us that, even if we can't seem to get it right, God is there for us. We only need to stay still and listen to His voice as He speaks to us.
The moon is a friend for the lonesome to talk to.
Stay out and watch the moon as it gives and shines a light on you, and as it brightens up your mood and helps you trust in God.
---
Part of the Lyrics goes like this
Where are You now
When darkness seems to win?
Where are You now
When the world is crumbling?
Then, you can find the rest Here
---
For the moon's image in the background, I couldn't get a link from Canva but it was Zhanna Fort from pexels.com
Thanks for your time.
---
▶️ 3Speak
---
---