Time to publish something new | Zachow, Herr Gott dich loben alle wir (LV 31)

I have a website (http://partitura.org) where I publish new scores of mostly unknown organ music. These scores are created by me, based on the manuscript source. Though sometimes I base my scores on an old edition, when I can not find a facsimile of the original manuscript source.
In the first five years of this hobby I created and published 750 scores, an average of 150 scores per year. In the one and a half years since then I published only 50 scores. And the last five months I did not publish anything. I guess I was a bit tired after (on average) creating one new score every 3 days for five years.
But now I feel it is time to resume my publishing efforts. In the past few years I have collected a lot of digital copies of manuscripts with organ music that is not available in print at all, or only as a commercial edition. The International Music Score Library Project or in short IMSLP(http://imslp.org is an invaluable source for all kinds of music, including organ music. But most of the music I publish on my website is not available on IMSLP and I still have a lot of source material, that is not available in print or as digital score anywhere else, wating to be published.
I start again by finishing a series of scores that I had not finished yet: the music from Zachow and his pupil Kirchhoff from manuscript Mus ms 40037, owned by the Staatsbibliothek Berlin. Zachow'ss music is available on IMSLP, in that regard my scores of his music bring nothing new. In readability however, I think that these new scores of Zachow's music having something better to offer than what's available on IMSLP.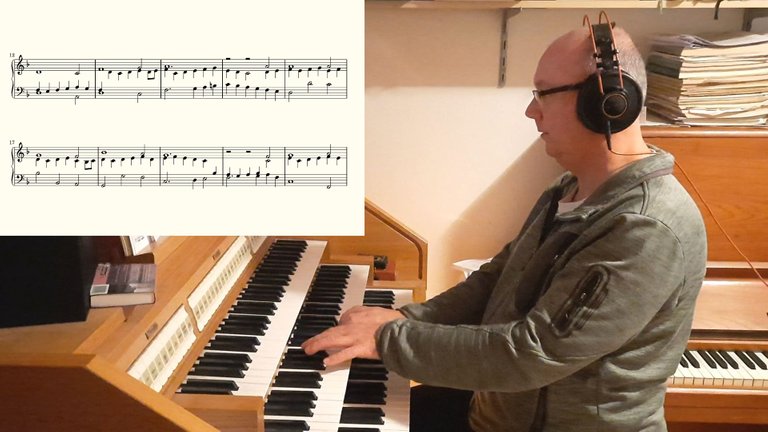 Zachow's prelude to "Herr Gott, dich loben alle wir" seems at the start a fugue on the first phrase on the chorale melody, but that turns out to be the somewhat elongated introduction. The complete choral melody is played the soprano voice with the other two voices as accompaniment in shorter notes. Noteworthy of this composition is that Zachow stays firmly in F major. Only two alterations spicen the music a little, for the rest Zachow uses the colours the harmonies within one tonality provide to drive the music forward (and the choral melody itself of course).
The recording was done with the Hauptwerk software and the sampleset, made by Sonus Paradisi, of the Hinsz organ in the Reformed church in the Midwolda (https://www.sonusparadisi.cz/en/organs/netherlands/midwolda-surround-sample-set.html).
Score available here: http://partitura.org/index.php/friedrich-wilhelm-zachow-herr-gott-dich-loben-alle-wir-lv-31
---
---