Johann Sebastian Bach, Triosonate IV, e-moll: Andante | Not the Secrets of Organ Playing Contest, Week 145
This would have been my entry for week 145 of the Secrets of Organ Playing Contest. Sadly, @organduo and @laputis decided to stop running there contest. You can read their announcement here: https://peakd.com/contest/@organduo/changes-to-our-contests. Though I fully understand their reasoning, it is with sadness that I say goodbey to the Secrets of Organ Playing Contest.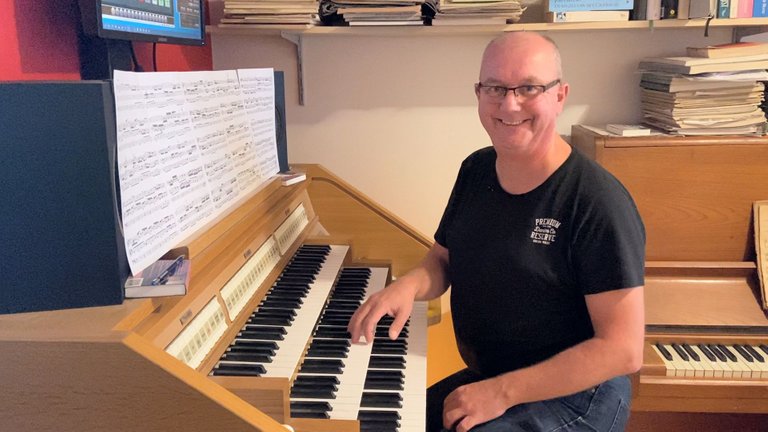 Two and a half years ago I participated for the first time in the contest. And that was after I had taken several weeks before I had worked up the courage to try and play something in front of the camera. Making a sound recording was laready stressful for me, let alone a video recording. Yet I am glad I tried anyway, and that I continued to record entries for the contest.
I did not participate every week since then. Life happens and I had to skip a few. Nevertheless, when I count all the videos I created for the contest, I get a total of 118 entries. Not bad. I should create a post to list them all, as easy reference for myself.
Participating in the contest was a great stimulus to practice regularly and try to create a performance and video at least once a week. I learned to overcome my anxiety for the video camera and to gain more and more confidence in my playing. And lately I had started to try and play longer pieces in one go. Though the performances are not as good as I would have liked them to be, I'm very proud of having recorded (twice) one of Bach's Triosonatas as entry for the contest. And one of my future goals for the contest was to play two Triosonatas in a row as one entry. Ultimately I hoped to play sort of a (mini) concert as an entry. Because that was what participating in this contest meant for me: become a better player and to gain enough confidence to play a concert.
I'm not there yet. But I've come a long way since I started participating. It is a pity the contest did not gain more traction and the number of participants was low. Undoubtedly @organduo and @laputis had hoped the contest would have gotten more interest in the organ world than it actually did. Nevertheless, for me personally it was of immeasurable value.
The second movement of Bach's fourth Triosonate would have been my entry for week 145 of the contest. I now play it as a tribute to the Secrets of Organ Playing Contest, and dedicate this performance to Vidas and Ausra. That it is a slow movement with a bitter sweet atmosphere is fitting for the occasion.
Now it is up to me to keep pushing myself to practice and to record. Luckily I have my website with organ scores for which I create video recordings as well. And I am not ready yet with Bach's 6 Triosonatas. Next in that project is the third movement of the fourth sonata. A movement that I dread, because to me it's the most difficult of all the 18 movements of these Triosonatas...
The recording was done with the Hauptwerk software and the sampleset, made by Sonus Paradisi, of the Schnittger organ in the St. Martini-kerk, Groningen (https://www.sonusparadisi.cz/en/organs/netherlands/groningen-st-martini.html).
---
---