Reseña: No Reservations // Review: No Reservations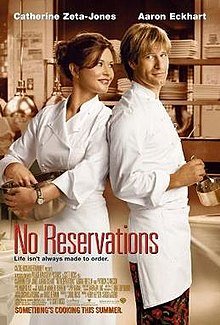 Fuente
Siento una debilidad por las películas que meten temas gastronómicos, supongo por el placer de ver deliciosa comida y el quehacer en las cocinas. No Reservations agarra ese contexto, así que decidí darle una oportunidad. La película fue estrenada el 2007, siendo el director Scott Hicks. Los protagonistas están representados por Catherine Zeta-Jones y Aaron Eckhart.
I have a weakness for movies that involve gastronomic themes, I guess for the pleasure of watching delicious food and the work that goes on in kitchens. No Reservations grabs that context, so I decided to give it a chance. The film was released in 2007, with director Scott Hicks. The leads are played by Catherine Zeta-Jones and Aaron Eckhart.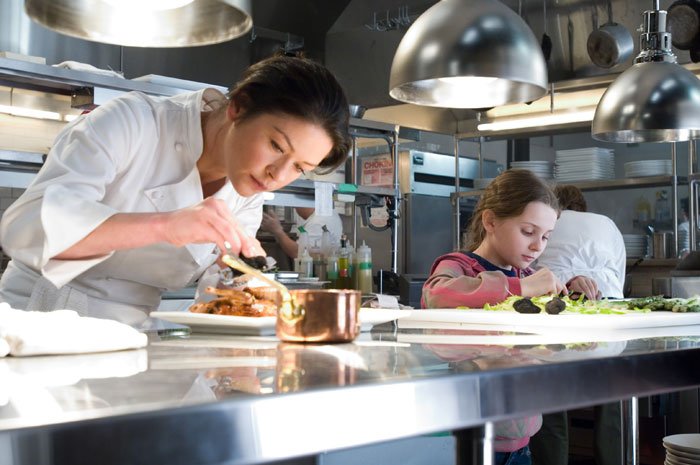 Fuente
Kate es una chef, ella es metódica, perfeccionista y que vive para su trabajo. Es cuando por infortunios de la vida, ella se verá obligada a vivir con su sobrina Zoe, cambiando su vida de una día para otro; a su vez, en el restaurante que dirige, un nuevo compañero de trabajo(Nick), con una extravagante personalidad, le hara dificil(¿o no?) pasar por esta transición en su vida.
Kate is a chef, she is methodical, perfectionist and lives for her work. It is when by life's misfortunes, she will be forced to live with her niece Zoe, changing her life from one day to another; at the same time, in the restaurant she manages, a new co-worker (Nick), with a flamboyant personality, will make it difficult (or not?) to go through this transition in her life.
Es una cinta del género romántico con toques de comedia. Sobre la trama, si bien tiene un inicio interesante, acabado siendo demasiado simple, la tensión es escasa, haciéndola predecible. Tal vez lo divertido de este tipo de filmes sea ver cómo poco a poco se va formando la relación entre la pareja principal, pero en eso acaba también cayendo en tópicos y repito, predecible.
It is a romantic film with touches of comedy. As for the plot, although it has an interesting beginning, it ends up being too simple, the tension is scarce, making it predictable. Perhaps the fun of this type of film is to see how little by little the relationship between the main couple is formed, but in that it also ends up falling into clichés and I repeat, predictable.
En la actuación y otros aspectos técnicos todo lo veo aceptable; y como mencione al comienzo, los despliegues y acciones en una cocina de restaurante gourmet, al menos en mi caso, siempre es entretenido de ver.
In the acting and other technical aspects everything is acceptable; and as I mentioned at the beginning, the displays and actions in a gourmet restaurant kitchen, at least in my case, is always entertaining to watch.
Concluyó que si bien no es una película mala, acaba siendo demasiado regular, y salvo que tengas esa debilidad como yo con los escenarios de cocina, te recomiendo que pases de verla.
I concluded that while it is not a bad movie, it ends up being too regular, and unless you have that weakness like me with kitchen scenarios, I recommend you to pass on watching it.
---
---