Reseña: Cowboy Bebop / Review: Cowboy Bebop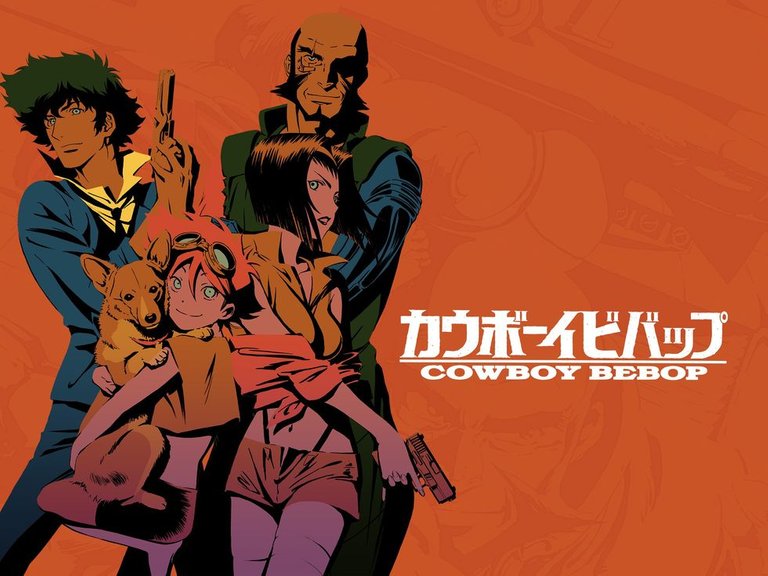 Fuente
Netflix ha estrenado una adaptación live action de esta serie anime, la expectativa ha aumentado con los trailers y el opening; pero, ¿por qué tanto ruido por esta serie?. Esto se debe principalmente a que estamos hablando de uno de los títulos considerados obra maestra del anime. Esta serie fue estrenada en 1998, teniendo una cantidad de 26 capítulos. Su director es Shinichiro Watanabe y el estudio que lo produjo fue Sunrise. No puedo dejar de mencionar a la encargada de la música, Yoko Kanno.
Netflix has released a live action adaptation of this anime series, the expectation has increased with the trailers and the opening; but, why so much noise for this series? This is mainly because we are talking about one of the titles considered an anime masterpiece. This series was released in 1998, with a total of 26 chapters. Its director is Shinichiro Watanabe and the studio that produced it was Sunrise. I can not fail to mention the person in charge of the music, Yoko Kanno.
En la nave Bebop, veremos como se irá formando un grupo variopinto con Spike Spiegel, Jet Black, Faye Valentine, Ed y el perro Ein. Ellos viviendo en un futuro de viajes espaciales y donde la humanidad se ha desplegado en diversas partes del sistema solar, trabajaran como cazarrecompensas, buscando atrapar los más diversos ladrones, hackers, asesinos, etc. A su vez, poco a poco, iremos conociendo el pasado de la tripulación, especialmente el de Spike.
On the Bebop ship, we will see how a motley crew will be formed with Spike Spiegel, Jet Black, Faye Valentine, Ed and the dog Ein. Living in a future of space travel and where humanity has been deployed in various parts of the solar system, they will work as bounty hunters, seeking to catch the most diverse thieves, hackers, murderers, etc. At the same time, little by little, we will get to know the past of the crew, especially Spike.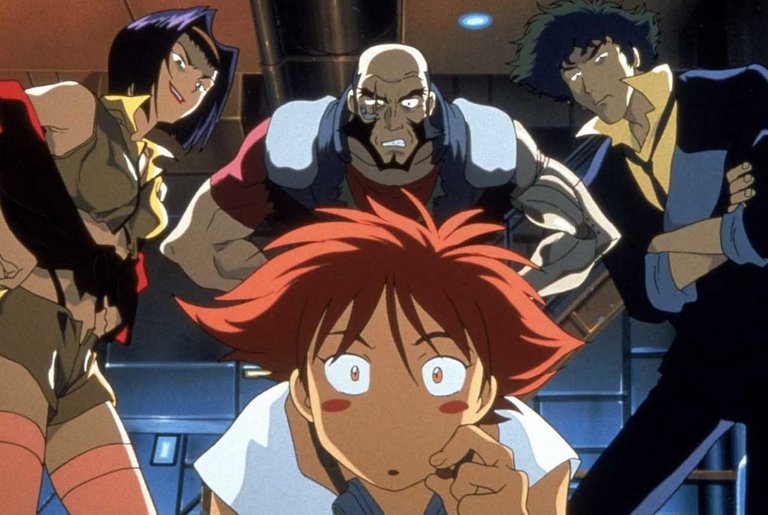 Fuente
Esta serie salvo contados episodios, son autoconclusivos. La única gran historia sería la del pasado de Spike. En cada episodio se sabe de un caso de recompensa, en donde la Bebop con sus integrantes buscarán obtenerla. Dicho eso, a pesar de los años que ya han pasado, el título sigue manteniendo una calidad impresionante. El contexto construido tiene una cantidad de detalles que sorprende; a su vez, la animación en las peleas y persecuciones sigue gustando.
This series, except for a few episodes, are self-conclusive. The only big story would be Spike's past. In each episode we learn of a bounty case, where the Bebop with its members will seek to obtain it. That said, despite the years that have passed, the title still maintains an impressive quality. The built context has a surprising amount of details; at the same time, the animation in the fights and chases continues to please.
Sobre la música, estamos hablando de uno de los mejores soundtracks, que se puede apreciar desde el opening, con ese inolvidable Tank!, hasta las canciones que se aprecian en el episodio 5, repito, inolvidables. La trama, es dinámica en contar sus casos, siendo de una variedad bien original, algunas más cómicas, otras más oscuras. Se beneficia mucho de sus interesantes personajes. A la vez, busca reflexionar sobre si el pasado de uno nos mantiene atados o podemos liberarnos de tal, más otros temas.
About the music, we are talking about one of the best soundtracks, which can be appreciated from the opening, with that unforgettable Tank!, to the songs that can be appreciated in episode 5, I repeat, unforgettable. The plot is dynamic in the telling of its cases, being of a very original variety, some more comic, others darker. It benefits a lot from its interesting characters. At the same time, it seeks to reflect on whether one's past keeps us bound or we can free ourselves from it, plus other themes.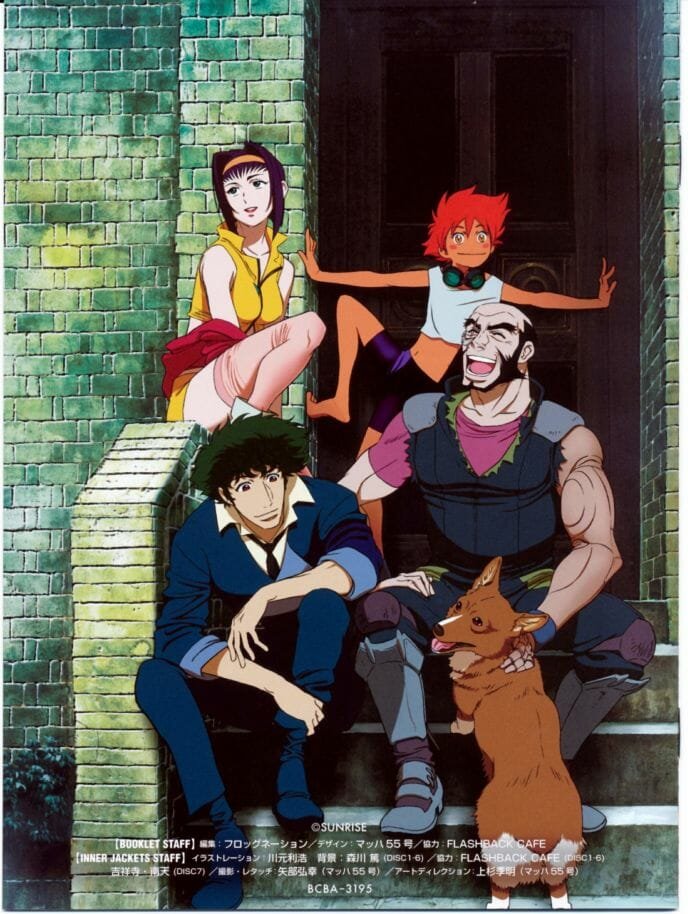 Fuente
Como punto negativo, debo mencionar que la serie tiene demasiadas coincidencias imposibles, y bueno el paso de los años, hace que ciertas tecnologías predichas en el anime, se vean totalmente erróneas.
As a negative point, I should mention that the series has too many impossible coincidences, and well the passing of the years, makes certain technologies predicted in the anime, look totally wrong.
Cowboy Bebop es un imprescindible de las series anime, que incluso puede acabar no gustándote(tal vez por el ritmo), pero creo que si te gusta la animación japonesa, debes darle una oportunidad para envolverte en su mundo vaquero espacial.
Cowboy Bebop is a must-see anime series, which you may not even end up liking (maybe because of the rhythm), but I think that if you like Japanese animation, you should give it a chance to get involved in its space cowboy world.
See you space cowboy
---
---