SHARE YOUR BATTLE Weekly Challenge! Crypt Beetle
---
This is my entry to the "Share Your Battle Weekly Challenge!". If you want to participate, and know a bit more about the challenge then, click here. You can participate even if you don't have theme card.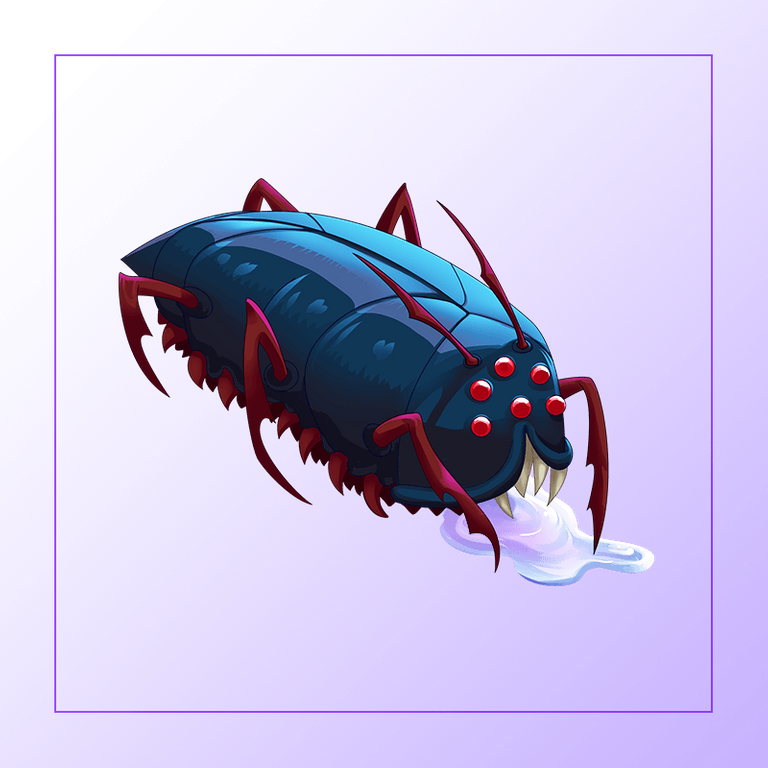 THEME: CRYPT BEETLE
Edition: CHAOS LEGION
Rarity: COMMON
Element: DEATH
Attack: MELEE
Abilities: Shield

I will share my battle here, which I have uploaded to 3speak.

My Lineup and Strategy
This is my lineup for the battle
| Position | Summoner/Monsters | Abilities |
| --- | --- | --- |
| Summoner | Thaddius Brood | -1 Magic attack, -1 Health |
| Position 1 | Cursed Windeku | Thorns |
| Position 2 | Shadow Snitch | Reach |
| Position 3 | Crypt Beetle | Shield |
| Position 4 | Silent Sha-vi | Sneak |
| Position 5 | Undead Badger | Sneak |
| Position 6 | Mantiod | Snipe |
---
This was a 30 mana cost battle, I used Thaddius Brood as my summoner that took away 1 health and 1 magic point to all enemy monsters. And it was a standard game with no modifications to the ruleset.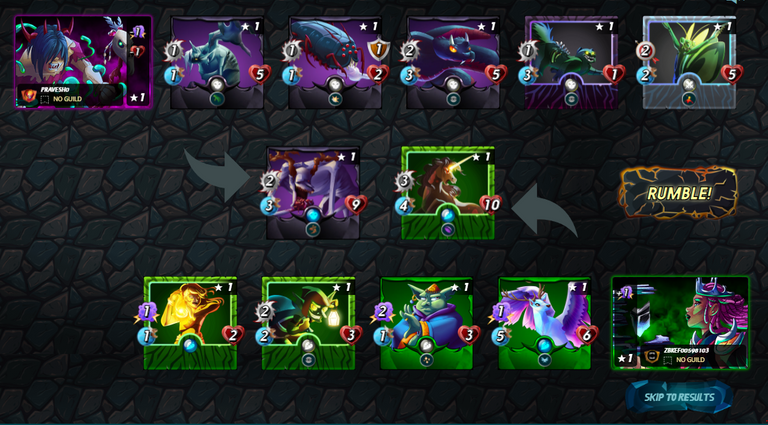 ---
I used the Cursed Wendeku in front of my lineup to utilize its thorns ability. It worked as a perfect tank. Its melee attack combined with good speed makes it my choice of tank. And I could also afford it because high mana battle.
Next came the Shadow Snitch, I placed it in the second position as it has the reach ability and can strike from there as well. It did not cost me much either.
In the third place came the Crypt Beetle, I had little faith in this card but it proved to be vital in this battle. Somehow its shield ability is much better than I expected and it cost only 3 mana.
Silent Sha-vi came in next, one of my favourites unit from this splinter. It cost 5 mana but comes with a decent speed and 2 melee attack damage with sneak ability. It helped in eliminating cards at the back of the enemy line. It was MVP for this battle.
Undead Badger came with a similar role to Silent Sha-vi, with sneak ability helping in eliminating weaker monsters at the back. I always loved the sneak ability more than anything in lower leagues. Players don't expect to be hit from behind.
Last but not the least was Mantoid, the only monster with ranged attack in my lineup. I choose this cause of its decent health. Its snipe ability complements well with the rest of the lineup, especially with sneak monsters.

Did your strategy work? What will you try differently next time?
Yes, my strategy worked perfectly. I loved the way how the last three monsters almost sniped the whole enemy lineup while the first three held them at bay. Silent Sha-vi is the unit with the most blood on its hands. With a low mana battle, I would probably ditch the Shadow Snitch.

Do you like the Crypt Beetle? Why or why not?
I didn't like the Crypt Beetle before but now after playing some battles I can see how useful it might be in specific situations, especially in low mana cost battles. I would use it more often from now on.

Splinterlands is a popular NFT based play2earn game. If you have not joined the game yet, then you are missing a lot of fun. You can join by using my referal link.

Gif by @clove71 posted in @splinterlands official server

Note:
Text divider are from @nane-qts posted in @theterminal's discord.
The banner and card images are from @splinterlands.

I am part of these awesome communities/servers on Hive. Feel free to join.


Click on the banner to join


Click on the banner to join

---
---