Sneak Peak Of Farm House Project.

Don't you enjoy the beauty of farm houses in urban areas. They are truly a breath of fresh air.
Farm houses built in urban areas tends to be expensive and vast. But they bring in the feel of Rural village in urban setting for sure.


A rendered view.
Now a days the meaning of farm houses has been shifted to more luxurious and kind of vacation home to many people.
Recently, I came across a project that involved the construction of a farm house in typical farm setting with cows, field and different facilities combining rural with luxury. Having work is blessing and enjoying doing it is privilege. So, I and @sahiba-rana joined the team of AR. Pankaj in designing a farm house with cottages and wonderful landscaping.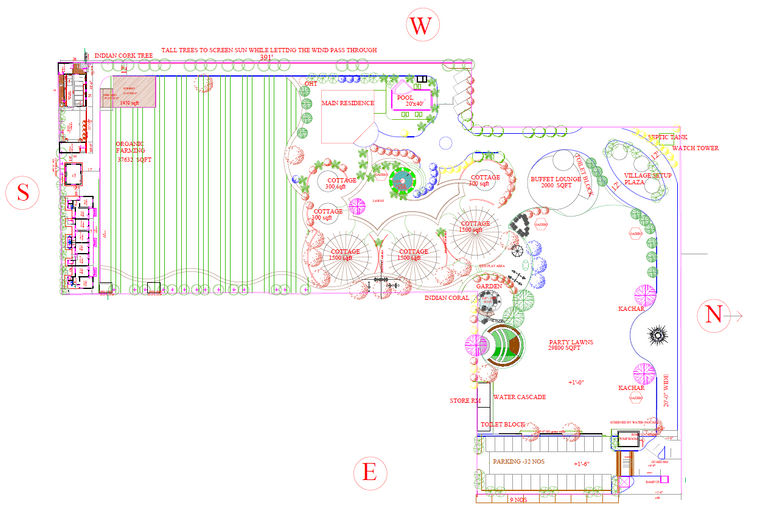 This project involves many field specialists. But the most interesting thing about this project which compelled me to write about it is the rural farm settings.
The requirements were pretty wide but as far as site is concerned, it was more than enough to carry them all.
Starting from a party lawn with beautiful circular stage we move towards buffet lounge which is in enclosed space as it will serve food and we should be well prepared for any climatic changes as Delhi-NCR substitutes an extreme climate condition means we experience extreme all four seasons.
Rest as we turn left we come in contact with cottages which are circular in shape and perfect for a family stay. There are total of 6 cottages with different sizes for couples and family.
There's a huge pool for perfect staycation. in front of main building consisting of reception and other staff rooms.
As we move forward we see a huge farm field which will grow vegetables and people from city can experience a fresh village setting.
At the end are the cow shed and servant rooms which are almost done in three dimentional form and I am going to show you all-

Rendered view
This is the servant quarter which has exterior aesthetics of rural hut. We worked on this for weeks as the most annoying word in architecture is CHANGES So, after several changes we came to this render. The software used were Sketchup and Lumion.
The essential elements we added were rubble on half of the wall, wooden column in lobby, thatched roof with full hey, lanterns, old classic thick doors and neem trees all around the periphery of the site.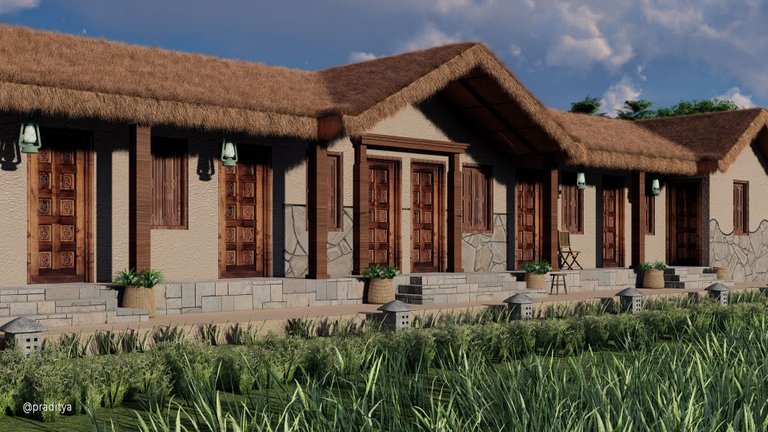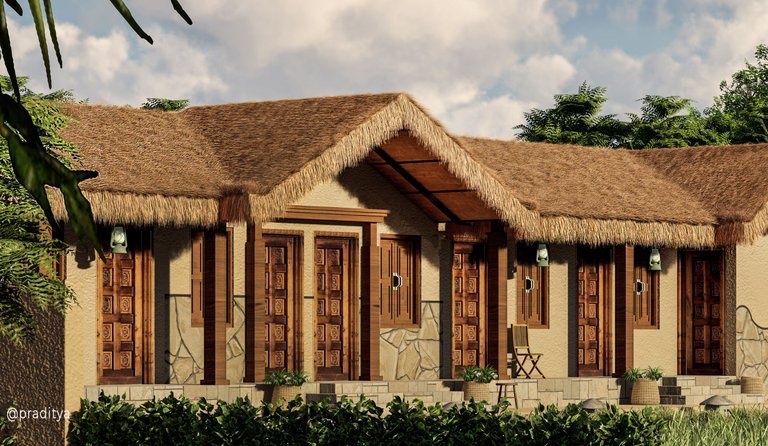 Now that we have been familiar with the servant quarter. Let's hop on to the cow shed. We were told to build a cow shed which is aesthetic but should showcase the rural setting as well. So we did many changes until we reached a point of agreement on the drawings and then just swiped it up into modelling and rendering software.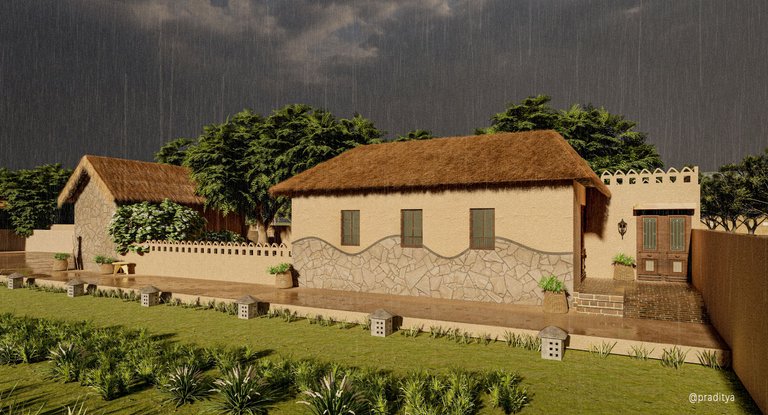 It's little dramatic cinematic view which was just done in order to show certain possibilities of climate.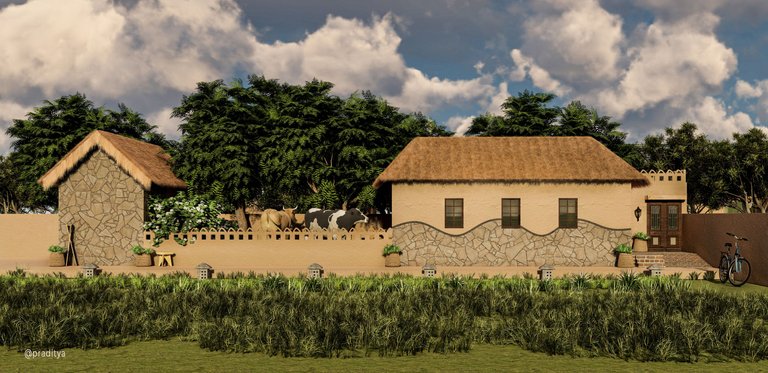 That's how it turned out to be and there's a vegetable field in front of of these two buildings because of which the field grass was installed in the render pls don't confuse it with the regular grass.
It is still in progress, we have reached to the cottage part which is in making right now as a 3d model. I shall share other progress as well in future posts.
It is such a great experience to work with a great team on such interesting project.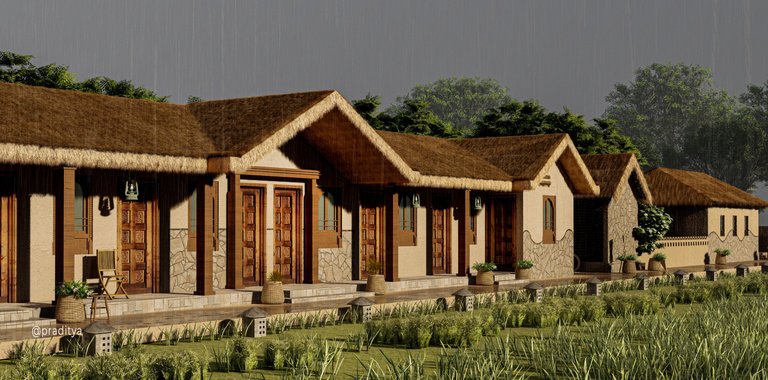 Stay tuned for the next part as there will be renders of circular cottages with beautiful landscaping.


---
---