WHERE DO CRYPTO FALL IN ALL OF THESE ?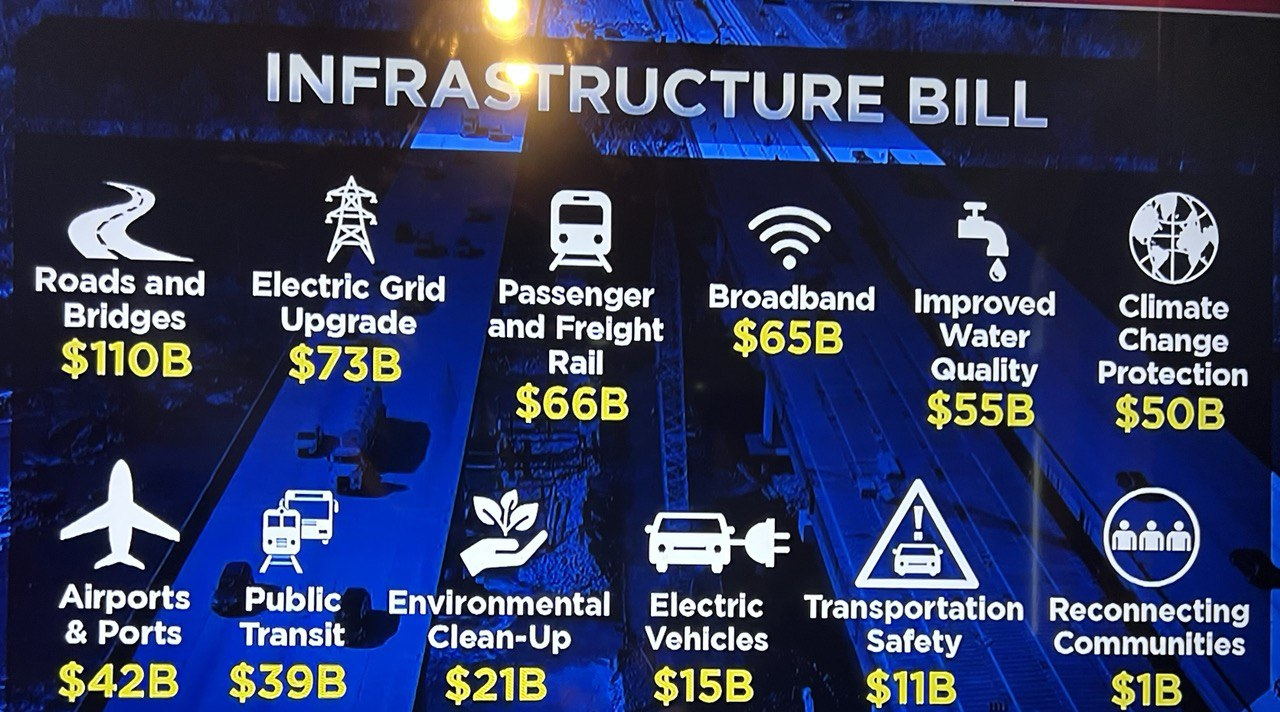 source
I was passing by the TV and I saw they were talking about the infrastructure bill that passed yesterday. lately I hardly watch TV so I know little from TV. Looking at this number you can see all the projects that could stimulate the economy. So far the employment market already fell to 4.6% due to job growth. Having this bill may reinforce the economy in a different way.
As you know too well, only the big companies will benefit wildly from this. You and I unless we have a company may not digest this big bucks. At least we know some will cascade downhill for everyday people. Not long ago where I live they already add pole for internet for school kids. They anticipated kids and many folks will stay home due to pandemic. I am not really sure how it will go since only people who cannot afford regular internet will be able to get it.
When I look at the list, so far two areas can help crypto in general. Electric grid and broadband. U.S. is lagging in that aspect. If you recall the issue with Texas, it is important to prepare and change outdated grid to conduct electricity. Usually if it is not bad weather, there is no issue with electricity in Florida. Most electricity companies are private, so they should be able to fix the lines and grid with profit they get.
I do have FPL where I leave. The service is decent. Not too far there is a city who purchase the power from FPL. Their grid is really bad. Somehow they hold on to their system since it is a mean of revenue for them. Florida is not deregulated like other states. You can only have power from the company that own the lines. I hope this bill to lower the price of electricity. Inflation makes everything higher these days.
It is the same for internet services. I only have access to two majors companies. Many of the small ones purchased from the big ones. So the service is getting better from 2000's. Now I can get easy 1 GIG if I want to. I just have to pay for it. Internet service in the US for most big cities is pretty good. Rural is the main problem. Where I am in a suburb, I get easily 800 down/ 20 up. It is not constant but solid enough for everyone in the house to browse and do things.
Electric vehicle will not help with crypto but it is an entry to move away from fuel expense. As the price of electric cars are similar to combustion car, you can save that money for crypto. In a nutshell, crypto will be the place where 40% of that bill will go. People are so smart these days. They see that crypto as BTC or Ether are the best place to combat inflation. It is a no brainer to leave funds sitting in a bank for no reason.
The best case for crypto is saving, speed, ownership, decentralization of your funds. Having that bill will bring positive to the market. it will pay dividend as well for those who hold long term.
Due to regular inflation, crypto will continue to rise. Put aside the current inflation of 5%, it is undeniable the right course of action with crypto. I can say it will jumpstart the economy but it is a signal to be ready for what to come. Do not forget it may get rough before it gets smooth.
Posted Using LeoFinance Beta
---
---