WHAT A FOOTBALL CAN DO FOR YOU?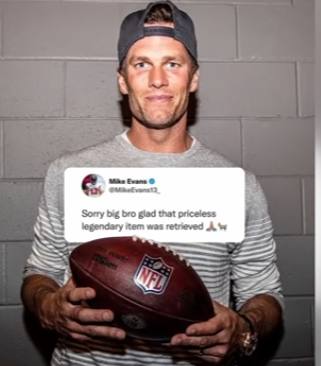 source
This ball you see in Brady's hand has valued over $500k for being the 600th touchdown he scored in the game. Now the funny part of the story, Mike Evans gave the ball away as usual to make the fan happy.
This ball has great valued for Brady himself. Now the guy with that ball gave it back to him during the game. It was all over the news for him not to give the ball back.
He was nice enough to make the gesture and reward Brady of the ball back. The guy feels fine giving it back cause he received so much more. Helmet, cleats, three signed shirts, shoes, $1000 worth to buy in Bucks, Four tickes for the game. He even received Bitcoin from Gronk and Brady.
This is the part that I like. I hope he received one BTC. That would be epic as the value is growing. I know the ball is worth more than a Bitcoin but a bitcoin is priceless and the guy should try to make NFT with everything that he got. Even the crypto he got can be turn to NFT.
You never know what a football can do for you. Even the picture where he got the ball from Evans can be turned to NFT.
Everything he got can have more value down the line but $500k right now worth a lot of smiles and could help him along the way.
I am pretty sure he will go to more games knowing anything is possible.
Posted Using LeoFinance Beta
---
---