SLOWLY RISING: LEO IS ON A MISSION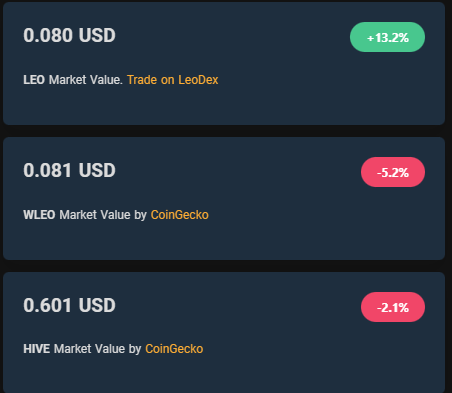 source
Anything attached to #Hive seems to feel the need to move a little. The market is in a precarious attitude right now. It has to do with impromptu issue changing the landscape every week. While I am thrilled to have a wonderful August I can be ready something can spoil this monthly adventure. If there is one thing that keep many of us afloat is the idea that crypto can change how folks deal with money.
The information available to everyone worldwide is so vast, #hive alone cannot do the job for the next decade. Sometimes I am thinking, is there enough to write? Maybe I should tabulate what I want to make notice of. Ideas come and go in a fly. So much news tend to repeat the same connotation that does put you in a better place. At least we have #leothreads with the short news.
It has become apparent this year 20222 is about to capitulate. Before you know it September will have a soft landing. And then three more months, 2022 is history. What is captivating #leofinance is upgrading itself. I really do not know the truly power of this community. Everything you can think of, just come over to the community you will be serve.
Most likely by the end of August one Leo could definitely worth 10 cents. Availability is at 11 million. One million is valued at a lot of dough. While it is affordable to accumulate but holding that amount can pull a string right in the middle. It pays to understand crypto does feel the need of money. I have to throw the wrench of liquidity. Long term this will be comprehensible. If there is a will, there is a way for #leo value to grow.
I see #polycub is slowly dwindling. It could be folks not investing in #Vexpolycub moving to #leo. This is what we call rebalancing. At the same time #CUb and #leo offer some great alternative for #HBD and #Hive. I guess many do not fully understand the power of DEFI.
I participate in all of them, giving me the long term view of the mixing of Leo, Hive.
In a few words this is what use cases stand for.
Many have asked for it. While crypto stand to empower the world, there is a causal parallel to the financial market. Every passing day crypto is getting bigger. Price is irrelevant when you look one way. The same way this or that stock loses or gains value, this is the same application crypto transcends.
Leo token sits between Hive and the DEFI it put in place. More traffic vice versa put a positive pressure for Leo to grow. Within Leo you do not need to be a post writer. Just use #leothreads and mind your business in second layer. You can be so busy, you have no time to mess around.
It could be as well many put #leo token in LP across DEFi and layer two causing a small pressure on demand. I do not know about you but do yourself a favor and grab some as you study the risk of long term. Under 10 cents is always a great entry before it slowly become the next best thing.
I think you have enough info to make the decision that instill the diamond paw you want to be.
Patience is a bliss. Keep the vesting train moving.
Posted Using LeoFinance Beta
---
---