RETURN OF THE HIVE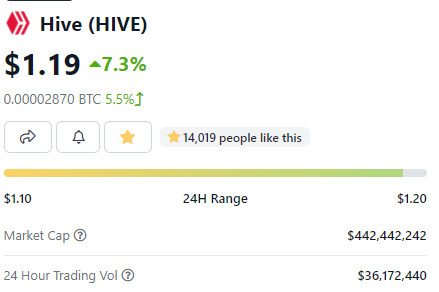 Lately Hive has been keeping up with the situation. It is common to see Hive kickstart a run on its own and you see the whole market follows. It is clear we cannot stay in the bear forever. Hard to say if we are in the slow bull or sleepy bear.
In the forefront crypto has been keen to move forward and BTC is leading the way.
Glad to see Hive changing the game against the dollar.
The minute I see the move against BTC, now I know we are in business.
This time it could well maintain its momentum and pass the $3 mark it did last time.
The run is clear as the financial news are more toward an economic recovery despite everything you hear on TV.
I mention the other day that crypto is getting a lot of attention and it is very good for everyone.
You cannot believe it the door is still open for newcomers to benefit from the incoming growth, the abundance we are talking about.
I was thinking out of nowhere if we have enough #Hive for everyone. Even with 2870 satoshis Hive is way underprice for its capabilities.
Just a thought knowing what could happen if one million folks are looking to get 1000 Hive.
It will be a tremendous pressure of the price and liquidity will be crushed before you know it.
This scenario cold happen if an investor wants to use the blockchain for similar idea.
If that investor wants to make sure he has enough resource credit for in 2 second layer token for support. Or it is something like using Hive as debt to back up its token.
I o not think we know what can become of Hive these days but it is coming and Hive better be ready.
I must say you better be ready for this.
The price could make it a big step to accumulate Hive, wait when it is $5/Hive it will be not just hard but interesting to see how it will go down the line.
Posted Using LeoFinance Beta
---
---