PRESSURE MAKES DIAMOND PAWS WITHIN HIVE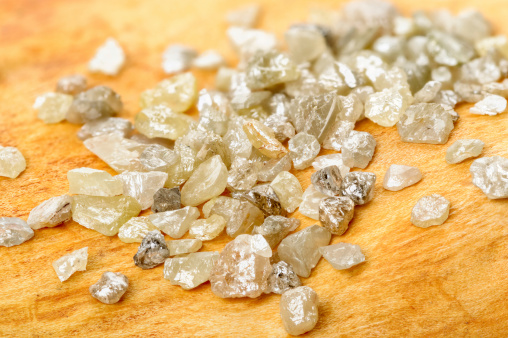 source
Literally you can pass by these piece of diamond and think it is just a pile of dirty rock. indeed it is rock with so much value on the right hand. It may take time to find the luster, the shine. At the end the value will be out of this world. Diamond will always have value. it does not matter the state it is, value resides within its realm.
The association we put on metal, rocks, others to crypto can go beyond imagination. Something you can touch and feel compare to something that exist in the web differs greatly. In the past 20 years, the way we view the internet has an effect that will follow us for centuries. For that reason, the internet needs to evolve and have its own legacy money. The number of tokens out there is skyrocketing and vary by use case.
Starting with #BTC all the way to meme coins, there is an ample need for each of them to grow. Lately the #Hive community does not have to go far to see the brilliance of this blockchain. The other side of Hive, #Hive-engine, is bolstering an array of side tokens proving, the train just left the station.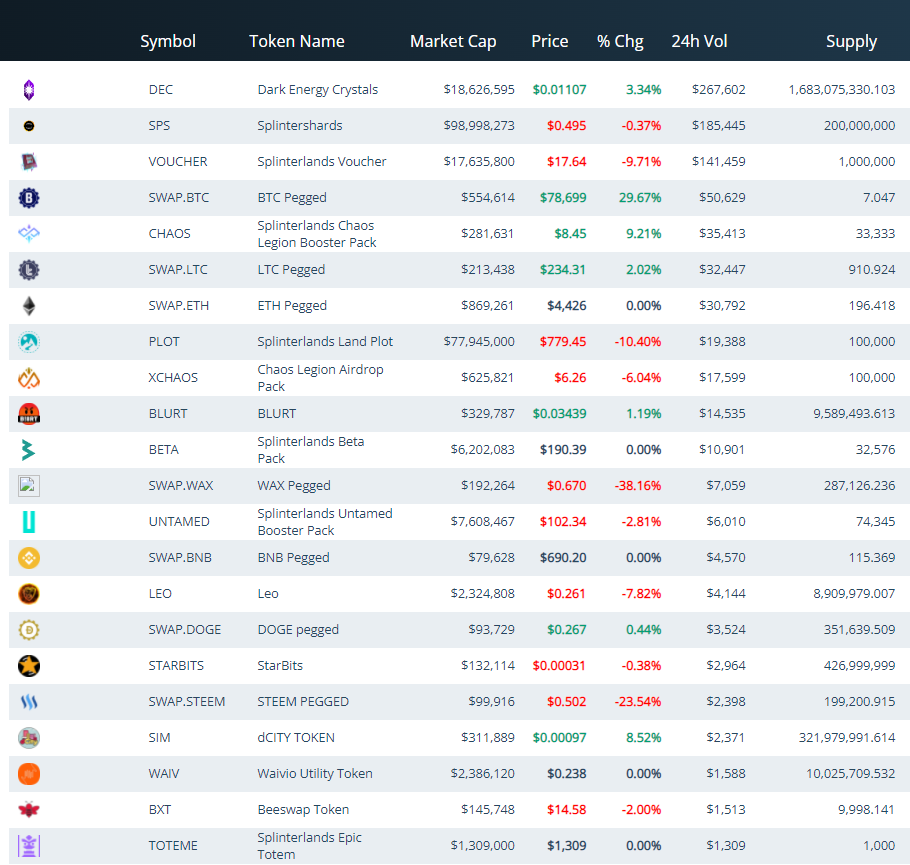 source
As I am writing these lines, Hive is trading around 1959 satoshis. The pressure of this price enables the side tokens to move parallel to the value indicated. Another aspect of this #DEX liquidity plays a big role where you need Hive to move around. Even swap.btc is higher due to liquidity in the DEX. Counting the marketcap, I see a trend where #splinterlands take over and it is something we need to applaud for their hard work.
Hive-engine is also the destination for other blockchains. All these are putting ample pressure on Hive. Hive-engine by itself can change the landscape for Hive. Liquidity has a lot to do with growth. As long there is a need, there will be a way for Hive to benefit from it. Right now the action resides within #splinterlands, #leofinance with #Cub and soon #polycub will bring another objective for DEFI earners to grow and learn the rapport of all EVM. Again you can get all these within Hive community. It takes years to build this. Having a price range of 2000 or 5000 satoshis is merely the direction of Hive.
There you have it, a use case to keep the blockchain going. Connecting with Hive can have double effect on your Hive earning. If you are selling you know you will get a great price. If you are buying you can feel the pressure a little. This is the way of the market. Hive value has a lot to do with supply and demand. You can't have it both ways. I think while holding is prominent, many might sell to take profit. Even I think this is a good time to test the market.
Apart from the game, #NFT, as of #punks on Hive, has a major opportunity to grow big and become the de facto place to trade and get acquaintance with #NFT. I did purchase another one today. The prices are still affordable to get in. The least rarest can be purchased for 30 swap.hive. Now let's say Hive is now $3/Hive. Right there you make a profit even if you sell it for the same 30 Hive.
It is something that is growing and we need to grab them if you are into NFT.
The site is: https://punks.usehive.com/market
Just to follow up on crypto, Hive itself can fill your day. So much to do around this community. Posting side itself can take a good couple hours. Commenting another hour. Curating is the reason to season. I have seen diamond paws posting twice daily or three, definitely time plays a factor to deliver great lines to the community. All of you keeping Hive great, keep up the good work. I know Hivers write from all angle of the blockchain. All of you in Leofinance, keep the posts coming, you are the engine.
Within two to three years, Hive is becoming the essential place for driven social media, gaming, NFT. As the value rises, the posts will play a major role increasing value to any given hivers.
Opinion wise we are getting there. As I say price is one thing. It can change by the minute. Consistency is the oil that keeps it going.
Putting all together, Hive even new in name, proves a community in action, learn from the past to grow. I knew many of you since 2017. The core that run Hive knows what work and not work. The pressure we have as a community, we need to remain true and keep decentralization paves the way for Hive to grow. The amount of token you hold in Hive power means something.
As value approaches a point of no return, sustainability is your ticket to continue your winning formula.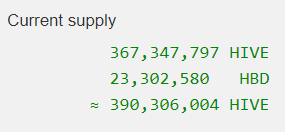 The beauty of Hive resides with the ability of each holders to find the recipe for success. Some did get it by posting while many whales by curating. Some by playing #splinterlands. When you put all formulas in the blockchain, you have a strong community where you win by your ability to stay ahead.
Do you recall the possibility to exchange HBD versus Hive when HBD was trading over $1.15? That method did help to earn more Hive. That method did burn Hive and HBD making the token deflationary.
Lately HBD tends to stay within the line of the dollar mark.
It may be hard to take away the emotion and bias for Hive. If you understand the 13 weeks hold for Hive power, you may differ and put your emotion on ice. Things can happen. At the end of the day, we better use the pressure to solidify the position of Hive. Holding and selling have their role respectively to maintain the price and providing liquidity for Hive.
We need both to keep the engine going.
Everyone has a timer. Why have a diamond paw and you do not use it.
After all Hive is the token you can use by spending your resources credit.
Hopefully one day the same can be add to Hive-engine where resource credit is used for transaction.
So much more is coming for Hive.
Keep vesting in YOU.

Posted Using LeoFinance Beta
---
---