OPPORTUNITY IS KNOCKING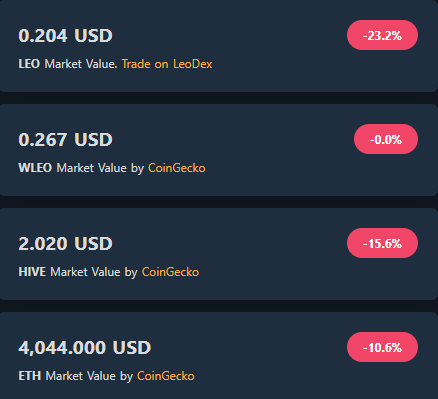 source
Usually when you see red, you should stop and think twice before you move again. I am not talking about a stop sign. I am talking about crypto market behaving badly. As you may encounter it is red everywhere. #BTC has been on the red for more days. Since #Hive was treating us so good we tend to not bother with top 10 acting a fool.
I guess this Friday it is all over. It is serious biz to see how quickly everything can easily crumble down. In the economy world red does not mean chaos all over. It could be opportunity coming our way. Every month I always preach about #HPUD. I think I am going to miss it to focus on #Leo token. Can you see the price on top? This is a great bargaining chip for everyone posting via #leofinance.
At the same time #pob is on my mind for quite sometimes. Marketcap is low and I can smell the opportunity a mile away. Sometimes you do not need your vision to see that far, you need gut feeling and Hive behavior made all these possible. Since we are well aware how high Hive can go, the picture is getting clearer for everyone to amass and capture as much Hive as possible.
Yes the market is reacting to a news. As a planner you need to set aside a planogram for such situation and act. Before the year end I wish to fill my bag in Hive and Hive-engine tokens. They prove to be a no brainer. The community is the real value. Point blank.
For many it could be a tough cookie to assemble Hive right now from outside funds.
We know this time is coming.
Posted Using LeoFinance Beta
---
---