OKAY TO LOOK AT ALL BASKETS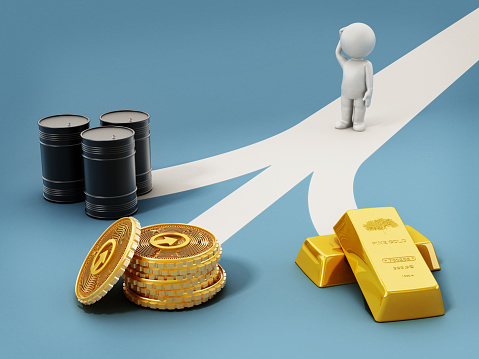 source
If you work at home, you barely drive, your concerns for oil to go down could be insignificant. This past weeks I have seen a slightly drop in the market. I have to drive almost everyday and I can feel it. A break at the pump will soothe the pain of all drivers out there. While the pressure is everywhere it is noticeable there is a feasible change in the air. Unluckily we have to choose between inflation and recession to move forward.
At first all eyes were on crypto failing from the chaos we all know. Now Gold is barely holding at $1730. One thing I happen to realize is natural gas(LNG). With petrol, LNG needs in Europe is huge. With war it seems this is an ever reach for the financial world to get a break. It was not stable for a long time, Just getting more out of reach for the next winter season. You could ask yourself what gold, oil and crypto has in common?
I know this answer can be as forthcoming for you and I. They all allow funds to move around freely. Do not forget the main reason anyone invest in any market, they are looking ROI on their investment. As you know crypto tends to bring the quickest return if you know what I mean. With a strong dollar and no clear consensus as where volatility will pause, the battle just begins.
While we think volatility is extra with crypto. It is as much crazy in oil. #Gold is no better since in the mind of the holders, it is the asset class against inflation. Lately this case is far from done to come to fruition. In order for gold to achieve its standard, the dollar needs to look weak. Something has to give. So gold is not that liquid as the strong dollar for transaction so Gold is taking triple hit.


source
This momentum could be a tired bear catching its breath. I would not jump to say more. As you can denote the stablecoins are in the red facilitating this trick BTC does all the time. Lately I have to use BTC to go from point A to point B. Price is still low compare to last year. The market is feeling squeeze to react where investors used to affordable interest rates.
Would you believe interest rates will have a push on crypto? The ladder does not seem to say much as we all know it squeezes crypto the most. The market is tight and the value you see today is a reflection of what everyone can sustain. Crypto like BTC seems to come into another reflection.
I think the notion we reach the bottom will have to do with how the FED addresses interest rates.
Fair to say inflation and recession always need a balancing act to keep the economy somehow in the middle.
One thing is clear, if you hold Gold, I am happy for you. Stocks, bonds, this is just a passage for the economy. If you are into commodities this could be the market for you as long you are handling both sides of the transaction.
Hopefully you hold crypto, that way you can see how the transition is moving forward tenfold.
The menace, we have, has to do when folks hold something and they have no clue its purpose.
The bear market is around to give everyone enough time to hold what you can afford to grow.
Keep vesting.
Posted Using LeoFinance Beta
---
---