NOT SO BAD THROUGH TRIALS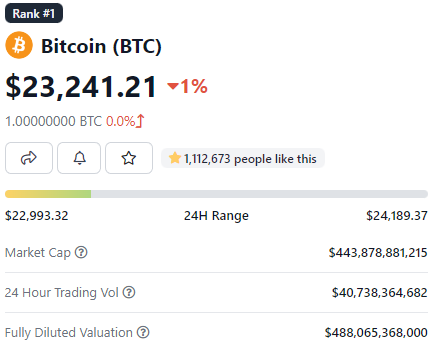 source
I kept reading lately that BTC will plunge to $13k in the incoming weeks. So if I get it right it has to lose right now $10k. If I can understand this fact it will not happen in July. Maybe I am over my head with this dramaturge. Crypto is mounting a space where control by one party has forgo the same space we have used forever. Otherwise crypto does not need to exist as a replacement for the system we have today.
Unfortunately most long term holders do not have big pocket to push crypto. Time is on the side of the ones who really understand the validity of crypto. I have been saying in my head for years, the community brings value to any crypto. I refrain from pointing fingers at meme coins. They exist cause they have a community. I may not be prompt to participate but this is way of life. Kudos to the ones who forever will make it in crypto.
The business model associated with crypto is avidly an explosive sphere that keep a lot of folks afloat. The idea you can make it in crypto is for real. Only a few will get to the moon while the majority will act like a weak hands selling all the time before they can build a long term portfolio.
I post that price point for BTC just as a test for everyone to see when there is an opportunity there is a way. While the news has spread that Tesla sold a big chunk of crypto, the underlying crypto market did not tank with the news.
I think many understand Tesla with Elon has so much for them to worry about. A while back I think my next car should be a tesla. Lately the choice for EV is getting out of hands. Tesla is not the sole choice going forward. Do not get me wrong it is still a premium brand but in the Sunshine State I have seen more EV around than Tesla itself. I guess this is the future going forward. The same way crypto is growing and keeping focus, I may say the opportunity in couple years to own an EV is getting a lot affordable.
Strangely #Gold is trending down near $1690. I do not know what to believe to curve inflation. One thing I can tell you supply and demand attract profit. This is what the investors are doing flip left and turn right to profit. It has been the game forever unless you are focused on what they say instead of what they do. I am watching Hive and the expectation remains the same. I keep saying Hive like the 40 cents range. This is may be the grey area where supply and demand feel it needs to be right there.
It is growing cause as more diamond hands are holding the price will increase by having more holding pushing less Hive in the market.
Even #CUB is slowly shaking itself. Hope you hold some cause it cannot stay in the hole forever.
#Polycub is in action for the past couple days. It is interesting the sphere around Leofinance. Maybe there is no cool off in the community.
Time will tell.
Posted Using LeoFinance Beta
---
---