MOMENTUM BUILDER IS WHAT HIVE IS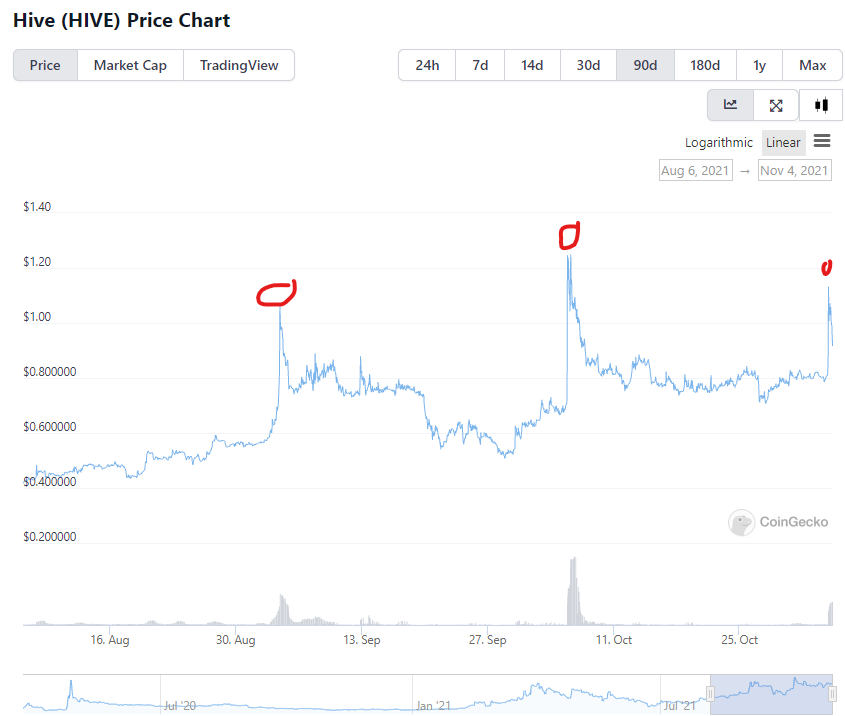 source
For the past three months, Hive is telling us a story. It happened couple days after we celebrated #HPUD. It is hard to make up graph and say something out of sync but Hive is clearly suggesting a goal for the foreseeable future. The time is prime to get involved with Hive. Right now one Hive is around 1506 satoshis. It has been that value for quite sometimes. It is more of a benchmark as #BTC value fluctuates when Hive needs to stay relevant by building resistance.
Throughout the month, not so much of a movement while we have to wait for the first week of the month to see the hike. Gradually the trend is moving uphill giving the impression the dollar value is near. There is always risk to invest in crypto. Hive risk is so low you can think it is a stable coin. In dollar term, 80 cents look strong to continue the uptrend lift.
As BTC is building momentum, an altcoin needs to act the same way in order to project value for the holders. Hive is doing exactly as expected. The underlying for Hive is clear. It is the token that fuel the WEB 3.0. Hive apart from powering up to secure the blockchain, Hive is the token of Hive-engine. You need Hive to exchange between all Hive-engine token. Hive blockchain does not charge fees to move it around. You need resource credit for that.
You can convert Hive to Hive back dollars where 10% is accumulated by putting on a saving. You can pull after three days if needed to. By writing a point, you earn from the reward pool. Curating and holding Hive power, you are earning in accordance to the blockchain inflation rate of return. There is a clear use case of Hive. The community is looking at it at all angles to reap the reward.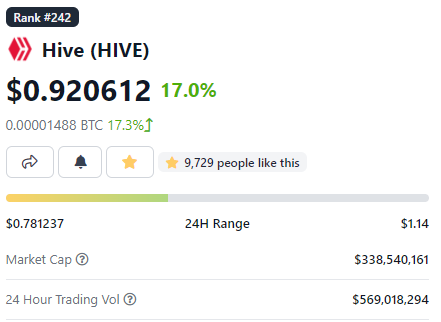 source
Hive will not make you rich overnight. It is a process where it is like a building block where the community is earning according to their effort.
Short term growth is needed but do not expect a crazy rise in Hive. Solid and consistent should be the reason you are part of a decentralized blockchain.
This month is showing us the dollar mark is possible.
As more folks are powering up, you can be sure it is near.
Every time I see the bump at the beginning of the month, it is a test to build enough resistance.
Hive is hardly following BTC. We need to remain in par so the value compare to bitcoin does not fall apart. We have come a long way. Hive is a project with great stride. Not long ago, other projects are coming over to use the blockchain. So happy we are open for business. Just like #Leofinance is building, we need more projects to empower the community. I know there are plenty of them already in works. This is the true power of Hive.
Hope you are holding. Within 2022 all the way to 2025, I can tell you Hive will be the blockchain of choice for WEB 3.0 where social media, gaming, DEFI, and many more DAPPS to bring a better coverage for the crypto world. If there is a blockchain ready for action, Hive is the place to be. I still cannot understand we are valued below the dollar mark. Rest assured it will move and the rest will be history.
Do yourself a favor, keep vesting in YOU.

Posted Using LeoFinance Beta
---
---